This post may contain affiliate links. As an Amazon Associate I earn from qualifying purchases.
* * *
Nothing gets your heart racing like the feeling of being on an active volcano. I'm fascinated by all things geothermal, one of the reasons that both Guatemala and Nicaragua make my list of favorite countries. With steam, smoke, lava, and sometimes scary rumbles, there's a lot to explore.
Over the course of many trips, I've tried more than my fair share of volcano tours — some amazing, and some just okay. I've narrowed them down into a single list of the best volcanoes to visit in Central America so you can spend your time on the most unique sightDOING.
Best Guatemala Volcano Tours
The Top Guatemala Volcano Hike: Acatenango
I'll be honest: the Acatenango Volcano hike (outside of Antigua, Guatemala) is grueling. You have to be a masochist to think it's fun. Like all volcanoes, the slope is steep and the terrain has lots of ash, meaning you slide backwards and sink down with every step. On top of that, it's a relatively long hike, surpasses 13,000 feet in elevation, and you'll carry camping gear.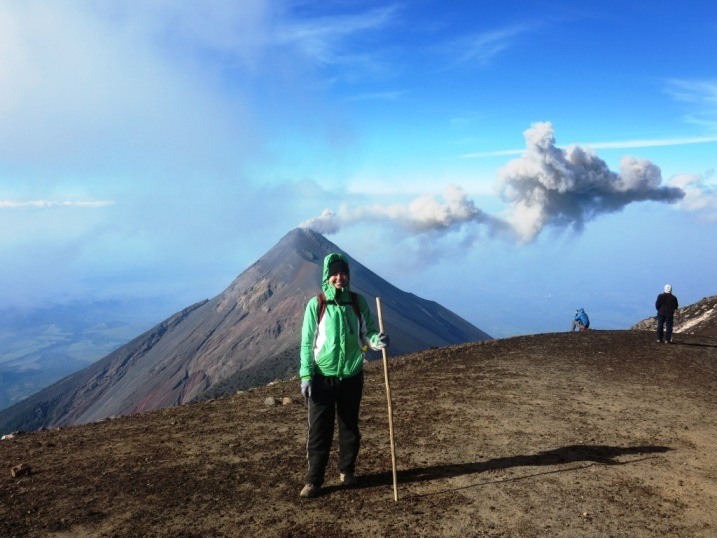 But if you think you can handle it, it's worth the pain. From the top, you have a perfect view of eruptions from the neighboring volcano, Fuego. It's everything you expect, with flying rocks, lots of spurting ash, smoke, and all the noisy rumbles to go with it.
>>>> Read my full story on hiking Acatenango Volcano.
The Easiest Guatemala Volcano Hike: Pacaya
Let's be clear here. Pacaya isn't an easy hike, but you can cheat and ride a horse which makes it more accessible. It's also one of the few volcanoes you can visit in just a half day due to its proximity to Antigua and the shorter nature of the hike.
What makes Pacaya so special is that you can get right up close to the steam vents. In fact, you'll feel the geothermal energy through the bottom of your shoes! When you make it to the top, your guide will pass out marshmallows for you to roast — a skill that seems easy but requires careful selection of the right vent. You want one not too hot, not too cold…and one where you aren't breathing in gaseous fumes while you're cooking.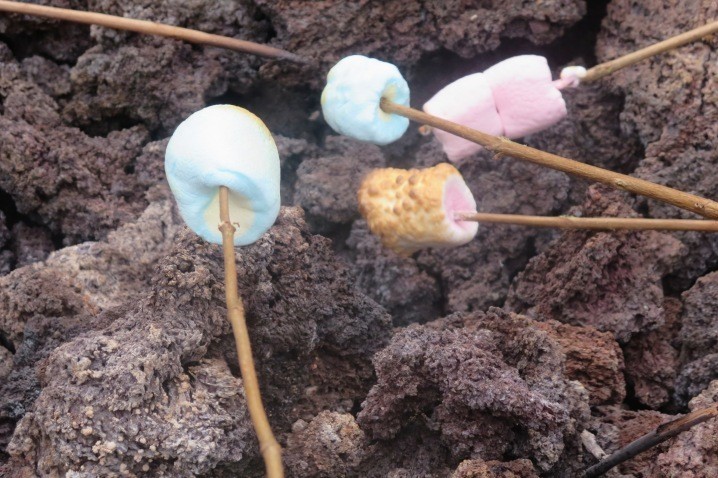 >>>> Read my full story on hiking Pacaya Volcano
Other Guatemala Volcano Hikes
With 37 volcanoes in the country, it's no surprise that there are plenty of other volcano tours you can choose from. However, if time is short, only Acatenango and Pacaya make my list of best volcanoes to visit in Central America. Most of the other Guatemala volcano hikes are beautiful, scenic hikes featuring sunrises and scenery rather than volcanic activity.
That said, I survived a full moon hike up Santa Maria (near Xela) and a sunrise hike to La Nariz de Indio in Lake Atitlan. Go because you like hiking, not for the volcano.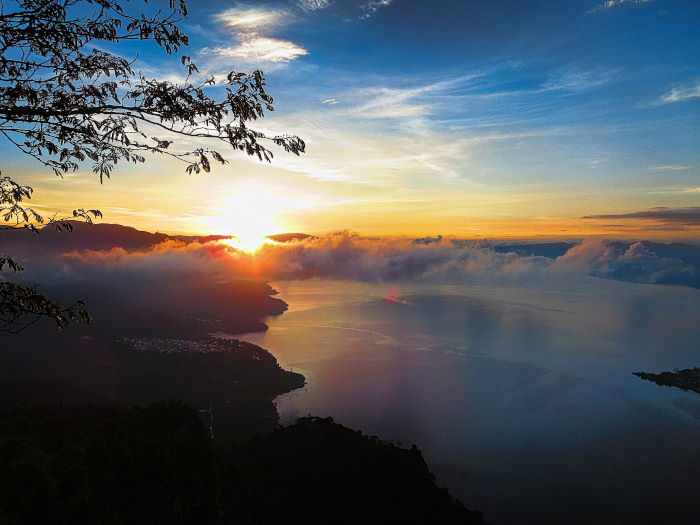 Best Nicaragua Volcano Tours
The Top Nicaragua Volcano Hike: Telica
This is probably #1 on the list of best volcanoes to visit in Central America for one very important reason: LAVA. That's right, you won't see lava on most volcano tours, but on Telica you'll come dangerously close to it. Get down on your belly and army crawl right up to the edge of the crater. Say a prayer if you need to. One wrong step and you'll burn to death.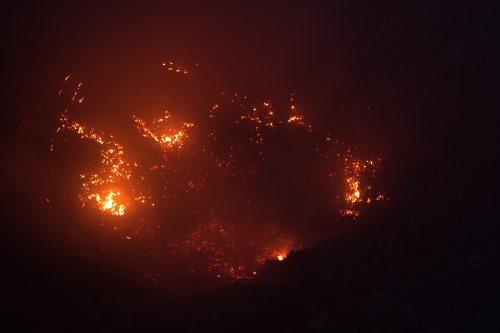 For this tour, you'll want to go in the evening — it's much more impressive to see the lava glowing in the dark rather than during the day. And if that's not enough, you'll probably also catch a gorgeous sunset, flying bats, and amazing stargazing.
>>>> Read my full story on hiking Telica Volcano
The Just for Fun Nicaragua Volcano Tour That Everyone Should Do: Cerro Negro
Volcano boarding, in case you're unfamiliar with the sport, is basically sledding down an ash-covered volcano. With a recently waxed board and a little luck, you'll zoom right down: rumor has it the speed record is 93 kilometers per hour. Since I'm a little insane, this sounded like a lot of fun to me and not at all crazy.
Sure enough, Cerro Negro is one of the most popular volcano tours in Nicaragua, leaving from Leon (which is totally worth a visit). You'll get an introductory look at some steam vents, but this tour is more about getting a thrill than the volcano itself.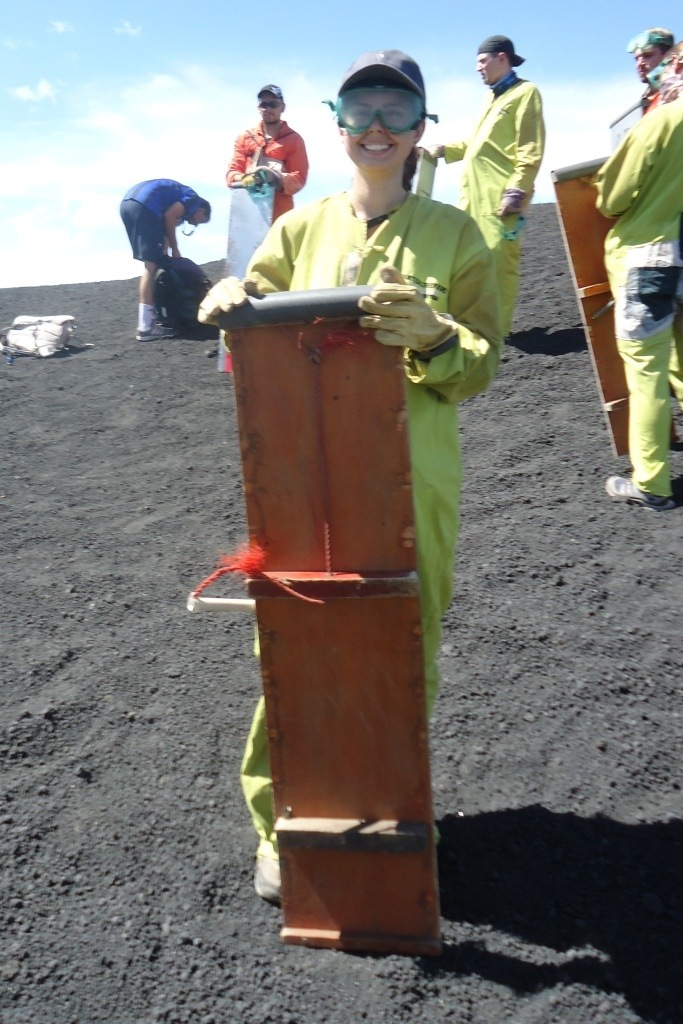 >>>> Read my full story on volcano boarding down Cerro Negro
You Decide: Masaya Volcano in Nicaragua
Masaya Volcano is easy to reach from Managua or Granada and is one of the only places you can see the smoking cauldron from the volcanic crater. The gases are thick (so much so that your visit time is regulated to keep you safe) and you won't see much because of them. So, you can go for that experience, but I don't think it qualifies as one of the best volcanoes to visit in Central America.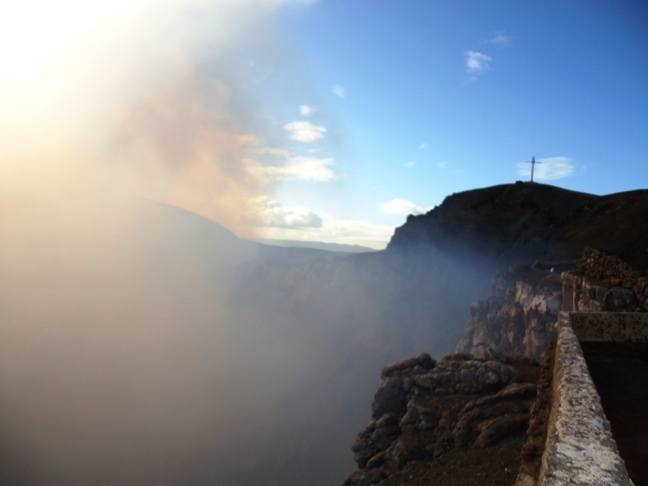 By all means, go if you're nearby and have free time, but don't plan your trip around it.
>>>> Read my full story on visiting Masaya Volcano
Worth the Trek: Mexico Volcano Tours
No one thinks about volcanoes in Mexico, but sure enough, Popocatepetl is one of the most active volcanoes anywhere. Although it's not safe to summit Popo itself, you can get amazing views of the eruptions by hiking up neighboring Iztaccihuatl.

The day trip from Mexico City requires you to be in strong physical fitness: the trail is steep and the ashy slopes aren't easy to conquer. More notably, you'll be reaching very high altitudes, which can be very difficult to acclimate to for many people (including myself).
If you go, you'll be rewarded with incredible scenery even if you don't witness any eruptions. Just be sure to do this toward the end of your trip, when you're most likely to be somewhat adjusted to the elevation.
>>>> Read my full story on hiking Popocatepetl.
TRIVIA TIME!

What is the only country in Central America with no volcanoes?

Belize is the only country in Central America that doesn't have any volcanoes. Panama has just one volcano and although Honduras has four volcanoes, they're all inactive.
Last but not Least: El Salvador Volcano Tours
For a small country, El Salvador packs a mighty punch of more than 20 volcanoes. That said, most of the tours and hikes in El Salvador are focused on the scenery.
Not Quite sightDOING: Joya de Ceren
The Pompeii of the New World, Joya de Ceren was buried under ash around the year 590 AD. Today, it's a UNESCO World Heritage Site open for exploring, although you'll have to use your imagination to visualize the eruption itself.
I haven't been yet, but it's a very cool way to get a feel for the power of volcanoes.
What About Costa Rica Volcano Tours?
As a volcano junkie, I have a hard time getting excited about the volcano options in Costa Rica. There are 15 volcanoes in Costa Rica, but none have a unique sightDOING aspect like the ones in Guatemala & Nicaragua.
The exception: Rincon de la Vieja National Park. This area is not known for eruptions or lava, but you will find natural hot springs and mud baths, which sounds like a fun way to interact with nature.
I'm sure that destinations like Arenal and Poas are beautiful, but they don't make my cut for the best volcanoes to visit in Central America.
Disagree? I'm happy to be educated — just let me know what you think in the comments!
* * *
Which of these volcano tours have you been on? Which others would you recommend?