This post may contain affiliate links. As an Amazon Associate I earn from qualifying purchases.
* * *
Even though I like Mexico City, I've spent more time just outside the capital than actually in it. There's so much to see and do in this part of the country that it's worth extending your visit to add in some extra stops. If you need some inspiration on where to go after Mexico City, check out these side trips — with ideas whether you have a day, an overnight, or longer.
Day Trips from Mexico City
Teotihuacan
I almost didn't include the ancient city of Teotihuacan on this list because it's so well-known that some people might not realize it's outside of Mexico City itself. But these ruins are so fabulous it deserves a mention!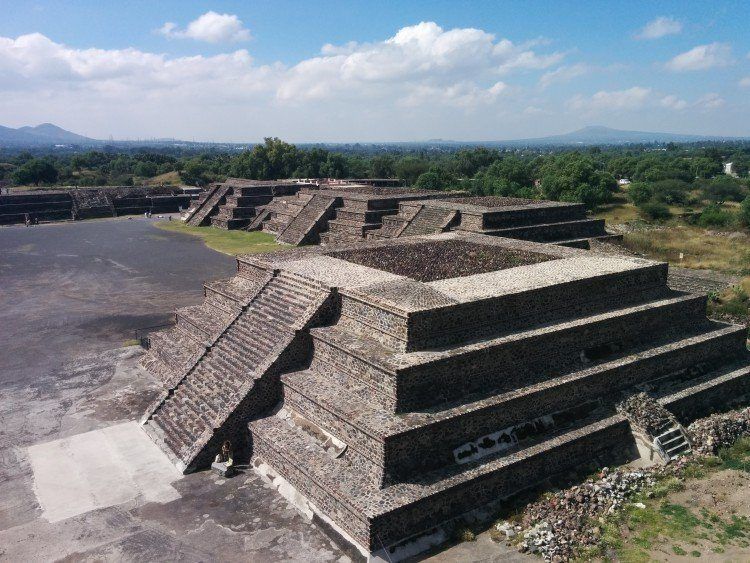 Climb to the top of the Temple of the Sun, check out the colors at the Palace of Quetzalcoatl, and walk down the Avenue of the Dead. If you've already been here on a previous trip, re-visit Teotihuacan at night!
Read My Complete Guide on How to Get to Teotihuacan (without a tour)
Best Tour to Teotihuacan: Early morning visit with guide
Valle de Bravo
Valle de Bravo sits in the mountains outside of Mexico City and is a great way to add a touch of nature to your trip. It's a bit far from Mexico City, but it's worth the trip — especially in winter when the monarch butterflies migrate here by the millions.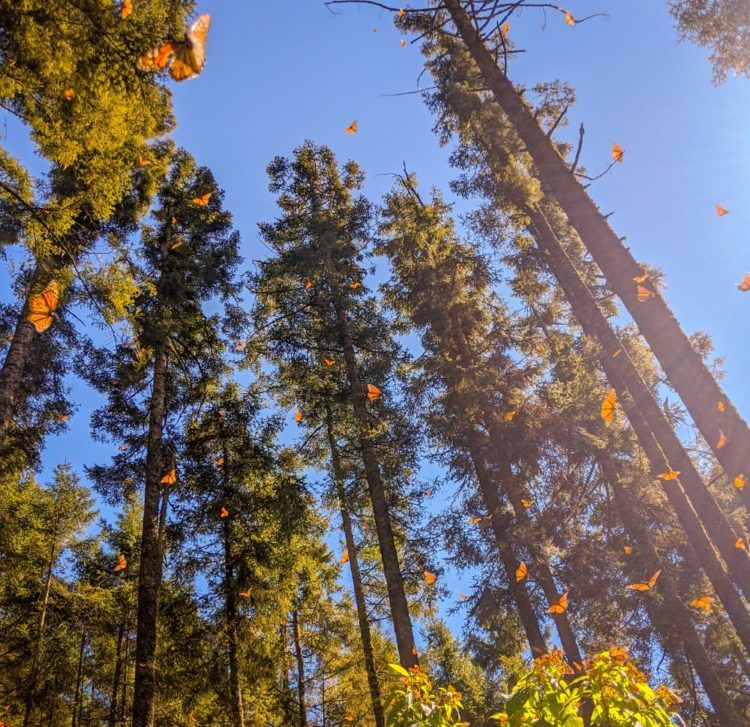 In a single day, I'd recommend spending half your time at the Piedra Herrada Butterfly Reserve (mid-November through mid-March) and the rest of your time exploring this "magic town" of Mexico. If you're not here in butterfly season, you can try mountain biking or paragliding, both of which are also popular.
How to Get to Valle de Bravo: 2 hour bus from Mexico City's Poniente station on Zina line
Best Tour of the Butterfly Sanctuary: Private Visit to Piedra Herrada and Valle de Bravo
Read More–> Piedra Herrada, the Monarch Butterfly Reserve You've Never Heard Of
The Twin Volcanoes of Iztaccihuatl and Popocatepetl
Another great nature option, albeit a strenuous one, is hiking at Izta-Popo Zoquiapan National Park. If you make the strenuous hike from La Joya trailhead, you'll (hopefully) be treated to views of Popocatepetl erupting on the other side of the pass. I'm a volcano junkie, and this one is fabulous.


It's not easy to get here by public transport (I rented a car — also not easy!) and you're trekking at high elevation, so this is one that's best to do with an experienced guide. If you're fit and looking for adventure, I highly recommend a day trip here.
How to Get to Izta-Popo National Park: 2 hours and 15 minutes by private car from Mexico City
Best Tour of Izta-Popo: Nomada Mexico has great mountaineering guides, but it's not cheap.
Read More: Climbing Iztaccihuatl
Tepoztlan
My most recent trip to Mexico City included a side trip to the mystical town of Tepoztlán. This small city to the south is best known for being home to Tepozteco, a small temple on the top of a hill dedicated to the Aztec god of pulque.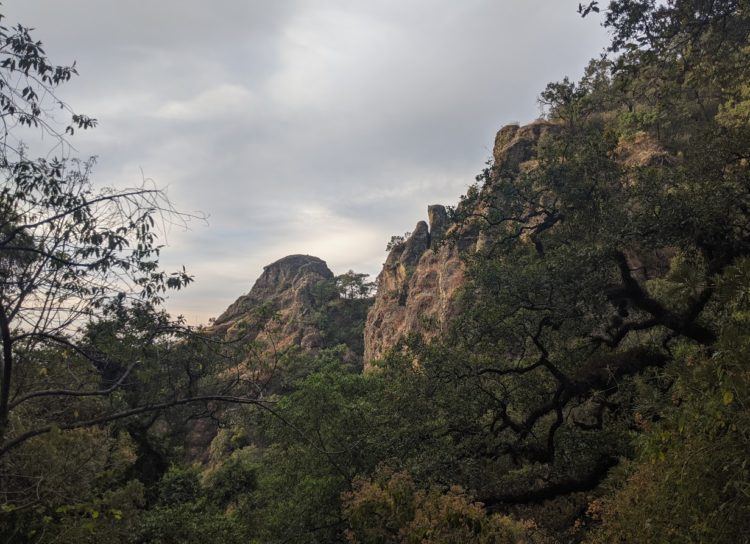 In a day, you can climb up Tepozteco (it'll take you ~3 hours, including touring the archaeological site), try pre-hispanic food at the market, steam yourself in a temazcal, and then make your way through the dozens of ice cream flavors at Tepoznieves.
How to Get to Tepoztlán: 75 minute bus from Mexico City's Tasquena station
Cuernavaca
Cuernavaca wasn't my cup of tea, but it's popular with locals in Mexico City and other visitors for it's picture-perfect weather. You can all but guarantee spring temperatures and blue skies year-round.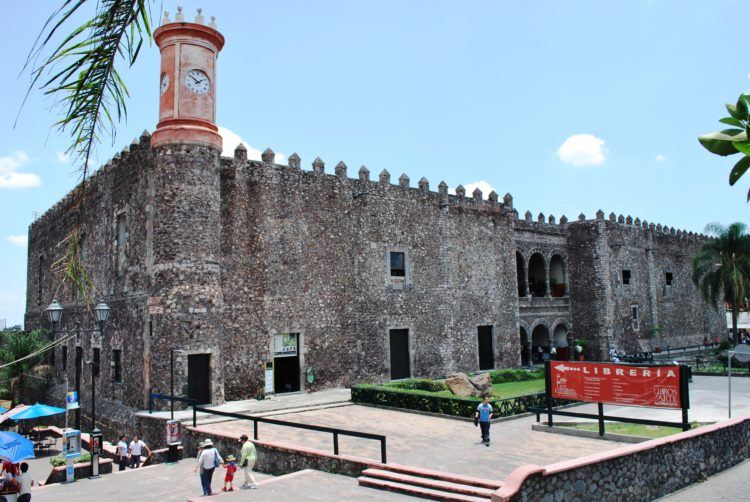 The downtown is kinda ugly but you can hire a taxi from the center to the Jardines de Mexico, a huge botanical garden with impeccable landscaping. There are also some great restaurants here, like Las Mañanitas where you can watch peacocks stroll the grounds during a leisurely lunch.
How to Get to Cuernavaca: 50 minute bus from Mexico City's Tasquena station
Other Mexico City Day Trips
I haven't been on these ones (yet), but they're on my wishlist:
Mixquic: I almost went to Mixquic for their famous Day of the Dead celebrations on my first visit to Mexico City, but gave up because the logistics seemed complicated. Turns out, they still are…so this might be a time to find a group tour because it seems like a great side trip for November.
Nevado de Toluca: For my next Mexico City hike, I'd like to hike Nevado de Toluca, Mexico's fourth-tallest mountain. The scenery along the trail looks stunning, especially under a dusting of snow.
Tlaxcala: I've never been in the Mexico City region in the summer, but if you are, book a tour to Tlaxcala and its firefly sanctuary. Hundreds of thousands of fireflies light the skies during mating season (June-August), and the government palace murals in Tlaxcala city look interesting, too.
Weekend Trips from Mexico City
No, these don't have to be on weekends specifically, but the next few locations are really best if you can spend a minimum of 2 days/1 night.
Puebla and Cholula
The two cities of Puebla and Cholula are just 20 minutes from each other and have two different feels to them, so you'll want to see both.
Start in Cholula and climb to the church on top of the hill for panoramic views of the city and volcano in the background. Then, tour the underground pyramid — yes, you read that right!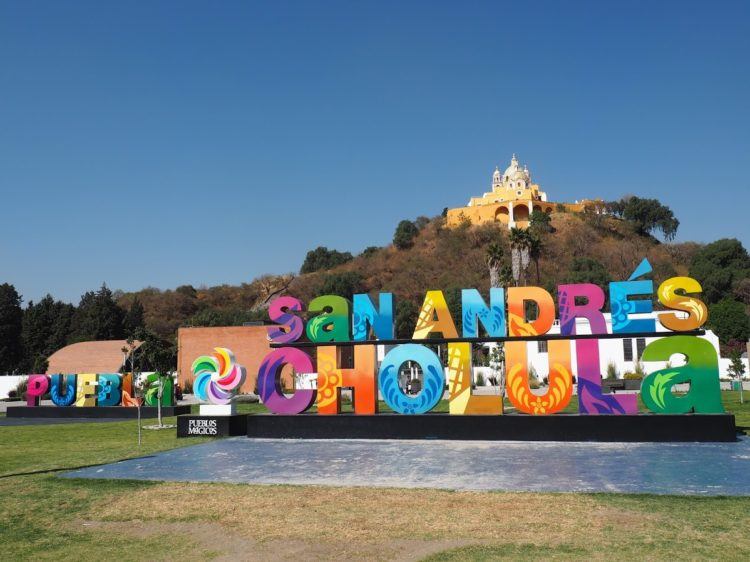 In Puebla, you'll want to stop at the Museo Amparo (even if you don't like art, trust me on this) and then lead yourself on a self-guided walking tour of the city sights, with plenty of food stops included.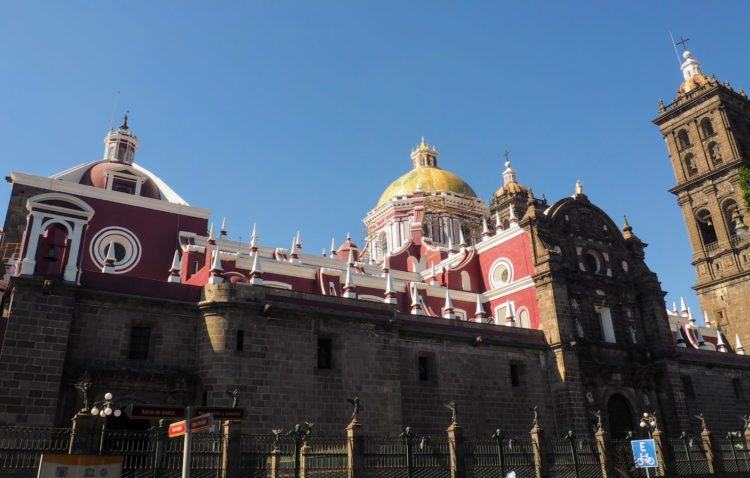 I like to return back to Cholula for nightlife. There are options ranging from jazz clubs to dance clubs and everything in-between.
How to Get to Puebla: Take a 2 hour bus from Mexico City's TAPO Station to Puebla CAPU (and then Uber to Cholula)
Where to Stay in Cholula: Estrella de Belem B&B
Read More –> A Step-by-Step Puebla Itinerary
Taxco
Taxco is a photographer's dream. The town sits on a hill with beautiful white buildings, cobblestone streets, and Volkswagen bugs driving all through town.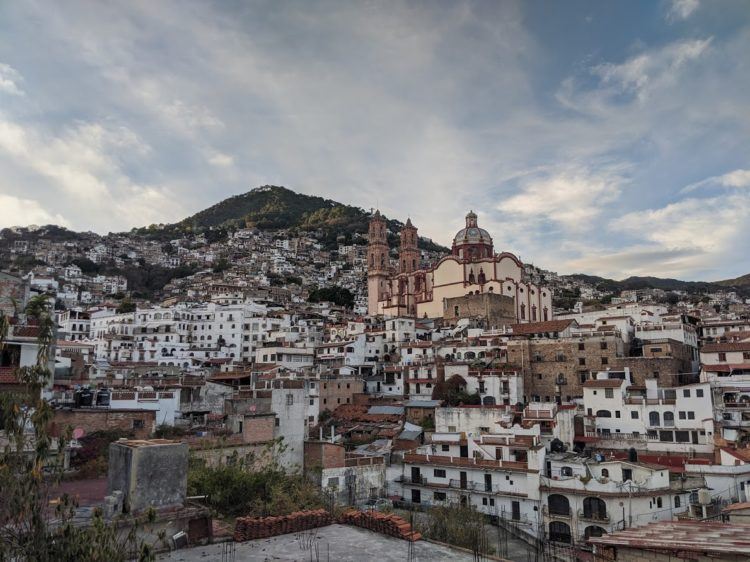 The town itself is typically Mexican, with a cathedral sitting on the main square, a maze-like market, and a lively atmosphere. There is tons of shopping and an additional silver market that sets up shop on Saturdays.
Not a shopper? It's worth a visit to soak in the ambiance (especially in the evenings). I also loved touring the silver mine and day-tripping to Pozas Azules. You can also visit the Caves of Cacahuamilpa, although I chose to skip that.
Heads up: Taxco is in the Mexican state of Guerrero, which is currently under a Level 4 US Travel Advisory ("Do Not Travel"). I personally believe that the city of Taxco is safe, and most other foreign governments agree, but you should do your own research before making a decision. Either way, you'll probably want to avoid the rest of the state at the moment.
How to Get to Taxco: It's a 2.5 hour bus from Mexico City's Tasquena station to Taxco on Costa Line or ADO.
Where to Stay in Taxco: I loved the Hotel Agua Escondida.
More Weekend Getaway Ideas from Mexico City
Unfortunately I haven't been everywhere, so here are a few more ideas I unfortunately haven't visited myself (yet!):
Grutas Tolantongo: I've seen day trips heading to these spring-fed pools, but at 3+ hours each way, that's a long day. Spend the night and enjoy the area in the evening and early morning when it's less crowded. That'll give you plenty of time to enjoy the swimming pools, thermal pools, caves, river, tunnel, and trekking, too.
San Miguel de Allende: I've heard mixed reviews of San Miguel de Allende — some people think it's too touristy, but it sure looks pretty. It's the place I think I'd like to wander through for its history and architecture.
Ideas for Where to Go After Mexico City If You Have More Time
Mexico City is well connected to everywhere in the country by plane and/or bus, so in theory all of Mexico is at your doorstep if you have more time. There's one place that stands out to me as a fabulous option that shouldn't be missed: Oaxaca.
Oaxaca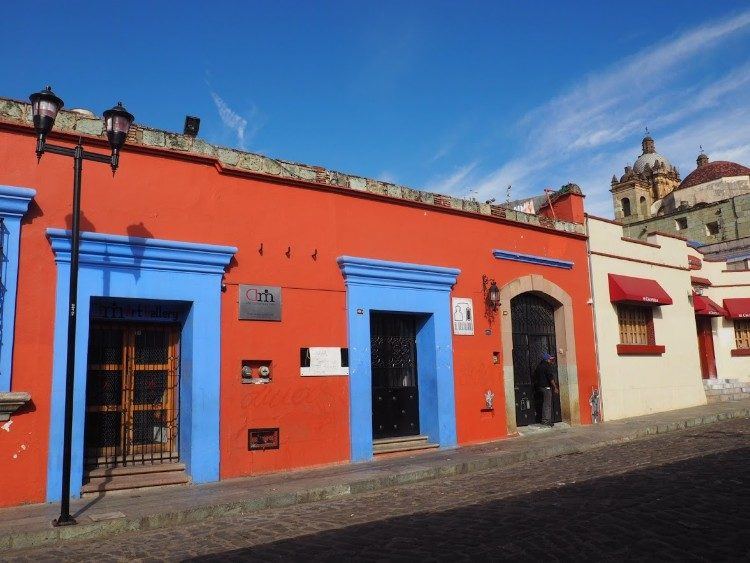 Oaxaca is both the name of a city and a state in Mexico, but here I'm referring to the city. If you love the food, art, and history of Mexico City, then Oaxaca is an obvious choice of where to go next. The trip takes about 7 hours by bus (or a 1 hour flight) and I'd recommend spending a minimum of 3 full days there.
Oaxaca is a walkable city, with an old town and a new town, both worth exploring. You can visit the Monte Alban ruins and Hierve el Agua travertines, both really cool and easily accomplished. And allow plenty of time for sampling mole and mezcal, both of which originated in the Oaxaca area. It's one of my favorite places in Mexico.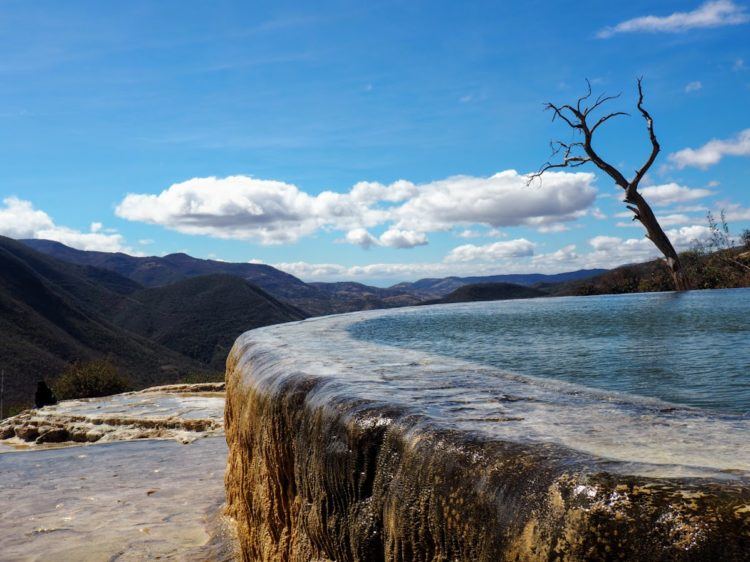 How to Get to Oaxaca: Take a 7 hour bus from Mexico City's TAPO station to Oaxaca on ADO.
Where to Stay in Oaxaca: Book early before the Hotel Parado de Alacala fills up.
Read More –> What You Need to Know Before Your First Visit to Oaxaca
So Where Are You Going First?
When you're planning a day trip from Mexico City (or longer), you should always prioritize the destination that fits your interests best. There isn't a single place on this list that will be best for everybody.
But if you're still suffering from information overload, my favorite day trips are Teotihuacan (a must!) and climbing Iztaccihuatl (if you are up for a physical challenge). For an overnight stay, I'd choose Taxco — 1 or 2 nights is enough.
If you still have questions about where to go after Mexico City, let me know in the comments and I'd be happy to help you make a decision that's right for you.