This post may contain affiliate links. As an Amazon Associate I earn from qualifying purchases.
* * *
The ancient city and pyramids of Teotihuacan is the most popular day trip from Mexico City. Visiting on your own is easy, saves you money, allows you to choose your own schedule, and customize it to your interests. By skipping Teotihuacan tours, we avoided crowds and skipped over souvenir stops.
How to Get to Teotihuacan by Public Transportation
The bus to Teotihuacan is comfortable, fast, and easy!
To start, you'll need to take the Mexico City metro to the Autobuses del Norte station (line 5). From the Autobuses del Norte metro stop, follow the signs out of the metro station and across the street to the actual bus station.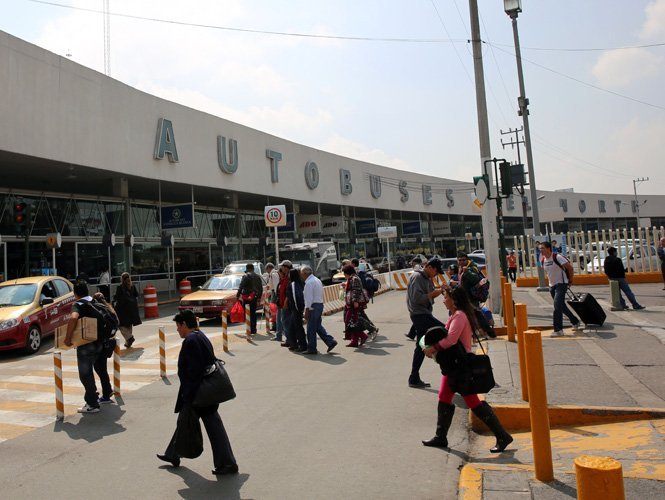 Inside the station, head all the way toward the left, to Puerta 8. Here, you'll find a window selling tickets to "Pyramides" (referring to the Mexico City pyramids) or "Zona Arqueologico".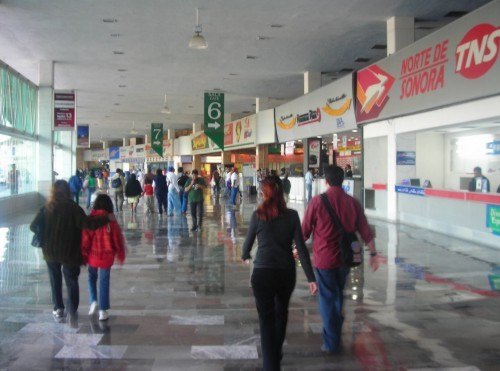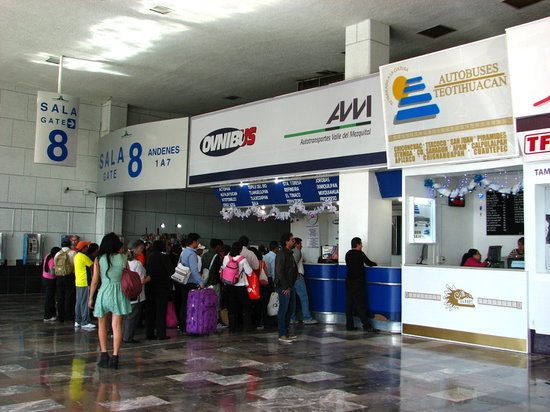 The first bus to Teotihuacan departs at 6am with more departures about every 20 minutes thereafter until 2pm. I recommend catching a 7:30 or 8am bus — you'll arrive just in time for the site to open and avoid midday crowds.
Depending on traffic, the ride is about 1 hour each way. Your outbound ticket will be for a specific, timed departure so don't miss your bus. Your return ticket is not for a scheduled time, so you can take any bus back to the city when you're done.
The round-trip ticket costs 106 pesos per person, or about $5.00 as of December 2019. Bathrooms are available in the station for 6 pesos and there is fast food and luggage storage (30 pesos/bag) also.
Teotihuacan Admission
Buses will drop you off at Puerta 1 at Teotihuacan, where you can buy entrance tickets. As of February 2020, the entrance fee was 80 pesos and includes entry into the museum. There is an additional charge if you wish to record videos.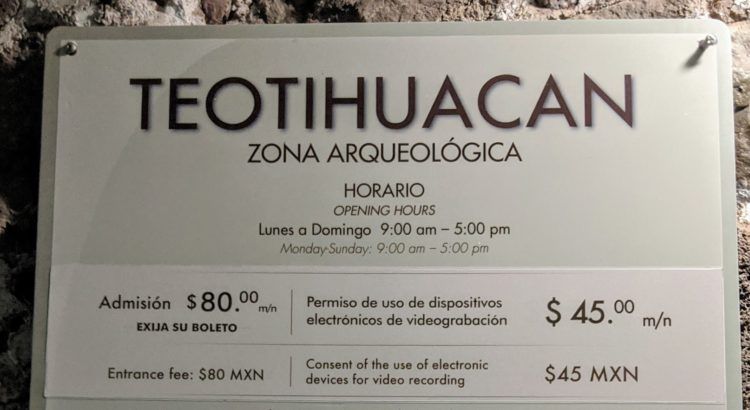 If you want to hire a guide (optional), there are several licensed guides near the entrance. Private guides cost about 850 pesos for a 1.5 hour tour of Sun & Moon Pyramids or 1500 pesos for a 2.5 hour tour that includes more. Expect to haggle based on length of tour, language, size of group, and the guide's knowledge. For a free option, you can read through the Wikipedia guide before you go.
Sound like too much work? The Best Teotihuacan Tours
There's no doubt a guide and group make things easier and give you more historical context during your visit.
The best Teotihuacan tours include this early-morning visit with an archaeologist to beat the crowds. If you're not an early bird, try "Hidden Teotihuacan", a small group outing that includes dinner in a local home.
How to Visit Teotihuacan Without a Guide
To avoid crowds, I recommend arriving before 10am to have some breathing room before hoards of Teotihuacan tours arrive.
Temple of the Sun
Make your first stop the Temple of the Sun so you can climb all 248 steep steps before it gets too hot out. I won't spoil the view from the top, but I will tell you it's absolutely worth the pain.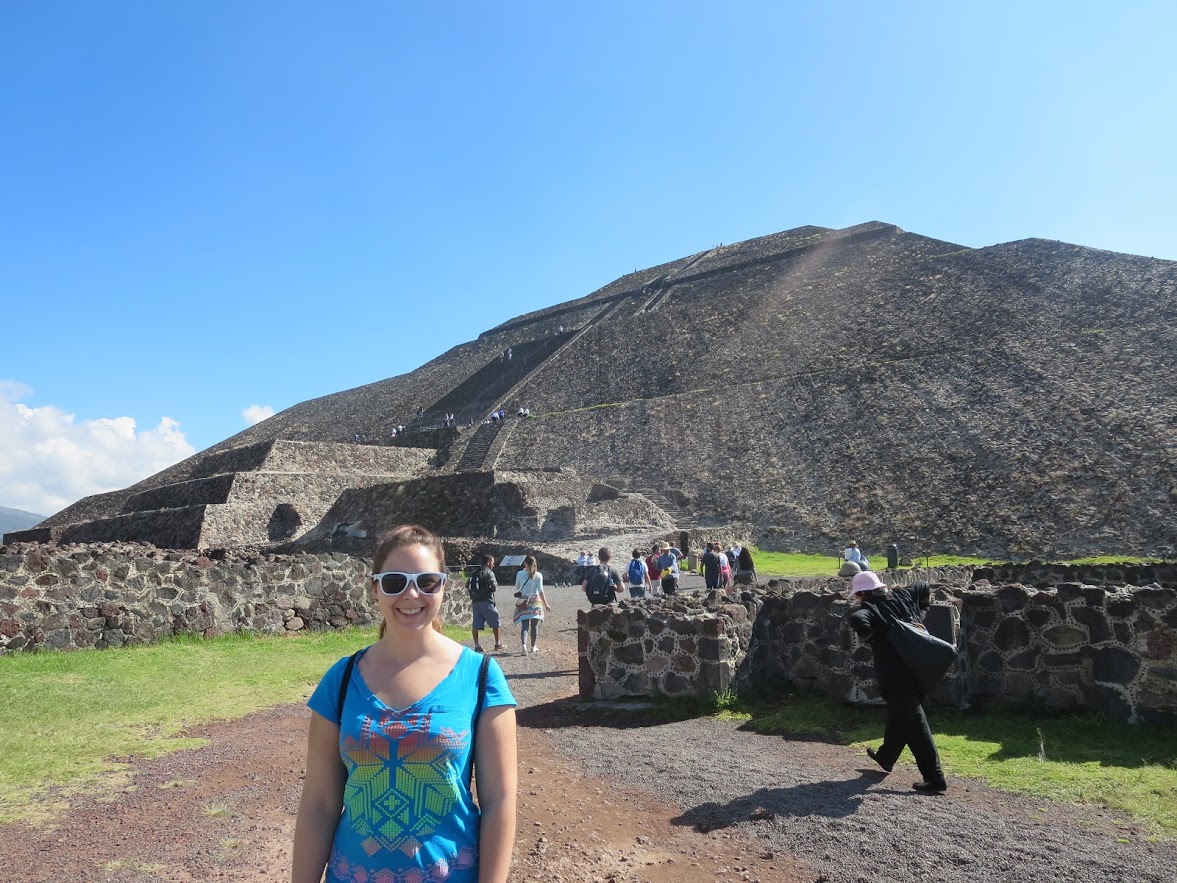 Pyramid of the Moon
The Pyramid of the Moon was my favorite part of Teotihuacan. Although it's shorter than the Pyramid of the Sun and you can only climb halfway up, you have the added bonus of seeing the entire site. The steps seemed steeper (or maybe I was just more tired), but it's worth the climb.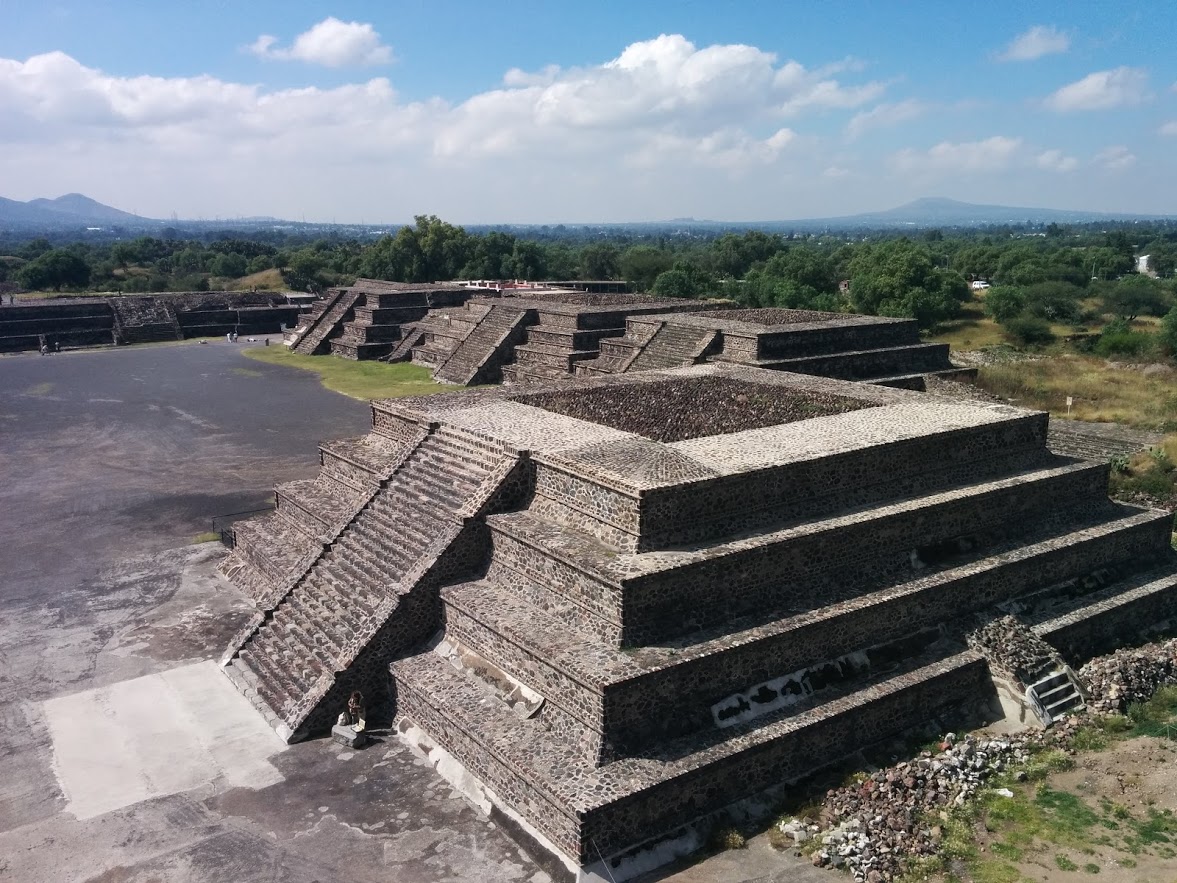 Palace of Quetzalpapalotl
The Palace of Quetzlpapalotl doesn't look like anywhere else in the city. It has ornately carved pillars, obsidian inlays, beautiful murals, and a gorgeous courtyard. Many of the colors have been preserved; others re-touched.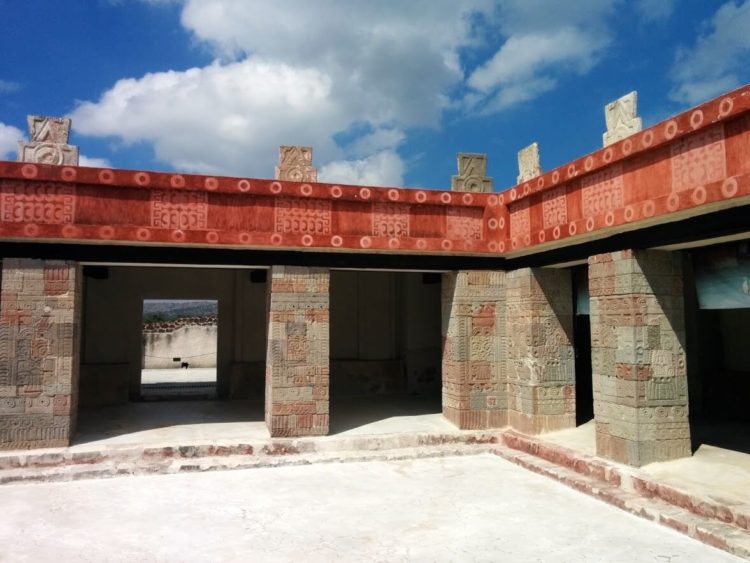 For more information on what to see at Teotihuacan, see my Mexico City pyramids guide.
Where to Eat Lunch Near Teotihuacan
The fact that you can leave the site for lunch and re-enter with your ticket isn't widely advertised. There are some street food options outside Gate 2 (across from Pyramid of the Sun) and one really unique restaurant outside Gate 5 (behind Pyramid of the Sun, follow signs to museum).
La Gruta is a restaurant inside a cave, providing an atmosphere different from anywhere I've eaten before! The food is average, but the setting is unbeatable.
If you speak Spanish, you can check out the menu ahead of time. It's not cheap — expect entree prices around US$12 — but it's not outrageously priced either.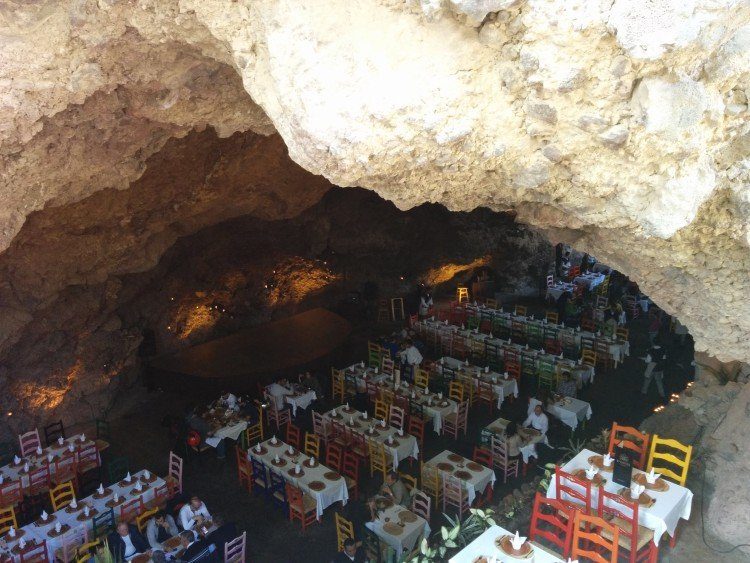 To get there, exit Puerta 5 and take a left. Shortly thereafter, take a right onto a side street and you'll see black signs pointing you down the long driveway to the restaurant.
Returning to Mexico City
We spent about five hours at Teotihuacan, including lunch. You may spend longer, especially if you're history buffs.
When you're done exploring, exit the ruins at Puerta/Gate 2 and walk through the parking lot to the main road (pickup is also available at Gate 3). The bus will pick you up at that main intersection, on the far side of the road. You shouldn't have to wait more than 20 minutes. If you didn't originally buy a round-trip ticket, you can pay when you board.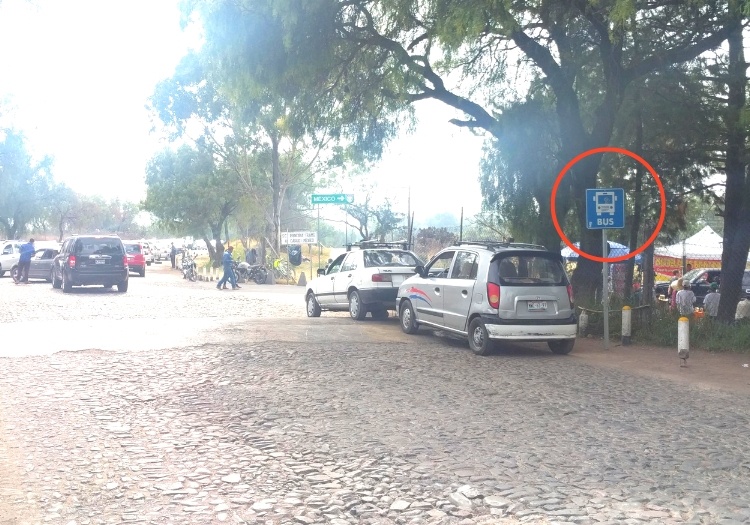 The site closes at 5pm but there are buses until 6pm or later. The ride back takes slightly longer due to the routing, but it's still easy.
The final stop is back at the bus station where you started, or you can get off at Indios Verdes and take the metro from there. Indios Verdes is a busy, overwhelming station so skip it if you're not used to Latin American travel!
NEW: Visiting Teotihuacan at Night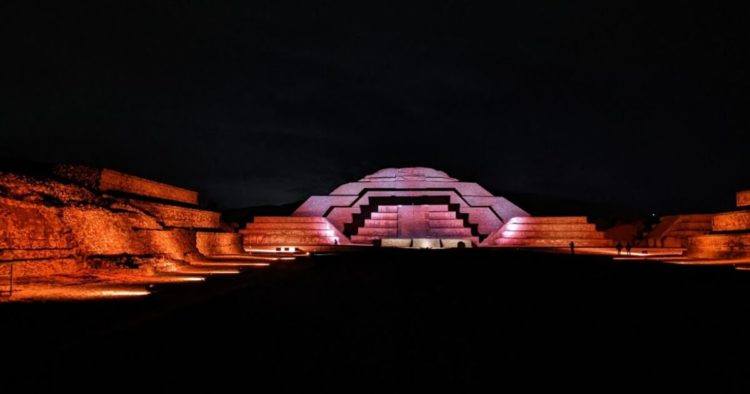 I re-visited Teotihuacan in 2020 to check out the Teotihuacan Nocturno experience, which includes nighttime entry to see the pyramids lit up. It ends with a light and sound show projected on the Pyramid of the Sun.
If that sounds interesting to you, check out my full review of Teotihuacan at night.
Do you need a hotel in Mexico City?

I don't recommend staying by Teotihuacan — there's nothing there, except the site itself. Instead, check out my Mexico City neighborhood guide and hotel recommendations (opens in a new window).

Have more time? Check out some of the other activities I liked in Mexico City to plan the rest of your trip.
A Few Last Tips for Visiting
There's almost no shade at Teotihuacan, so it can get hot quickly. Pack sunscreen and bottled water; you'll want it.
There are lots of hawkers selling souvenirs like jewelry and small toys throughout the site. Since everyone has basically the same products, don't be afraid to walk away until you get a price you're happy with. If you can bargain in Spanish, you're likely to get a better price.
Don't go on Sunday if you can avoid it; it's free admission for Mexican residents and extra crowded.
Teotihuacan is an awesome day trip from Mexico City so if you have time, be sure to visit!
More Info to Plan Your Mexico Trip