This post may contain affiliate links. As an Amazon Associate I earn from qualifying purchases.
* * *
Choosing where to stay in Mexico City is a monumental task. It's no small city, covering more than 500 square miles and home to nearly nine million residents! With so many neighborhoods to choose from — and hundreds of hotels in each — choosing the best fit for you is overwhelming unless you know what you're looking for.
For first-time visitors, this guide narrows down things to the 4 best Mexico City neighborhoods with a few hotel recommendations in each so you stop the information overload, pinpoint what works best for you, and enjoy your trip!
(Still undecided at the end of the article? Just shoot me a question in the comments section!)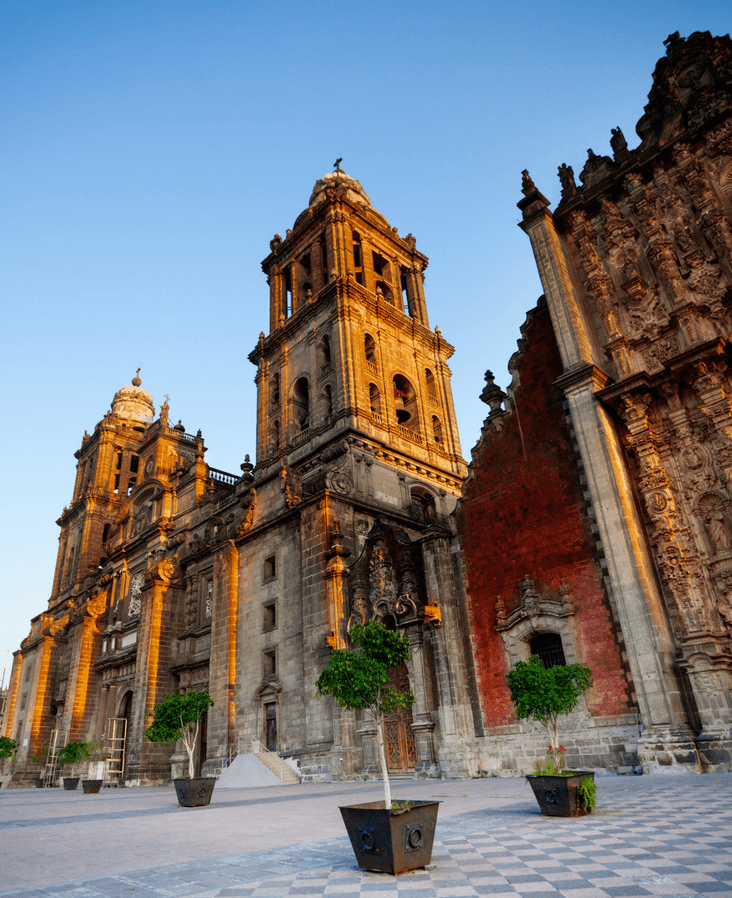 Where to Stay in Mexico City: The Districts Best for Travelers
Like most major metropolitan cities, there are dozens of different neighborhoods in Mexico City, each with their own personality. However, most tourists can automatically narrow their search down to four centrally located Mexico City neighborhoods.
Each of these is safe, relatively close to major attractions, walking distance to restaurants, and accessible to the metro for additional touring.
The 4 Best Neighborhoods in Mexico City to Stay:
Condesa-Roma
Polanco
Centro Historico
Zona Rosa
Out of these, Condesa – Roma is my favorite but it might not be the best choice for everyone so stick with me as we evaluate all your options.
Pro Tip: Don't stay outside the city center just to save money. You'll spend all your time commuting instead of enjoying yourself. My mid-range Mexico City hotel suggestions are usually $100/night or less so you can have a great location without breaking the bank.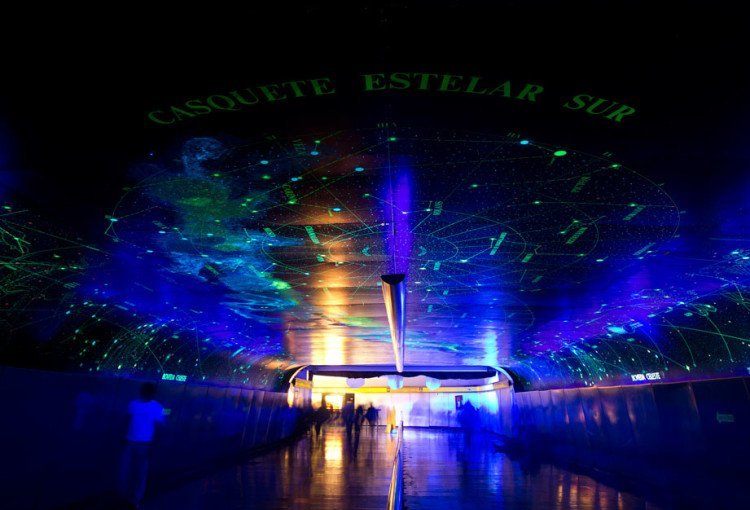 Where to Stay in Condesa and Roma
Advantages to Condesa-Roma: Thriving neighborhood that's perfect for living like a local
Disadvantages of Condesa-Roma: Most iconic attractions are too far to walk
For trendy, almost hipster vibe, this is the best area to stay in Mexico City. These two adjacent neighborhoods feed off each other, altogether offering you the newest, freshest shops, restaurants, bars, galleries, and a few parks thrown in for good measure.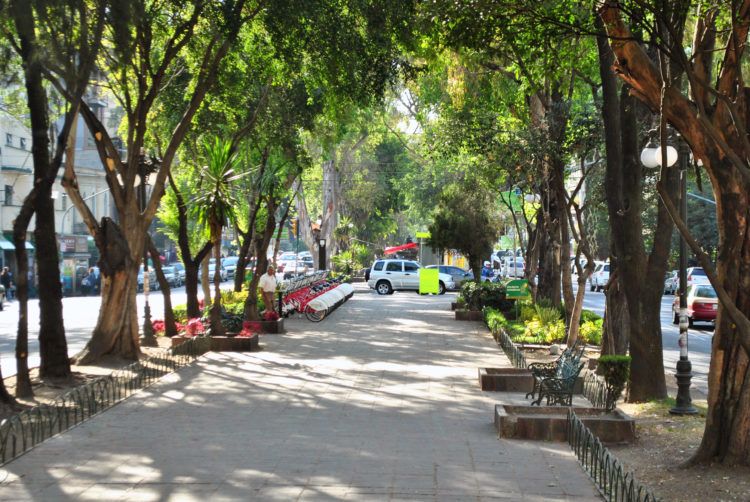 These are, in my opinion, the best neighborhoods in Mexico City to stay if you picture yourself spending a lot of time just walking, wandering, and ducking into interesting places. This is meant for spontaneous travelers who don't feel the need to see every monument and museum but would rather pretend they live there for a few days.
While You're There: This is not a stereotypically Mexican part of town. It's very international, very 2020, and chock full of locals who speak English and might be willing to chat with you over a coffee or mezcal.
Choose from dorm beds or double rooms here, and either way you'll have great communal areas. Travelers here are all drawn to the same bohemian vibe of Condesa – Roma, so it can be a great place to meet fellow travelers.
★sightDOING favorite★ Honestly, this might even be better than more expensive properties in the area. It's the best place to stay in Mexico City because it straddles both La Condesa and Roma so you can walk to dozens of amazing restaurants. It has fabulous art deco design, comfortable rooms, and great service. Best of all, there are beautiful open-air spaces to relax or take your breakfast.
This neighborhood is perfect for longer stays because it's easy to fall into a routine of "normal life" here. This apartment from a Superhost gives you a lot of space in a central location.
Polanco Hotels
Pros of staying in Polanco: Safe, hotel brands you trust, gourmet restaurants, near the famous archaeological museum
Cons of staying in Polanco: More of that "international big city" flair and a little less Mexico City personality specifically
Most first-time visitors choose Polanco hotels. The area is incredibly safe and has easy access to embassies and international businesses, which means chain hotels popped up to accommodate business travelers. Today, tourists are drawn to the area because hotels are familiar, recognizable brands (and lots of options).
That doesn't mean it's a bad or boring choice! Polanco is a great location if your trip includes high-end shopping at designer boutiques, five-star restaurants, or a little luxury pampering. You probably won't think twice about safety whether you're strolling wide sidewalks during the day or even at night.
Staying at Polanco hotels also makes a lot of sense if you expect to spend a full day at the Museum of Anthropology (buy your ticket in advance to skip the line) or gallery hopping.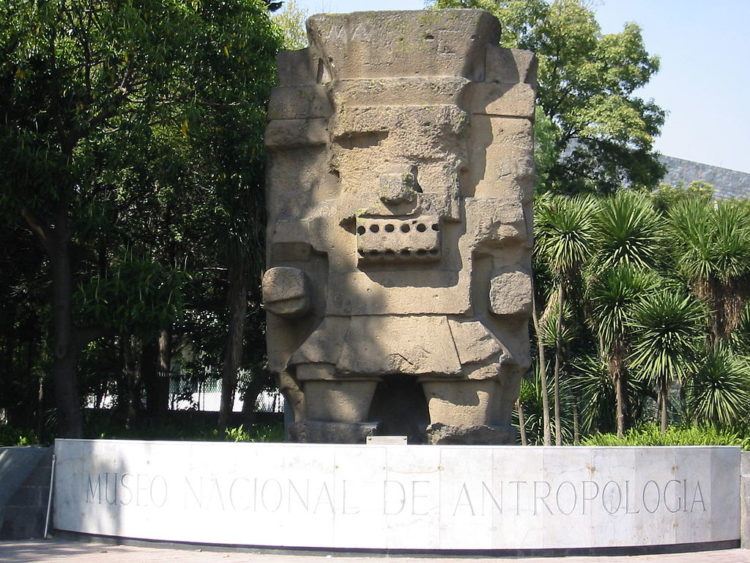 While You're There: Make reservations ahead of time at Pujol and Quintonil, two amazing restaurants with tasting menus you won't want to miss.
Polanco isn't known for it's budget properties, so for a low price you're best off choosing an Airbnb. This one is less than $50/night and has space for up to 4 guests.
For travelers that appreciate knowing exactly what they're getting, the Wyndham Garden Inn in Polanco offers standard chain amenities and comforts with a high-end location and a reasonable cost (sometimes downright cheap!).
I have two friends who have stayed here and rave about it as one of the best hotels in the world. It's above my price range, so I can't confirm, but photos look incredible. It has all the amenities you'd expect of a five-star hotel with extraordinary service and personalized attention of a boutique hotel.
At times, Polanco can feel a little like home instead of Mexico. That's okay…jazz your trip up with a night out! This 3-in-1 tour to cantinas, mariachi, and lucha libre wrestling will definitely spice up your Mexico City vacation.
Centro Historico Hotels in Mexico City
Pros of Staying in Centro Historico: Walking distance to historical sites, museums, and cantinas
Cons of Staying in Centro Historico: It can be touristy, keep an eye out for pickpockets
The area around Mexico City's famous Zócalo (Plaza de la Constitución) is known as the Centro Histórico, or historic center. The main square itself is impressive: it's the largest square in Latin America and third largest in the world. It's also home to the Cathedral, National Palace, Templo Mayor, and more.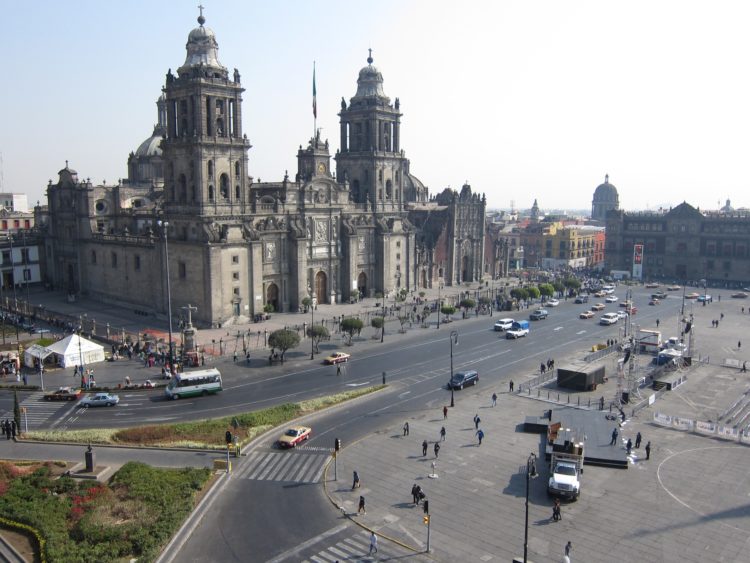 This neighborhood is particularly great for museum-lovers. There are plenty to see in the Centro Historico, making it easy to roll out of bed and get an early start. It can also be fun to have dinner at the numerous cantinas, many with live music.
A lot of the Centro Historico leans toward the touristy side, since there are so many visitors here are the numerous attractions. Follow my 100-meter rule to avoid tourist traps and keep your belongings close at hand to avoid being pickpocketed.
>>>>> Related Post: How to Avoid Pickpockets (and What to Do if It Happens)
While You're There: Don't miss a Folklore Ballet performance, on Wednesday and Sunday nights at the beautiful Palacio de Bellas Artes.
The location is excellent, just a block and a half from the main square. Back in my hostel days, this is the type of place I'd choose. Social but not a party atmosphere, great breakfasts, and rooms with just four bunk beds so you can actually get some sleep.
You'll love this eco-friendly historic mansion that's been converted into a bed and breakfast. Officially it's in the San Rafael side of the Centro, easily accessible and just far enough away to be quiet. Some rooms have shared bathrooms, so choose a junior suite with private washroom (it's still affordable).
This is one of the very few chain hotels outside Polanco. This is a great opportunity to stay in the heart of the historical district while enjoying the Hilton amenities you expect in a design-forward hotel. Plus, breakfast is great and there's a small rooftop pool to cool off. Read my full review of Hotel Umbral.
Zona Rosa Hotels (sometimes known as Reforma)
Pros of Staying in Zona Rosa: Great nightlife, boutique hotels on a budget
Cons of Staying in Zona Rosa: Can be loud and busy, particularly on weekends
When I went to Mexico City in 2015, this is where I stayed. You'll either love it or hate it — this is a pulsing, thriving Mexico City neighborhood. Most people consider this the entertainment district, the gay center of town, and the part of the city that never sleeps.
The streets are full of nightclubs, bars, and restaurants, plus shopping on Genova Street. Because of this, it can be very busy with tourists, locals, and touts. As long as you know what you're getting into, you can have a lot of fun.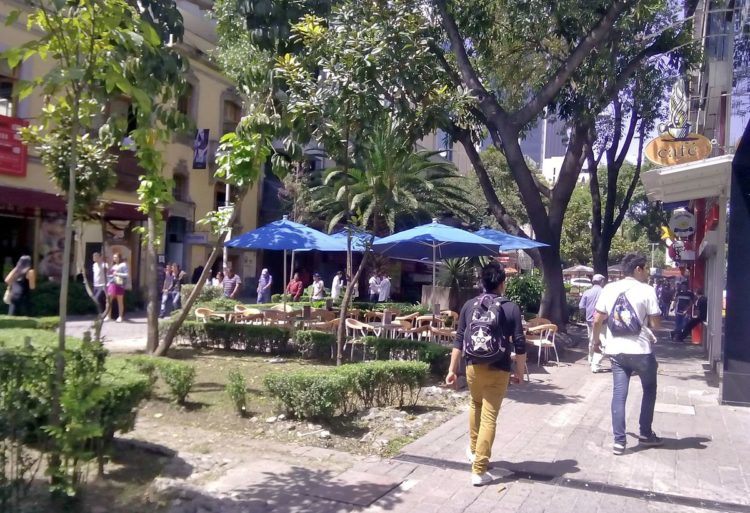 While You're There: Spend some time in Little Korea. The juxtaposition (and at times, fusion) of Mexican and Korean culture is an interesting phenomenon. Shop the markets, try a meal, and sing some karaoke!
Of all the hostels in Zona Rosa (and there are a lot), this is my pick. The capsule set-up gives you a little more privacy, which you'll appreciate if guests are staying out late at night in this party neighborhood.
If you don't mind taking the stairs (there's no elevator) then you can get a lot of bang for less than $100. Relax in a hammock or sprawl out in a suite; this is an oasis from the city around it.
This contemporary hotel has a beautiful modern design with extras like Bose Bluetooth speakers, rain showers, and a rooftop patio. This is on the far edge of the area, so it's a little bit more of a walk to nightclubs (which also means it's a little quieter for sleeping!).
>>>>> Related post: Highlights from my Trip to Mexico City
Of the best places to stay in Mexico City, which one is for you?
There's a perfect spot for every visitor and you might want to change it up with every return visit. The most important thing is to stay a few nights, if you can. It's a big city that takes time to experience it all, regardless of your choice on where to stay in Mexico City.

MORE MEXICO CITY TRAVEL INFO
Not sure what to do in Mexico City? Don't miss a day out to Teotihuacan and wish I had joined a food tour because everything is delicious!

Going anywhere else in Mexico? Check out all my articles like what to do in San Cristobal or why I love Cancun.