This post may contain affiliate links. As an Amazon Associate I earn from qualifying purchases.
* * *
It was the butterflies that prompted our visit to Mexico. I could only dream of millions of monarch butterflies fluttering around us — so many you don't know where to look. But for a few months each winter, it's not a dream. It's a reality, at least at Piedra Herrada Monarch Butterfly Sanctuary near Valle de Bravo, Mexico.
The Annual Butterfly Migration
Most butterflies live only six to eight weeks, but every four generations or so, a special monarch butterfly is born. These "methuselah" butterflies (that are otherwise exactly the same as other monarchs) live up to nine months instead — long enough to make the 2,000+ mile journey from Canada to central Mexico. How these butterflies instinctively navigate to the same reserve after never having been there before is a scientific mystery.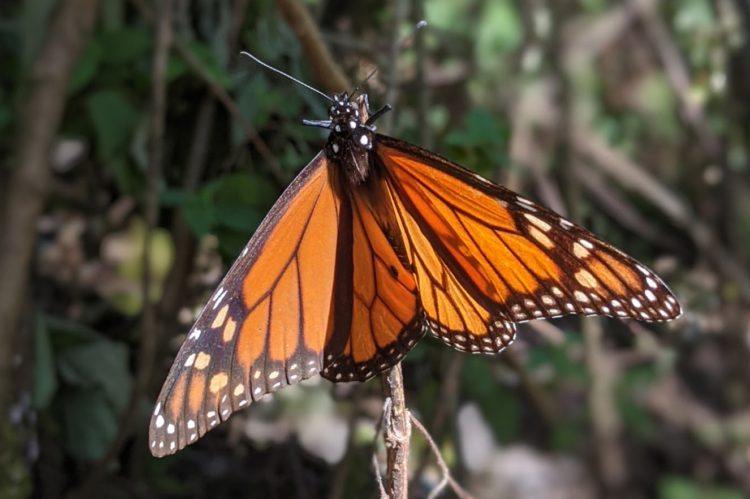 The monarch butterflies begin to arrive in central Mexico in mid-November and winter in the warmer climate. Around February, the butterflies mate here and eventually die, with the next generation being born in March to start the journey back north.
For whatever reason, the northbound butterflies have a shorter lifespan, 8 weeks or less, mating and reproducing during their short lives in various areas along the northbound route. It takes multiple generations to fly from Mexico to Canada, despite just one super-butterfly heading southbound to Mexico.
Mexico Butterfly Sanctuaries
There are actually four butterfly sanctuaries in Mexico: Piedra Herrada in the state of Mexico and the three reserves of Rosario, Cerro Pelon, and Sierra Chincua in the state of Michoacan.
All of these offer slightly different settings, hikes, and experiences but the main goal is always the same: see the monarch butterflies.
Of these, El Rosario Monarch Butterfly Biosphere Reserve (a world heritage site) is the largest and most well-known. However, we chose to visit Piedra Herrada because Michoacan has a number of crime and safety issues right now. Drug cartels battle to control smuggling routes throughout the state and two butterfly workers have been found dead there in the past month.
While most tourists visit without issue or incident, I saw no reason to take a chance when there was an equally good alternative in Mexico state.
Visiting Piedra Herrada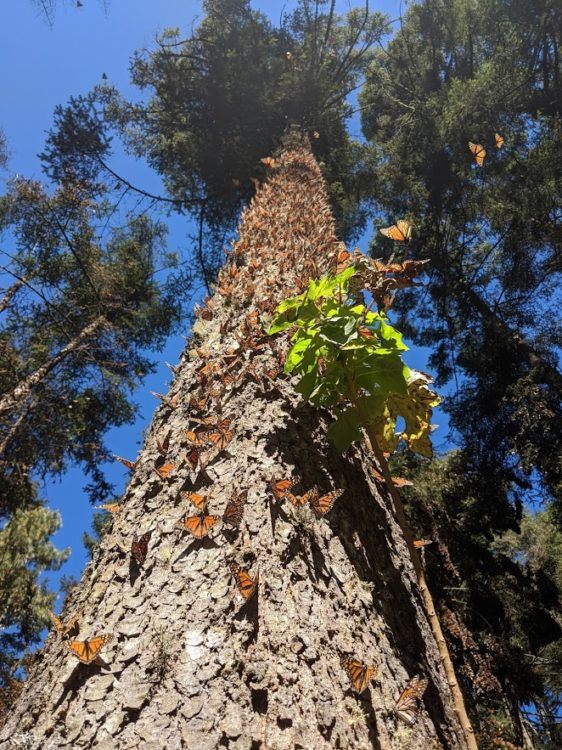 We arrived at Piedra Herrada early (but not too early) on a Monday morning. Timing is everything if you want to see the butterflies: they stay huddled on the branches of fir trees during the morning chill, only flying once the day warms up enough. Come too late and you'll share the reserve with tourists and school groups. And if you come on an unseasonably cool or cloudy day, you might not see the butterflies in flight at all (although you'll still see millions in the trees, so many their weight bends the branches!).
At 9:30am, we began our hike up the mountain with an ejido guide, a local essentially acting as a ranger. These locals know precisely where the butterflies are currently resting and lead you up the correct trails to get there, offering up information about the butterflies and the surrounding fir forest along the way. Our guide was a spritely trekker, easily outpacing my husband and I as we huffed-and-puffed past 10,000 feet.
She told us there were four stages to our hike and we quickly learned the first was no joke. Despite starting off easily, we soon headed uphill — what felt like straight up — until we eventually reached a bench. Afraid I'd lose my momentum if I sat down, I paced slowly, catching my breath, and thinking it was a terrible prank to start a journey on such a steep incline. Even though it was a chilly morning (there was still some frost on the ground in shady places), we warmed up quickly from the exercise.
After our pause, we continued on. The next two stages, still uphill, were more bearable. The last stage, though, was the toughest yet. As we approached the butterfly colony, our guide reminded us a few easy rules:
Whisper, or better yet, be silent.
Watch where you're walking, so you don't accidentally step on a butterfly.
Don't touch the butterflies (although if you're quiet and still, some might voluntarily land on you)
When we first arrived, the experience was anticlimatic. The butterflies were huddled in the trees, so many of them their weight bent the branches downward. From the ground, you'd think these were hives, or perhaps dead leaves, in the trees — it was nothing like the fairytale I expected.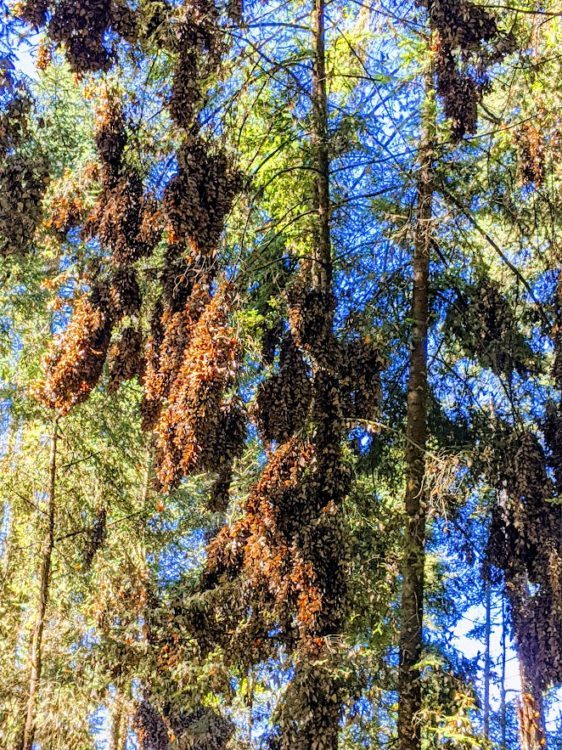 But sure enough, as the sun came out and the air warmed up, the butterflies began to take flight. First, just one or two left the safety of the branch. Then another, and another, and another. Before I knew it, a thousand butterflies were flying.
For those first few moments, I was overwhelmed by golden monarchs everywhere around me. I pointed my camera in every direction, not sure how to capture the experience. But as so often happens in nature, it was after I put the camera entirely away that it became much more special.
My husband and I stood there, stone-still, watching the butterflies. A few landed us and we exchanged silent looks with each other, our eyes smiling while we were afraid to move a muscle. Turns out, my husband was much more popular than I was.
Out of a little bit of strategic planning, a whole lot of hustle up the mountain, and a bit of luck, we were the only ones up there for nearly an hour. It was our own little piece of nature, a butterfly reserve just for us.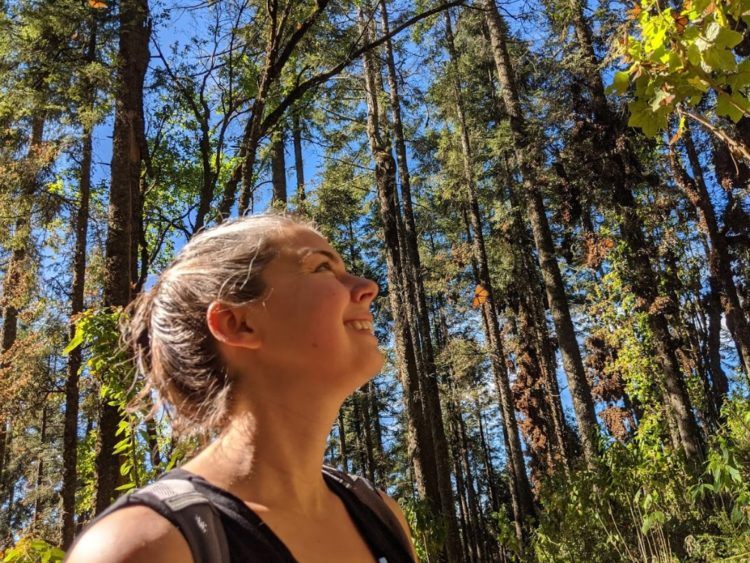 As soon as we heard voices in the distance, though, we started back down the mountain, eventually passing a few groups on our hike back down. I thanked my lucky stars as we passed one particularly large group, knowing that you couldn't possibly have the same stillness with that many people around.
When to Visit Piedra Herrada (or other Mexico Butterfly Reserves)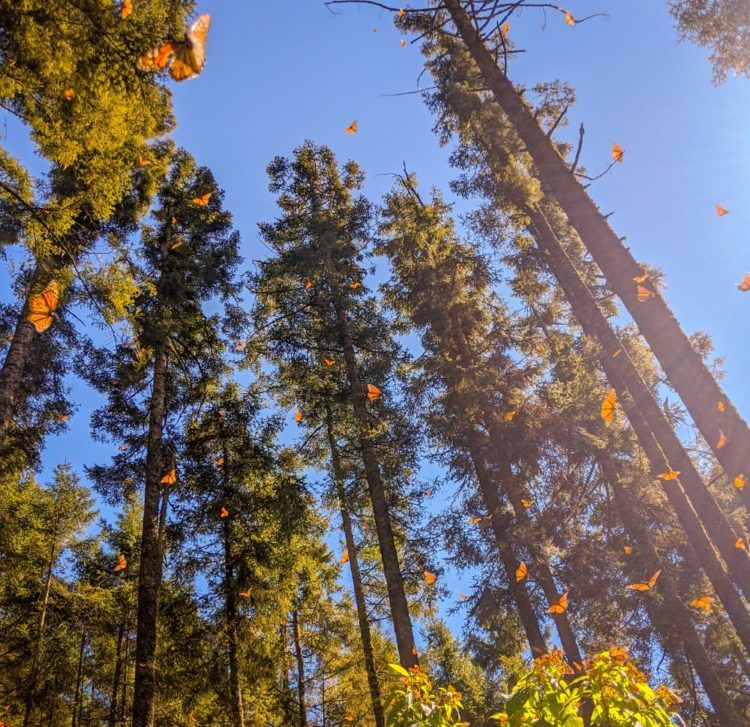 Any visit from mid-November to mid-March will likely result in seeing the butterflies, but January and February are typically considered "peak" populations. In a perfect world, you'll plan your visit on a warm, sunny day so you can see the butterflies flying around you.
The park is open 9am-4pm Sunday through Friday and has extended hours of 8am-4pm Saturdays.
To avoid crowds, go on a weekday. Even still, there will likely be a few groups.
How to Get to Valle de Bravo and Piedra Herrada Butterfly Reserve
The easiest way to visit the sanctuary is to book a private tour from Mexico City, but doing it yourself will save you a lot of cash.
The option we chose was to go from Mexico City to Piedra Herrada via Valle de Bravo, a "magic town" in Mexico state.
From Mexico City to Valle de Bravo
First class buses leave from "Poniente" station (also referred to as Observatorio, given its proximity to the so-named metro station) several times daily on the Zina line. You can check schedules in advance but the website does not accept foreign credit cards for purchases. Either reserve your tickets in advance through a paid service like Reservamos or arrive at the bus station 30 minutes early (more on weekends) to buy tickets in person.
I recommend paying extra for the "Excelencia Plus" buses — they don't detour off the highway for extra stops, so the trip is faster. These executive buses cost 245 pesos per person, each way (regular buses are 185 pesos pp).
For a day trip, I'd recommend taking the first Excelencia Plus bus (7am-9:05am) and return in late afternoon (4pm-6:05pm). That would give you 3-4 hours at the sanctuary and 1-2 hours for lunch in town before heading back to Mexico City. If you want to spend longer, no problem; the last bus back is at 7pm.
From Valle de Bravo to Piedra Herrada Monarch Butterfly Sanctuary
From Valle de Bravo, taxis will gladly drive you 45 minutes to Piedra Herrada, wait for you 3-4 hours (to include hiking and observation time), and then bring you back to town. Local taxis don't use meters, so you'll need to bargain for what you consider a fair rate. I would expect to pay about 800 pesos per car.
Piedra Herrada Costs
The monarch butterfly sanctuary at Piedra Herrada charges 70 Mexican pesos per person for entry and is cash only. You'll also have to hire a guide (mandatory) — this didn't seem to be a set fee, more of a negotiation based on the size of the group and how long you want to spend on top. We paid 300 pesos.
Not a hiker? You can rent a horse and wrangler to take you three-quarters of the way up the mountain for 250 pesos per person. You'll still need to hike up the final stretch, but this should save you 45+ minutes of hiking (and be easier on your knees going down).
Other expenses will include the transportation costs already discussed.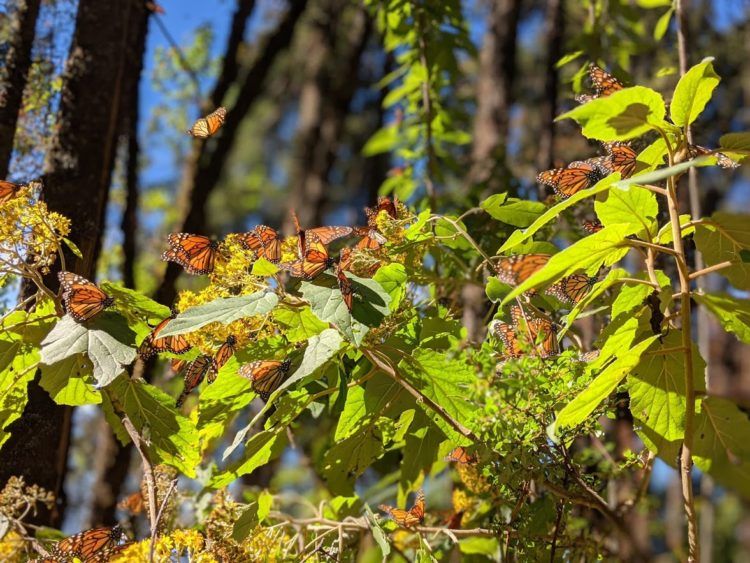 The local guides at the sanctuary speak Spanish only. You don't need an English guide to understand what's going on, but if you want one for context, you'll need to arrange that separately and at additional cost. Ask any hotel in Valle de Bravo for assistance (they'll likely book you a total package with English guide, Spanish guide, entry fee, and transport from Valle for 800-1000 pesos per person).
A Few Thoughts on Valle de Bravo, Mexico
The town of Valle de Bravo is considered one of Mexico's "pueblos magicos" (magic towns) and is situated on Lake Avandaro in the mountains. We booked two nights here, partially to give us options on when to see the butterflies (if weather didn't hold out) and partially because I thought it would be a nice change of pace from Mexico City.
Unfortunately, despite being on a beautiful lake, there's almost no public access to the water — it's surrounded by private homes, marinas, and a few restaurants with poor reviews. I was disappointed there were no boat rentals and no lakefront paths. Additionally, the town itself has a surprising amount of traffic with few sidewalks, so even walking through town wasn't the pleasant experience I hoped for.
If you've never been to a smaller Mexican town, it's worth a short visit. But frankly, there are much better side trips from Mexico City to spend an extended amount of time — Valle is really best for the butterflies.
Valle de Bravo Mexico Travel Guide
Other Things to Do in Valle de Bravo
Paragliding – This is actually the main reason travelers come to Valle — the area is world-famous for paragliding due to its consistent, perfect conditions. If you've ever wanted to try it, this is the place to do it. There are two main launches, "La Torre" right in town and "El Penon", about 45 minutes outside of town (more reliable thermals and longer flights). Unfortunately, I got quite motion-sick from my experience, so my advice for first-timers is to book the shorter flight (just in case) and to only eat a light lunch.
Hike to Mirador La Pena – This hike is difficult but not as hard as the one to the butterfly sanctuary and leads to views overlooking the lake. Just head uphill from Avenida 16 de Septiembre and be prepared for lots of stairs!
Other activities include water sports (in the summer months, when the butterflies are no longer there) and apparently there's tons of mountain biking — a sport I've never gotten into.
Where to Eat in Valle de Bravo
In general, we found the street food in Valle to be better than anything we found in the restaurants. Bonus: it's easier on your wallet and saves you time, too!
El Torton – Right off the main square, this torta (sandwich) shop offered yummy sandwiches loaded up with goodies. Get the chorizo (sausage) or milanesa (beef), load it up with the spicy pickled veggies, and wash it down with a michelada (beer served in a frosted glass with salted rim and fresh lime juice). It's more expensive than some other sandwich joints in town, but the tables on the square make up for it. Budget about 90 pesos ($4) for a sandwich and beer.
"Taco Alley" – No, that's not really what it's called, but there's an alley between the main square and the market lined with a few taco booths. All of them are yummy, but we particularly liked the barbacoa at Tacos Jaime. Prices vary based on the type of meat you get, but are usually 20-35 pesos each.
Where to Stay in Valle de Bravo
Valle de Bravo is kind of like the Hamptons of Mexico City — it's particularly popular on weekends with city-goers looking for an escape. Hotels also lean toward the high-end side of things, so don't expect a super bargain.
Casa Chichipicas – We stayed two nights at this boutique hotel about a 10-minute uphill walk from the town square. Our room was lovely, the service was amazing, and it had a lot of creature comforts: pool, jacuzzi, a lit fireplace in the evening, and a Mexican wine list you shouldn't judge prematurely.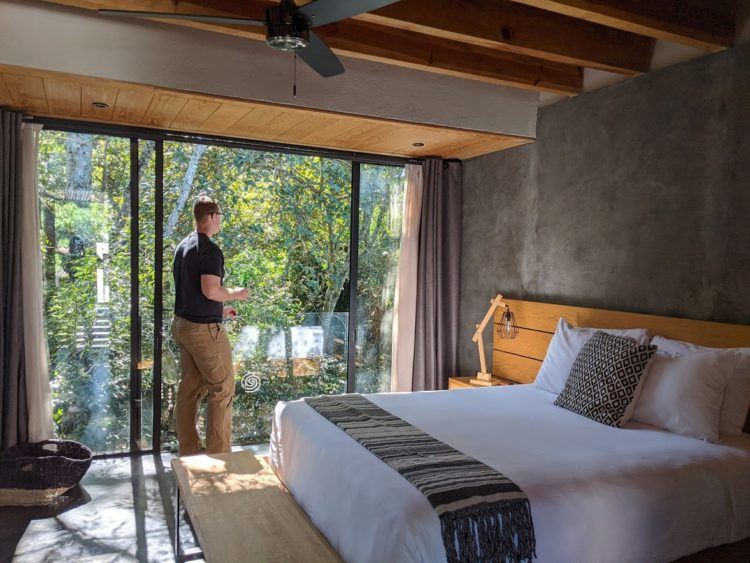 If you choose to stay somewhere else, be sure to double-check whether your hotel or Airbnb is in Valle de Bravo proper or the neighboring town of Avandaro. Avandaro is a totally fine alternative, but the two towns aren't walking distance from each other, so you'll need to plan transport and dining accordingly.
Despite the town of Valle de Bravo, Mexico not living up to my expectations, seeing the butterfly migration was an incredible experience. It's a long day trip from Mexico City, but one that's worth the effort. I'd rank Piedra Herrada and the monarch butterfly migration as one of my favorite experiences in all of the country.
–> Still Planning a Trip? Read More About Mexico <–