This post may contain affiliate links. As an Amazon Associate I earn from qualifying purchases.
* * *
The Mexico City pyramids of Teotihuacan are one of the most popular attractions in the area and a can't miss attraction for most visitors. Walking through this UNESCO World Heritage Site is like traveling back in time, since the ancient city still holds its grandeur. It's just 30 miles northeast of the capital and is an awesome day trip to combine with the rest of your stay.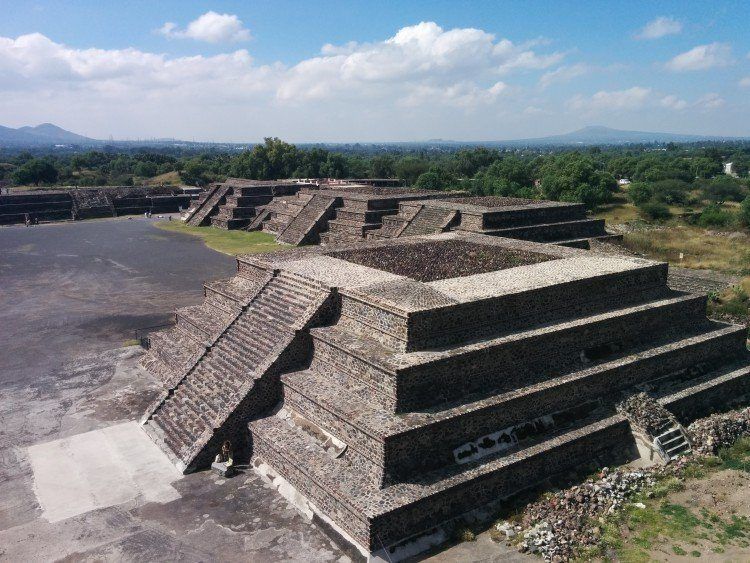 In this article, I'll share a bit of Teotihuacan's history, what to see on site (hint: it's not just the pyramids!), how to schedule your day, what to eat, how to get there, and whether you need a tour.
For the sake of clarity: you should know that Teotihuacan refers to the entire ancient city (and today's complete archaeological site), although most visitors focus on seeing and climbing the two main Mexico City pyramids.
Teotihuacan's History in a Nutshell
Although civilization at Teotihuacan traces back to 300 BCE, the city was at its peak between roughly 450-550 CE. At that time, it's population is estimated to be 125,000 (and perhaps as many as 200,000!), making it the largest city in pre-Columbian America and the sixth-largest city in the world. Its influence in Mesoamerica as a civilization is well-documented through artifacts all over Mexico.
Contrary to popular belief, Teotihuacan is not an Aztec site; evidence supports that it was either Nahua, Otomi or Totonac, or perhaps even multi-ethnic.
The exact reason for the fall of Teotihuacan is unknown, but theories include internal unrest and uprisings, outside raiders, and severe drought. Whether or not this was the cause for its entire fall, there is definite evidence of deliberate fires, smashed artwork, and destructive chaos.
What to See at Teotihuacan
The ancient city was arranged in a grid that still makes visits easy today, but it covers about eight square miles so it'll take you some time to see it all! Most visitors need about four hours to see the highlights; history buffs should plan on staying all day for a more in-depth look.
The spookily named Calle de los Muertos, or Avenue of the Dead, routes you two miles through the city center and to each of the major structures, including the Pyramid of the Moon, Pyramid of the Sun, and Temple of Quetzlcoatl.
Pyramid of the Sun
This extraordinary monument is not only the largest pyramid in the Americas, but the third largest worldwide. Rising 213 feet into the air, the Pyramid of the Sun is absolutely enormous.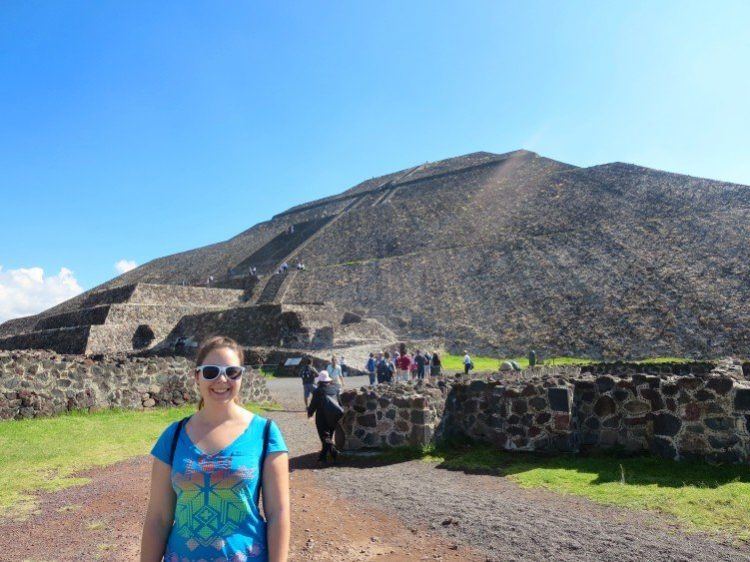 Researchers believe a temple may have once topped the structure, but little is known about its intended purpose. Whatever the case, it was likely used for many rituals, as several masks, bones, figurines, and obsidian artifacts have been found in and around the stones.
Climbing up the pyramid is permitted, but isn't for the faint of heart: expect 248 very steep stairs to the top of the pyramid. Nevertheless, it gets quite crowded, so I recommend climbing it as early in the day as possible.
Pyramid of the Moon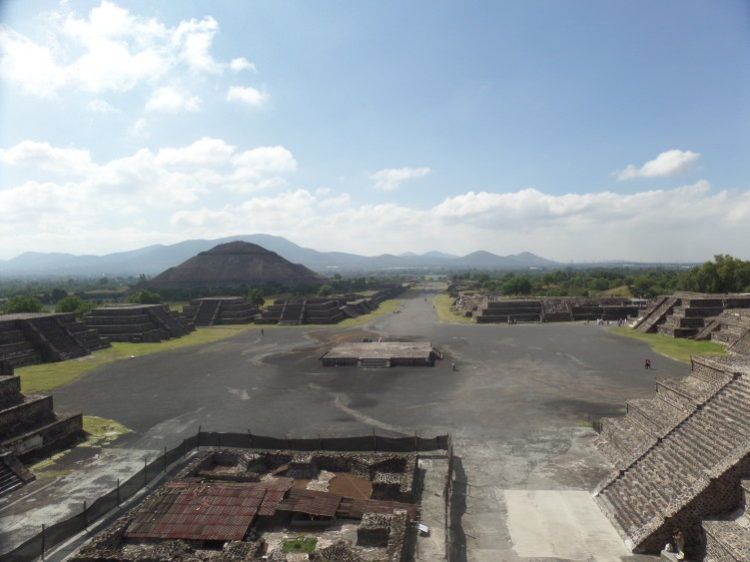 This 150-foot pyramid lies on the northern end of the site and was previously used for both human and animal sacrifices to the gods. There are twelve smaller platforms in front of the pyramid where residents would've stood to witness the rituals; standing here gave me a chill.
Although it's not as tall as the Pyramid of the Sun, it offers spectacular views from the top. Since it's at the end of the archaeological site, you can see clear over the entire city and down the Avenue of the Dead for a true birds-eye view.
Temple of the Feathered Serpent
At first glance, his looks like just another miniature pyramid, but when you get closer you'll notice numerous carved serpent heads along the eastern side.
Although you don't necessarily need to climb another one of Mexico City's pyramids, this is one is still worth exploring from ground level to see the carvings.
Palace of Quetzalcoatl
The feathered serpent Quetzlcoatl was considered the god of creation and is featured at this palace.
Unlike the pyramids in Mexico City, this palace has a very different shape and is excellently preserved with ornately carved pillars, obsidian inlays, beautiful murals, and lovely red colors.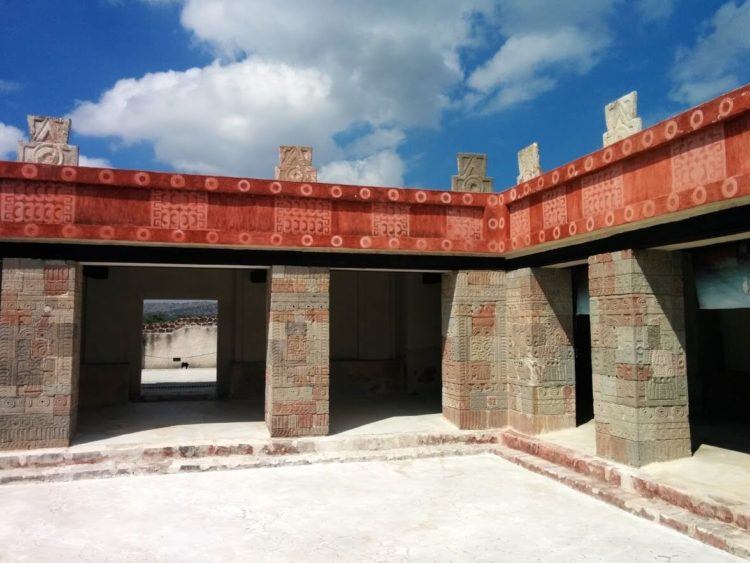 The palace is located in La Ciudadela, a seventeen acre courtyard that appeared to have housed the city's ruling elite.
Teotihuacan Museum
The museum is primarily geared toward Spanish speakers and is skippable if you're short on time.
Teotihuacan Hours and Admission
The park is open daily from 9am to 5pm. It is busiest on Sundays (when Mexicans get in free) and Mondays (when many city museums are closed). If you can, go on a Tuesday through Saturday.
This is the #1 most visited attraction in all of Mexico, so it gets crowded! Arrive right when they open at 9am to avoid the crowds (and the strong sun). Most tour buses don't arrive until 10-11am, so you can go straight to the Pyramid of the Sun to climb it before everyone else.
If mornings aren't your cup of tea, check out my review of visiting Teotihuacan at night. It's an entirely different experience (and requires separate admission to a daytime visit) but it can be a great supplement or even substitution!
Teotihuacan Admission Cost
Entry is 80 pesos per person; if you leave for lunch, you can return with the same ticket. Some, but not all, tours include admission so be sure to confirm in advance.
If you don't arrive with a tour group, you can (optionally) hire a tour guide on-site for about 850 pesos for 1.5 hours or 1500 pesos for 2.5 hours. Expect to haggle based on length of tour, language, size of group, and the guide's knowledge.
Where to Eat Near Teotihuacan
Although there are no restaurants within the heritage site itself, there are local street food vendors just outside the main entrances. Meals will be cheap; pay with cash.
For a more substantial meal, the most interesting place to eat is at La Gruta restaurant. This restaurant is literally inside a large cave for an unbeatable atmosphere. Food is average to good, with most dishes 200-300 pesos. It's worth it for the unique setting.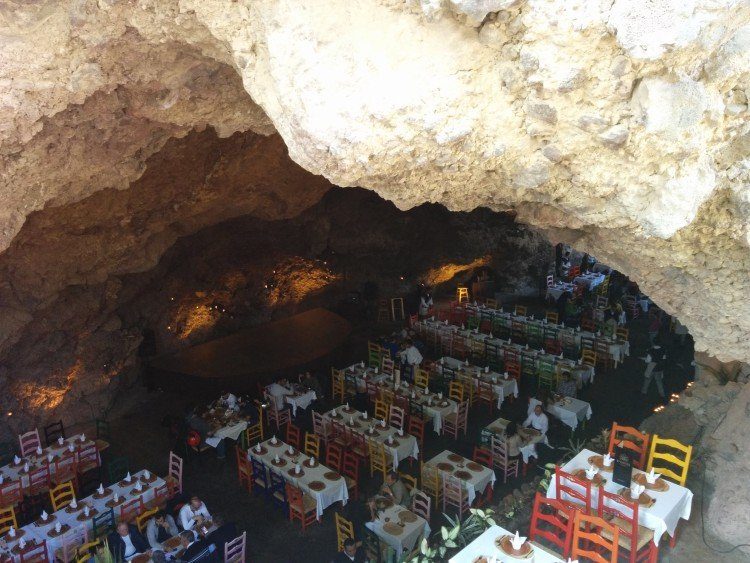 How to Spend One Day at the Teotihuacan Archaeological Zone
Leave Your Hotel
If you're heading by bus, leave at 7am (if you're willing to pay for a car, 8am is fine)
Climb Pyramid of the Sun
Once you arrive and pay for your entrance, go immediately to climb Pyramid of the Sun before it gets too hot or crowded.
Explore the Rest of Teotihuacan
Expect to spend about 3 hours walking along the Avenue of the Dead, climbing the Pyramid of the Moon, and seeing the other temples, palaces, murals, and museum.
Have Lunch at La Gruta
Enjoy lunch inside a cave (plus it's a chance to escape the sun and rest your feet)
Leave Teotihuacan
Depart Teotihuacan, making any stops you need for souvenir shopping (inside or outside the park). If you return by bus, expect to get back to your hotel around 4:30pm.
Shopping in Teotihuacan
Tons of vendors sell arts, crafts, trinkets, and other souvenirs both in and out of the official site boundaries. They all have basically the same items, so don't worry about "missing" something. Save all your shopping for the end of your visit so you don't have to carry any new gifts with you as you climb up and down the pyramids.
What to Bring With You to Teotihuacan
Good walking shoes: You'll cover quite a bit of ground as you walk between the Mexico City pyramids (and up and down the steep stairs!).
Sunscreen, sunglasses, and a hat: There's essentially no shade on-site.
Drinking water: Bottled water is sold outside park gates, but I recommend bringing your own reusable bottle and a water filter because it's better for the environment.
A small day bag: Choose a backpack so you're hands-free for easier climbing. This is my favorite lightweight backpack. Please keep a close eye on your bag while you're on the metro; my sister lost her wallet in Mexico City!
How to Get to Teotihuacan
There are three main ways to get to Teotihuacan: by public bus, Uber, or guided tour.
Bus is obviously the cheapest option, costing 104 pesos round-trip, per person. The bus ride takes about an hour each way, but you should expect it to take a total of two hours once you factor in the time to metro to the bus station, buy a bus ticket, and wait for the next bus (they depart every 20 minutes). Get step-by-step Teotihuacan bus instructions with pictures and a printable PDF cheatsheet to take with you.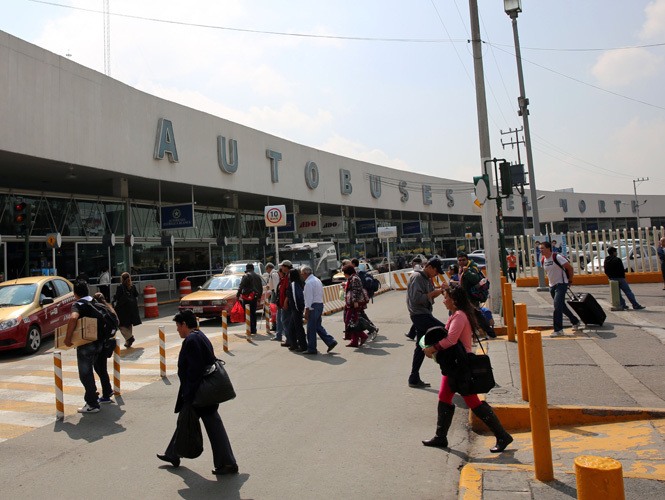 Uber is the most convenient option, but the most expensive. It's hard to provide an exact cost, since it will depend on where you're staying in the city, whether your car takes the toll road, and how much traffic there is at that exact time (Uber surge pricing is very common in Mexico City). From my Condesa hotel to Gate 2 of Teotihuacan, I was quoted 1175 pesos one-way (absurd!) but only 400 pesos on the way back.
There are a hundred different tours to Teotihuacan, most of which are standard bus tours with large groups and souvenir stops. This early morning tour leaves an hour earlier than most other tours, which means you'll get the benefit of a knowledgeable guide without the crowds.
If you're not an early bird, your next best option is to go late in the afternoon, when most everyone has left. This afternoon tour includes dinner in a local home afterward.
Teotihuacán is an essential part of ancient Mexico and its heritage and no trip to central Mexico would be complete without seeing this megalithic masterpiece!