This post may contain affiliate links. As an Amazon Associate I earn from qualifying purchases.
* * *
Even though I've been to Teotihucan before, I couldn't pass up a return visit to see the pyramids of Teotihucan at night. Walking down the Avenue of the Dead under a star-filled sky sounded awe-inspiring and I have to admit that the thought of floodlit pyramids sounded pretty. Besides, Teotihuacan was the highlight of my first visit to Mexico City, so I didn't mind returning for a second, different experience a few years later.
The "Expereriencia Nocturna en Teotihuacan" is now in its fifth season, but it still seems like most visitors don't know about it. I had a lot of trouble finding any information online (other than how to buy tickets). What was it like? How long did it last? It's a mystery, especially if you don't speak Spanish. Not one to be discouraged, I carved out a night in my schedule, bought a ticket, and hoped for the best!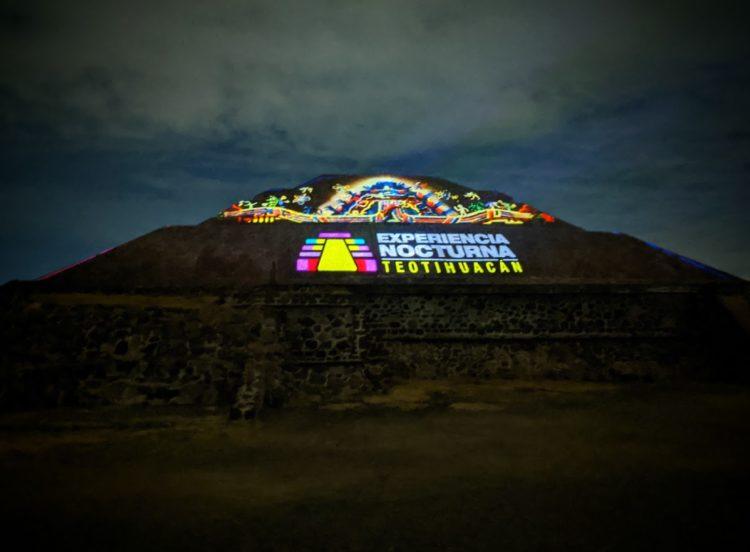 Unlike daytime visits to the pyramids, the night visit requires tickets purchased in advance. The evening is capacity-controlled and does sell out, so travelers have to plan ahead. Tickets are far more expensive than daytime trips, but they include a guided walk on-site and the light and sound show afterward.
Since evening transportation sounded complicated (more on that below), I joined a group tour and crossed my fingers for the best. I normally prefer independent travel to avoid the lengthy bathroom breaks, souvenir stops, and tourist traps but made an exception to see Teotihuacan at night.
Teotihuacan Nocturno
Upon arrival, staff explains that the evening will begin with a ~45 minute guided tour of the Avenue of the Dead and then there will be a ~30 minute light and sound show projected onto the Pyramid of the Sun. Altogether, with some extra time budgeted for logistics and transitions, the event lasts from roughly 7:30pm until 9:00pm.
My group arrived a little too early, but we were allowed into the complex beginning at 7:15 to pick up audioguides (available in multiple languages, including English). We broke up into groups of 20 people for the walk to and from the Pyramid of the Moon. Even if you arrive at the park independently, it's mandatory to explore Teotihuacan in these groups.
Walking through Teotihuacan at Night
Our nighttime walk took us down the Calzada de los Muertos past the Columns Plaza, Temple of Mythological Animals, Puma Mural, and more for a total of 10 stops.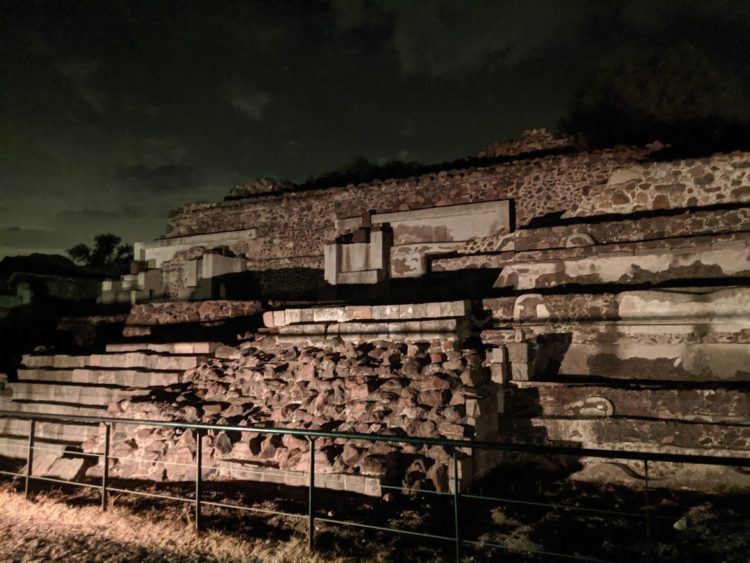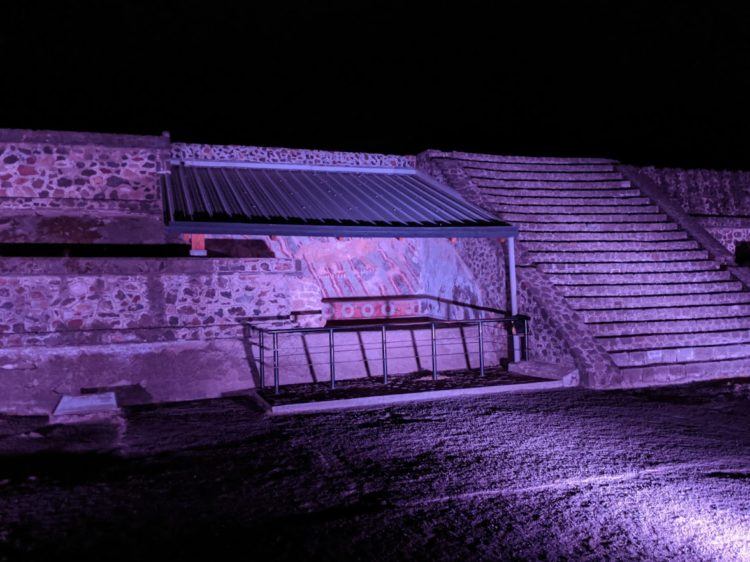 The included audioguide was quite good and I learned a few new things about the structures and civilization throughout my tour. Our guided added a few tidbits on top of the audioguide (unfortunately, only in Spanish), and was great at pointing out artistic features with her flashlight. Even if you don't speak Spanish, you'll still learn plenty from the pre-recorded guide.
Most of the stops along the way were brief, but we had a few extra minutes to take pictures in front of the Pyramid of the Moon.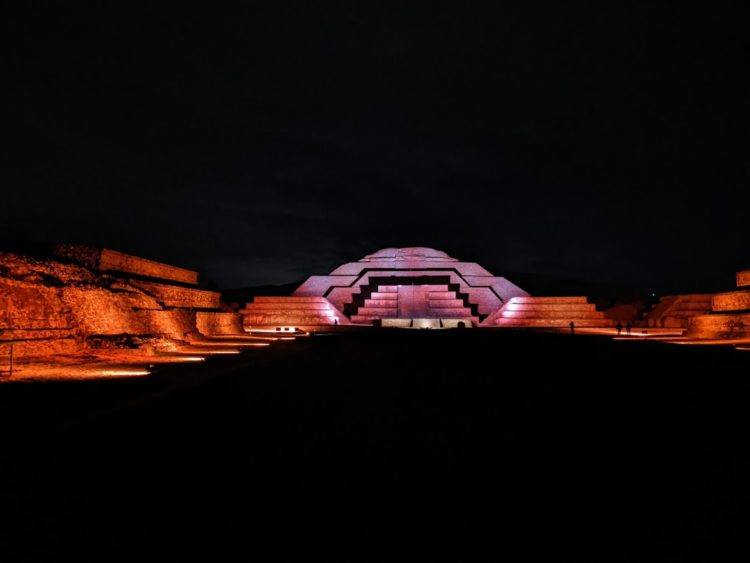 Teotihuacan Light and Sound Show
Around 8:15, everyone takes a seat on stone steps across from the Pyramid of the Sun. Seats are not assigned but the steps are so steep that everyone should be able to see just fine regardless of where you're sitting. Small stadium cushions are provided.
The Teotihuacan night show is narrated on your audioguide in your choice of languages and is basically a re-telling of the site's history. This was the most high-tech light and sound show I've ever seen, but there's still only so much you can do with the projections. I thought it was a bit drawn out, especially since most of the story is redundant (with a new piece of information here or there).
The Teotihuacan Nocturno experience ends around 8:50, at which point you'll need to turn in your seat cushions and audioguides and either meet up with your tour group or return independently to the city.
Overall Impressions
For me, the highlight of the evening — by far — was our walk throughout the archaeological site. The Teotihuacan light and sound show was impressive at the beginning, but my interest waned as it went on. Regardless, both pieces of the night tour exceeded my expectations and I'm glad I did it.
How to Buy Tickets to the Teotihucan Night Show
The Teotihucan Nocturno Experience is held Mondays, Thursdays, Fridays, and Saturdays from November through June.
You must buy tickets online with Ticketmaster and then pick them up at a Mexico City will-call location. This process seems unnecessarily complicated but I'll reiterate: you can't print out tickets from home, you cannot buy tickets on-site at Teotihuacan, and the will call is in downtown Mexico City, NOT at Teotihuacan. Please plan in advance!
Tickets, with the mandatory will-call fee, are 496 Mexican pesos (~US $27) per person.
How to Get to Teotihuacan at Night
The majority of visitors appeared to be Mexicans driving their own car, but frankly I'd advise against driving in Mexico City! Traffic and navigating are overwhelming, to put it lightly.
The most convenient way to get to Teotihuacan is hiring a car or taxi to drive and wait for you. I got quotes of 2500-2800 pesos for a 6pm pick-up in Condesa with drop-off estimated 10pm. Uber will be cheaper (1300-2000 pesos, depending on traffic and surge pricing) but finding an Uber back that time of night is hit-or-miss and I didn't want to take a chance. Turns out on the night of my visit, there was exactly one car and he was 13 minutes away — make sure you're first to hail the Uber or you might be out of luck!
I also heard reports that people didn't have cell service at Teotihuacan; I noticed it was spotty within the park, but I had signal at Gate 2.
Unfortunately, public transportation from Mexico City to Teotihuacan isn't a realistic option for the night event. The last bus of the day departs Mexico City at 2pm, which would get you to the archaeological site way too early. The last bus from Teotihuacan back to the city departs at 9pm (I saw it whiz by Gate 2 at 8:58 the night of my visit). It will be a close call if you can reach the bus in time unless you leave the light and sound show early — if that's your plan, make sure you find an "aisle" seat to get out of the show easily. The bus is a mere 52 pesos per person, each way.
Read more about planning a day visit to Teotihuacan.
Turitour Teotihuacan Nocturno Review: My Package Through Turibus
Because of the transportation challenges — everything was possible, but not necessarily straightforward — I joined a group tour sold by Turibus. You can't buy tickets online without a Mexico City credit card, but I had no problems buying a ticket in person from the Turibus stand near the Cathedral (Zocalo) one day in advance.
My package included round-trip transportation from Mexico City, my ticket to Experiencia Teotihucan Nocturno, and a dinner show at a nearby restaurant for 1999 pesos ($107). This wasn't cheap but I was paying for convenience.
We left the Mexico City Cathedral at 5pm sharp. Because of rush hour, we didn't arrive at Teotihuacan until roughly 7pm, although that still allowed everyone a chance to use the restroom before the event began. The night of my tour, there were only six participants on a 15-passenger minibus. I was told that on weekends, sometimes they sell out a full-size bus, so your experience may vary.
After the official event ended, we met on the bus for a five-minute drive to a banquet hall for our dinner show. We had a four-course dinner while watching pre-Columbian dances, Aztec ball games, and fire dances. Due to the nature of the show, we ate outside.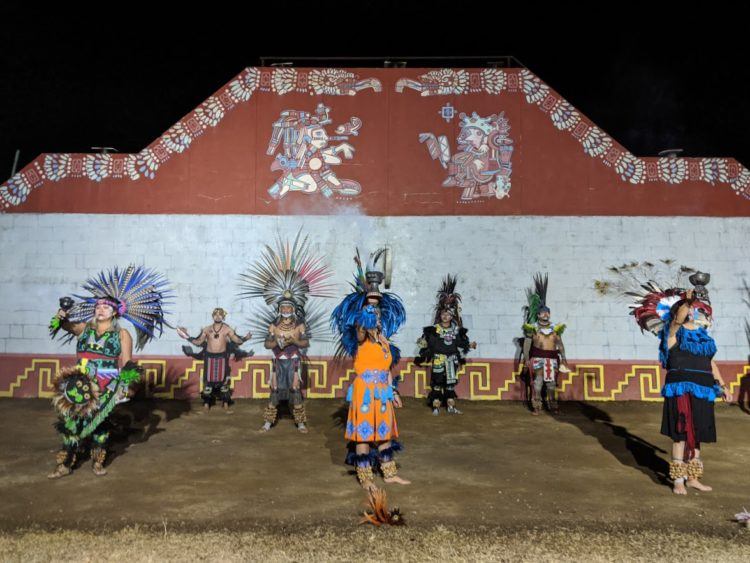 The dinner itself was unremarkable but inoffensive: a fried tortilla pocket stuffed with black beans, tortilla soup, a variation of chicken cordon bleu with side salad, and fruit for dessert. One glass of jamaica (hibiscus iced tea) was included, but other drinks were at additional charge and cash only.
We departed after dinner to return to Mexico City. Traffic was light so I got back around 11pm.
Should You Visit Teotihuacan in the Day or at Night?
These are two very separate experiences with less overlap than you'd expect, so if you can, I recommend doing both.
During the day, highlights include climbing the Pyramid of the Sun and Pyramid of the Moon for great views of the whole city. You also have access to the entire archaeological site — of note, you can see the Citadel and Temple of Quetzalcoatl which are inaccessible at night. A daytime visit is also more cost-effective, since you can take the bus and admission tickets are a fraction of the cost of the night show.
If you want to see Teotihuacan during the day and night on the same day, I'd recommend leaving Mexico City on a 1pm bus. That'll give you 3.5-4 hours on-site. Start with the Temple of Quetzalcoatl, then walk toward the Pyramid of the Moon to take a good look at some of the details and murals in the daylight. Spend your final hour climbing the Pyramid of the Sun — hypothetically, the later in the day you do this, the fewer people there will be!
Taking the bus to Teotihuacan will work out just fine if you intend to visit the pyramids during both day and night. Head to the archaeological site in the daytime and plan on killing time at an early dinner between when it closes at 5pm until it re-opens at night. I quite liked the cave restaurant "La Gruta", which is just outside Gate 5. It's a decent walk from there back to Gate 2 where the night event begins but you should have ample time.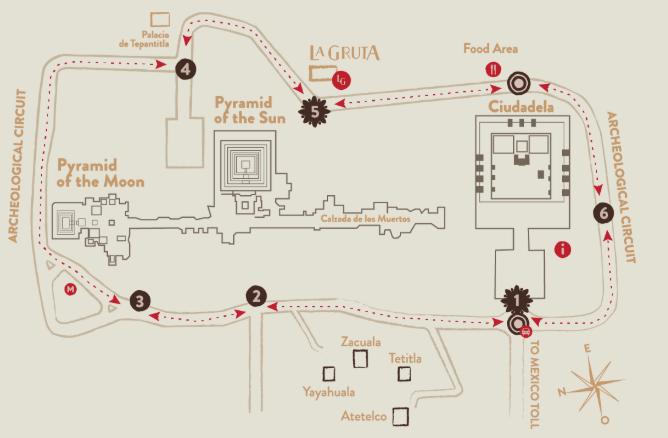 Hotels Near Teotihuacan
I think 90% of travelers should day-trip to Teotihuacan and not worry about spending the night. You'll have more choices for hotels and restaurants if you head back to Mexico City after the night show.
The one situation where it might make sense to spend the night near Teotihuacan is if you want to see the night show AND take a hot air balloon ride the next morning.
Unfortunately, many of the Teotihuacan hotels have mixed reviews and others are not actually close enough to walk to the pyramids. There are two properties that stood out to me for their excellent location, good reviews, and fair prices:
Inn El Sueno de Quetzalcoatl: Rooms here are basic (as you'd expect for a $40 hotel), but what they lack in luxury is made up for my views of the pyramids from your room. Past visitors note the friendliness of staff and impeccably clean rooms.
Hotel La Finca del Abuelo Teotihuacan: Although there are no views here, this hotel has a lovely green courtyard for relaxing and it includes a nice breakfast spread so you have energy for your day at the pyramids.
Prefer to stay in Mexico City? Check out my Mexico City neighborhood guide to determine where to stay.
Final Tips for Visiting Teotihuacan Nocturno
Pack a sweater! It cools off at night and the entire experience (7:30-9:00pm) is held outside. If you continue on with the Turibus dinner, that's another hour outside while you dine, as well.
Bring your driver's license. You need to trade ID for the audioguides. I don't like to leave my passport with strangers, but my driver's license worked just fine. At the end, you'll exchange your audioguide to get your ID back.
Use the bathroom before entering. There's a restroom in the parking lot outside Gate 2, where the show begins. Once you're inside, there's nowhere to use the bathroom until you leave at 9pm.
If you can, go on a weeknight. As you'd expect, Fridays and Saturdays are more popular but Mondays and Thursdays don't always sell out so crowds can be lighter.