This post may contain affiliate links. As an Amazon Associate I earn from qualifying purchases.
* * *
With dozens of great hotels in Mexico City, one of the harder parts of my trip planning was choosing a hotel. I cheated a bit this time — I had a split stay since my time was divided anyway, with two nights in Mexico City at the beginning of my trip and another two nights at the end. This seemed like a prime excuse to sample multiple hotels.
To kick off our trip, we started with two nights at the Hotel Umbral in Mexico City. This is a new property (opened in August 2019) that belongs to the Curio Collection by Hilton.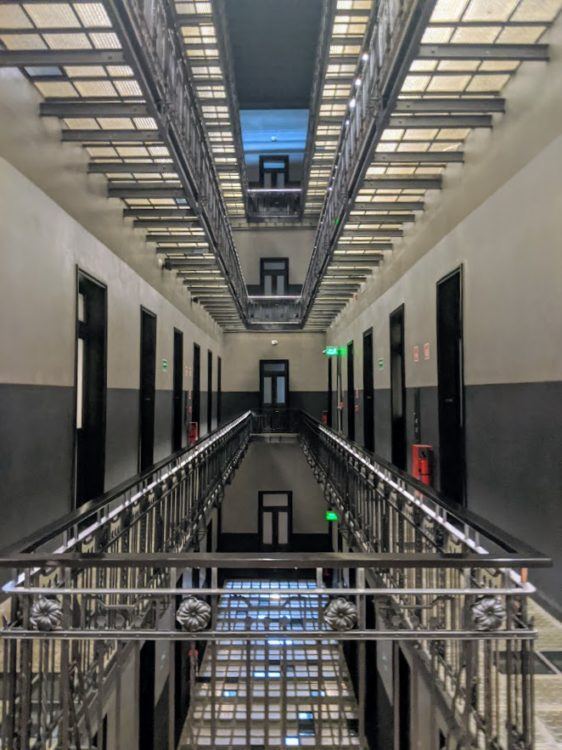 I was excited because it's pretty rare to find a chain hotel in the historic center. Even though just about every visitor spends a day in this part of town, this was the first time I spent the night in this part of town.
What Does "Curio Collection" Mean?
The Umbral is part of Hilton's Curio Collection, which is a fancy way for describing a hodge podge of semi-upscale hotels under the Hilton umbrella. I like them because there's nothing cookie-cutter about it; each hotel maintains an independent vibe. They have unique architecture and decor and let their individuality shine through compared to typical chain hotels.
Still, it's the best of both worlds since you can earn or redeem Hilton points while staying there plus take advantage of any loyalty benefits you've earned.
My husband loves chain hotels and knowing he can count on a certain level of service and English-speaking staff, so this was a great way to keep us both happy.
Why You Should Stay in the Centro Historico
For most people, I actually recommend staying in Condesa or Roma — two very livable, walkable neighborhoods in Mexico City.
However, the Centro Historico has its advantages, especially if you intend on visiting lots of museums or historical sites. You'll be able to walk to the Zocalo, Cathedral, and dozens of other interesting cultural spots. It's also convenient to walk to the Ballet Folklorico (about 10 minutes away and very worthwhile) and a great spot to stay if you're joining a Teotihucan Nocturno tour since the bus leaves from the cathedral.
This part of town can be hectic and noisy, which is why having a quiet, comfortable hotel is essential. The Hotel Umbral felt very peaceful, even after busy days out.
Read more about choosing which Mexico City neighborhood to stay in.
Booking the Hotel Umbral
We booked two nights at the Umbral — one using a Hilton free night certificate and one on a prepaid, nonrefundable rate ($145 + tax). This wasn't the greatest use of my free night certificate, but I was running out of time before it expired. You can also redeem points for a free stay, starting at 40,000 points per night.
Redeeming the certificate required booking by phone, which was easy enough. While I was on the phone, I requested that my two nights were linked together despite different payment methods so I could stay in the same room for my entire stay. This was acknowledged at check-in, but (as always) my key stopped working after the first night and I had to have it reactivated at the front desk.
I love Hilton, but surely they understand that's annoying?
Arriving at the Umbral Mexico City and Check-In
The Umbral is a 17th century convent that was converted and renovated to a hotel, so our Uber from the airport almost drove right by it. The entrance is inconspicuous and blends in well to the Centro Historico architecture.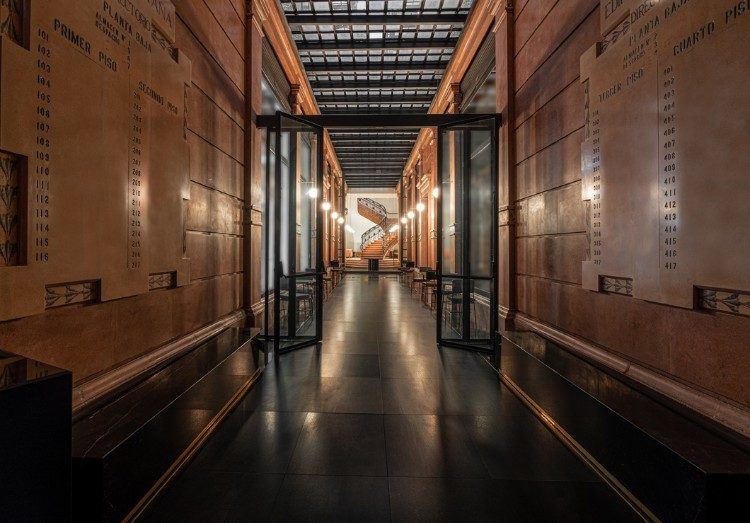 Despite a plethora of city noises right outside the door, we felt like we walked into an oasis as soon as we arrived. The name Umbral translates to "threshold" and was a perfect fit. Just past the threshold, everything was quiet and peaceful. The entryway had some sort of fragrance piped in — not enough to bother you, but still noticeable — and the doorman immediately took my husband's bag (I was wearing a backpack and chose not to take it off) and ushered us to the check-in desk.
Our check-in was perfectly executed: we were welcomed, asked if it was our first trip to Mexico City, and given a quick overview of hotel amenities. The doorman reappeared with a tray of cookies to choose from and I chose a chocolate raspberry cookie that I wish they sold by the dozen!
The Umbral staff also recognized my Hilton Diamond status and thanked me for my loyalty. We were given an upgrade to a king room with balcony (don't get excited about this — more on it below) and they confirmed we'd get free breakfast at the hotel restaurant daily. We were also given a voucher for tequila and mixed nuts at the bar as a welcome amenity, which I appreciated but never redeemed so can't comment on the quantity or quality of tequila.
Umbral King Room with Balcony
We were assigned a King Room with Balcony on the second floor of the hotel, which is one of five room types at the hotel. The room is listed as 400 square feet, which includes the main bedroom, a separate wing with a desk, the bathroom, and a balcony.
Upon entering the room, the first thing you'll see is the wing with a desk. Since we were here on vacation — a true vacation — we never used the area, but it was pretty dark in there and I couldn't picture myself getting any work done even if I had wanted to. In my opinion, this part of the room as also disproportionately large.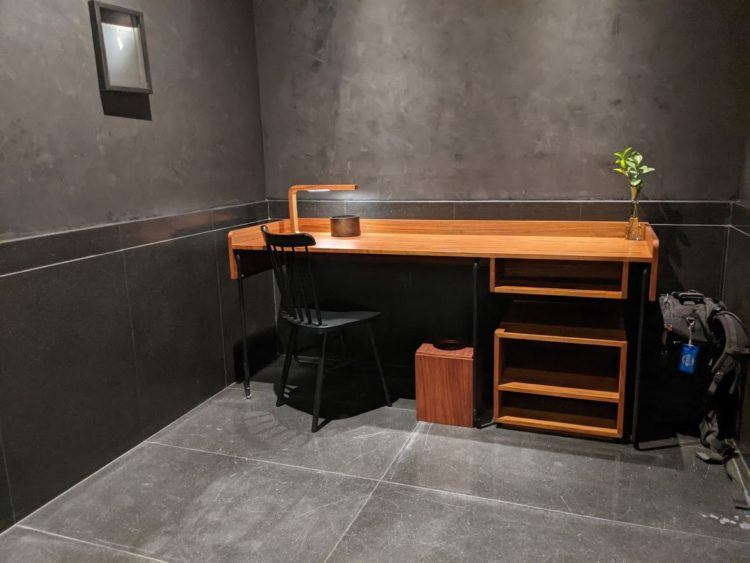 Continuing into the main part of the room, the king size bed took up the majority of the floorspace. There were nightstands on both sides of the bed with plenty of US outlets and USB plugs.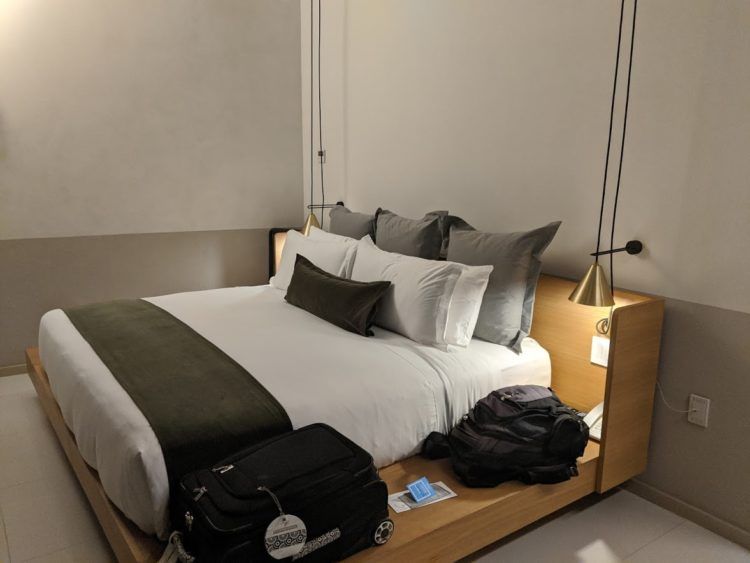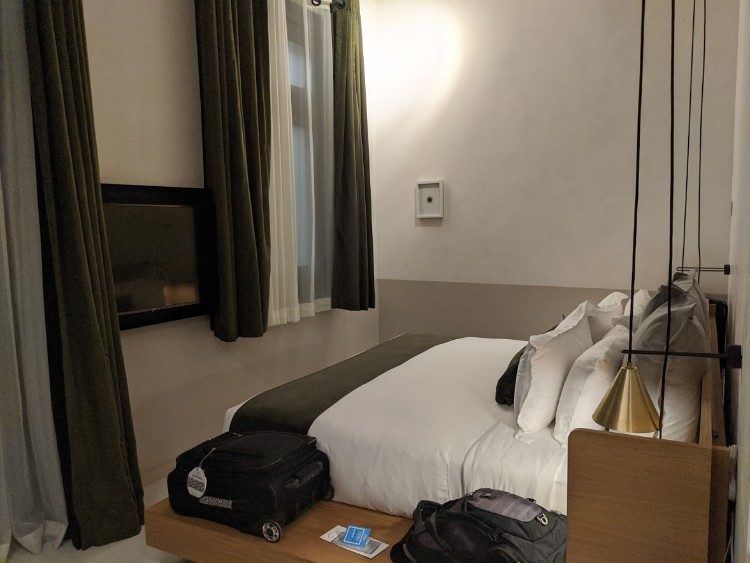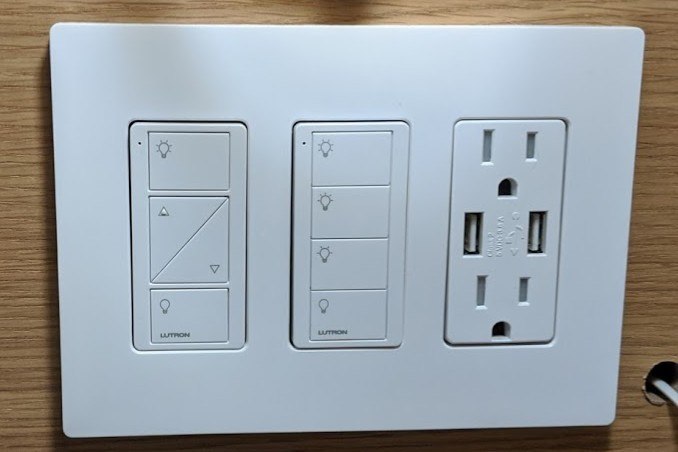 The bathroom was shower only, with a large shower stall and plenty of towels, shampoo, conditioner, shower gel, and bar soap.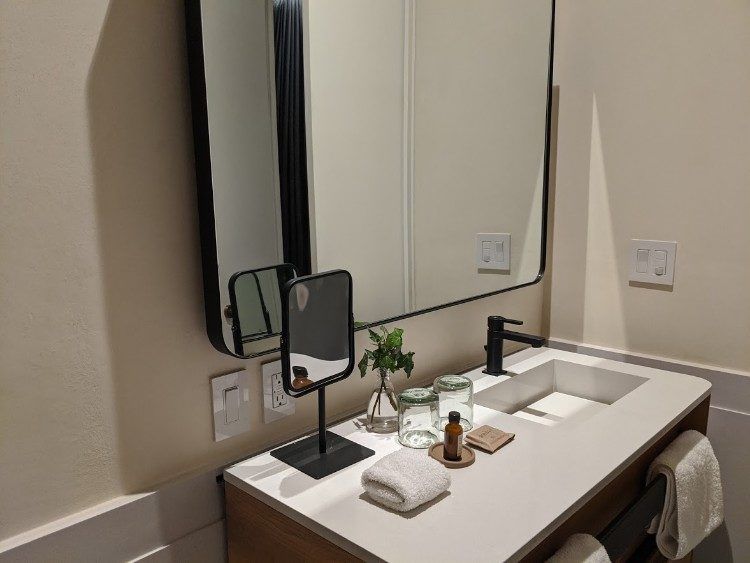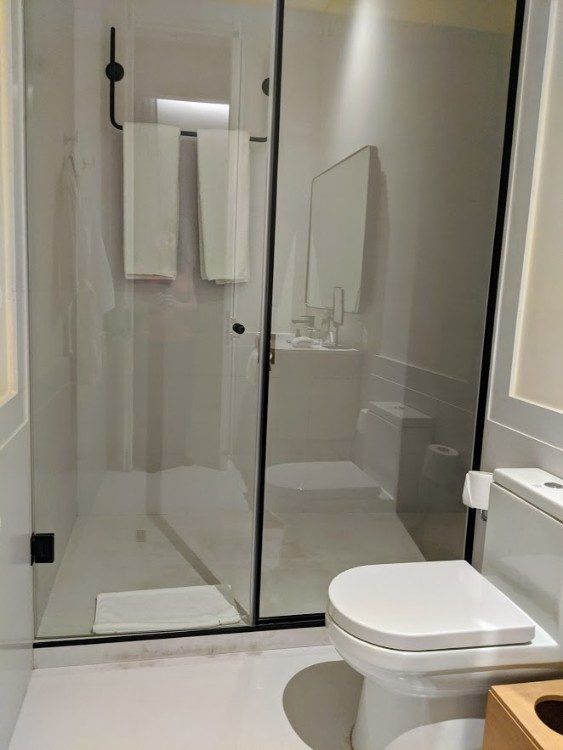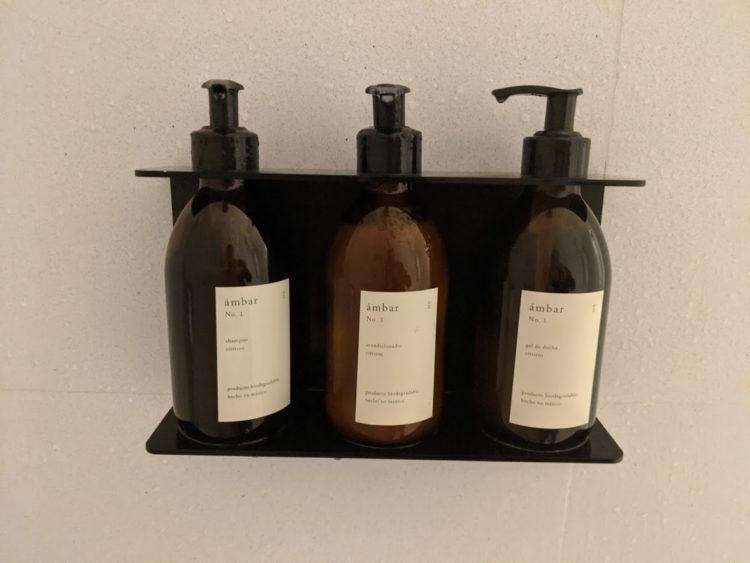 Outside the bathroom was a closet with iron, safe, mini-bar, and Nespresso machine. Our coffees were restocked daily.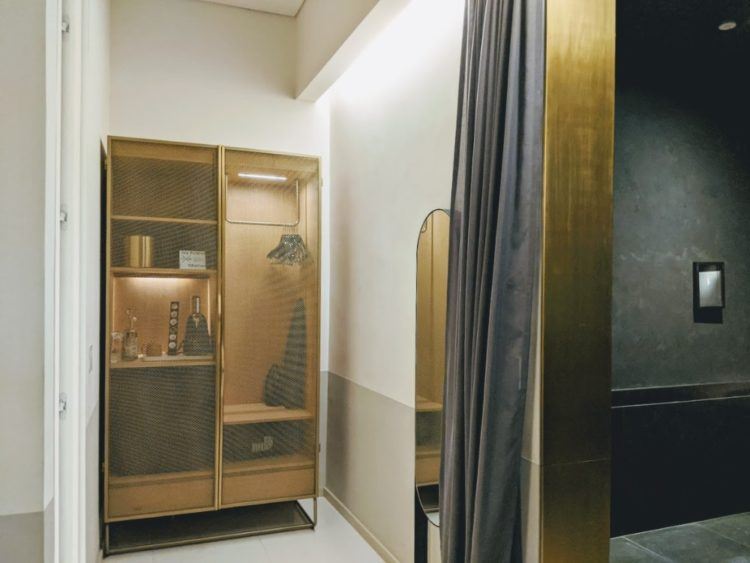 Of note — there was no free bottled water in our room, which is unusual for Mexico (and particularly unusual for a Hilton Diamond member). There are convenience stores about two minutes walk away where you can buy water cheaply, although I travel with a water filter that makes tap water safe to drink.
I was more excited about the balcony and free upgrade before I saw it. The balcony is in the interior of the building, not an exterior city view, so there's nothing to look at. Additionally, there's zero privacy since the balcony can be seen from other rooms, the hallway, and the stairway.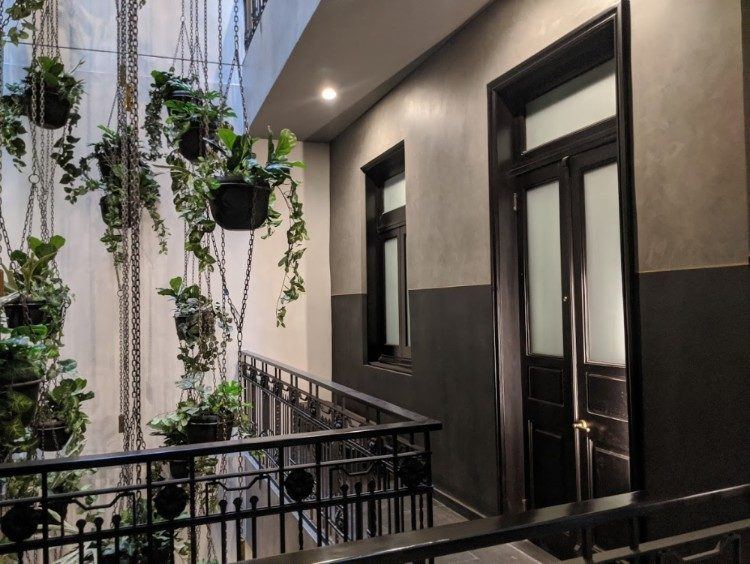 Best I can tell from hotel photos, the ONLY difference between this room and the standard king we booked is the balcony. Because of this, I wouldn't pay for the balcony upgrade (if you want a true suite, there are two room types available).
We slept well both nights, thanks to comfortable bedding, cool air conditioning, and quiet, dark rooms. This is always the number one way I judge hotels and the Umbral was great for a good night's sleep.
Umbral Mexico City Pool and Rooftop
The top floor of the Umbral is open-air and includes a large bar and restaurant, a small pool that's mostly shaded, and the breakfast terrace (separate from the main restaurant).
Pools are hard to find in the heart of Mexico City, and this one is more of a plunge pool than a space you could actually swim in. In January, it wasn't quite warm enough to use the pool.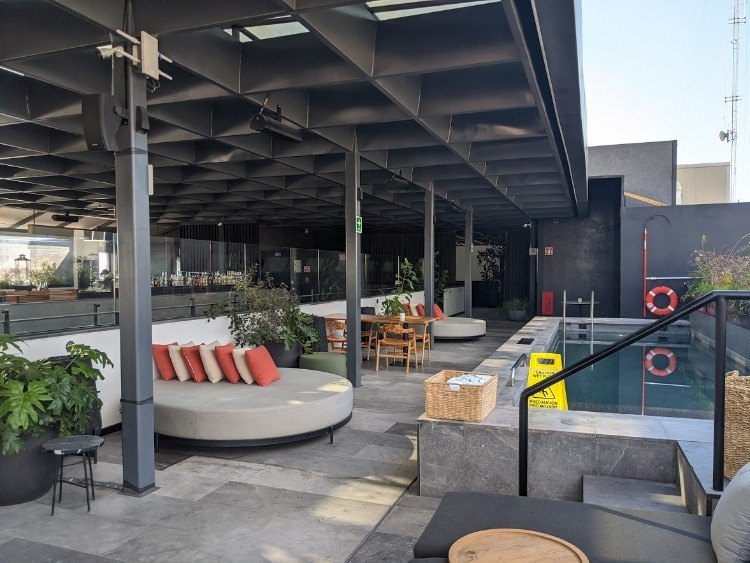 No one was ever at the Terraza Bar when I went up there, which is understandable, given how many amazing bars and restaurants are in spitting distance. Like most hotel restaurants, this one is pricey: $4.50 beers, $8 wine/mixed drinks, and $10 basic dishes (e.g. tacos). On the bright side, the restaurant is open until 11pm daily, including Sundays (when many restaurants are closed).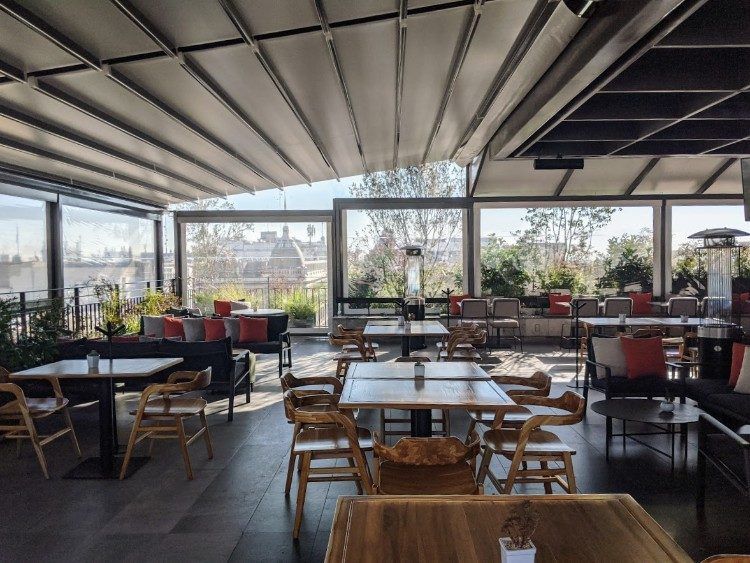 Where the hotel completely failed, in my opinion, was at the rooftop "Wellness Bar". This is a small counter-service area, which has menus for espresso-based beverages, fresh juices, and light meals like overnight oats or acai bowls. In theory, it's open from 7am-2pm, although I never saw it open or staffed during "open" hours. I asked about it at the main bar, and the bartender shrugged saying he wasn't sure why it was closed — but then proceeded to go above and beyond by making me an Americano, unsolicited and free.
Breakfast at the Hotel Umbral
Breakfast is served at the hotel daily beginning at 6:30am, which is early by Mexico City standards and very much appreciated by me!
There is a breakfast buffet available for 170 pesos per person (about $9) which included breads, pastries, cereals, fruit, cheese, salad, eggs cooked to order, three fresh juices, and your choice of coffee or tea. The buffet was very well stocked with great-looking pastries and plenty of variety on our first morning but sadly barren the second morning.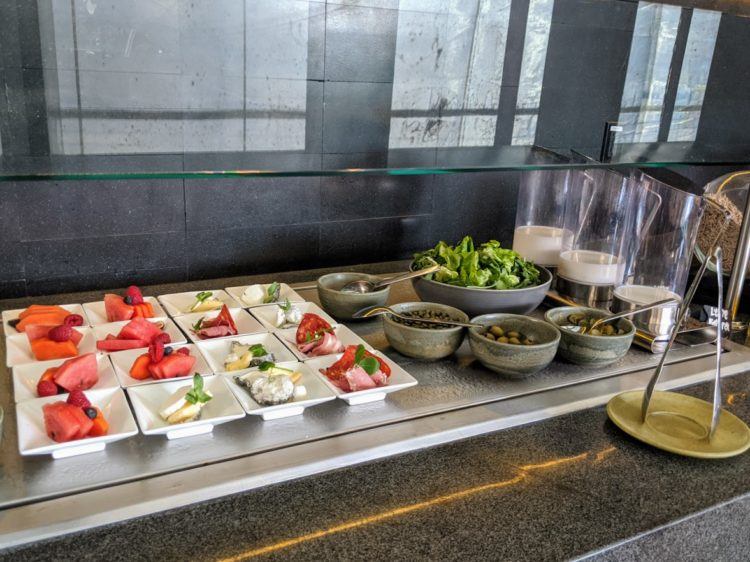 If you prefer, there is also an a la carte menu, with hot dishes ranging from 100-190 pesos + another 45-90 pesos for beverages. As a Hilton Diamond member, we were allowed to choose from five hot dishes and choose our own sides and drinks from the buffet (I stuck to fruit and juice, since the entrees are large). On the second morning, they were "out" of the entree I chose, so it appears they haven't quite figured out restaurant inventory.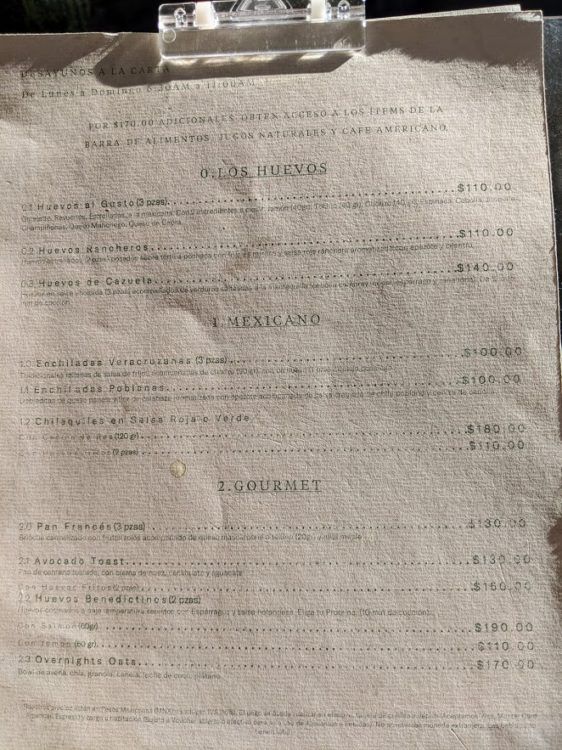 If you're paying for breakfast, all four entrees we chose from the a la carte menu were delicious and this is definitely the better way to go compared to the buffet even if it costs you a dollar or two more.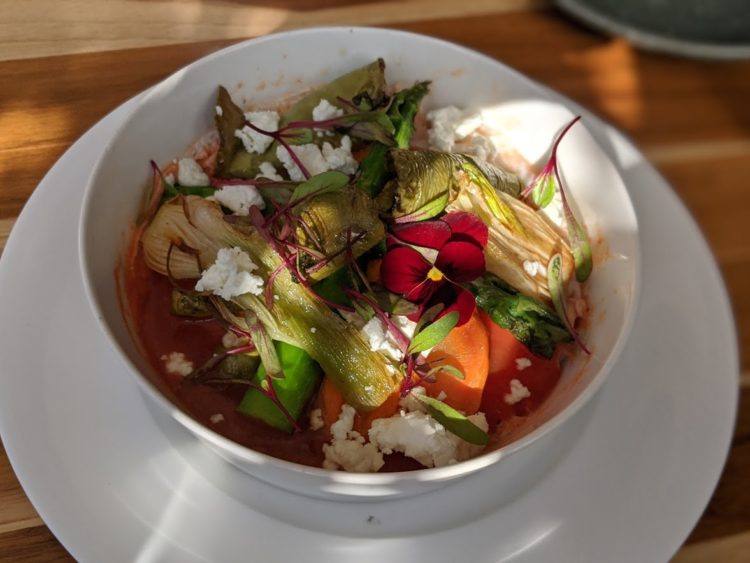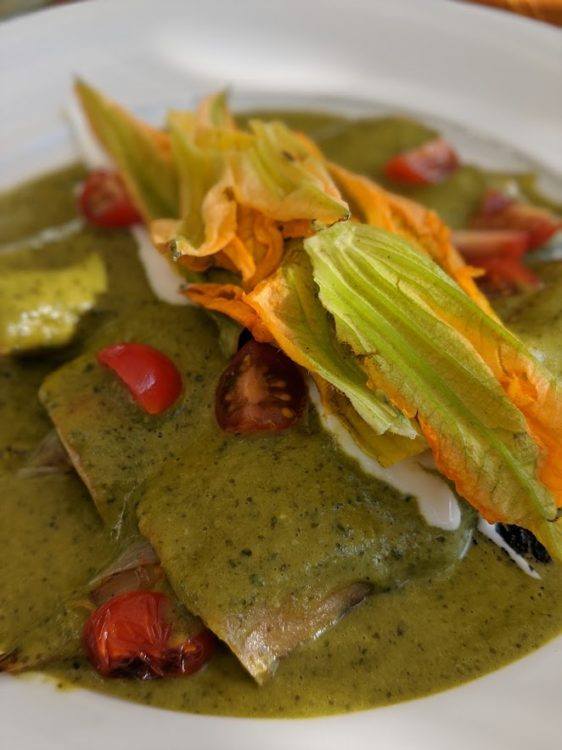 Service was quick and friendly, making this a quick and convenient way to start your day.
Staff and Service
The thing that made the Hotel Umbral stand out most during our stay was the service: everyone from the doorman to the concierge to our breakfast server seemed genuinely invested in our happiness. They greeted us by name, asked about our day, and freely offered (useful!) advice.
Honestly, it's the staff that elevated this property from a mid-range stay to something better; if not for them, some of the annoyances (deactivated keys, breakfast issues, no bottled water, closed coffee bar) would've been more frustrating. I truly believe that the service industry is all about the recovery and the Umbral excelled at taking the sting out of things.
Bottom Line
If you are looking for a chain hotel in Mexico City, the Umbral should be on the top of your list simply for its Centro Historico location — much more interesting than Polanco where most chains are, in my opinion.
We had a few hiccups with our stay, and it's hard for me to pinpoint whether it's because it's a recently-opened hotel or if management just doesn't have their act together. However, the service was excellent and our rooms were comfortable and that meant more to me than some minor issues.
I would stay at the Hotel Umbral again and think that it's a solid option for where to stay in Mexico City.
Read more reviews on Tripadvisor or Book Directly With Hilton for the Best Price.