This post may contain affiliate links. As an Amazon Associate I earn from qualifying purchases.
* * *
The ancient city and pyramids of Teotihuacan is the most popular day trip from Mexico City and a can't miss attraction for most travelers. Walking through this UNESCO World Heritage Site is like traveling back in time. It's just 30 miles northeast of the capital and is an awesome day trip to combine with the rest of your stay.
While you can definitely take a tour — there are tons of them — visiting on your own is easy, saves you money, allows you to choose your own schedule, and customize it to your interests. By skipping Teotihuacan tours, we also avoided crowds and skipped over souvenir stops.
In this article, I'll share how to get there and back on your own plus a bit of Teotihuacan's history, what to see on site (hint: it's not just the pyramids!), how to schedule your day, what to eat, and how much to budget for your day.
Update as of November 2022: Visiting Teotihuacan is not the same as it once was. Climbing up the temples is currently prohibited in order to better protect them. If climbing a pyramid is a must-do for you, consider an alternate day trip from Mexican City to Tepoztlan and climb that temple instead. Or, for a bird's eye view of Teotihuacan, consider a hot air balloon ride which is operating as usual.
How to Get to Teotihuacan by Public Transportation
There are three main ways to get to Teotihuacan: by public bus, Uber, or guided tour. The bus is obviously the cheapest option, costing 106 pesos round-trip per person. It's also comfortable and easy but takes longer than driving directly.
To take the bus to Teotihuacan, you'll need to take the Mexico City metro to the Autobuses del Norte station (line 5).
From the Autobuses del Norte metro stop, follow the signs out of the metro station and across the street to the actual bus station.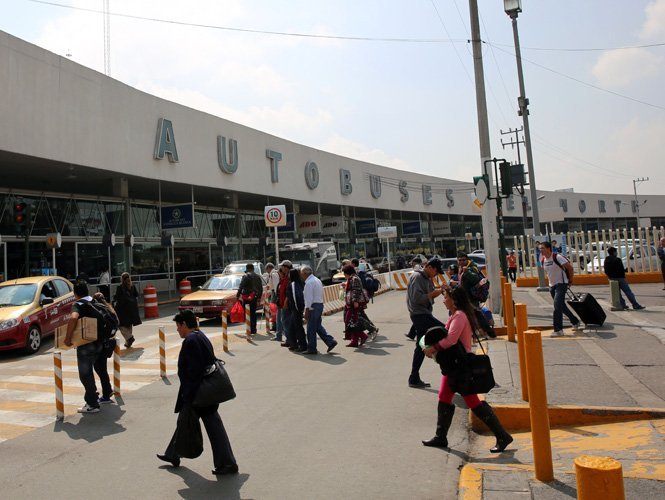 Inside the station, head all the way toward the left, to Puerta 8.
Here, you'll find a window selling tickets to "Pyramides" (referring to the Mexico City pyramids) or "Zona Arqueologico".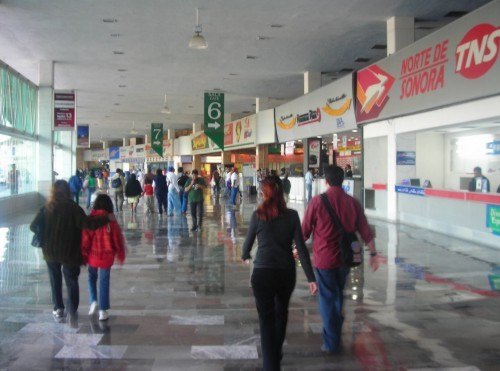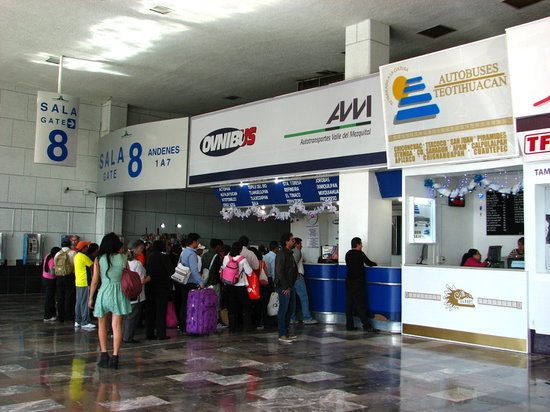 The first bus to Teotihuacan departs at 6am with more departures about every 20 minutes thereafter until 2pm. I recommend catching an 8am bus — you'll arrive just in time for the site to open and avoid midday crowds.
Depending on traffic, the ride is about 1 hour each way. Your outbound ticket will be for a specific, timed departure so don't miss your bus. Your return ticket is not for a scheduled time, so you can take any bus back to the city when you're done.
The round-trip ticket costs 102 pesos per person, or about US$6 as of October 2022. Bathrooms are available in the station for 6 pesos and there is fast food and luggage storage (30 pesos/bag) also.
Uber is more convenient, but more expensive. It's hard to provide an exact cost, since it will depend on where you're staying in the city, whether your car takes the toll road, and how much traffic there is at that exact time (Uber surge pricing is very common in Mexico City). From my Condesa hotel to Gate 2 of Teotihuacan, I was quoted 1175 pesos one-way (absurd!) but only 400 pesos on the way back.
Teotihuacan Hours and Admission
Buses will drop you off at Puerta 1 at Teotihuacan, where you can buy entrance tickets. As of February 2023, the entrance fee was 85 pesos and includes entry into the museum. There is an additional charge if you wish to record videos.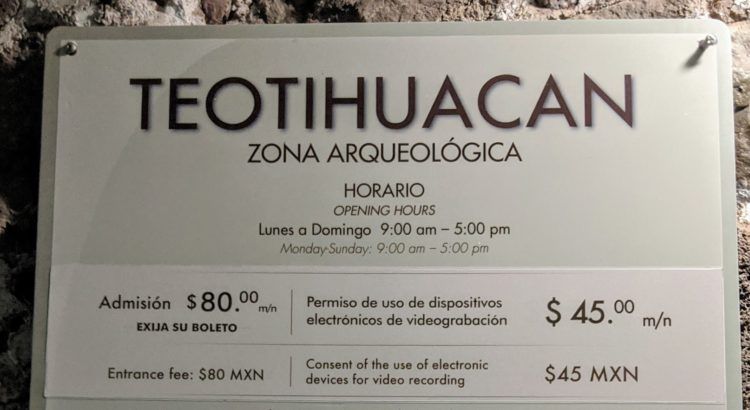 If you want to hire a guide (optional), there are several licensed guides near the entrance. Private guides cost about 850 pesos for a 1.5 hour tour of Sun & Moon Pyramids or 1500 pesos for a 2.5 hour tour that includes more. Expect to haggle based on length of tour, language, size of group, and the guide's knowledge. For a free option, you can read through the Wikipedia guide before you go.
Currently, the park is open daily from 8am to 5pm. It is busiest on Sundays (when Mexicans get in free) and Mondays (when many city museums are closed). If you can, go on a Tuesday through Saturday and arrive right at 9am. This is the #1 most visited attraction in all of Mexico, so it gets crowded!
What to See and How to Visit Teotihuacan Without a Guide
To avoid crowds, I recommend arriving before 10am to have some breathing room before hoards of Teotihuacan tours arrive. Most visitors need about four hours to see the highlights; history buffs should plan on staying all day for a more in-depth look. The ancient city was arranged in a grid that still makes navigating today, but it covers about eight square miles so it'll take you some time to see it all!
You'll want to sightsee the Temple of the Sun first when it's least busy. Then head down the spookily named Calle de los Muertos, or Avenue of the Dead which routes through the city center. It passes by numerous minor temples and other sites, eventually reaching the Pyramid of the Moon. Afterward, head back to the Palace of Quetzalpapalotl. I recommend saving the museum for last — if you start your visit early in the morning, you'll hit the indoor museum midday when everything is at it's hottest.
For the sake of clarity: you should know that Teotihuacan refers to the entire ancient city (and today's complete archaeological site), although most visitors focus on seeing the two main Mexico City pyramids.
Teotihuacan's History in a Nutshell
Although civilization at Teotihuacan traces back to 300 BCE, the city was at its peak between roughly 450-550 CE. At that time, it's population is estimated to be 125,000 (and perhaps as many as 200,000!), making it the largest city in pre-Columbian America and the sixth-largest city in the world. Its influence in Mesoamerica as a civilization is well-documented through artifacts all over Mexico.
Contrary to popular belief, Teotihuacan is not an Aztec site; evidence supports that it was either Nahua, Otomi or Totonac, or perhaps even multi-ethnic.
The exact reason for the fall of Teotihuacan is unknown, but theories include internal unrest and uprisings, outside raiders, and severe drought. Whether or not this was the cause for its entire fall, there is definite evidence of deliberate fires, smashed artwork, and destructive chaos.
Temple of the Sun
Make your first stop the Temple of the Sun so you can climb all 248 steep steps before it gets too hot out (update: this isn't possible anymore but it still gets busy).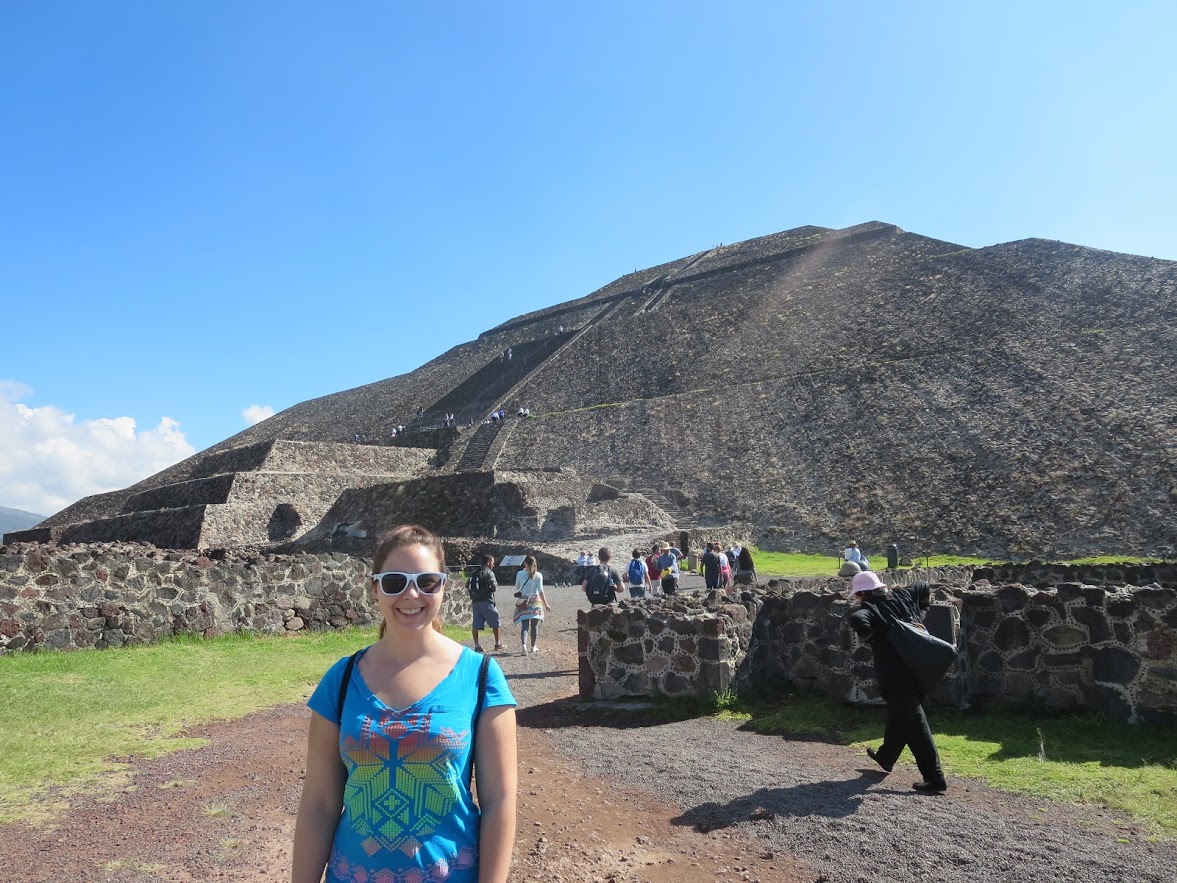 Researchers believe a temple may have once topped the structure, but little is known about its intended purpose. Whatever the case, it was likely used for many rituals, as several masks, bones, figurines, and obsidian artifacts have been found in and around the stones.
This extraordinary monument is not only the largest pyramid in the Americas, but the third largest worldwide.
Pyramid of the Moon
This 150-foot pyramid lies on the northern end of the site and was previously used for both human and animal sacrifices to the gods. There are twelve smaller platforms in front of the pyramid where residents would've stood to witness the rituals; standing here gave me a chill.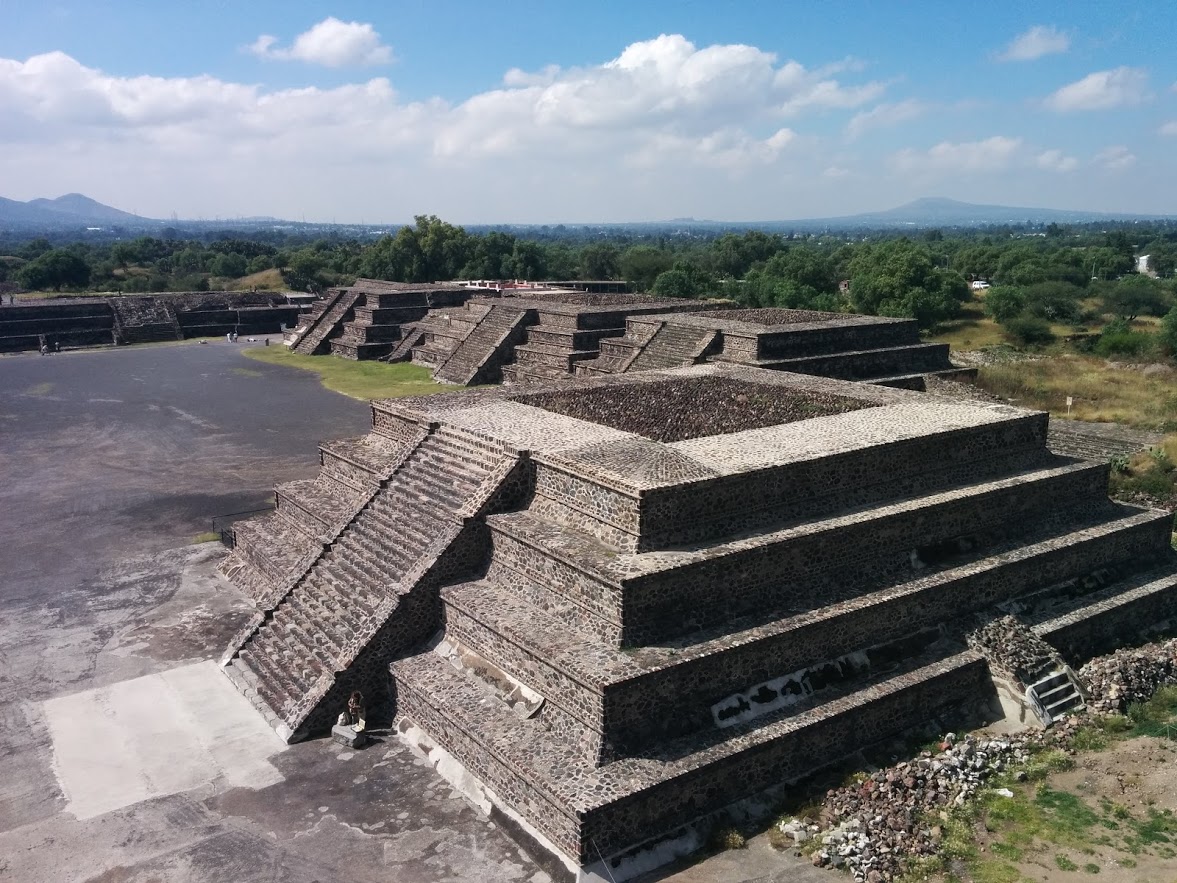 The Pyramid of the Moon was my favorite part of Teotihuacan, perhaps because you're looking at the entire site.
Temple of the Feathered Serpent
At first glance, this looks like just another miniature pyramid, but when you get closer you'll notice numerous carved serpent heads along the eastern side. This one is worth exploring from ground level to see the carvings.
Palace of Quetzalpapalotl
The Palace of Quetzlpapalotl doesn't look like anywhere else in the city. It has ornately carved pillars, obsidian inlays, beautiful murals, and a gorgeous courtyard. Many of the colors have been preserved; others re-touched.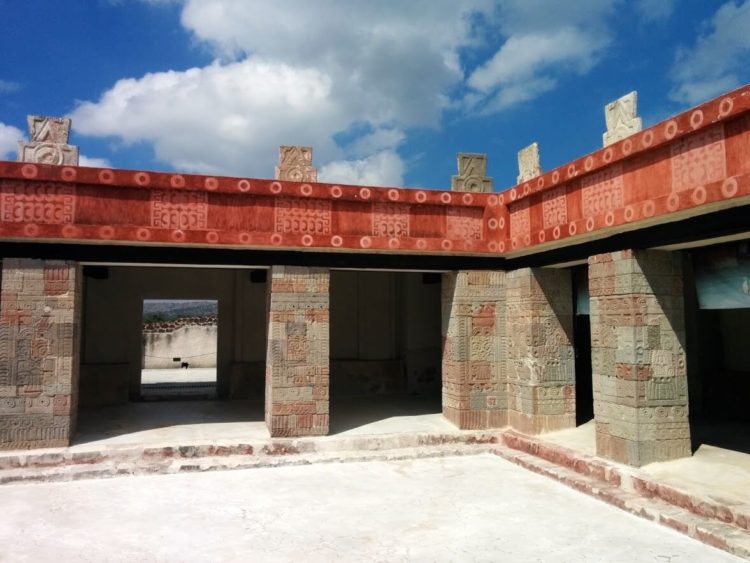 The palace is located in La Ciudadela, a seventeen acre courtyard that appeared to have housed the city's ruling elite.
Teotihuacan Museum
The museum is primarily geared toward Spanish speakers and is skippable if you're short on time.
The Best Teotihuacan Tours
There's no doubt a guide and group make things easier and give you more historical context during your visit.
If visiting independently sounds like too much work, the best Teotihuacan tours include this early-morning visit with an archaeologist to beat the crowds.
If you're not an early bird, try "Hidden Teotihuacan", a small group outing that includes dinner in a local home.
Shopping in Teotihuacan
Tons of vendors sell arts, crafts, trinkets, and other souvenirs both in and out of the official site boundaries. They all have basically the same items, so don't worry about "missing" something. Since everyone has basically the same products, don't be afraid to walk away until you get a price you're happy with.
Please be aware that recent visitors have noted that vendors have been more aggressive lately due to the lack of visitors. You will likely be asked over and over to have a look as their livelihood depends on it.
PRO TIP: Save all your shopping for the end of your visit so you don't have to carry any new gifts with you as you climb up and down the pyramids.
Where to Eat Lunch Near Teotihuacan
The fact that you can leave the site for lunch and re-enter with your ticket isn't widely advertised. There are some street food options outside Gate 2 (across from Pyramid of the Sun) and one really unique restaurant outside Gate 5. La Gruta is a restaurant inside a cave, providing an atmosphere different from anywhere I've eaten before! The food is average, but the setting is unbeatable.
If you speak Spanish, you can check out the menu ahead of time. It's not cheap — expect entree prices around US$12 — but it's not outrageously priced either.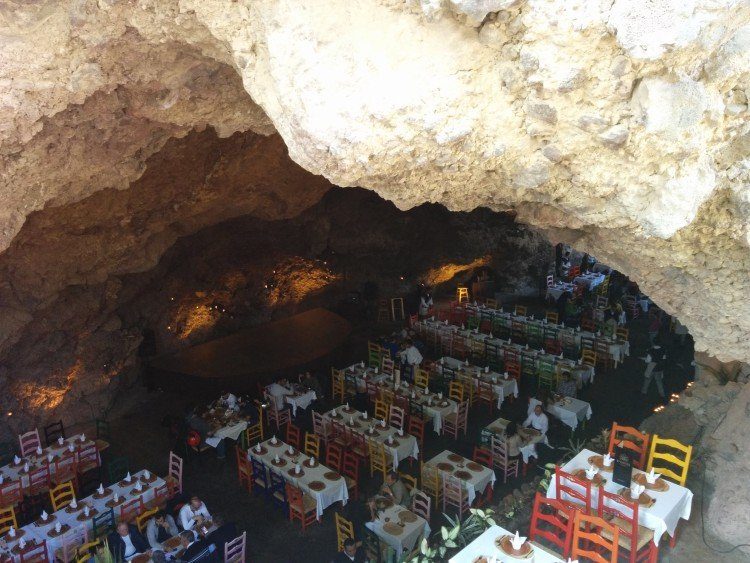 To get there, head behind the Pyramid of the Sun, following signs to the museum. This will lead you to Gate/Puerta 5. Exit through the gate and take a left. Shortly thereafter, take a right onto a side street and you'll see black signs pointing you down the long driveway to the restaurant. This will take you 5 minutes maximum.
Returning by Bus to Mexico City
When you're done exploring, exit the ruins at Puerta/Gate 2 and walk through the parking lot to the main road (pickup is also available at Gate 1 & 3). The bus will pick you up at that main intersection, on the far side of the road. You shouldn't have to wait more than 20 minutes. If you didn't originally buy a round-trip ticket, you can pay when you board.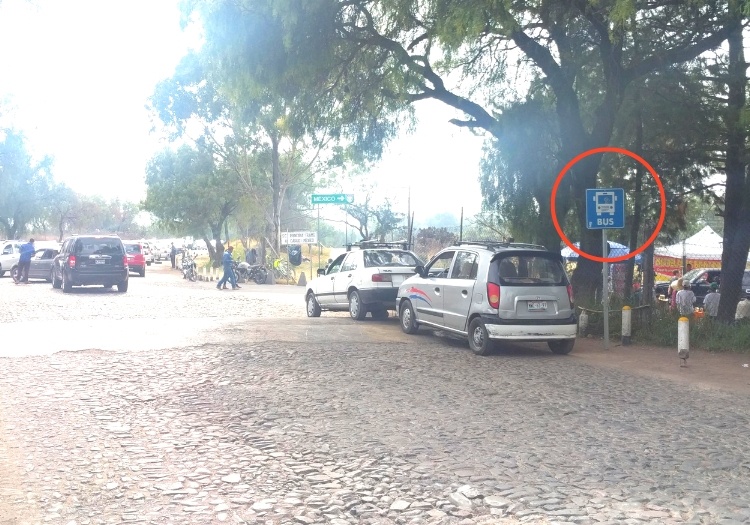 The site closes at 5pm but there are buses until 6pm or later. The ride back takes slightly longer due to the routing, but it's still easy.
The final stop is back at the bus station where you started, or you can get off at Indios Verdes and take the metro from there. Indios Verdes is a busy, overwhelming station so skip it if you're not used to Latin American travel!
Visiting Teotihuacan at Night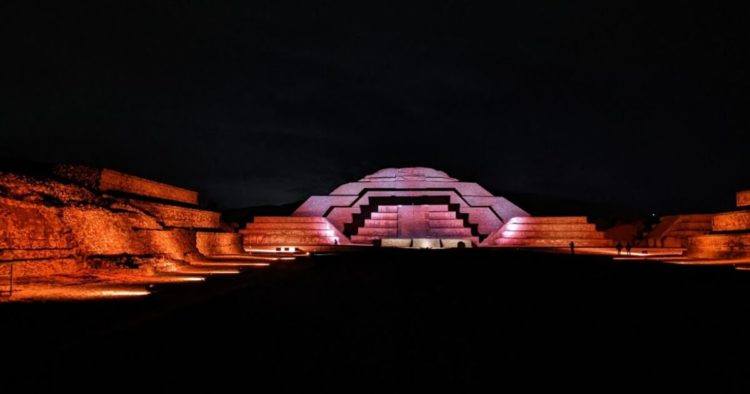 I re-visited Teotihuacan in 2020 to check out the Teotihuacan Nocturno experience, which includes nighttime entry to see the pyramids lit up. It ends with a light and sound show projected on the Pyramid of the Sun. It's an entirely different experience (and requires separate admission to a daytime visit) but it can be a great supplement or even substitution.
If that sounds interesting to you, check out my full review of Teotihuacan at night.
Do you need a hotel in Mexico City?

I don't recommend staying by Teotihuacan — there's nothing there, except the site itself. Instead, check out my Mexico City neighborhood guide and hotel recommendations (opens in a new window).

Have more time? Check out some of the other activities I liked in Mexico City to plan the rest of your trip.
What to Bring With You to Teotihuacan
Good walking shoes: You'll cover quite a bit of ground as you walk between the Mexico City pyramids (and up and down the steep stairs!). The Avenue of the Dead is two miles long if you walk it in entirety.
Sunscreen, sunglasses, and a hat: There's essentially no shade on-site.
Drinking water: Bottled water is sold outside park gates, but I recommend bringing your own reusable bottle and a water filter because it's better for the environment.
A small day bag: Choose a backpack so you're hands-free for easier climbing. This is my favorite lightweight backpack. Please keep a close eye on your bag while you're on the metro; my sister lost her wallet in Mexico City!
How to Spend One Day at the Teotihuacan Archaeological Zone
7am-7:30am Leave Your Hotel: You'll need time to take the subway or taxi to the bus station. From most hotels, this takes 15-20 minutes.
7:30am-9am: Buy bus tickets when you arrive. Grab a coffee and breakfast to-go at the station, use the restroom if you need to, and board an 8am bus which will take about an hour.
9am-1pm: Visit Teotihuacan, starting with the Pyramid of the Sun before it gets too hot or crowded.
1pm-2:30pm: Have lunch at La Gruta, the cave restaurant.
2:30pm-4pm: Depart on a bus around 2:30pm, which will take about an hour to get back to the station and then another 15-20 minutes back to your hotel.
Teotihuacán is an essential part of ancient Mexico and its heritage and no trip to central Mexico would be complete without seeing this megalithic masterpiece!
More Info to Plan Your Mexico Trip