This post may contain affiliate links. As an Amazon Associate I earn from qualifying purchases.
* * *
When it comes to things to do in Cancun, some are downright cheesy. Things like Aztec game reenactments are fun with the right mindset, so I was ready to embrace the tacky at Xcaret's dinner show (the Xcaret Mexico Espectacular) near Playa del Carmen.
Xcaret Park
Xcaret is the original "eco-archaeological park" in the Riviera Maya and the best way I can describe it is a Mexican Epcot. It's a huge park with so many attractions it would take all day, if not two, to see it all:
re-created Mayan village
cemetery
folk art museum
zoo
aviary
butterfly garden
snorkeling in underground rivers
The park also hosts the nighttime Xcaret Mexico Espectacular, a fabulous performance with dinner. You can buy just daytime park admission or just the evening show. If you plan on doing both anyway, Xcaret packages bundle them together to save you a few parks at the theme park.
But first: let's chat about this dinner show that tells the story of Mexico's history and then showcases music, dance, and traditional clothing from different regions of Mexico.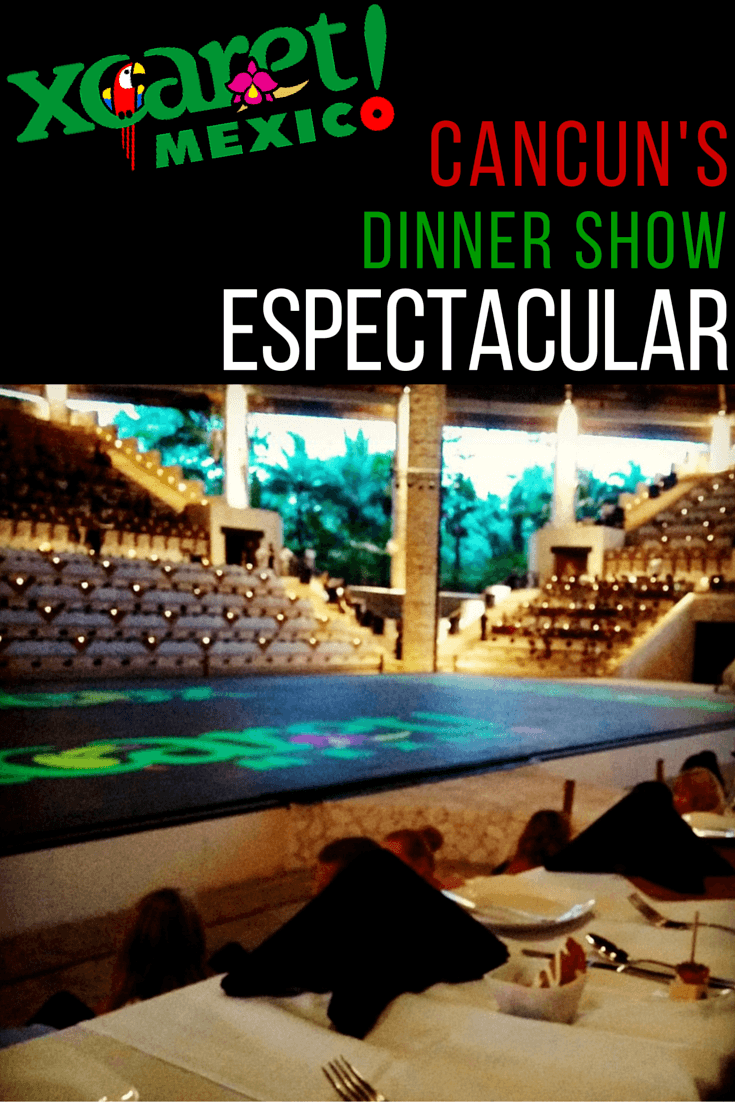 Xcaret at Night
This is a massive production that takes place on more of an arena than a stage. The outdoor theater has 6,000 seats, which were comfortable bleachers with cushions.
The evening begins with a dinner service — soup, a chicken entree, and dessert plus drinks. Overall, it was some of the best banquet food I've had and likely to be better than whatever's served at your all-inclusive resort.
Soon, the lights were lowered, and musicians, dancers, and other performers took the stage to tell Mexico's story in the first act. Starting with a game of "Pok ta' pok", or hip ball, a group of athletic performers played a millenia-old game played with a large rubber ball bounced by hip from player to player through a hoop. As someone who has traveled to Mayan ruins, this re-creation was easy to visualize in its natural setting and brought history to life.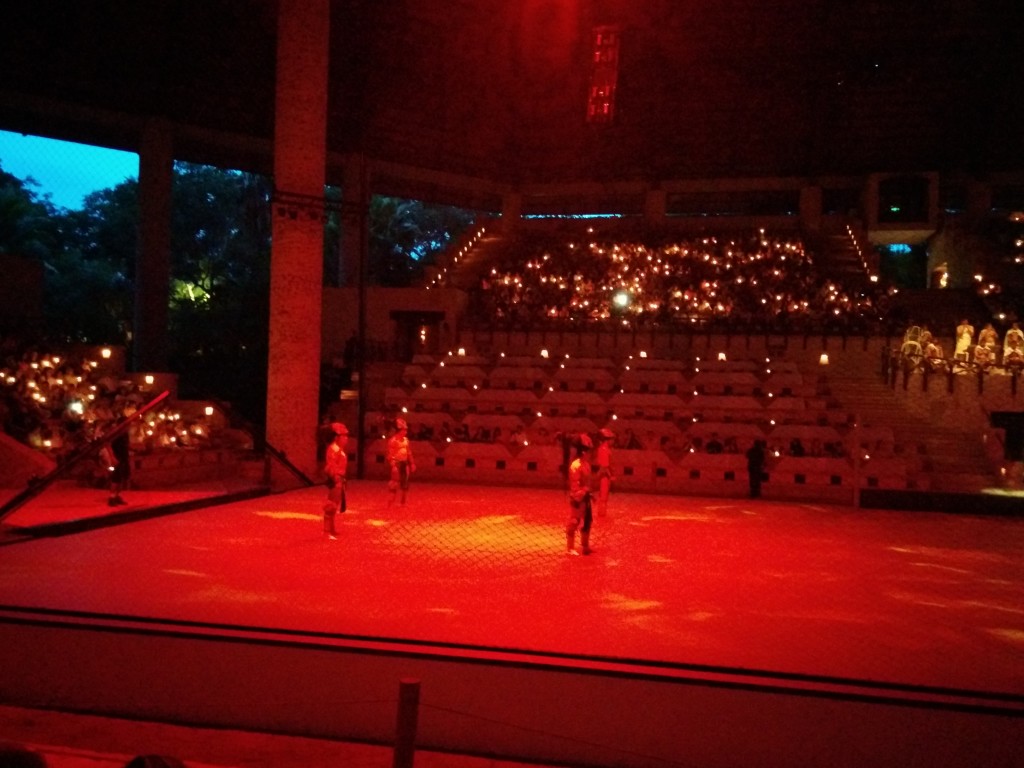 The performance continued with beautiful dancing and a spectacular rendition of Uarhukua, or "fire ball." With a burning wooden ball that represents the sun, players used wooden sticks to attempt to get the ball into the goal. It's a flaming version of hockey and one that had me gasping at times. This was shaping up to be compelling rather than the cheesy expectations I had set earlier.
Next, the show depicts the Spaniards' brutal conquest and the oppression that indigenous peoples faced. You'll witness the Catholic mission and the coming together of two cultures through the mixing of their music and you'll identify with the tragedy of Mexico's plague and racism in the sixteenth century.
The story continues through the Mexican Revolution in the early 20th century and culminates with a vignette on modern Mexico. With 300 performers all in period costume, special effects, and high-quality music, you can follow along with the story despite the lack of narration. This is truly a tribute to Mexico's past.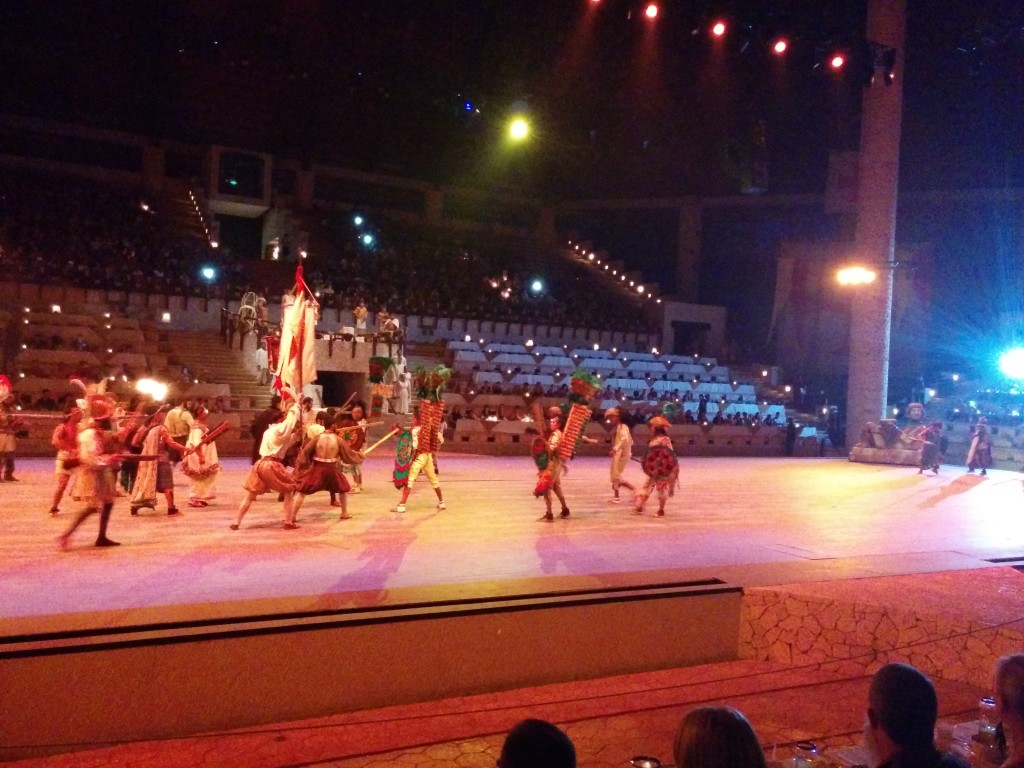 After intermission, our dinner continues and so does the show. The second half focuses not on Mexico's history, but on its music, dance, and traditions. The different regions of Mexico are each featured in succession, something that brings the great diversity of the country to life.
I enjoyed the second half of the show most of all, following along with lasso roping and mariachi playing. This is entertainment at its finest, but it was also an inspiration. Mexican tourists cheered for their regions, sang along, and national pride was quite evident.

I expected a standard theme park performance, something haphazard and semi-interesting, but instead I was on the edge of my seat for the entire show.
Every moment was perfectly choreographed and accompanied by high quality music. The addition of impeccable set design, costumes, and lighting only made it that much more enjoyable. I would highly recommend attending the Xcaret Mexico Espectacular.
Plan Your Visit
I've been to several Cancun parks and tours but this is one of the best in Cancun and Riviera Maya. It's located just south of Playa del Carmen or about 1 hour and 20 minutes south of Cancun. The Xcaret night show starts promptly at 7:00pm. Plan on a long, full day if you see the park and show, but it's very enjoyable.
Xcaret tickets include admission to the show but dinner is an optional $45 and comes with premium seat reservations. You can choose from a full-day pass so you have time to see the whole eco park or you an get the afternoon pass if you're short on time, which gives you just a few short hours to see the park and stay for the show.
If you plan on visiting other parks under the Experiencias Xcaret brand (I've been to both Xplor and Xenotes as well), you can buy multi-day packages to save 20-25%. Everywhere I've been has been incredible: well-organized, fun (even as an adult!), and worth the money.
Regardless of which park(s) you choose, I recommend buying your tickets online to qualify for additional Xcaret discounts.
Buy Xcaret Mexico Espectacular Tickets Here
* * *
Keep Reading on sightDOING: