This post may contain affiliate links. As an Amazon Associate I earn from qualifying purchases.
* * *
I can't believe I'm saying this, but there's not enough snow in Buffalo. We've gotten a few dustings, and about six inches for Christmas, but for the most part, winter hasn't shown its face. Normally, I wouldn't even care, but this year I need something to take my mind off gloomy gray skies, day after day, without an event or occasion to break things up.
So right after New Year's, when the 10-day forecast didn't show a single flake, Mike and I pulled out the laptop and got to work. He has a week of vacation to burn in the first quarter of the year — use it or lose it — and brand new tires on the truck. To me, that sounded like a great excuse for a roadtrip.
After narrowing it down to a few places, we settled on one in particular: New Hampshire's White Mountains. Not the ski resorts, mind you, but a cozy cottage on a gigantic lot. We reserved 64 football fields worth of private woods to walk and throw snowballs and build snowmen.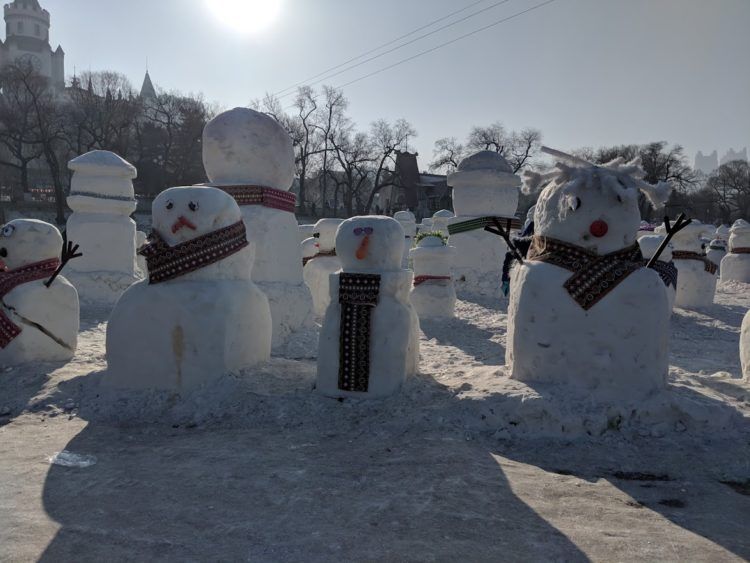 Even though our goal is classic winter fun, this isn't like other trips. Like all travel this year, there's more preparation than you'd expect. We're seeking solitude (and quiet, uncrowded trails), but New Hampshire doesn't care. To them, all visitors are the same and all travelers must jump through the same hoops to enter the state.
That's something I'm willing to do for a change of scenery.
Steps We're Taking to Keep Ourselves (and Others) Safe:
Quarantining for 10 Days Prior to Arrival
Most northeastern states, New Hampshire included, have restrictions in place for travelers. We had a few options:
Quarantine for 10 days at home prior to leaving for NH, assuming we're traveling via private transportation (e.g. our personal car)
Quarantine for 10 days upon arrival in New Hampshire, if traveling by public transportation or if a home-quarantine wasn't possible
We're fortunate enough that quarantining isn't that inconvenient. I've got a full fridge and pantry plus the ability to work from home. Our pandemic life mirrors that of a hermit, so there wasn't anything on the calendar anyway. Really the only difference from my "normal" life is I won't be going to the grocery store or Home Depot. Goes to show how mundane my daily existence is right now!
Testing 3 Days Prior to Travel
We don't have to test before travel, but Rite-Aids in 16 states have free, no-strings-attached testing. Both Mike and I have been tested a few times and it's really no big deal. The nasal swabs you self-administer at pharmacies are non-invasive, so there's nothing to fear.
All the tests we've done previously have come back within 36-60 hours, so I expect results before we hit the road.

Choosing a House Instead of a Hotel
This has been a trend for us and other travelers all year long: booking rental properties instead of a room. Extra space makes it easier and more enjoyable when traveling means "staying in" instead of going out. We'll have a bedroom, separate living room, kitchen, and more.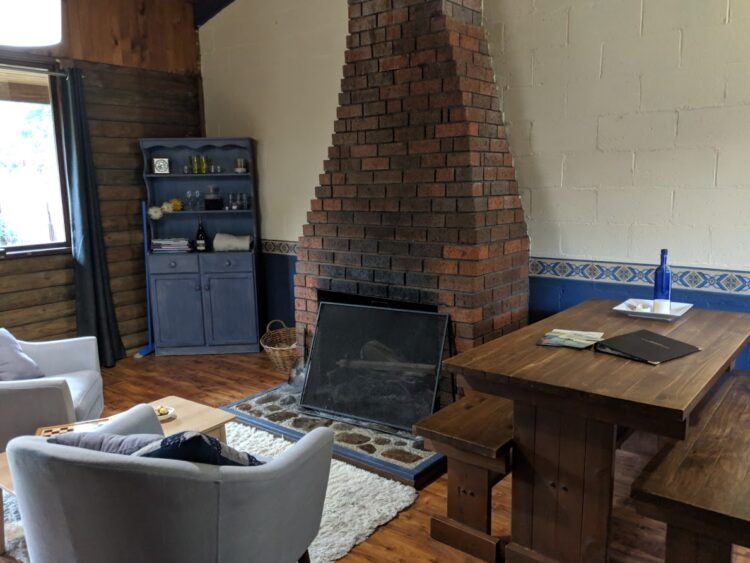 Bonus is all of the outdoor space we'll have at our disposal so that we can retreat to our private forest if/when other places get busy.
Bringing Food with Us to Cook at our Rental
Restaurants seem like one of the riskiest places to patronize — indoors, unmasked, and probably poorly ventilated.
I'm no stranger to cooking while traveling, and this trip will be no different. This time I'm not relying on my travel meal plan since we stacked a couple discounts to get a great deal on a Hello Fresh kit that we'll bring with us.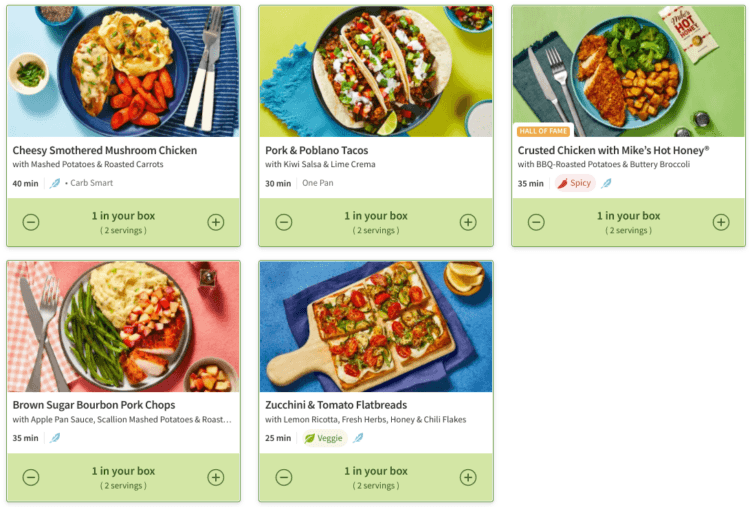 Throw in some eggs and oatmeal for breakfast plus pre-made soup for lunch and this shouldn't be too hard.
Limiting Ourselves to a Single Destination
In a different era, this roadtrip would've looked a lot different. My preference is always to move around a bit — a night here, two nights there, two nights somewhere else. Instead, we're spending the entire trip in a single destination in hopes of limiting contact and exposure for both ourselves and others.
I had a lot of fun "dreaming" about a weeklong route that tagged on Saranac Lake, NY and Rangley, ME (dream big and cross the border to Montreal, too…*sigh*) but we settled on a simple plan and an extended stay.
Not only is there the advantage of less checking-in/checking-out and other general movement, but there's a major mental advantage too: I won't feel like I have to run around seeing "everything" because I have time to spare. We can take advantage of seeing things at off-peak hours and not feel guilty about "wasting" busier hours by returning to our private home.
Traveling on Weekdays
Although we definitely intend on using our private property, we won't be there 24/7. I want to snowshoe, cross-country ski, and winter hike (or at least, whichever of those conditions allow). My husband wants to try snowmobiling — let's pray he doesn't flip us.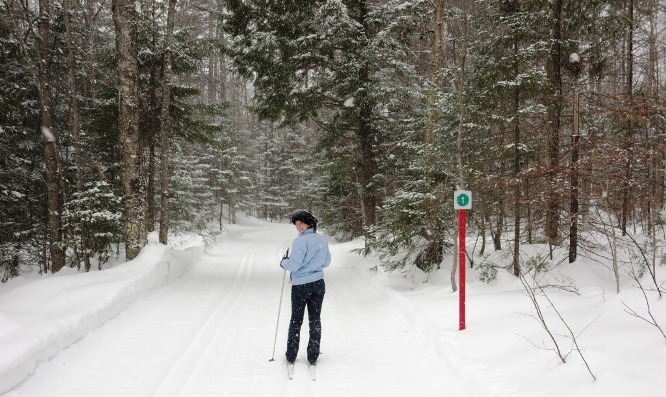 We'll have masks, of course, but we're hoping that adventuring on weekdays means generally running into less people. We're also hoping it means fewer people in indoor offices and storefronts as we momentarily enter to check in and/or pick up rentals. Since most places allow pre-purchasing timed passes online (yay!), this will be kept to a minimum.
Every single one of our planned excursions is outside and naturally lends itself to social distancing. Like our fall hiking trip, I think we'll be more like 100+ feet from anyone else rather than the suggested six feet.
Saving the Last Hurrah for Last (Obviously)
There's one thing I want to do and know won't be empty. On my wishlist is seeing the New Hampshire Ice Castles, an outdoor exhibit that brings back memories of Harbin's Ice Festival on a much smaller scale.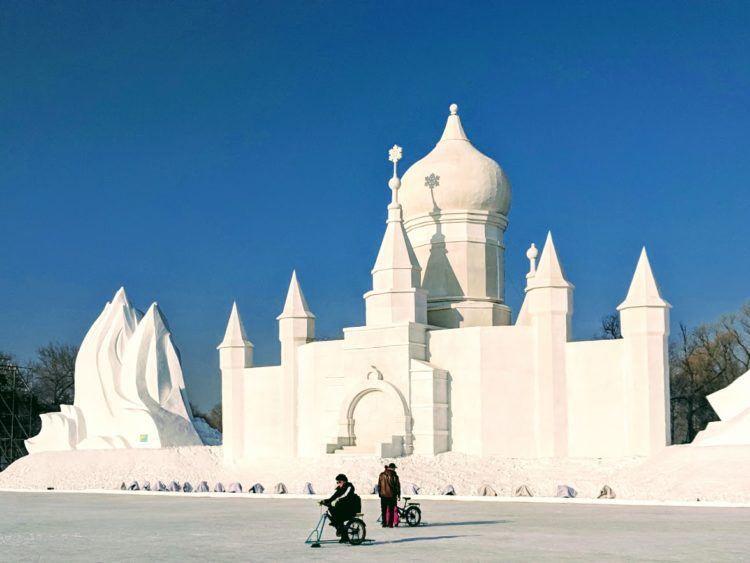 The event this year requires timed tickets and capacity controls. We'll wear masks even though it's all outside. But still, it brings some risk compared to the rest of our trip.
For that reason, we're saving it to be the very last thing we do before heading home. That way, if we are exposed on-site, we won't pass it along to anyone else.
That brings me to our final safety tactic…
Quarantining for 10 Days When We Get Home
New York state, where I live, requires quarantines for anyone arriving from out-of-state. This has been inconsistently enforced in my own personal experience, ranging from strict monitoring to being completely ignored.
You can shorten the quarantine by testing once prior to arrival in New York and once after, but testing is less effective than quarantining. Having ten days of dog snuggles and groceries delivered will be just fine.
The One Thing I'm NOT Doing: Sanitizing
I've seen all sorts of reports from travelers who come armed with Chlorox and Lysol to give everything a good scrub. I'm not going to bother.
Why? Because cleaning standards have been raised across the board at hotels, rentals and practically every public space worldwide. I trust my host to have done a good job on my behalf before I get there — she has excellent reviews — and in my opinion, there's no need to re-do the work. On top of that, recent research shows that practically no one has caught covid from surface contamination (especially when it's been hours between the last guest's departure and my arrival).
What I will do is open the windows and turn on any fans for the first half hour or so of my visit. I'm more concerned about ventilation than a doorknob, although even this is likely overkill.
I Know, I Know. Staying Home is Safest.
Never leaving the house is the only way to avoid contracting covid, but I've always felt that life is about balance. Being smart and strategic is more sustainable than sheer avoidance (this applies to non-travel, too).
Other people are more optimistic than I am that the end's in sight. I'm glad there's a vaccine, but distribution is painfully delayed. My local area cancelled every appointment for at least 8 days in January due to lack of supply. Phase 1 patients are being booked for April. That means I expect travel restrictions to linger quite some time — giving this "a month or two" isn't going to change anything.
We live in a weird world right now and while circumstances are far from perfect, there's plenty of opportunity for mindful exploration. I never would've thought I'd be taking such great lengths in search of snow (of all things!) but here I am, ready and excited for what's next.
Are you traveling this winter? How?