This post may contain affiliate links. As an Amazon Associate I earn from qualifying purchases.
* * *
This fall's trip to Yellowstone and the Tetons is full of precautions — one of them being preparing our own meals instead of dining in restaurants.
For us, this isn't hard. I've been vacation meal planning for longer than it's been trendy. Making your own food is a huge budget saver compared to eating at restaurants (or even getting take-out). It's also a logical option in some of the destinations I visit: in Tasmania, we stayed in two different spots where the nearest restaurant was 30 minutes away, for example. Suffice to say, I've had some practice with cooking on the road.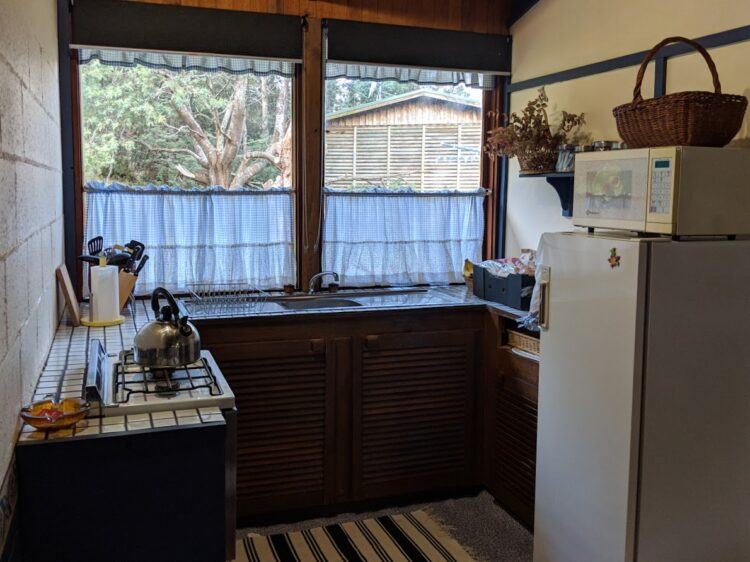 As I spent time meal planning for vacation this year, I thought it would be helpful to share my recipes with you. I've got a week's worth of vacation meal ideas and a corresponding grocery list to go with it. This is almost identical to what we ate on our recent workcation and steals ideas from other times I've stayed at vacation rentals, too.
Factors for Choosing Easy Airbnb Meals
Over multiple trips, I've learned what works and what isn't worth the frustration. In general, I want meals to be five things:
Easy — no one wants to spend an hour cooking (or cleaning!) on a busy day
Adaptable — in case you can't find ingredients or don't have the equipment you're used to
Not wasteful — no one wants to buy a ton of spices or specialty ingredients only to throw away a nearly full container a week later
Semi-healthy — I want food that leaves me energized instead of feeling bloated or lousy
One pot recipes — so you don't have to keep your eye on multiple side dishes at once
Some of the factors are self-explanatory. Obviously "healthy" is subjective and will mean different things to different people. If you're keto, for example, I'm not the resource for you.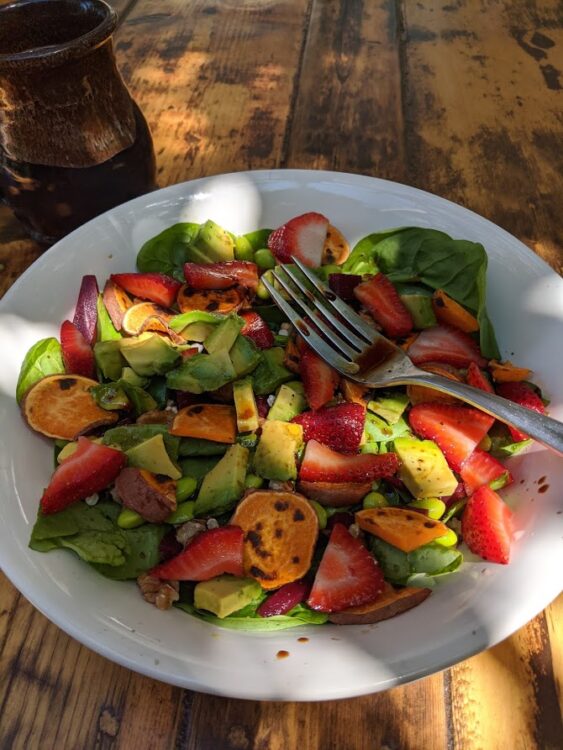 "Easy" is also a sliding scale. I cook dinner every night at home, so a lot of meal prep is second-nature to me. If you're not a home chef, a condo rental or Airbnb is not the place to start.
Easy Meals for Vacation: 7 Dinners
These dinners are tried and true for their easy adaptability. These meals are also meant to use up leftover ingredients as the week goes by so you're not wasting anything.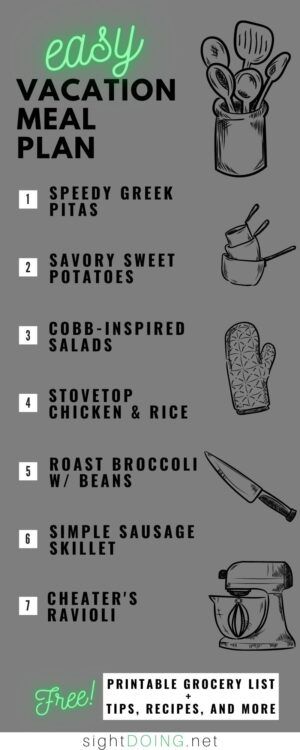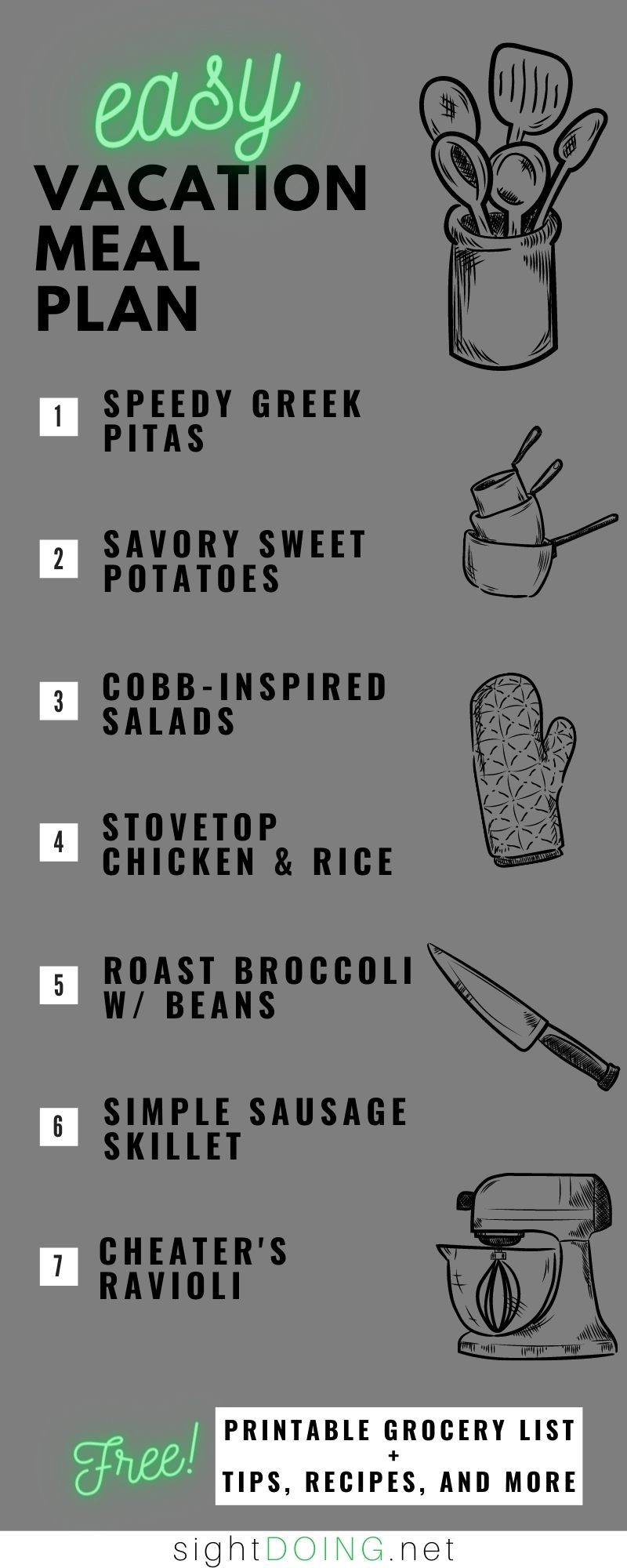 1. Greek Pitas
The first night of travel is often hectic for us because we're checking into our new place, acquiring groceries, unloading our car, and possibly dealing with travel delays. I start the week out with a super simple dinner to focus on other things.
Ingredients: Pita bread, hummus, rotisserie or other pre-cooked chicken, feta cheese, baby spinach (or other lettuce), tomato, red onion.
Directions: Assemble a sandwich by schmearing hummus on your pita and fill it with chicken, feta, and veggies to your liking. Alternatively, make yourself a salad topped with chicken and eat the pita dipped in hummus on the side. Told you I liked easy meals!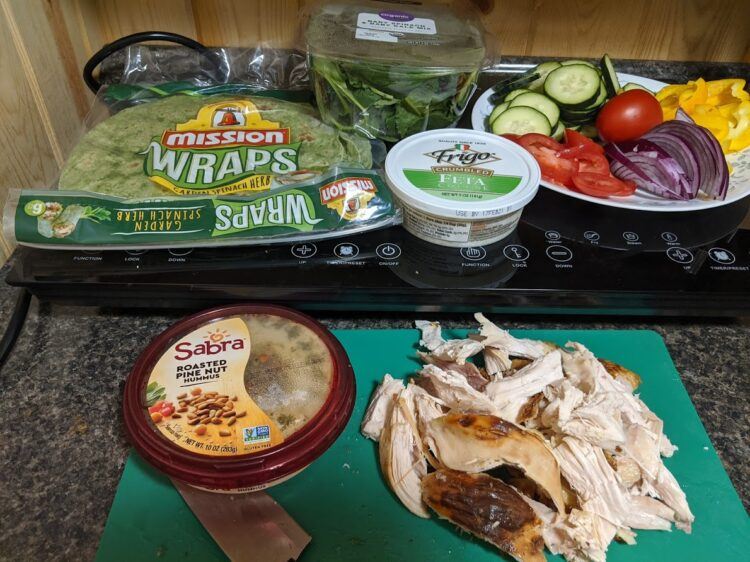 Leftovers: Eat the hummus and pita in lunches throughout the week. You'll have leftovers of all the other ingredients, too, but we'll use those in other dinners.
2. Sweet Potato Sheet Pan Meal
This meal is one I make at home frequently because it's so easy. The fresh herbs really take it over the top. If you want to add the optional pepitas, check in the bulk section to buy "just enough" (if you buy a whole bag, snack on them in the car).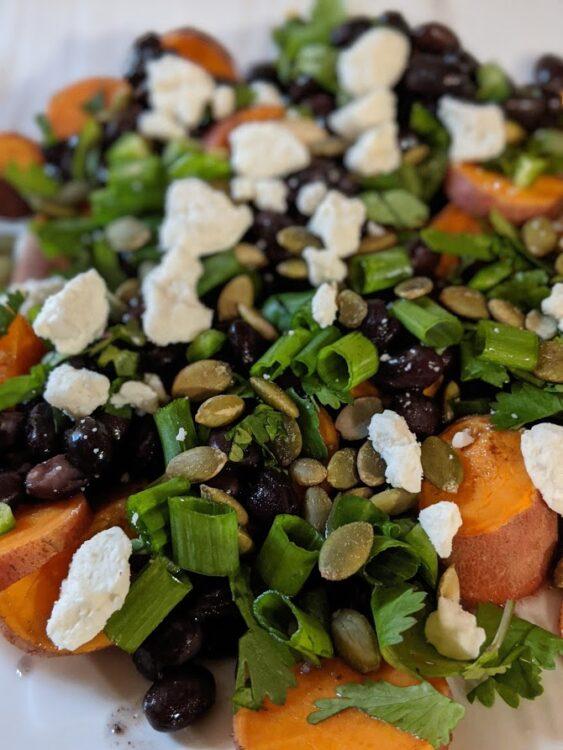 Ingredients: Sweet potatoes, canned black beans, lime, feta cheese. OPTIONAL: jalapeno, avocado, pepitas (pumpkin seeds), green onion, and cilantro.
Directions: Cube the sweet potato, toss with oil/salt/pepper and roast at 400 degrees until tender (about 25 minutes). It can also be boiled, microwaved, or cooked in a skillet if you don't have an oven.
When the sweet potato is done, dump a can of black beans on the pan and the residual heat will warm them up. Sprinkle with lime juice and leftover feta cheese from the Greek pitas. You can add any combination of sliced jalapeno, avocado, pepitas, green onion, or cilantro for extra flavor (I like them all!).
Leftovers: If you have any left, heat it up the next morning and top it with a fried egg for breakfast.
3. "Cobb-Inspired" Salad with Texas Toast
I say Cobb-inspired since I don't top mine with chicken — the bacon and eggs should be plenty of protein. A traditional cobb salad would come with blue cheese crumbles, but there's not a good way to buy that in a small portion on vacation. Instead, top it with blue cheese dressing (and use the extra as a dip for veggies for lunches throughout your trip). Many deli counters will sell small quantities of bacon; if not, save the extra for breakfast.
Ingredients: Baby spinach, tomato, red onion (all leftover from your Greek pitas), bacon, hardboiled eggs, blue cheese dressing, frozen garlic toast
Directions: Cook the eggs and bacon (you can do both in the microwave in a pinch) and then assemble your salad. I like to serve mine with garlic bread on the side — Texas toast is the most flexible option; unlike baguettes or breadsticks, you can heat it up in a toaster oven or even in a skillet if you need to.
4. Stovetop Chicken and Rice
We only eat whole grains at home (much to my husband's chagrin), so this meal is a guilty pleasure for vacation. Any box of rice with a seasoning packet will work so you don't have to buy individual spices — my preference is the Near East brand "Roasted Chicken and Garlic Pilaf", but Rice-a-Roni is easy to find or you can use a bag of frozen, seasoned rice.
Ingredients: Rice mix, container of pre-sliced mushrooms, leftover Rotisserie chicken, butter or oil. OPTIONAL: garlic.
Directions: Sautée mushrooms in a pan with just enough butter/oil that they don't stick and optionally add a clove or two of chopped garlic. When they're barely brown (3-4 minutes), prepare the rice pilaf in the same pan according to package directions. Add in the leftover shredded or chopped rotisserie chicken in the final few minutes to warm through.
5. Roasted Broccoli and White Beans
This meal is most flavorful when roasted, but you can make it on a stovetop if you don't have an oven at your rental. You can substitute other vegetables if you don't like broccoli, but that's my pick since it's easy to find just about anywhere.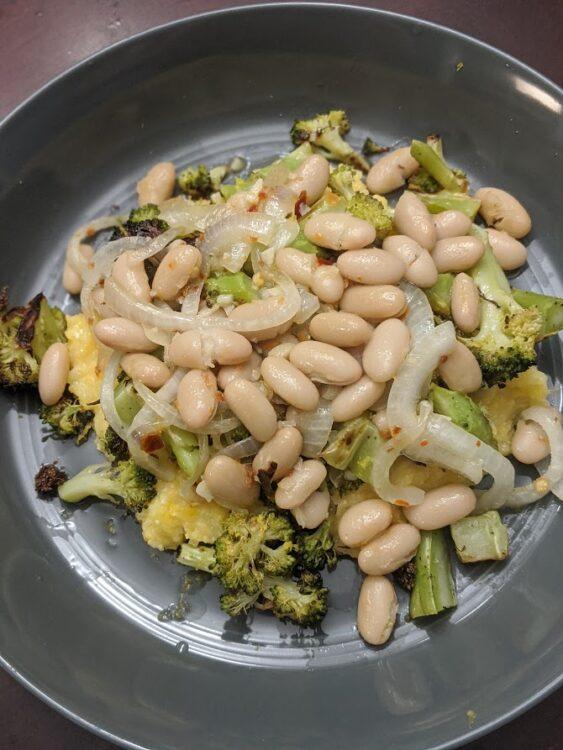 Ingredients: Broccoli florets, cannelini or other white beans, olive oil, lemon, onion garlic, leftover garlic bread.
Directions: Toss the broccoli in olive oil/salt/pepper and spread on a sheet pan to roast at 400 for 10 minutes. After ten minutes, stir the broccoli and add white beans, half a yellow onion, and a few minced garlic cloves to the pan. Roast another 5-10 minutes until everything is heated through. Squeeze the juice of a lemon on top before serving and maybe give it another swirl of oil. Eat it with leftover slices of garlic toast.
6. Sausage Skillet
AKA, my husband's favorite. Use frozen potatoes to make this one a breeze and look for sausage in the butcher counter so you can buy exactly as many links as you need.
Ingredients: Bratwurst or other sausage of choice, bell pepper, leftover red or white onion, potato.
Directions: Start the potatoes first since they'll likely take the longest, either in a skillet or the oven with a touch of oil. After a headstart, add sliced bratwurst and chopped peppers and onion to the pan. Voila — a perfect one-pan meal.
Leftovers: This makes an excellent omelet filling in the morning.
7. Ravioli
There will always be a night while traveling where you're too tired to cook. That's ravioli night…because it takes zero thought to boil ravioli and coat it with a jar of pre-made sauce. This is often (but not always) the last night of the trip for me — a week of fun is catching up to me and my mind has moved on to packing up for home.
Ingredients: Premade ravioli, jar of premade sauce.
Directions: Prepare ravioli according to package directions. Afterward, smother with your jar of sauce. If you have leftover baby spinach, onion, or chopped tomatoes, go ahead and add those to your sauce instead of wasting them.
Vacation Meal Ideas for Breakfast and Lunch
For breakfast, you'll probably have leftover eggs, bacon, and potatoes which is perfect for the days you want a hearty meal. On other days, I mostly eat instant oatmeal topped with fruit and nuts.
For lunch, we're almost always out and about so I stick to basic foods that we can eat in the car or as a picnic. I purposely avoid anything that requires silverware, since I always forget it, and I love munchies so that I can snack throughout the day instead of all at once.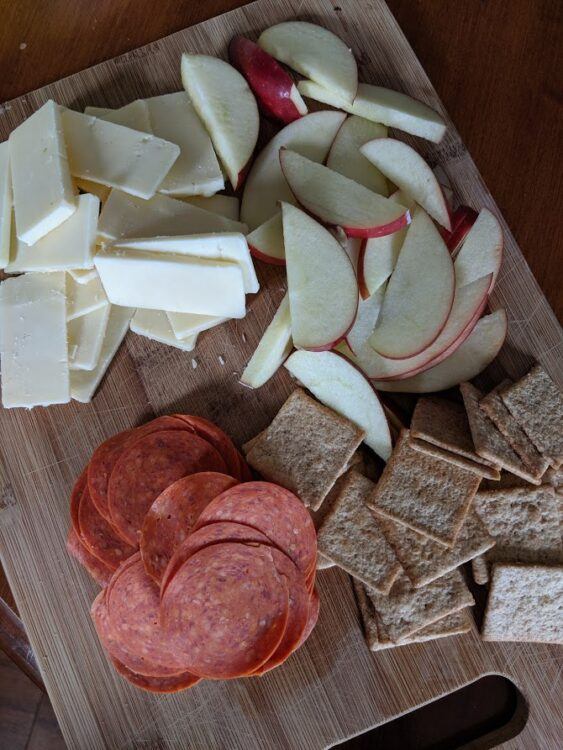 Sandwiches are a classic option, but we also do cheese and crackers, sliced pepperoni, veggies and dip, trail mix, granola bars, and fruit (avoid anything that bruises easily like bananas or peaches). I'm also a sucker for salt and vinegar potato chips and shortbread cookies…although we experiment with local brand snacks whenever we find them!
Other Things to Consider
In addition to meals and snacks, don't forget drinks. Coffee can be a loaded question: you need to know what type of filters your rental requires (or if they have a Keurig). We also grab a case of sparkling water for the road, wine or beer, and herbal teabags for bedtime. We always pack reusable water bottles and travel mugs from home.
You'll also probably need napkins or paper towels and perhaps plastic wrap or bags to store leftovers. If you intend on picnicing, you may also consider paper plates and plastic silverware.
Pro Tips for Cooking on Vacation
Pre-order your groceries online through a service like Instacart. It's worth the upcharge to not spend time shopping in an unfamiliar store. You can have it delivered if you know your vacation rental address or you can pick it up at the store.
Speed your meal prep up by buying pre-cut veggies in the produce department (or looking in the frozen section).
If you're driving, or checking a suitcase, bring your own chef's knife. A lot of vacation rentals come with dull knives that make prep harder.
Bring a cooler if you're driving. If you're flying, you can actually check a cooler as a piece of luggage (I've done this with Southwest, when you get two free checked bags anyway). I've also shoved a soft-sided collapsible cooler in my carry-on before!
Vacation Grocery List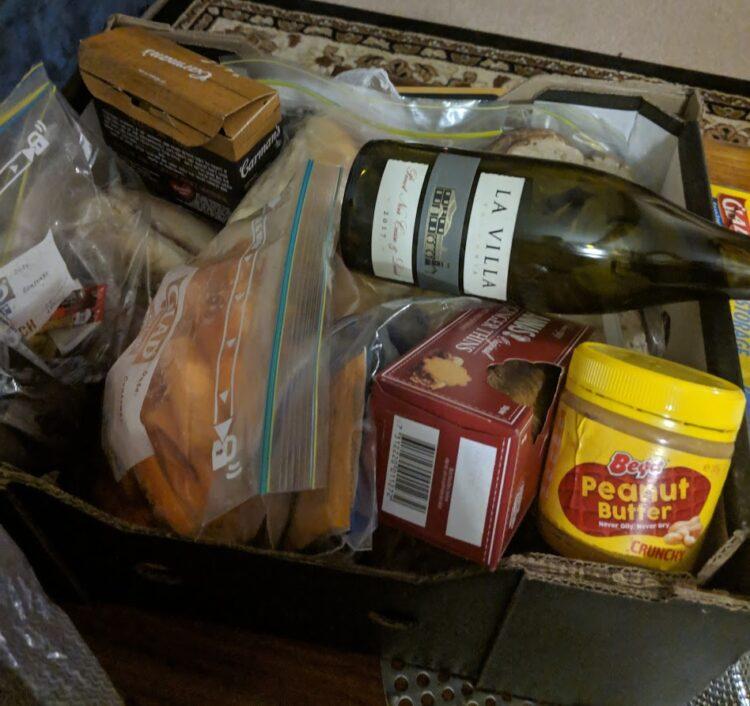 Below you'll find two printable/downloadable grocery lists to take with you: the first page is the list for the dinners only. The second version includes breakfast, lunch, drink, and non-food items. Quantities are based on two travelers (easily doubled for a family of four) and include generous portions: Mike and I build up a big appetite since we're physically active while traveling.
I did a mock online order at my local Wegmans and the total came to $175ish for a comprehensive shopping trip including several organic ingredients. In-store would be cheaper since Instacart adds upcharges and somewhere like Aldi or Walmart would be even cheaper. Of course, your total cost will vary based on exactly where you shop, which brands you choose, and if you eat organic. Still, a week's worth of food is way cheaper than three restaurant meals a day.
Alternative: Make Ahead Meals for Traveling
I won't judge if you don't want to cook on vacation! You can still save money by prepping meals at home to take with you if you're roadtripping. Here are a few make-ahead meals for vacation that work well:
Chili (make a big crockpot at home, it reheats well in the microwave)
Pasta Salad (it can be eaten hot or cold)
Breakfast Burritos (freeze them and throw them in the microwave as needed)
Pulled Pork BBQ (another great slow cooker meal and it pairs with cole slaw, which also travels well)
Quiche (it feels so fancy, but it freezes well. Just freeze it in individual slices/pies so it reheats quickly)
Meatballs (another food that freezes and microwaves well. Throw it on a sub for a fast vacation meal)
Another Vacation Meal Prep Option: Meal Kit Delivery
If you want to cook meals while traveling but without the planning or shopping, meal kits like Blue Apron can be a good option. They come with all the ingredients you need, including herbs and spices, in precise portions with an easy-to-follow recipe. They typically come 3 meals to a box, which also makes it good if you want to cook a little and go out a few times.
It's easy enough to bring along a box if you're roadtripping. If you're flying, it gets more challenging. Some rentals will provide mailing addresses in advance so you can have a meal kit delivered where you're staying. You can also buy meal kits in person at select Kroger, King Sooper's, Harris Teeter, Whole Foods, and Publix stores.
Meal kits can also be a saving grace at home: have one delivered the day your trip ends. Instead of arriving to an empty fridge, you'll have a few meals ready to go instead of instantly needing to hit the grocery store. My favorite company is the one that's on special. Seriously, there are enough rotating offers that occasional users shouldn't have to pay full price. Look for new subscriber deals, Amex offers, and "we want you back" targeted discounts.
There are Obvious Downsides to Cooking While Traveling
Cooking your own meals means you miss out on sampling local flavors. Food is a huge part of culture and I wouldn't want to miss out entirely if I was heading to another region with specialty meals. You might want to leave a night or two open in your meal plan to go out and try something new!
The other downside is that cooking takes effort. It's an effort I enjoy, but I hate doing the dishes afterward. I don't have a good solution for that (maybe you do? please?) so I just suck it up and remind myself the ten minutes it takes is faster than getting the bill at some restaurants!
Even if your idea of vacation meal planning means grabbing a box of cereal and canned soup, having a kitchen in your accomodations is a big plus for 2021. Eat without the infection risk and save some money while you're at it.