This post may contain affiliate links. As an Amazon Associate I earn from qualifying purchases.
* * *
Strutting peacocks through verdant grass.
Cotton candy sunsets and endless stars.
Steam rising from the pond in cool morning air.
Fresh baked scones and golden-yoked eggs.
This all exists in a single place and it can all be yours if you go glamping in Ithaca.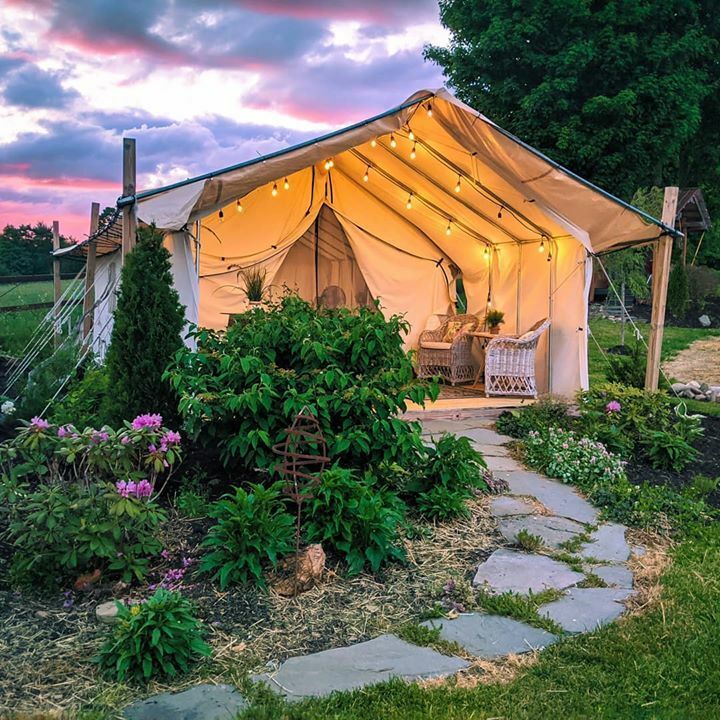 We arrived at Scottland Yard right at sunset on Friday night, walking into a fairyland of twinkling lights and magical colors. It was exactly the escape from reality that I was looking for. For a weekend, there would be no more news, no more social media, and no more polarizing opinions at every turn. I wanted to switch my brain off and glamping was the solution.
Normally when I travel, the goal is exploration. I like to be out and about, discovering new parts of the world and trying new things. Though we explored a little in Ithaca, that wasn't the goal this time. The goal was to switch up our living space just enough to feel revitalized…in a safe and responsible manner. No travel is risk-free right now, but choosing a destination in driving distance where we could spend time outdoors and prepare our own meals felt like a good balance.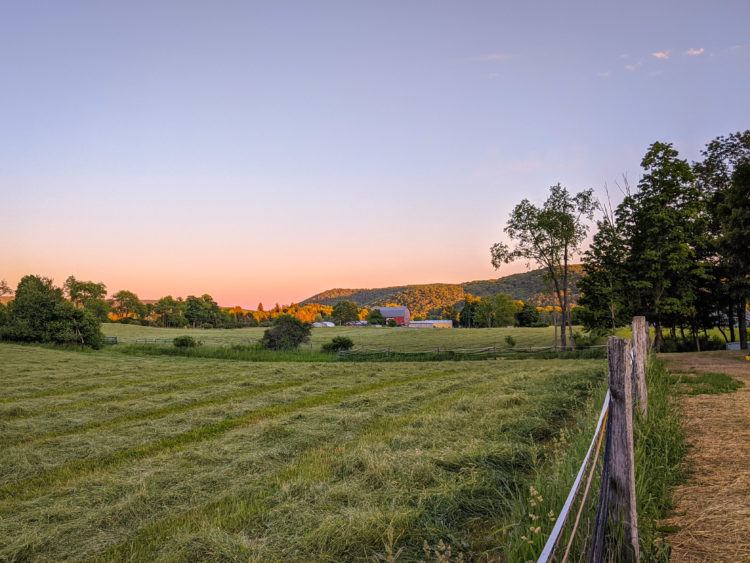 And so I packed up the car for a roadtrip, dog and all. I brought way too much stuff; I always do, when I have a trunk to fill. You never know what you'll have access to when booking a vacation rental so I prepared for everything. This time was even worse, since I had a cooler full of groceries, too.
Turns out I needed far less than what I brought. Our safari tent had everything we needed (and then some). We had a queen-sized bed that even Goldilocks would say is "just right". There were electric blankets to keep us warm as it dropped to 39°F overnight. We had electricity to charge phones and a refrigerator to keep food cool. There was even a coffeepot and fresh baked scones for the next morning. And so much seating to choose from: two chairs on the porch, Adirondack chairs by the firepit, and a wine-barrel table and stools to dine.
(And that's to say nothing about the communal areas.)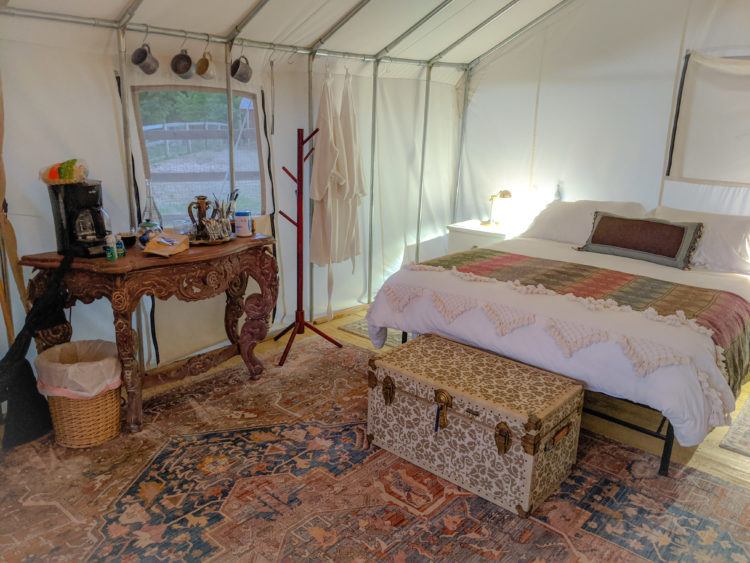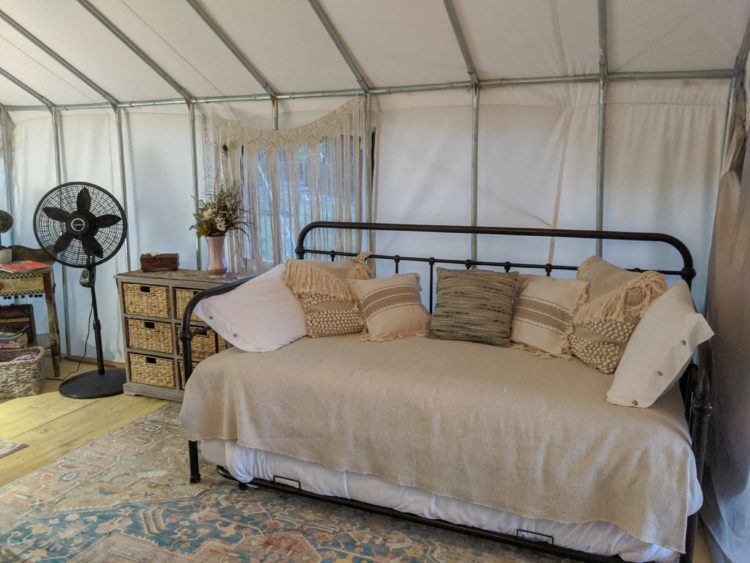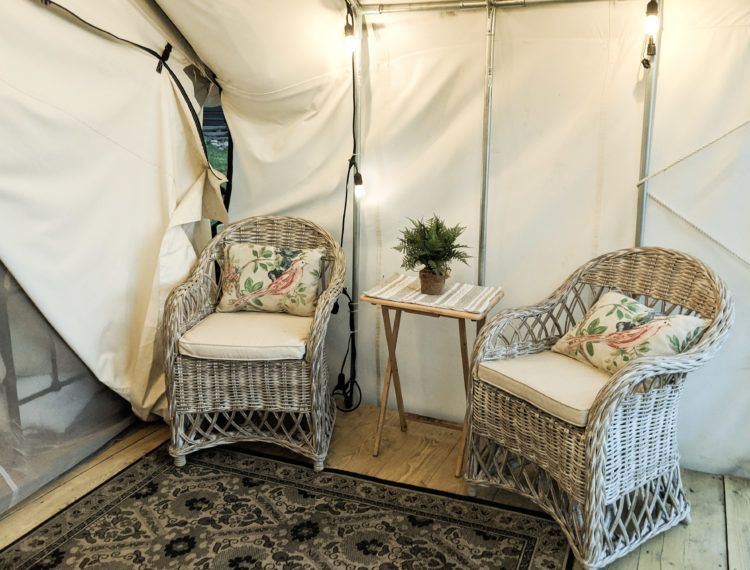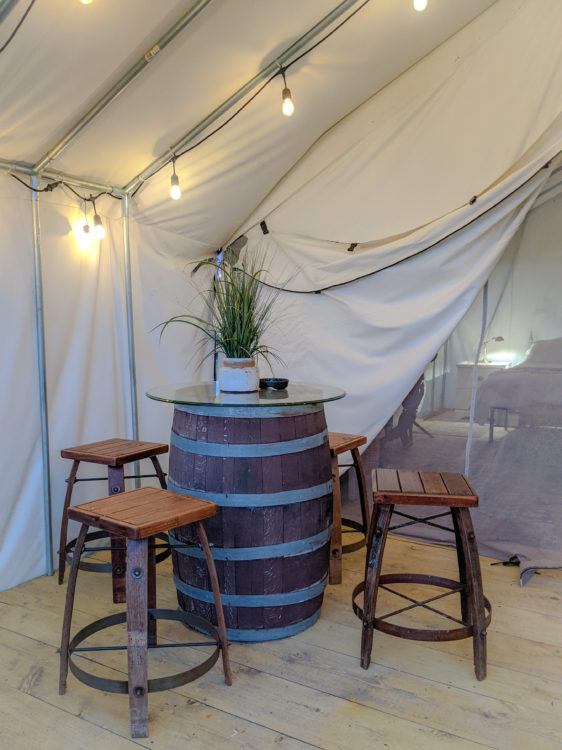 With only a few nights, it's hard to say we slipped into routine but we found a rhythm quickly. Mornings were for hearty breakfasts of free-range eggs collected from the farm's hens. We'd hike through one of Ithaca's three state parks before everyone else arrived, leaving once they got there.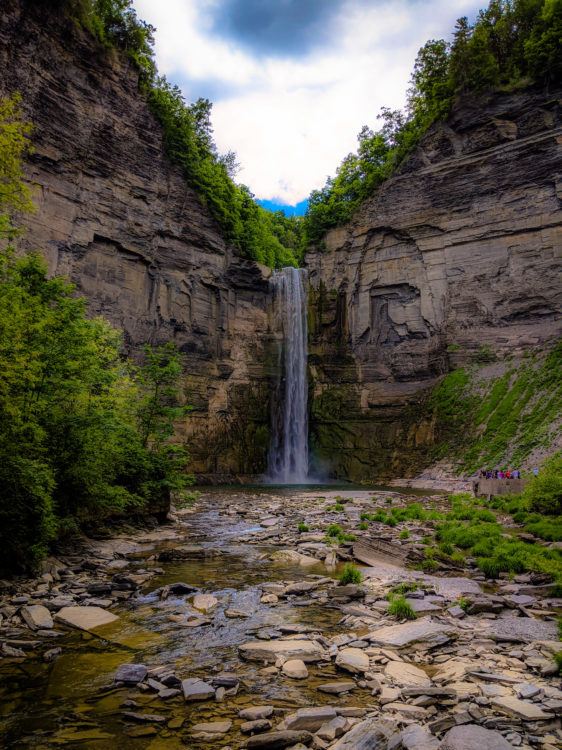 Most of our day was spent lazily at camp, watching peacocks and reading books. I'd get in a hammock only to hop out as soon as it started swaying in the breeze. I did yoga each afternoon and left for another walk when we suspected everyone else had gone home for dinner.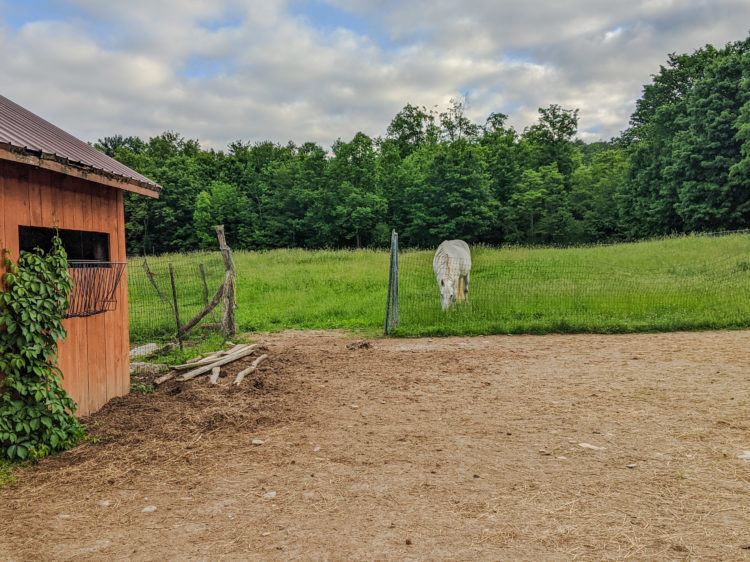 Glamping vs. a Hotel
Glamping has an obvious advantage compared to traditional camping. We had fresh air and the sounds of nature, but a real bed to sleep on at night. Scottland Yard specifically falls on the luxurious end of the glamping spectrum, so we also had electricity, wi-fi (in common areas), and full access to a shared kitchen.
Our stay wasn't cheap, though. For the same money, we could've stayed at the Homewood Suites and had a private kitchen, heating and air conditioning, and our very own shower. So why choose glamping?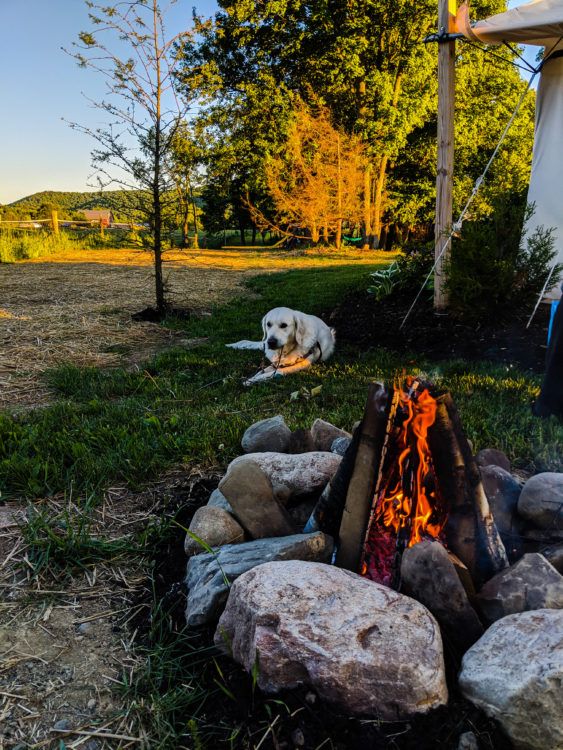 Essentially, glamping provided that faraway feeling when we otherwise weren't able to travel. It transported us to a new mindset. It looked different. It felt different. It smelled different. It was a welcome distraction from real life. We were also able to explore the Finger Lakes from a different perspective so that it felt new and exciting.
Not all glamping will be as fancy as Scottland Yard, but if you can find somewhere that is, that's pure gold.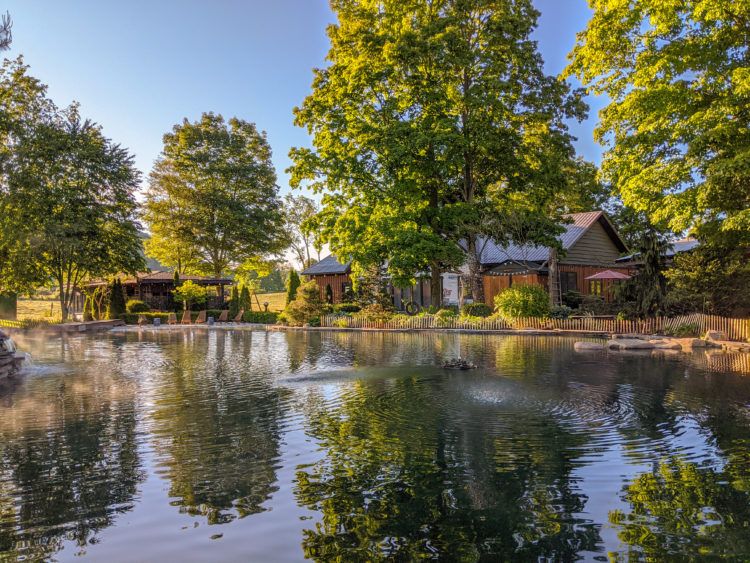 How to Go Glamping in Ithaca
We stayed at Scottland Yard which is about 15 minutes outside downtown Ithaca (and about 30 minutes from most of the state parks or Cayuga Lake wineries). There is a family-sized safari tent, a couple's tent, a chicken coop "cabin", and an indoor guest room, all bookable on Airbnb. I urge you to stay in the tents; they are better appointed than the other options.
If the property is fully booked, you'll share the common lounge areas, kitchen, and bathroom with up to 10 guests. I loved it most the first night when it was just the two of us, but that's me being selfish. We did our best to spread out and pretend the property was ours and ours alone.
The original glamping tents in Ithaca are at Firelight Camps, near Buttermilk Falls. I'm sure it's lovely, but weekend rates were double the cost. It's hard to believe anywhere could be twice as nice as my experience, especially this year when they've discontinued some of their value-adds for health and safety (e.g. wine tastings, community bonfires).
Ithaca sits on the southern end of Cayuga Lake. In season, that means there are boat rentals, fishing charters, and places to swim. Year-round, it's also well-known for its wineries and breweries. I don't love the downtown area, but others do, so check it out and form your own opinion.
While you're in the area, don't miss Lucifer Falls at Robert H. Treman State Park. Day tripping to Seneca Lake — my favorite of the Finger Lakes — is easily done, with Watkins Glen less than 40 minutes away. But half the fun is staying put on the property. I never even had a chance to do cannonballs into the swimming pond!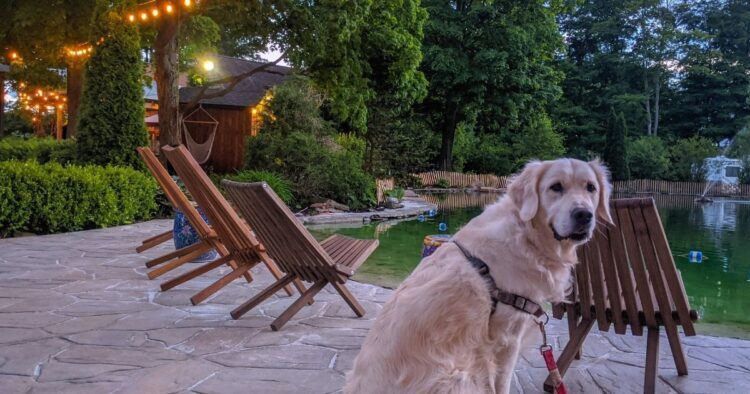 Our little escape may not have been exotic, but it gave us a chance to step away from the daily grind and add in a little exploration. For now, that's exactly what the doctor ordered.
BOOK NOW: Wisteria Tent (sleeps two) or Honeysuckle Tent (sleeps four)
Read More About the Finger Lakes