This post may contain affiliate links. As an Amazon Associate I earn from qualifying purchases.
* * *
You've probably heard of the Finger Lakes, the east coast's greatest wine region, but have you heard of Corning? You'll be surprised at how much this small town has to offer. From outdoor pursuits to world-class art, you'll find plenty of things to do in Corning NY.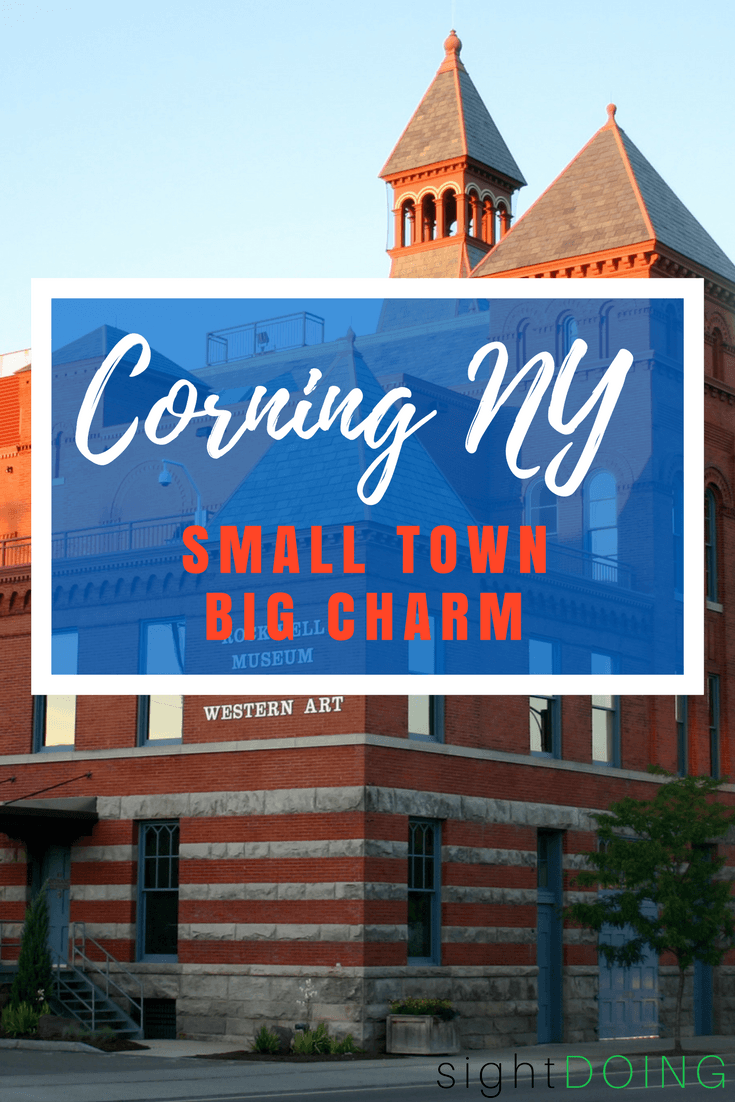 Top Things to Do in Corning NY
Just north of the Pennsylvania border and about 100 miles south of where I grew up is the small "city" of Corning. At only about 3 square miles, the city center is tiny, but it's packed with great reasons to stay awhile.
Corning Museum of Glass
Affectionately known as CMOG by locals, the Corning Museum of Glass has been world-class since the day it opened in 1981. It's an art museum for people who hate art museums (like me!) with gorgeous displays plus exhibits on the science and history of glass.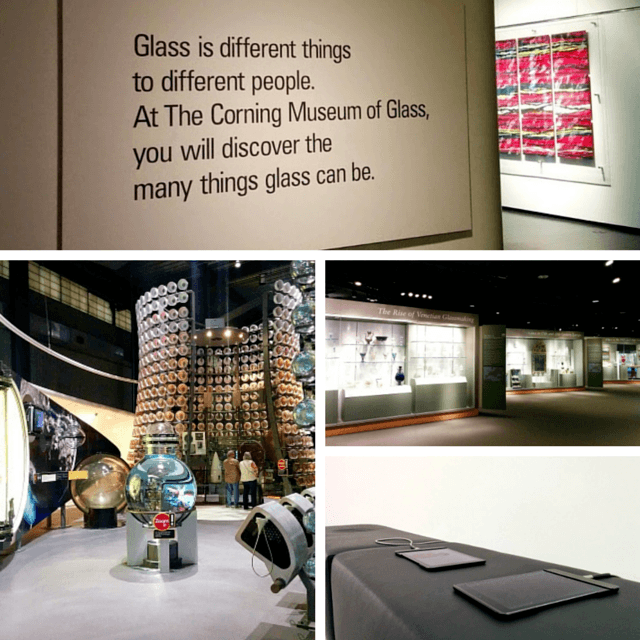 More recently, CMOG has outdone itself by opening a 100,000 square-foot expansion to showcase contemporary glass art. The new wing was specifically designed to showcase glass: skylights and windows provide natural lighting, huge rooms show the large scale of modern, and distractions like outlets and light switches are hidden so all attention remains on the art. The architecture itself is worth a look!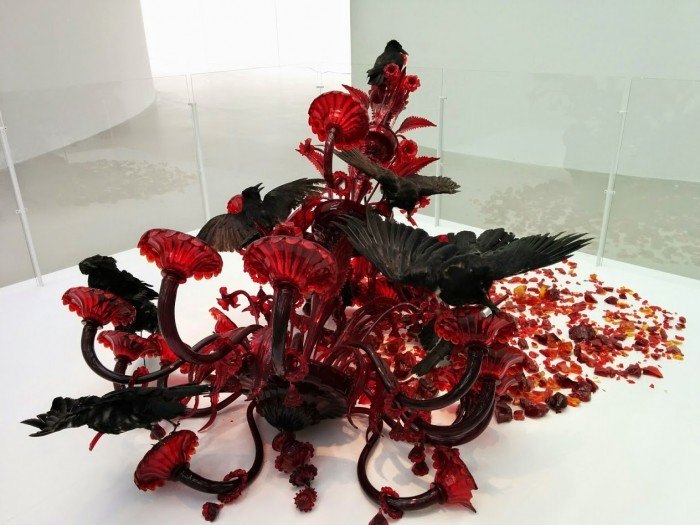 But the main reason that the Corning Museum of Glass is worth a visit is because it's not a stuffy museum. Daily demonstrations show everything from glass breaking to how optical fibers carry information on thin glass. The glass-blowing demos and "gaffer's choice" shows can be actual artists at work, not just dumbed-down versions of how to make glass. And adults and kids alike love the #glassapp scavenger hunt.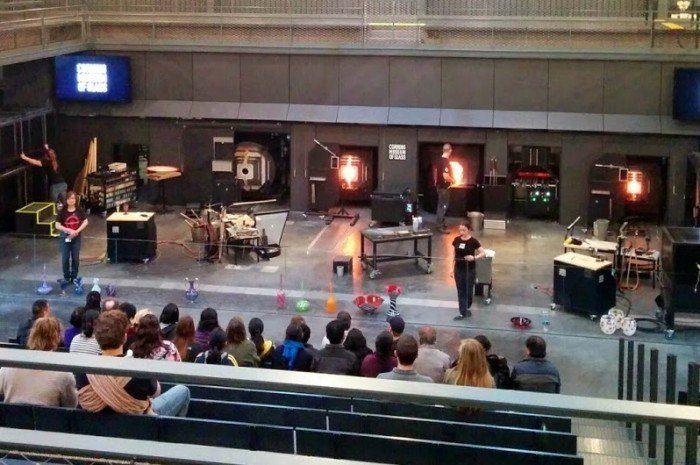 Best of all, visitors can make their own glass art in forty-minute projects or intensive workshops. After beating around the bush with three short projects on past visits, I finally took the plunge to a two-day glass-blowing workshop on this visit.
There's a reason two-day admission comes standard at the Corning Museum of Glass and why visitors (like me!) come back for return visits.
Read More: Glass Blowing at the Corning Museum of Glass
My glass-blowing workshop went way beyond the basics and was a ton of fun!
Heritage Village of the Southern Finger Lakes
At first glance, the tiny Heritage Village doesn't seem like much, but I was blown away by how much there is going on. In fact, there was so much to do that I went twice in my four day stay.
First up was a murder mystery dinner: my chance to get into character as an 1800's woman (embarrassingly, I was one of the few attendees who didn't dress up). The event took place in the Benjamin Patterson Inn, a 1796 area tavern and inn. Travelers would have passed through for a hearty meal, a place to socialize and conduct business, and a warm bed. For my visit, it was renamed the "Deadwood Saloon", host to a poker tournament and unfortunate murder. Although the setting was different than its true Corning heritage, the cookies baked on the hearth and the social atmosphere were spot on for the historical building.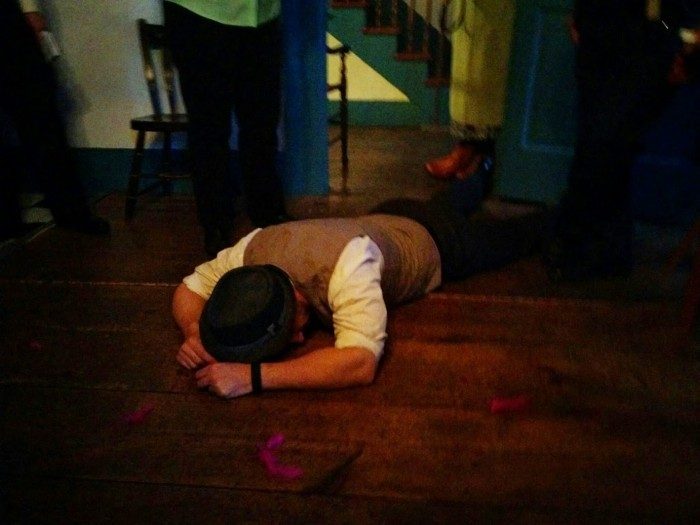 For a more authentic experience and sightDOING twist, I was really excited to join a blacksmithing workshop at the Cooley Blacksmith Shop. Projects here are still done the old-fashioned way, just as they would have been in the 1870s when the blacksmith served the local farming community.
In a private class, I learned the rudiments of blacksmithing, including how to start and maintain a coal fire at the right temperature, why the anvil is shaped as it is, and of course — how to turn such a crude technique of hammering into something useful (and artistic).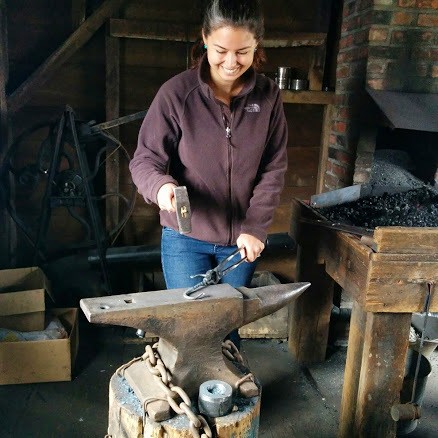 By the end of the workshop, I had successfully turned a straight iron rod into a twisted, curved S-hook and learned how to turn a horseshoe (made by my instructor) into a decorative fish. Not bad for a morning's work!
Goat Yoga
It probably won't surprise you to hear that goat yoga is actually a little outside of Corning (about 20 minutes) at a goat farm, but it's definitely worth the short drive!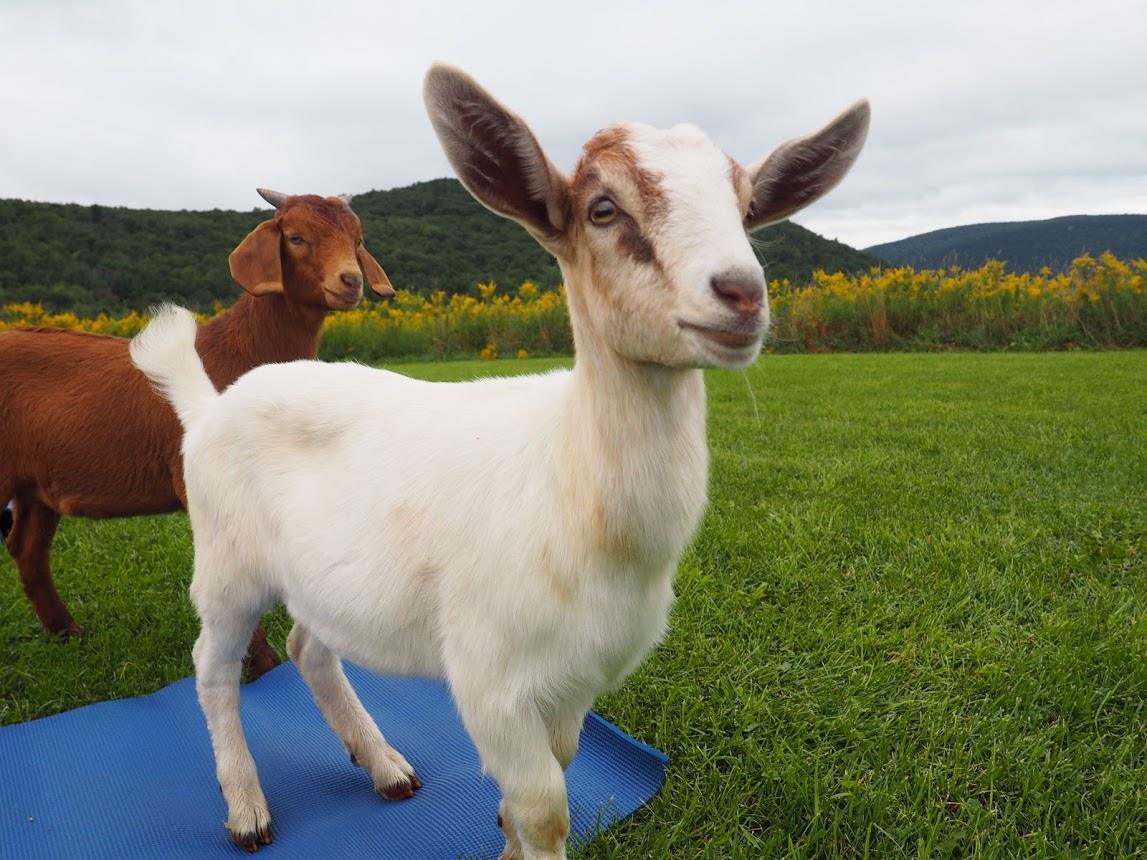 At ZiegenVine Homestead, you'll find goat yoga on select evenings and weekends — and yes, you should totally do it even if you're not a yogi! Trust me, you won't be the only one posing for selfies halfway through class or snuggling with a baby goat afterward when everyone (including the goats) is in a zen-like state.
If your dates line up with one of their classes, you'll definitely want to add this to your list of things to do near Corning.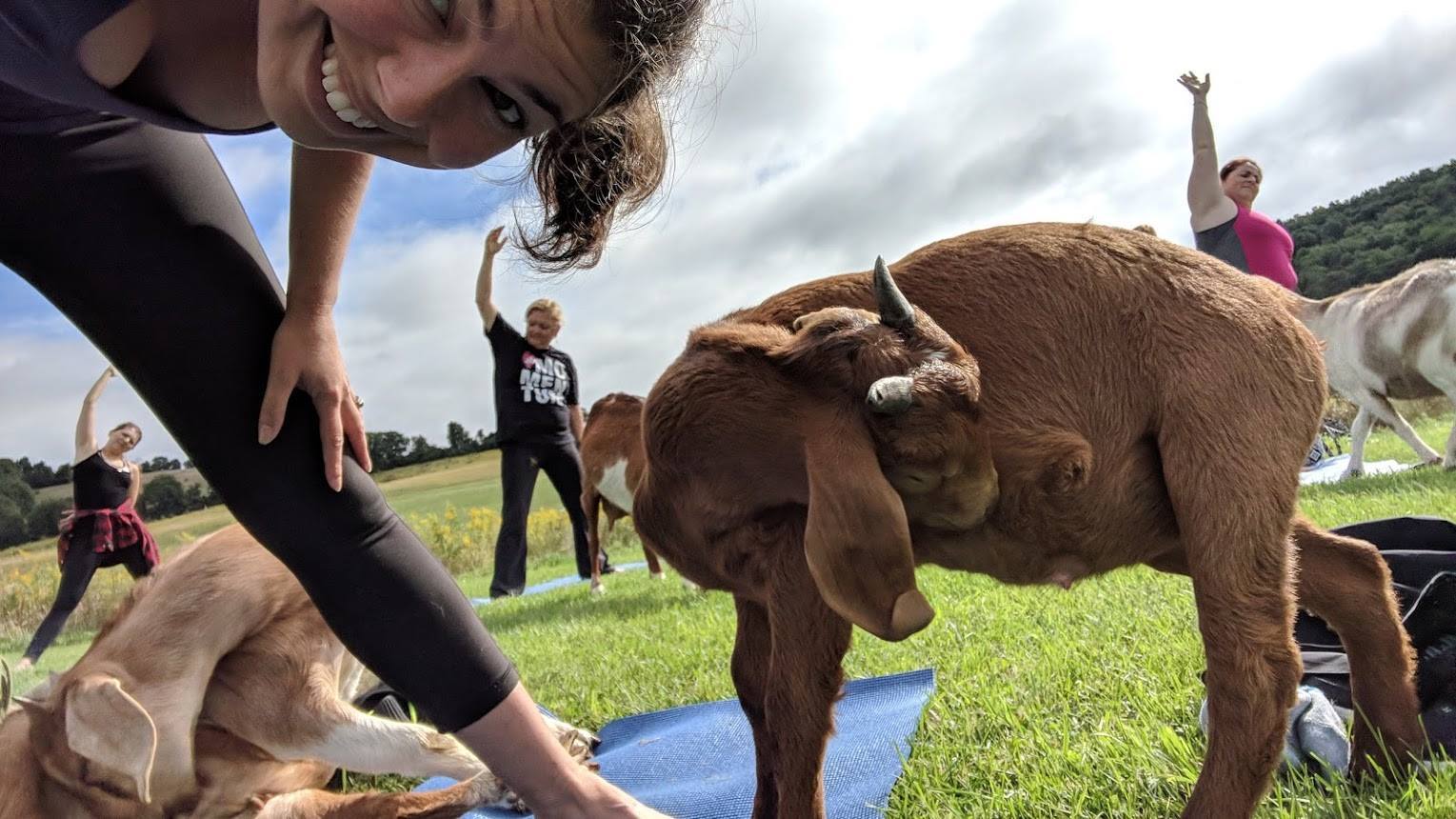 The Rockwell Museum
No, the Rockwell Museum is not a collection of Norman Rockwell pieces (though there are a few); it's art about America and it's done surprisingly well for a small museum. If you appreciate art, the galleries speak for themselves with pieces like Mt. Whitney (Albert Bierstadt), The Buffalo Hunt (William R. Leigh), and Hunter's Bounty (Tammy Garcia).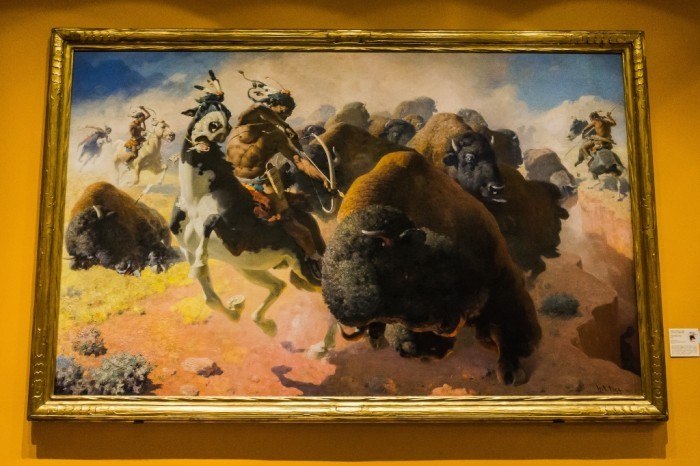 However, the Rockwell Museum prides itself on being more than art on the walls, something I appreciate. They make art interesting and accessible even to those of us without art education. The community comes together for events like performing arts within the visual art galleries themselves or laidback margaritas on the terrace. Either way, you're there for a discussion and to share your perceptions, not just to look at the paintings and sculptures.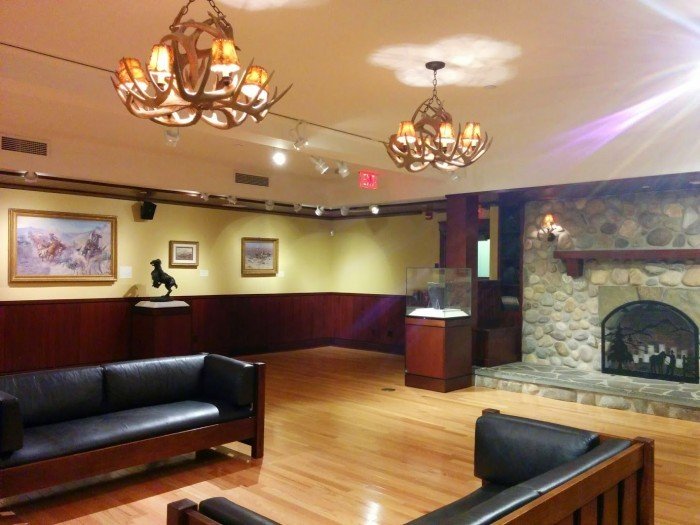 While you might be tempted to pass by this museum if you're not an art lover, I'd encourage you to check out their special events. Workshops, concerts, and other non-traditional experiences can make this one worthwhile for everyone.
The Gaffer District
I am definitely not a shopper, but historic downtown Corning is the place to go for shopping and surprisingly interesting even if you prefer not to collect more things. Known as the Gaffer District (named for master glassblowers, or gaffers), this is a short stretch of Market Street and the surrounding area full of shops and restaurants. Among other things, you'll find beads, specialty foods, antiques, and clothing boutiques.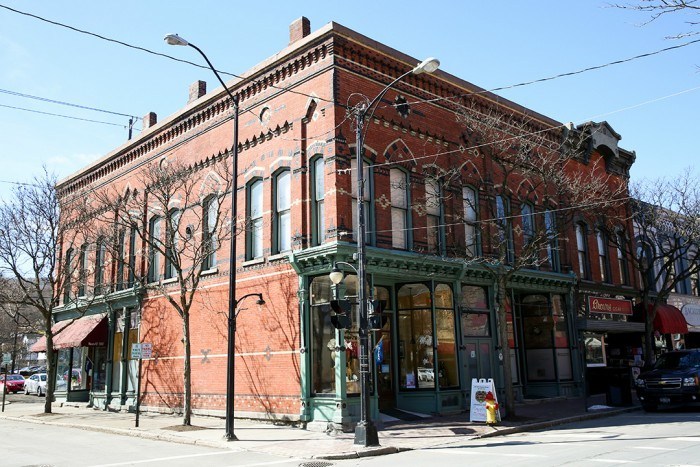 Even though I tend to avoid shopping like the plague, I really liked the Gaffer District for its historical walking tour. All you have to do is plug into their mobile app, grab a cup of coffee from Market Street Coffee and Tea, and lead your way through downtown. Yes, you can pause if you want to browse inside the shops, or you can just enjoy the information like I did and then head back to the starting point by walking along the river which parallels Market Street.
Warning: You might think this is a quick tour, but you'll likely be stopped by friendly locals asking about your visit and sharing more great information on what to do in Corning NY!
National Soaring Museum
Roughly halfway between Corning and Elmira, NY (known for being Mark Twain Country) is Harris Hill, the "Soaring Capital of America." Visitors literally visit from all over the world for a chance to soar over the area and to check out the National Soaring Museum. The museum teaches you about the science behind glider flight, the history of aircraft and flights, and local ties to soaring.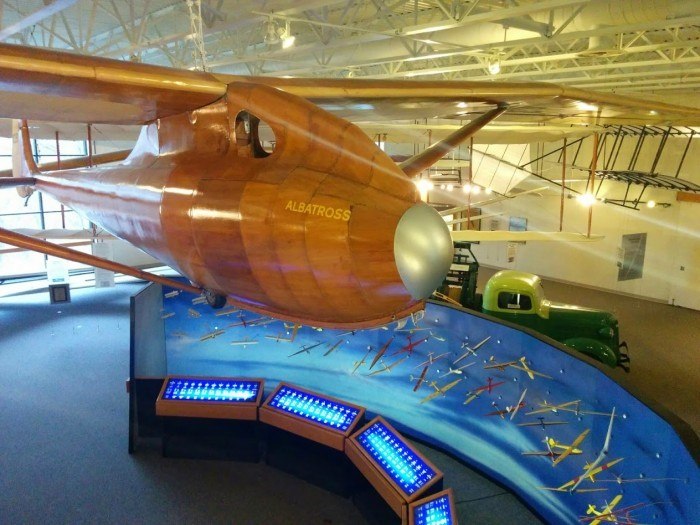 Its soaring heritage is brought on by the geography and topography of the area, making Harris Hill naturally suited for glider flight. However, it really got its claim to fame by hosting the first thirteen national soaring contests (beginning in 1930). Later, Elmira, NY became home to Schweizer Aircraft, the USA's best known glider manufacturer, and was the first site to train glider pilots for WWII.
Naturally, I wanted to see what all the fuss was about, so I signed up for a short glider flight taking off from the 1100-foot runway in front of the museum.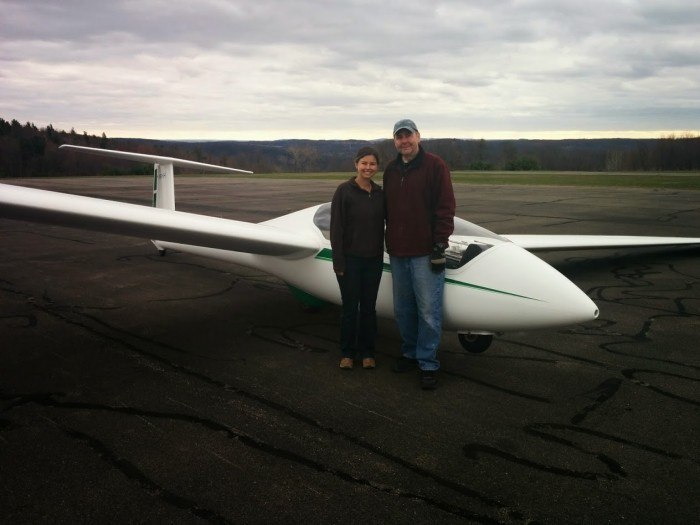 Gliders are essentially given a tow by standard airplanes to get up into the air and then drop the tow rope to continue gliding or soaring. Pilots rely on finding pockets of "sink" or "lift" to maintain their flight and to later on, safely land. Since no motors or fuel is required, you can stay up all day if conditions allow.
While overlooking Finger Lakes wine country is great (we had ~30 miles of visibility, even on an overcast day), it was the act of soaring itself that was most striking to me. Just like an eagle, we were flying just based on how the glider caught the air. After the tow plane has gone, there is no source of propulsion other than air itself.
Out of all of my plans in the Corning area, it was my glider flight that I had been looking forward to the most and it did not disappoint.
Spencer Crest Nature Center
I'd be crazy not to mention the beautiful natural surroundings in Corning. Yes, it may have snowed on the morning I arrived, but that doesn't mean I'm not up for a walk in the woods. Spencer Crest Nature Center is just a few minutes outside of town but provides a forest setting with over seven miles of trails, perfect for an afternoon.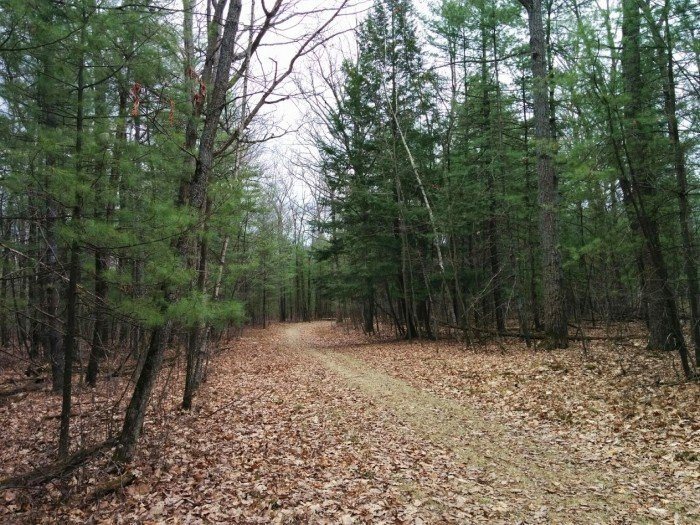 With a few trails that are surprisingly steep, I welcomed the chance to sit and catch my breath under the guide of enjoying Amelia Pond. On a search for wildlife, I came up short, but it was beautiful nonetheless.
Where to Eat and Drink in Corning
If I had one disappointment in Corning, it was the food. I had several okay meals: not bad by any means, but not memorable enough to write home about. Compared to the excellent options elsewhere in Finger Lakes Wine Country, I expected a little more from Corning itself.
However, even in Corning, there were a few stand-outs.
Poppleton Bakery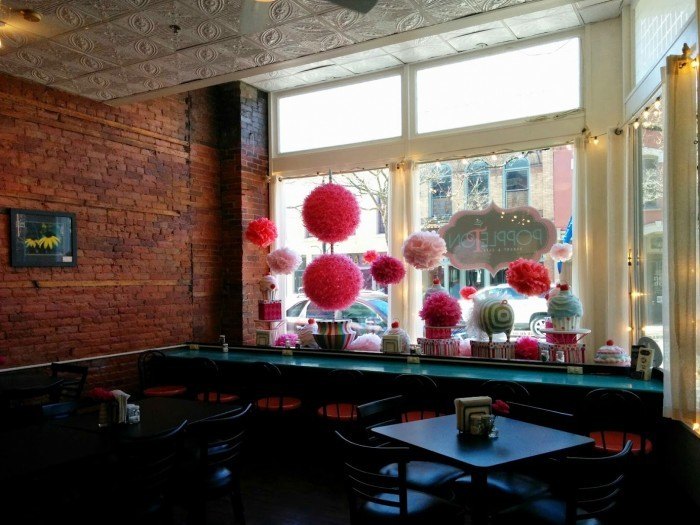 If you're ever in the neighborhood, Poppleton Bakery should be the first place you eat in Corning. Come for breakfast — I can highly recommend both the quiche and the crepes — return for lunch (how about a fig, bourbon, brie, and apple panini with a side of broccoli salad?), and stay for dessert. I'm still dreaming of the maple bacon chocolate chip cookies and white chocolate raspberry scones.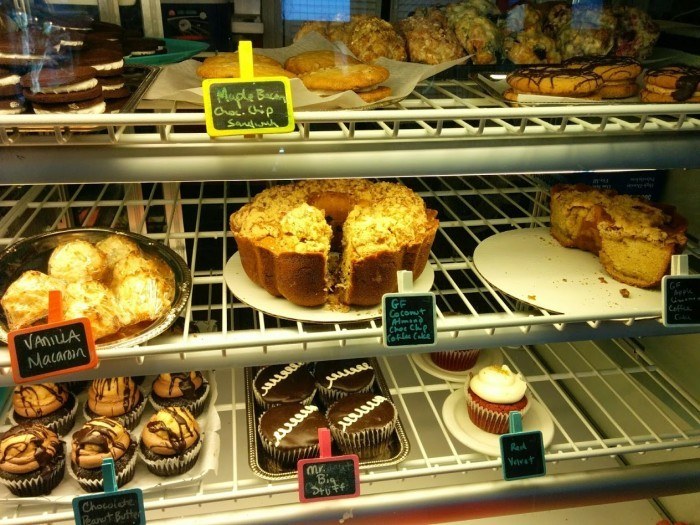 Hand + Foot
For a casual dinner paired with an extraordinary drink menu, you should head to Hand + Foot. Their menu consists of interesting sandwiches and playful takes on traditional bar snacks, like the %*@! me pretzel (their words, not mine).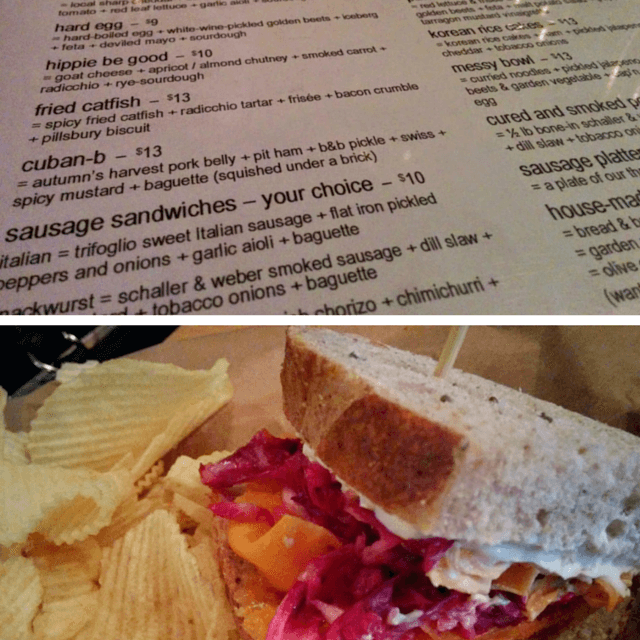 But let's not kid ourselves: the reason to go to Hand + Foot is for their drink menu. You'll find 110 whiskies, crazy cocktails, five-page specialty beer list, and tons of local wine.
Do you love Finger Lakes wine? You absolutely should! But the Finger Lakes is also home to great sightDOING. Check out this amazing horseback ride (best I've ever done) and learn to love the region.
The Best Corning Hotel
Radisson Hotel Corning
I wouldn't dare stay anywhere except for the Radisson Hotel Corning. It's located right at the end of Market Street, so you can walk pretty much everywhere, like breakfast at Poppleton, Dinner at Hand + Foot, plus both museums inbetween.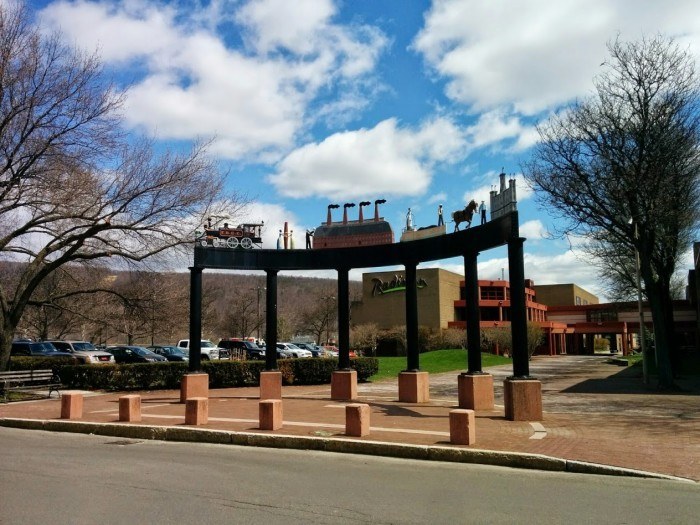 The Radisson has more than just a great location. My room was spacious, including a comfortable king size bed, flat screen TV, refrigerator, microwave, and loveseat. Considering there's also a pool, spa, free wi-fi and reasonable rates, it seems silly to even look anywhere else.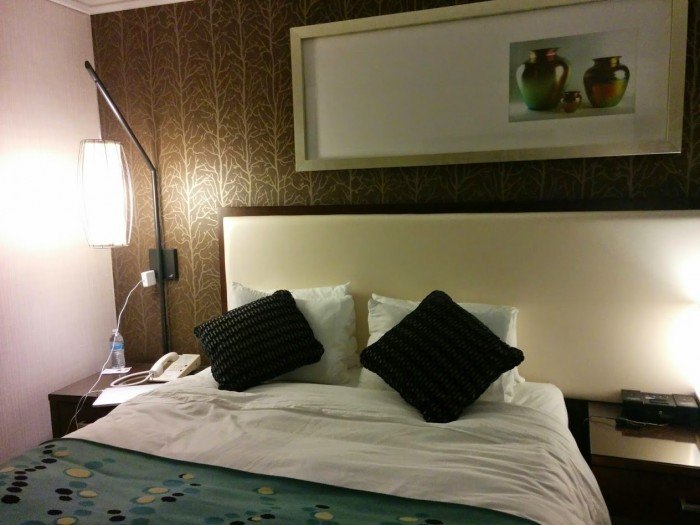 Corning's Best Feature: The Community
With three nights in Corning, I thought I had plenty of time to thoroughly visit this small town. What I forgot to account for was the friendly atmosphere. Everywhere I went, locals went out of their way to make small talk, then more in-depth conversations once we hit it off (and we always did). This community is one of the most welcoming in America, and I'm not just saying that because I grew up in the greater region.
While that atmosphere is awesome for tourists, it's even better for locals. I don't think I've ever observed a community that does as much to give back to the area. The Rockwell Museum has an "artist in residence" program at local elementary schools that otherwise wouldn't have an art program, CMOG offers a free after-school junior scientist program for young teens, and staff at Hand + Foot makes sure no one dines alone at their community table. I love how much pride Corning has in their community.
This wasn't my first trip to Corning, but it was the first time I truly appreciated all there is to offer. I'm fortunate enough to pass through the area every time I head home to visit family, but it's worth a special trip, I promise.
Dig In to All the Things to Do in Corning NY
Check out this map to see my favorite things to in Corning + restaurants, hotels, and a few easy day trips.
* * *
This was my third trip to Corning in the past 18 months and Mike's father lives about 45 minutes away, so I hope you can tell I genuinely love the area. SightDOING partnered with Steuben County Conference & Visitors Bureau and the Corning Museum of Glass to make this visit one to remember. Special thanks to them for facilitating an experience based on my personal interests. All pictures and opinions expressed are my own.