This post may contain affiliate links. As an Amazon Associate I earn from qualifying purchases.
* * *
My husband and I have a mantra that plays into our adventurous spirits: "If it requires a waiver, it's gonna be good." That's what I was thinking as I read through the warnings about camping on Flowerpot Island in Ontario.
I skimmed over the list, noting that there would be no one to rescue me if I had a problem overnight and that my scheduled boat return wasn't guaranteed during bad weather. Given how windy it was the night before, I packed extra food, just in case I'd be there an extra night.
Even with the warnings, I wasn't deterred. Wouldn't it be worth it, to have 490 acres to myself? This is what dreams are made of, at least for a traveler and outdoors-lover.
Technically, Flowerpot Island isn't a private island, since there are six campsites here in Canada's Fathom Five National Marine Park. Frankly, this is as close to private as I can afford: the campsite cost me $20; the round-trip boat ride, $40. Not bad for a secluded evening.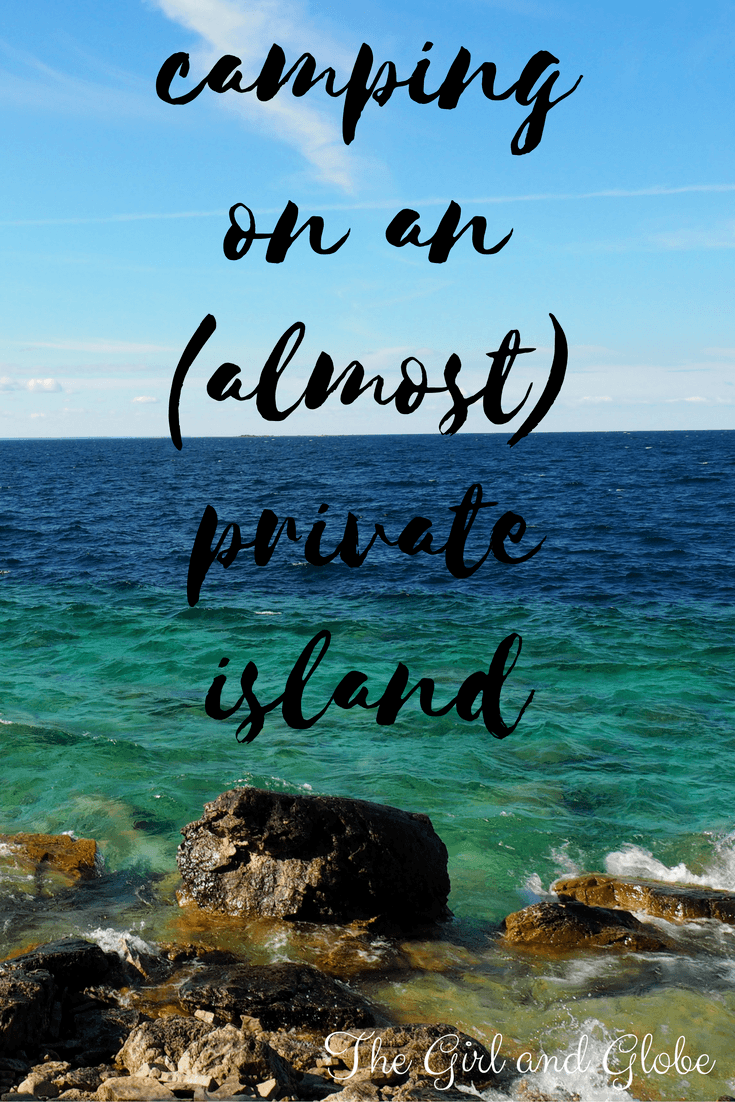 Fathom Five National Marine Park
Every summer day, thousands of daytrippers leave from Tobermory, Ontario to head into Fathom Five National Marine Park, a section of Lake Huron. Some people simply take a boat trip to enjoy the scenery, never leaving their vessel, gliding over shipwrecks in Big Tub Harbor and circling past the island's namesake "flowerpot" rock formations. Others take the same glass-bottomed boat and get off on Flowerpot Island for a picnic lunch and a quick stroll, heading back to town after an hour or two.
When I first arrived on the island, it was anything but quiet. But just like every national park I've ever been to, you can find solitude even among a thousand people instagramming their trip. The perimeter trail started out busy, but cleared out after the flowerpots and then cleared out even more once I reached the lighthouse. Then it was just me and the birds on the trail to Marl Bed.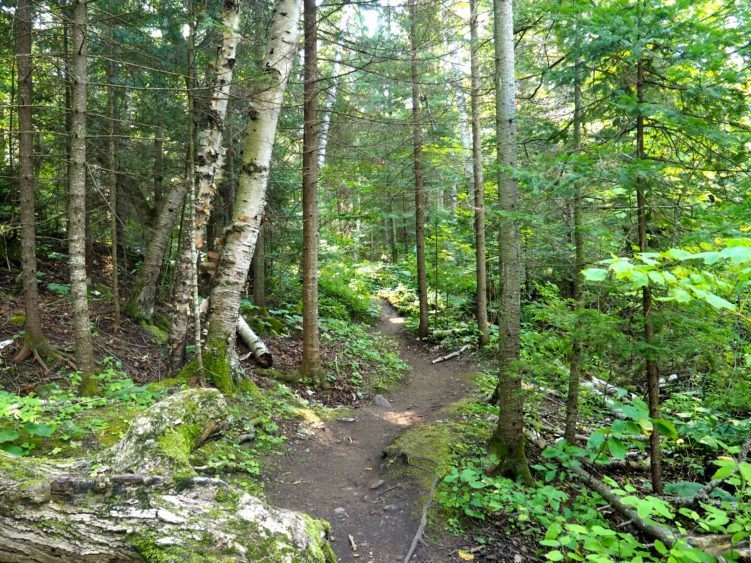 Flowerpot Island Camping
Magic arrived at 6:30, the moment the last boat left. This was when it really became an (almost) private island.
I spent the evening on my own patch of beach. The water's cold, but it felt good on my feet, which were still swollen from a hike the day before. The only sounds were the water lapping along the shore and squirrels chasing each other through the trees.
Hungry, I prepared my standard camp meal: ramen noodles, pre-cooked chicken breast, and spicy dehydrated veggies. The just-add-water dish isn't gourmet, but you can't fault the atmosphere. A frog hopped over to join me and together we enjoyed the view.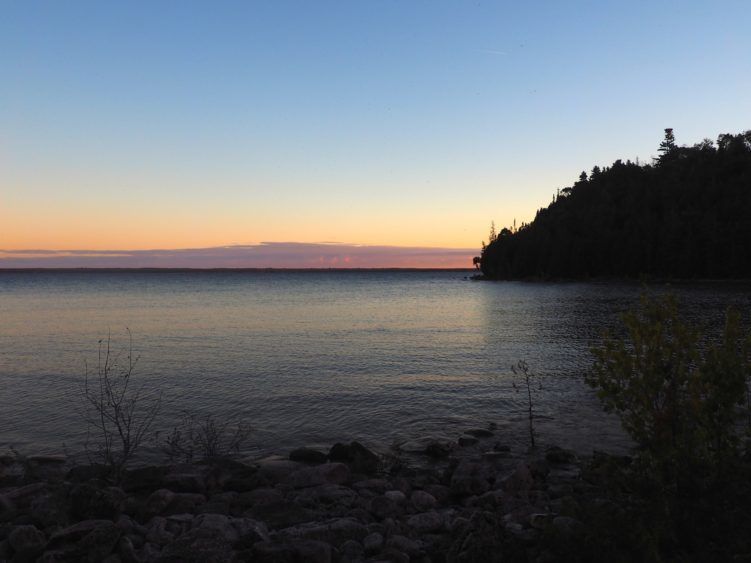 The water is amazingly clear, varying from a vibrant blue to a beckoning turquoise depending on how the sun hits it. Behind me, a light breeze exhaled through the cedar forest, too dense for much stargazing despite clear skies.
The next morning, I was up at first light. The one thing I had missed the afternoon before were the island's two "flowerpots", the rock pillars that stand guard as you approach. Like most of nature, they're lovelier when they're yours alone, so I had waited for a still moment. It's all mine in the morning, though to be honest it's the water that I love looking at moreso than than the rocks.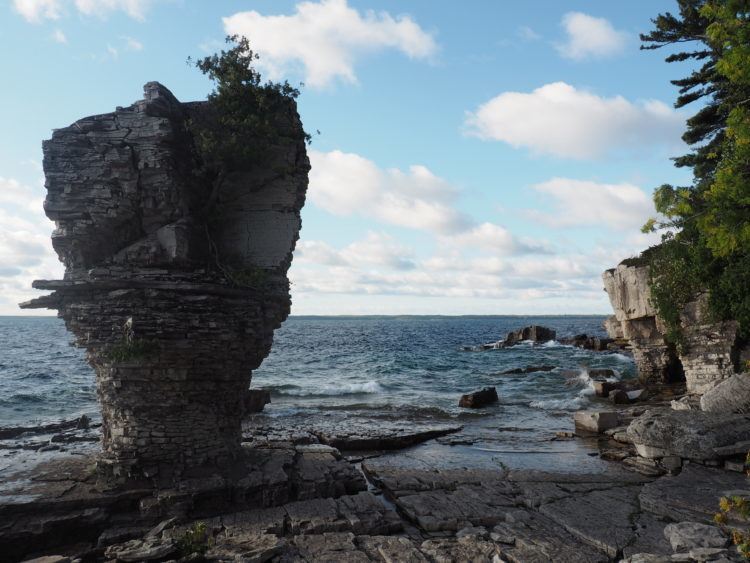 As the first boat of the morning arrives, visitors start to file off, thinking they've gotten their early enough for their own peaceful moment on the island. All I did was smile as I boarded the now-empty boat. They arrived before the crowds built up, but they'll never see the island the way I did.
Tobermory Ferry to Flowerpot Island
Flowerpot Island is the primary point of interest in Fathom Five Marine National Park. It's just offshore from the Bruce Peninsula of Ontario, Canada. There are two boat companies leaving from Tobermory to shuttle day-trippers and campers like myself.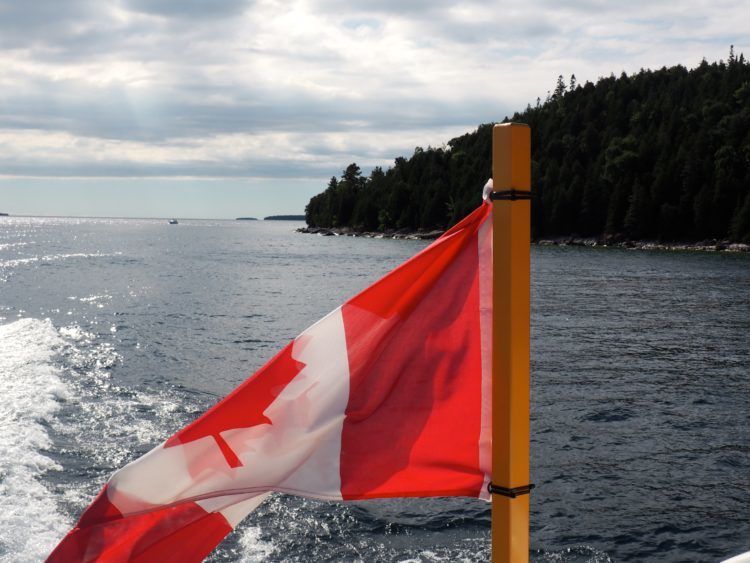 I booked with Blue Anchor Cruises, whose boats are comfortable and prompt. You can book tickets easily online, unless you're camping in which case you have to call or go in person to reserve a seat. It's worth a visit even if you only intend to spend a day (you'll want 2-2.5 hours there to hike, swim, and picnic).
Reserving Flowerpot Island Camping
Getting ahold of the right person to reserve a coveted campsite is a giant pain in the butt. Call one number and get an automated message to dial someone else. When you call the second number, you're redirected to the first number. After a the runaround, I finally got ahold of the right person at 1-519-596-2233 ext. 221.
Campsites are well-maintained, close to the dock, and very private. If you like the outdoors, you'll love them. But Flowerpot Island is small with limited hiking, so one night is enough.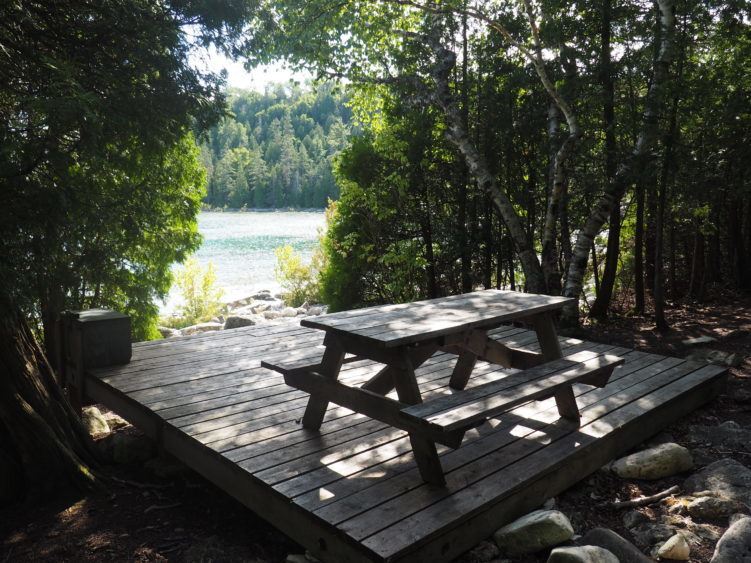 If you're visiting Flowerpot Island, be sure to also read about more of my experience in the Bruce Peninsula:
* * *
Where's the most secluded place you've stayed? Tell me in the comments!