This post may contain affiliate links. As an Amazon Associate I earn from qualifying purchases.
* * *
This is a sponsored post written by me on behalf of Tazo® Tea. All opinions are 100% mine.
* * *
Ever since I first saw a photo of Bruce Peninsula National Park, I knew I had to go. Some of the world's clearest, bluest waters butt up against dramatic cliffs. When the light sparkles just right, it brings out the greens and turquoises of Georgian Bay, and it's hard to resist an invitation to swim. But this is Canada, so instead of powdery white sand and tropical fish, the coast adjoins ancient cedar trees and forests that black bears call home. It's my kind of paradise.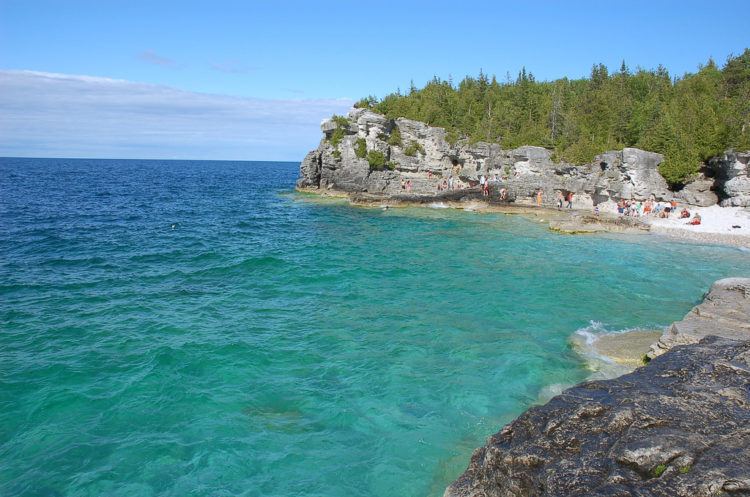 Normally, this is the type of trip I'd take with my husband: he's more of a camper than I am and driving the long stretch of road to the trailhead wouldn't phase him a bit. But, ironically, Mike was off on his own adventure hiking and camping in Alaska and I was determined to visit the Bruce Peninsula with or without him.
As I loaded up the pickup truck for my road trip to Canada, I played my family's words over and over in my head. "You're brave," my father-in-law said. My husband called me fearless and made me promise to be safe. I hadn't even considered my solo camping trip as potentially dangerous until they brought it up — after all, Canada is a familiar and comfortable place to travel — but sure enough, there's always a risk in wilderness settings.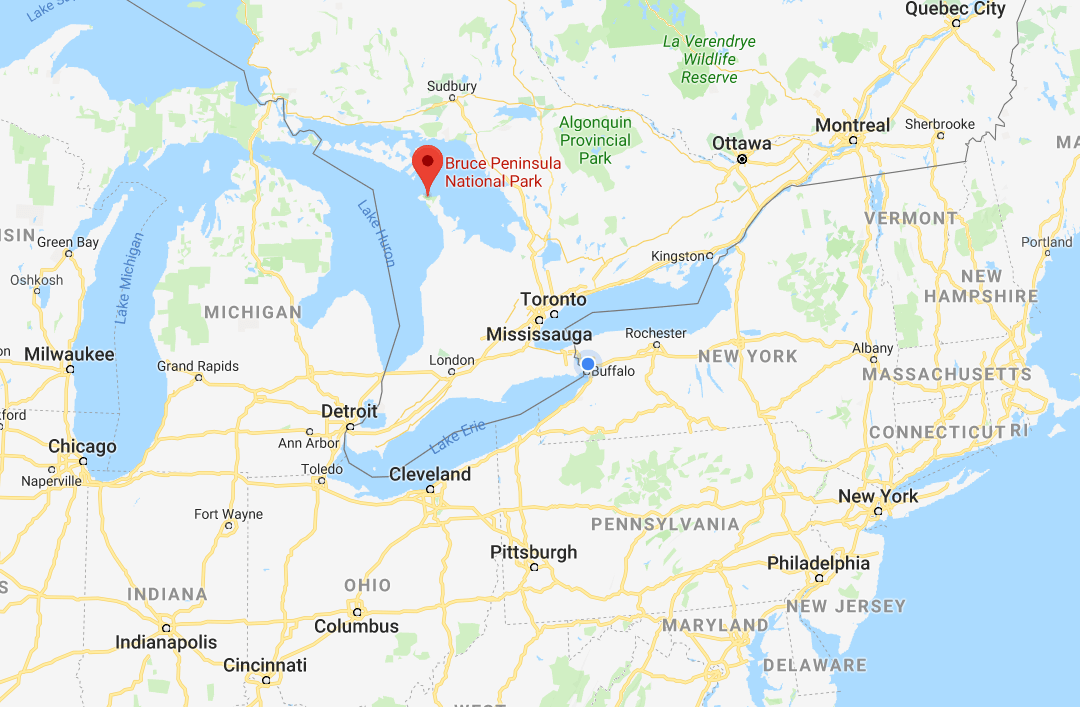 Once I'm at the park, it takes about a kilometer for me to get in the groove. By then, the jingle of my bear bells relaxes me and my legs adjust to a steady pace over the rounded stones beneath me. It's been a year since my last camping trip and my first ever solo overnight in the backcountry.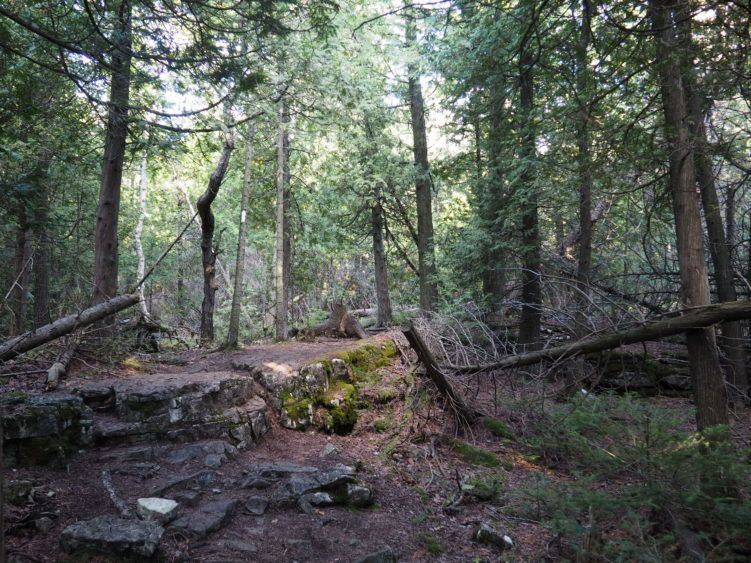 Most of what I love about hiking still holds true even though I don't have a companion this time. The air smells fresh and the birds are still singing. The only hard part is carrying a slightly heavier pack than normal; I have no one to share the weight of a two-man tent or cooking stove. I've got quality gear, but every ounce counts when you have to pack it in.
I smile as I head along the coast of the Georgian Bay, so glad I decided to come. Spending time outside has always been my passion and it's one of those days when everything feels right. The weather is perfect and I am unequivocally in my element.
Although the trail itself is lovely, I'm excited when I arrive at camp. I made it on my own and that's reason enough to savor the moment! I start up my camp stove while setting up my tent so I can toast my little victory with Tazo® tea.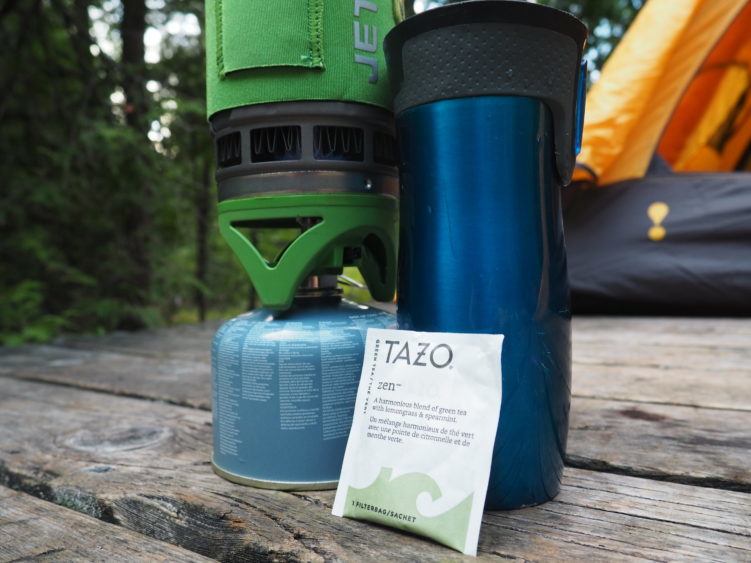 Since it's almost sunset, I reach straight for Tazo Zen™ to add a dash of flavor. I know I want something with less caffeine than the Earl Grey I normally pack for camping — now that I'm 30, it's hard enough sleeping on the ground as it is. Still, I want a little zing, and the lemongrass and spearmint offers the right amount of refreshment after my hike.
My Zen tea is the perfect accompaniment to an evening on the waterfront. I lace up my boots one more time for the jaunt to the coastline. Even Mother Nature seems to think it's a perfect night, so I sip joyfully while listening to turquoise waves crash over polished stones. A few water droplets hit my skin as if the bay is beckoning me to come closer. Instead, I cozy up on a rock with my trusty travel mug, enthralled by the views.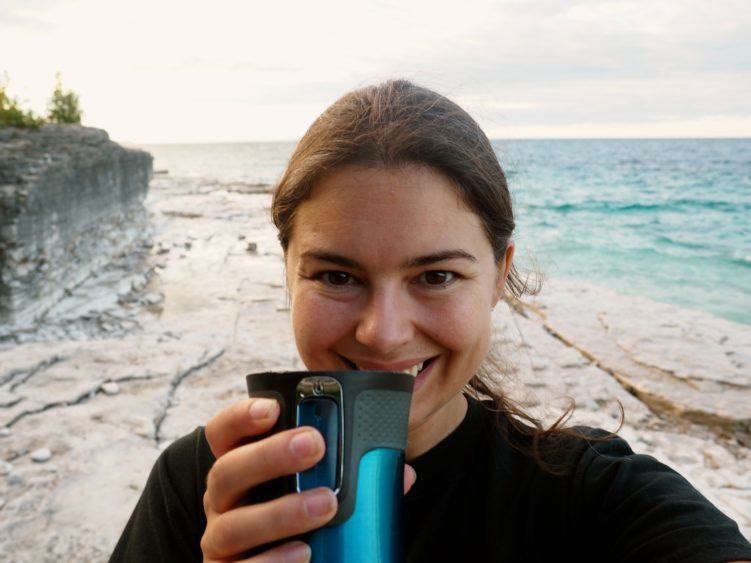 For me, travel has been and always will be about exploration. Often, it's about delving into other cultures, but on this trip it's a more literal reconnaissance.
Just miles away, the town of Tobermory is tourist mecca, mostly for Canadians and Michiganders who are within a reasonable driving distance. Even in the park itself, cars are turned away at the parking lot for the Grotto hike due to lack of space, so I'm surprised here on the coastline when no one's around. How can somewhere so beautiful be so untraveled?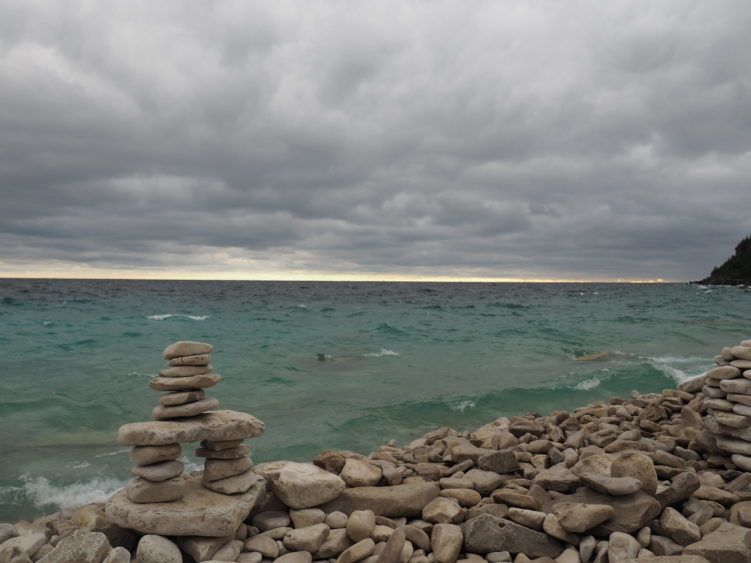 The sky stays brilliant even under fading light and all my senses are delighted. My trip to Bruce Peninsula is everything I wanted it to be.
How do you observe life's little victories?