This post may contain affiliate links. As an Amazon Associate I earn from qualifying purchases.
* * *
Waterfalls might not be the first thing that comes to mind when you think of Ithaca, NY — for one thing, there's the tagline "Ithaca is gorges", focusing on the narrow canyon rather than the water associated with it. There's also the college town identity and its location in Finger Lakes wine country, all great selling points to visit the town. But most of all, what I love best are the Ithaca state parks, each with beautiful waterfalls.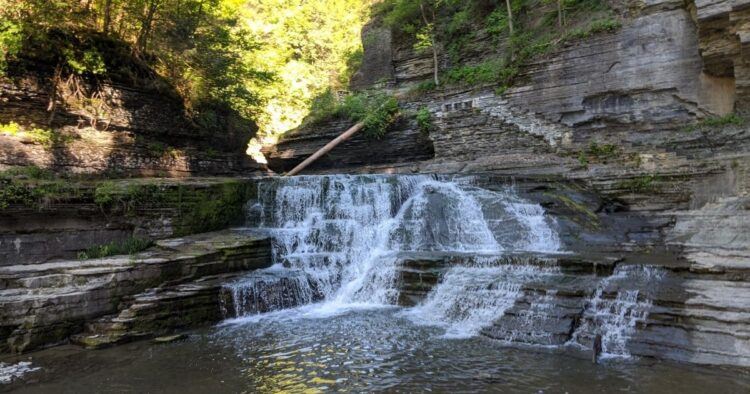 These Ithaca parks really come alive in summer, when visitors (and locals!) pack a picnic to hike the trails or swim under the falls. However, there are selling points to visiting year-round and as long as you're not planning on swimming, some seasons are even better than summer (*ahem* fall!).
No matter when you come, you'll want to check out all of them. They're close enough together, and compact enough, that if you're really ambitious you can see all three Ithaca state parks in one day. A weekend is even better.
Taughannock Falls State Park
I'm starting with Taughannock even though ironically it's not in Ithaca…it's in Trumansburg, 15 minutes north of town. It's still incredibly accessible on even the quickest of visits to the area.
Taughannock Falls is famous since it's the tallest single-drop waterfall east of the Rocky Mountains (yes, taller than Niagara Falls).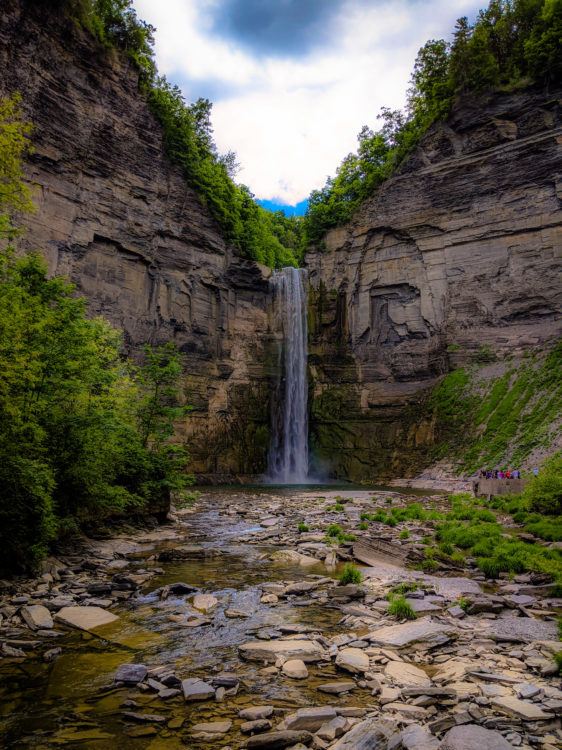 To see the falls, you'll need to walk one mile each way along the Gorge Trail, an easy, flat path that will take 20-30 minutes each way. The trail parallels Taughannock Creek with lots of shades. Kids (and dogs) have fun splashing in the shallow waters, though be mindful that some spots are slick.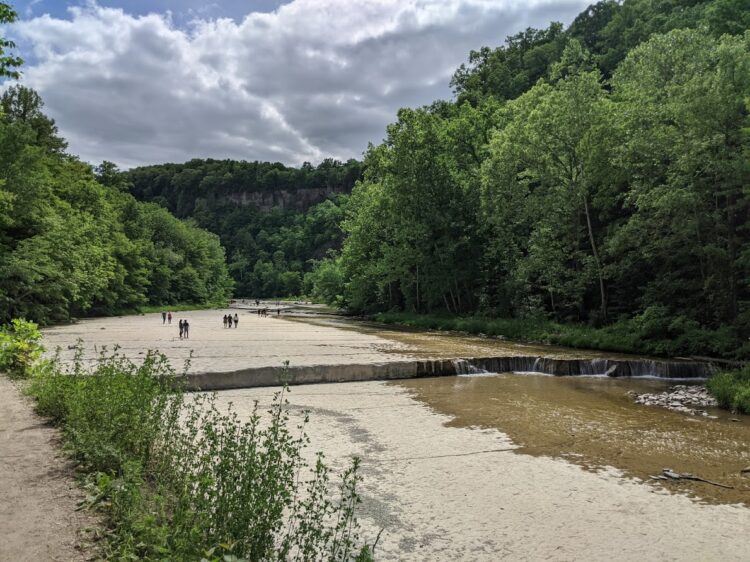 The waterfalls at the end are the crowning view and well worth the walk. It can be crowded, especially on summer weekends, so you may need to be patient to get photos from the angles you want.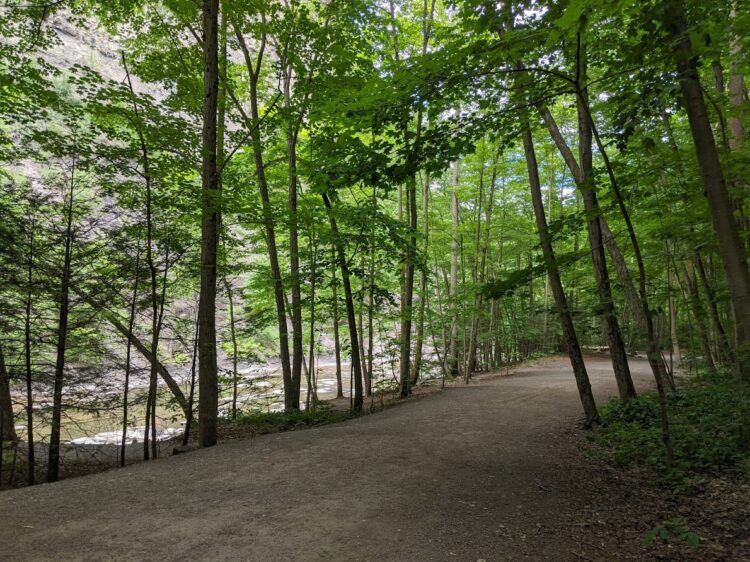 To avoid the crowds, you can hike a loop on the North & South Rim Trails (about 3 miles in total). The North Rim Trail provides waterfall views from a distance. The park is also far less crowded in winter and the falls are beautiful in a different way when surrounded by ice and snow.
Taughannock Falls State Park sits on the western side of Cayuga Lake. There are lots of picnic tables here as well as a playground and kayak rentals.
Parking costs $8, but is free in winter and on spring/fall weekdays.
Robert Treman State Park
On the other side of Ithaca, Robert H. Treman State Park is my favorite place in Ithaca. This park is much larger, with nine miles of trails through the Enfield Glen and a total of 12 waterfalls. Theoretically, you could spend all day.
There are two highlights here, if you want to limit your visit. The best hike is a loop combining the Gorge Trail and the Rim Trail, for a total of about 4.3 miles with lots of stairs (allow 2-3 hours). The scenery along the trail is stunning, taking you through the gorge itself and into the forest.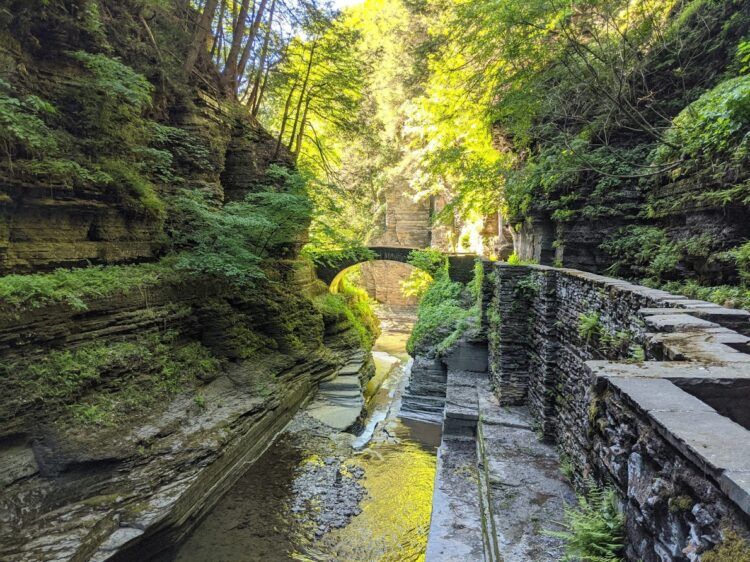 For most people, the jewel of this trail is Lucifer Falls. If the entire loop hike sounds too long, you can see just the falls by taking the Gorge Trail for about one mile out-and-back (allow 30 minutes). Yes, you'll still hit lots of stairs.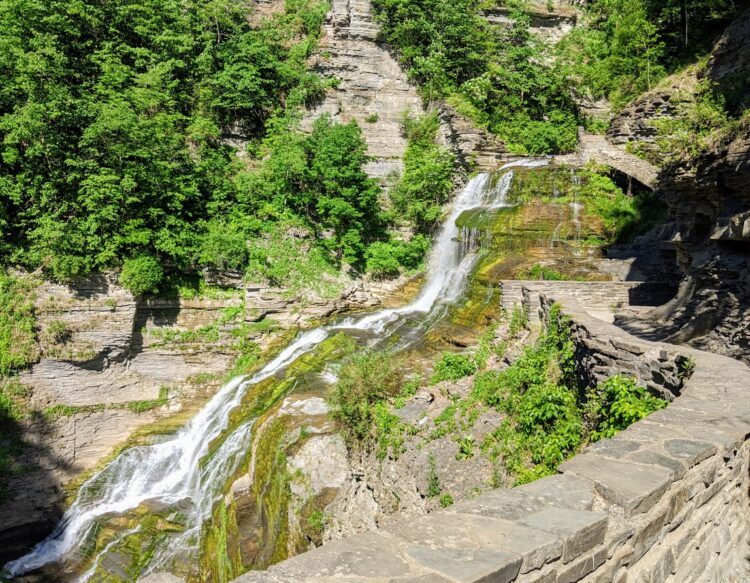 The other draw to Robert Treman park in Ithaca is the swimming area at the Lower Falls. This is about the midway point of the longer hike, which would allow you to hike halfway, swim and rest, and then hike the other half. I've never been when it's warm enough to swim, but that's because I'm a wuss!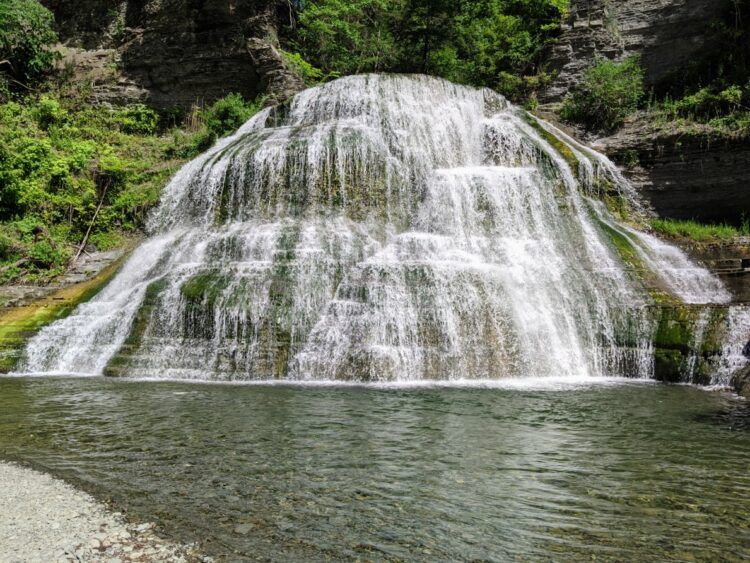 Much of the park is closed for winter (it's too slippery) so I'd recommend going May-October. The shoulder months of April and November will be hit-or-miss, depending on daily weather. Parking is $8, April through November.
Buttermilk Falls State Park
Buttermilk Falls is south of Ithaca, just like Robert Treman. In fact, this park shares a similar format, with one iconic trail and one swimming area (plus other trails if you're ambitious).
Here, the main hike is a 1.5-mile loop combining the Gorge Trail and Rim Trail — there's not a lot of interesting names when it comes to Ithaca state parks! For social distancing, you must travel in a one-way loop and you can't decide to do the gorge trail out-and-back. There are some strenuous uphills on this route, as well as some sections with stairs. In my opinion, the first half of the hike (the rim trail) is not particularly interesting, but the second half will distract you with waterfalls, pools, and rock formations.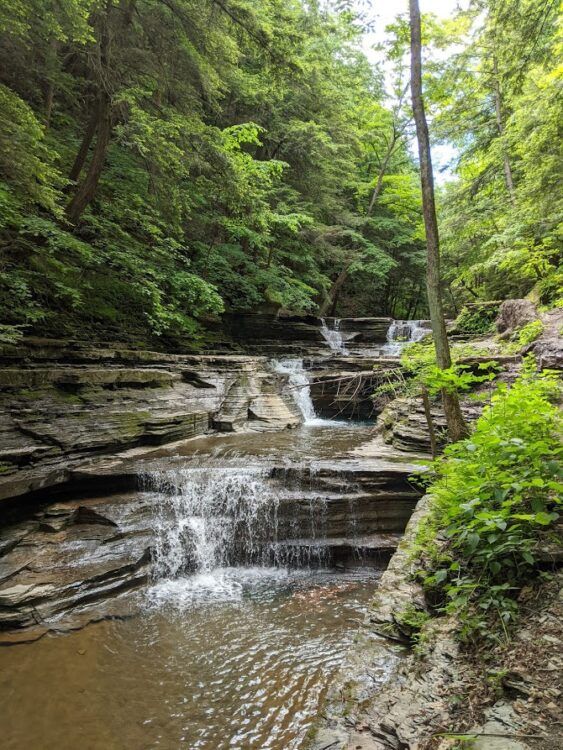 There are several other trails at Buttermilk Falls State Park, with a nice 4.5 mile loop combining the Gorge, Bear, and Rim trails. This is a quiet hike, except for the sections that overlap with the shorter loop, and it's great for fall colors if you're there in October-ish.
The swimming area here sits at the base of some falls and is typically open from the end of June through early September, conditions dependent.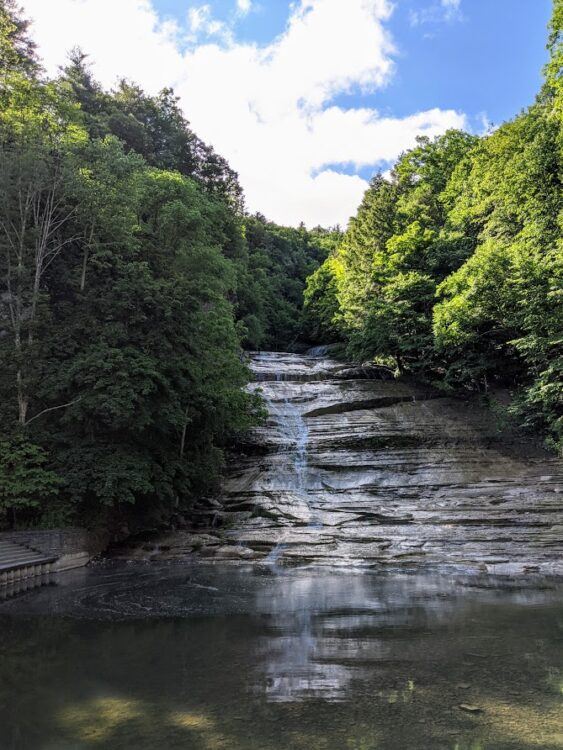 Again, parking is $8 and only charged from April through November. Most trails are closed in winter due to unsafe conditions.
Two Other State Parks Near Ithaca
If you have more time to spare, there are two other state parks I love and recommend that you can visit as day trips from Ithaca.
Watkins Glen State Park
About 40 minutes from Ithaca, Watkins Glen is my favorite park in New York State. It's also easily reached from Ithaca (and, in my opinion, higher priority than Buttermilk Falls).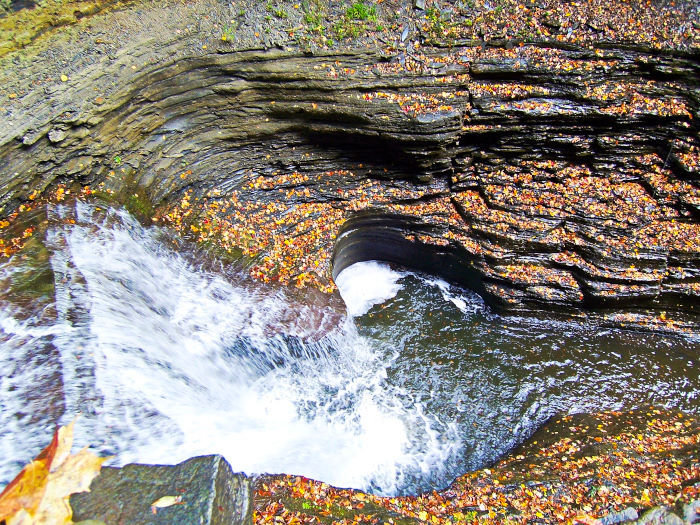 There are 19 waterfalls here, so you'll be constantly amazed by the scenery. The gorge itself is also impressive since it's very narrow in places for an entirely different type of scenery than you'll find in Ithaca itself. You'll need 1-2 hours here to complete the famous Gorge Trail.
Letchworth State Park
Letchworth is a longer day trip, requiring a 2-hour drive each way, but it's worth it since this is one of the best state parks nationwide (seriously, it's won all sorts of accolades). This is the "Grand Canyon of the East" and in addition to canyon views and fabulous hiking, there are plenty of waterfalls as well.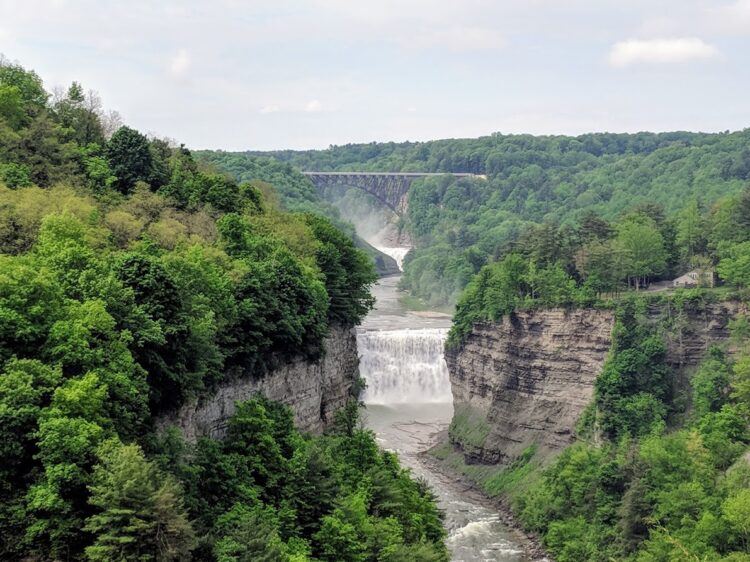 There are miles and miles of trails here — the park is gigantic compared to the Ithaca state parks — plus whitewater rafting, kayaking, hot air ballooning, cross-country skiing, and snowmobiling. You could spent the whole day within park boundaries.
Alternatively, you could break up the drive with stops in Corning (cute, walkable downtown with a fabulous glass art museum), Seneca Falls (for women's rights history), or Cayuga Lake wineries.
Map of Ithaca State Parks
The Finger Lakes region in general is beautiful, but Ithaca is best if you're specifically seeking out waterfalls. These Ithaca State Parks will absolutely impress.
Read More About the Finger Lakes