This post may contain affiliate links. As an Amazon Associate I earn from qualifying purchases.
* * *
I assumed Acadia National Park hiking would be a nightmare. We were visiting on a warm summer weekend and many of the trails are short and flat with gorgeous views. That's a recipe for crowds and congestion.
Sure enough, we parked our rental car at Jordan Pond's overflow parking lot at 11am on a Saturday and followed a dozen people to the water's edge. We couldn't find a quiet place to take a photo, let alone enjoy nature's solitude.
And then we took ten steps. Literally just ten steps, but no one else followed. After thirty steps, the voices faded into the background. Five minutes later, everyone was just a distant memory. Apparently no one hikes in Acadia NP.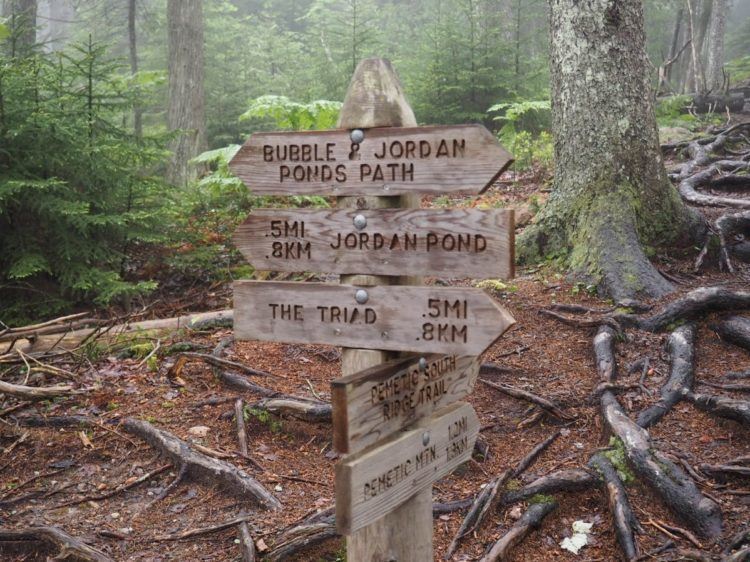 So where are the crowds hiding?
Let's be clear: the park was busy as a whole, but it seemed like everyone was just snapping photos from the free Island Explorer buses (and near the bus stops) before souvenir shopping in the village. But out of the 18 miles of trail we hiked in Acadia National Park, there were only two crowded sections. The first was the oceanside walk from Sand Beach to Otter Point and then all of Cadillac Mountain.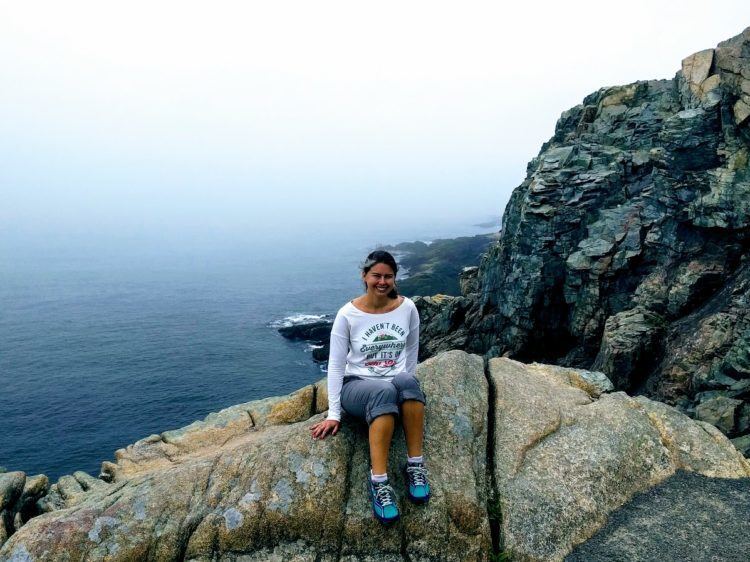 We did the oceanside walk and it is fine but it parallels the road so you don't get peace and quiet. Instead, drive on 102A outside the park to visit the Seawall, Bass Harbor Lighthouse, the Wonderland Trail, and Ship Harbor trail.
Cadillac Mountain is famous for being the tallest point on the North American shoreline and for seeing the sunrise on the east coast. Go ahead, join the crowds. Or choose one of the many other peaks to conquer within the park — my top choice is Pemetic Mountain, detailed below.
Apparently Acadia National Park trails are packed between Fourth of July and Labor Day and then again on weekends through mid-October for fall foliage. But in late June, even on a perfect day for hiking, we were shocked at how crowded the park was and yet how few people were on the trails.

Whatever, that worked for me.
Hiking in Acadia National Park
Best Acadia Hike for Views: Pemetic Mountain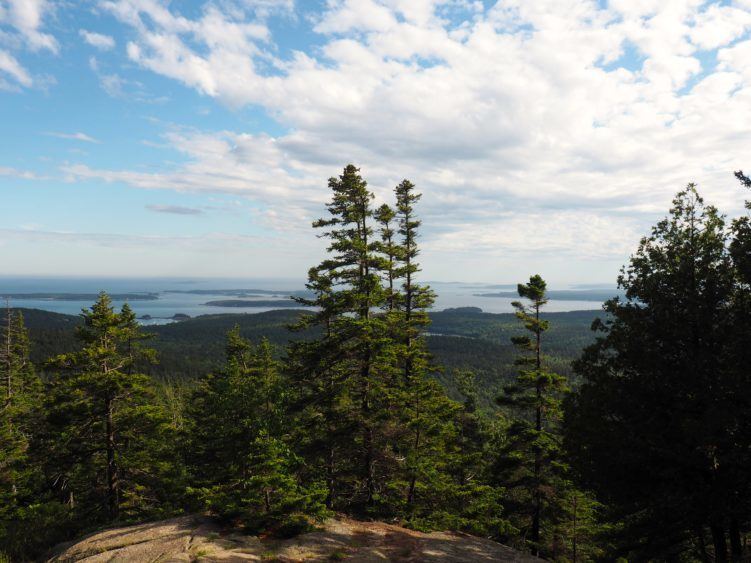 If you want 360-degree views of ponds, mountains, and the ocean (plus pine forests along the way), this is the one to do. There are several different access routes and you'll want the North or South Ridge trails, mainly because I can attest the Northwest trail is treacherously steep.
Best Acadia Hike for that "Oooh-Aaahh" Moment: Connors Nubble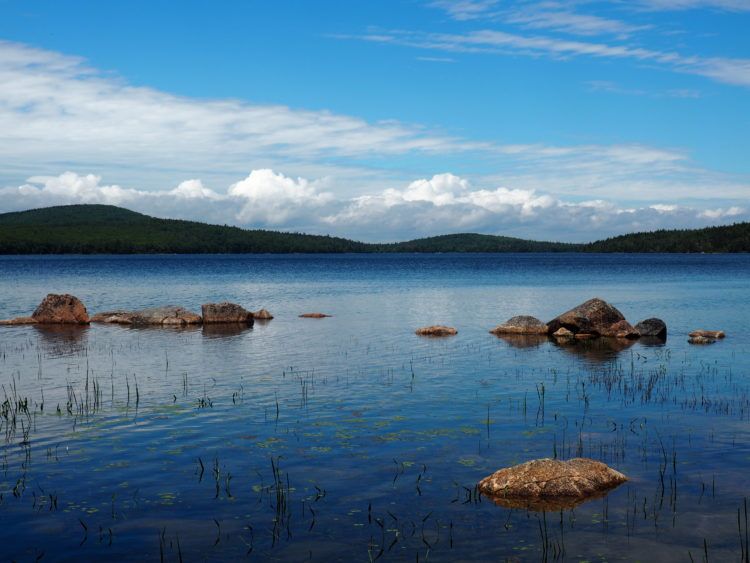 I have no idea what a nubble is, but you get a lot of wow factor without a lot of sweat at Connors Nubble. Make a loop with North Bubble and Eagle Lake if you want more views and a longer workout.
Hint: Eagle Lake had some rocky terrain, so if you're not good with your footing, pack a pair of trekking poles. These are the ones I always recommend because they're less than $25, easily adjustable, lightweight, and sturdy.
Best Acadia Hike for a Rush of Adrenaline: Beehive Mountain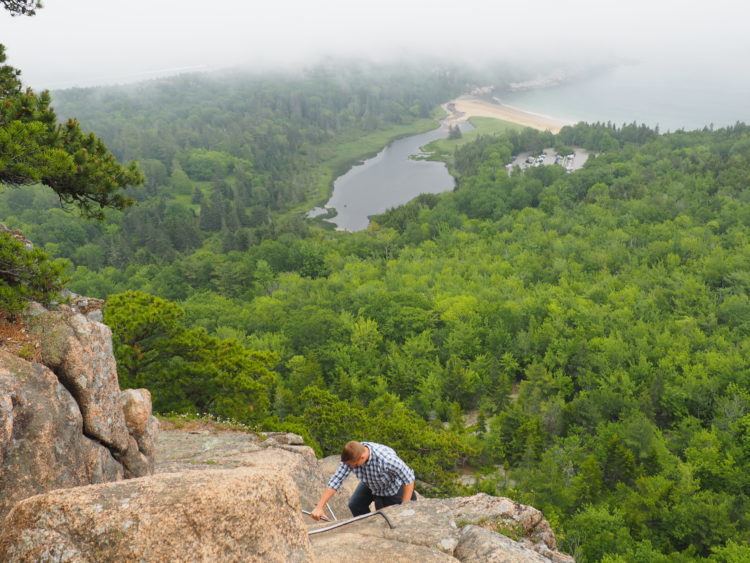 This one of the shorter hikes in Acadia National Park (it only took us an hour start to finish), but the ladders and rungs make it exhilarating. We did this on our first day in the park when the weather wasn't great, so we didn't have any views on the top. My guess is that makes it even better (and potentially more crowded). Don't miss it!
Make the Most of Your Visit with These Acadia National Park Tips
Go in late May or June for a good chance of perfect weather and smaller crowds. Otherwise, try weekdays in September and October.
Pack your adventure pants. This area is perfect for kayaking, rock-climbing, and biking the park carriage paths. When you want to slow down, try a whale watch or sunset sail. We stuck Acadia National Park hiking this time around, since we were short on time and money, but I have lots to do on our return visit.
Scout the trails in advance. You can buy Acadia NP maps at any store in Bar Harbor, but if you order one in advance, you can plan your routes ahead of time. The waterproof trail map is great.
Be patient. Even though Acadia National Park trails were pretty quiet, the village of Bar Harbor was busy, busy, busy. Expect to hunt for parking (or park in the boonies and walk in, like we did) and you'll probably wait for restaurant tables.
>>>>> Related Post: Top Tips for Visiting National Parks
Where to Eat in Bar Harbor
I'm not an expert on Bar Harbor dining, nor am I a huge fan of lobster dinners, steamed clams, or mussels. We ate at about a half dozen places during our stay and there were two standouts that I highly recommend.
Jordan's Restaurant: This breakfast staple has irresistible blueberry pancakes and the homemade blueberry sauce is worth every extra penny. They open at 5am in case you want to jumpstart your day…which you should, if only to avoid the lines later.
Havana: This upscale Cuban-inspired restaurant is probably the nicest place in town without actually being much more expensive than the tourist traps. Start with the crab cake appetizer (you won't regret it) and then listen closely to the nightly specials.
If you go to Acadia National Park Maine…
Park passes cost $25 and are valid for a week (it's free November – April). I used our America the Beautiful Pass, which is valid for all national parks for a full year and can save you some cash if you travel a lot. Be aware that not all entry gates sell passes but you can be ticketed if you're parked without one. Plan ahead or buy one online in advance.
We stayed at the Holiday Inn Resort Bar Harbor, which has excellent service and beautiful waterfront views (check out that sunset), but is in need of an update. For the right price, I'd do it again. Otherwise, look into the Quimby House Inn. The location is ideal, reviews are top-notch, and prices aren't as ridiculous as most Bar Harbor hotels.
When I Go Back (and you bet I Will)
We missed out on Acadia NP's famed Precipice Trail since it's closed for falcon nesting in the summer. We also ran out of time for the Schoodic Peninsula, which I think I'd like for rugged coastline and less commercial development. And we completely missed out on chances for snowshoeing and cross-country skiing since we went in June…but that would be a big reason to go back. Winter fun is Maine's best kept secret.
* * *
Do you have other tips to add on hikes in Acadia National Park? Share them in the comments below!