This post may contain affiliate links. As an Amazon Associate I earn from qualifying purchases.
* * *
I made a pact this year to embrace the cold. I've never outright disliked winter, but it's far too easy to stay cozy inside unless you put in a special effort. Turns out, some places are even more beautiful in the snow. Franconia Notch State Park, in the White Mountains of New Hampshire, is one of them.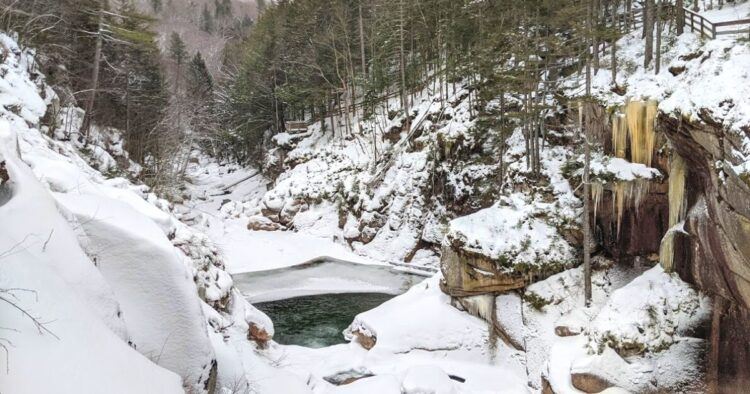 If you're new to winter hiking, Franconia Notch is a great place to start. You get a lot of bang for your buck — short hikes lead to beautiful views. Plus, since it's well-traveled, it's possible to "bareboot" a few trails if conditions are right (barebooting is hiking in winter boots but without any other special equipment).
New Hampshire in general is great for outdoor recreation, but to get you started I've rounded up four trails that are great for Franconia Notch hiking in winter (plus one that's overrated). They're all relatively short and sweet, but I have options for all levels.
Winter Hiking Gear
Assuming you already have appropriate clothing, you won't need much for these particular hikes (other winter hikes that are longer and/or more intense will require more specialty gear).
If the trails are covered in packed snow, you might not need any traction devices to hike safely. However, as you'd expect, icy trails can be quite slippery — as can fresh powder. I recommend carrying one or more of the following with you to slip on en-route if you encounter obstacles along the way.
Cleats: Winter cleats are basic but affordable. They're really intended for icy sidewalks, but will work on flat trails in a pinch and can be an okay option on easy trails. Try Yaktrax Walkers.
Microspikes: Spikes are my personal choice because they're lightweight, easy to use, and provide good grip. Try Hillsound Trail Crampons, which despite the name, are not full crampons at all. (The type of crampons you use for mountaineering are likely overkill for the Franconia Notch trails I mention here).
Snowshoes: If you're the first to break trail after a snowfall, or if snow is particularly deep, snowshoes can help a lot. It's really hard to find a pair in 2021, so you may need to rent a pair rather than buying your own, but if you're shopping, L.L. Bean is one of the few places I've seen them consistently in stock. Their house brand works well, but MSR and Tubbs are both great upgrades.
Trekking poles: Poles help you keep your balance, but are also great tools for checking snow depth. I prefer collapsible poles so I can put them away when not needed (they're cumbersome if you're not actively using them). Look for four-season poles to use year-round.
Winter Day Hikes in Franconia Notch State Park
Most Popular Winter Hike: Franconia Notch Flume Gorge Trail
Distance: 2 mile loop
Difficulty: Mostly easy with a few short, steep sections
If you only do one hike in Franconia Notch, the Flume Gorge is a great bet. It packs a lot of variety into a loop: rocky gorges, snowy forests, giant icicles, and a covered bridge. If you time it right, you may also seem some ice climbers which is fun to watch.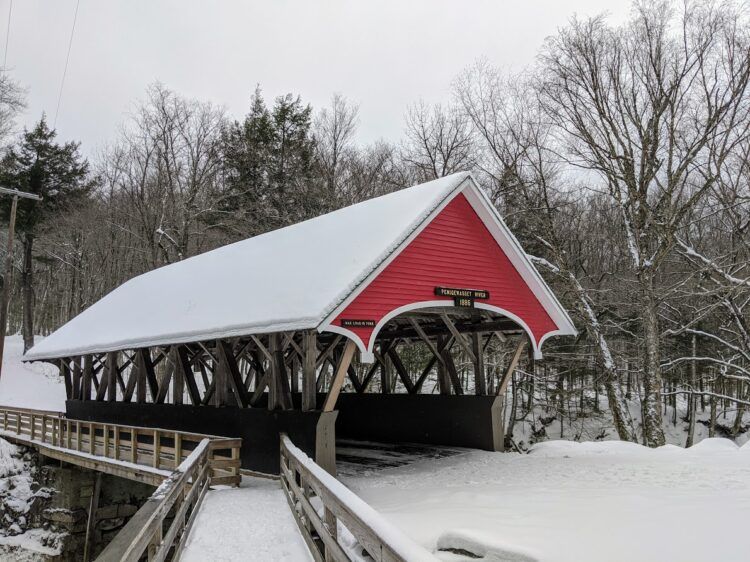 This is a heavily-trafficked trail, and for 2021, there are signs encouraging one-way travel for less contact/exposure to other hikers — we never felt crowded on a weekday afternoon. Since there are other people on the trail, it's easy to find your way and is great for solo hikers who want some reassurance that they can find help if something goes wrong.
All gear is optional here: there were a few slick patches where spikes or poles would help, but since it's so well-trodden, the snow is packed and you can probably get away with just your boots.
The Flume Gorge boardwalks are closed in winter, but don't let that stop you. Ninety percent of the hike is still accessible.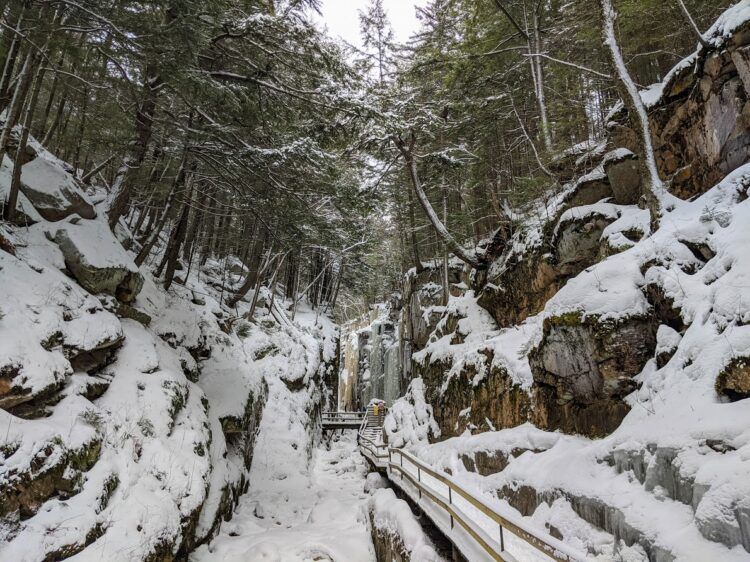 Shortest Franconia Notch Winter Hike: The Basin
Distance: 0.4 miles round-trip
Difficulty: Easy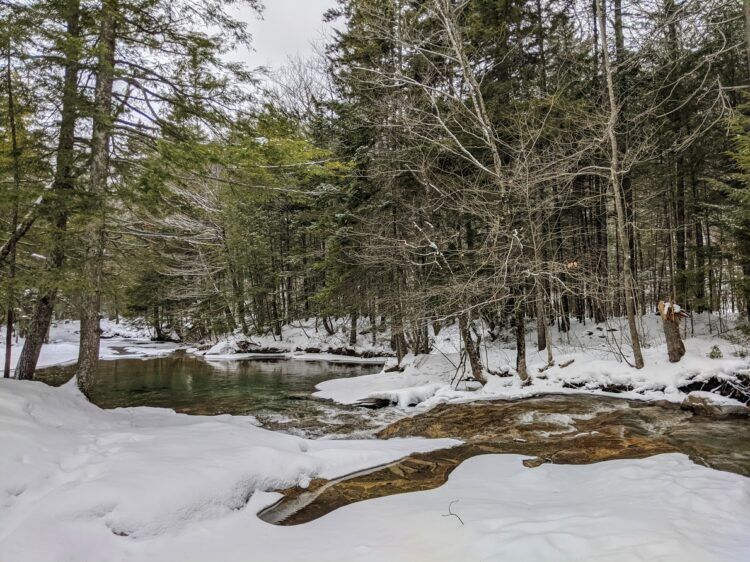 As Thoreau once said, this 25,000-year-old pothole in the Pemigewasset River is "the most remarkable curiosity of its kind in New England". More aptly, it's a beautiful spot that's easily reachable in Franconia Notch State Park, even in winter.
It will only take five or ten minutes each way to reach the Basin from the parking lot and it's super easy (technically it's a handicap accessible trail, though in winter this doesn't hold true because of the snow on the path). No special gear is required.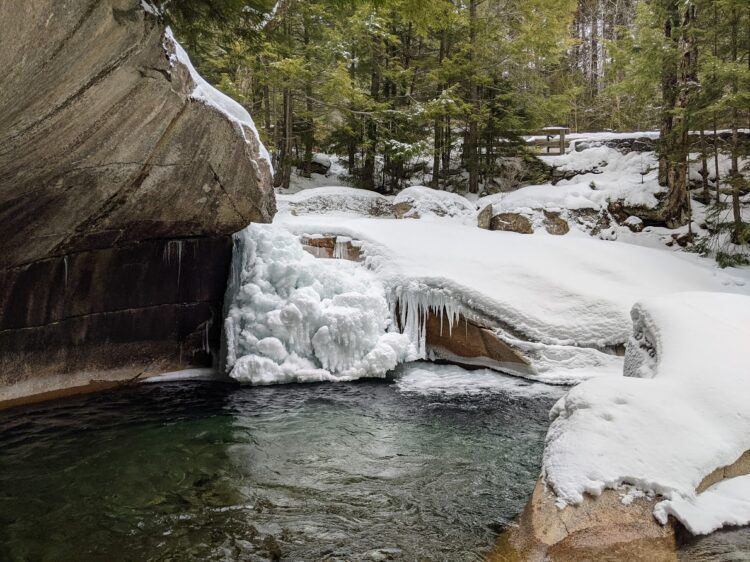 Chances are you'll want to explore this area beyond the Basin itself, since the babbling river is so lovely. The Basin-Cascade trail takes you to Kinsman Falls (about 1.2 miles round-trip), which is worth the extra push. Continuing onward to Rocky Glen Falls is possible, but steep.
If you want to hike all day, you can actually design a loop north to Lonesome Lake (discussed below) or south to the Flume Gorge (mentioned above).
My Favorite Winter Hike in Franconia Notch: Lonesome Lake
Distance: 3 miles round-trip, more or less depending on how far around the lake you walk
Difficulty: Moderate, as long as you don't mind a steady uphill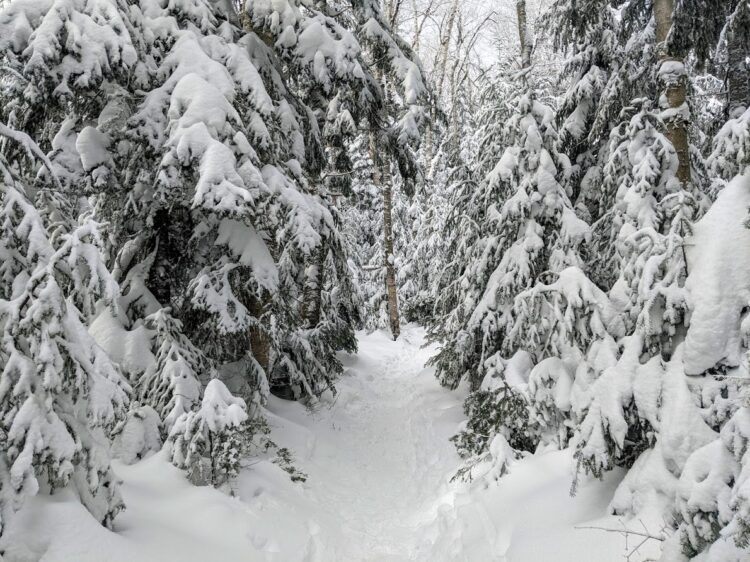 There are three things that make the trip up to Lonesome Lake extra special:
Stunning views from the top of the surrounding mountains
Snow-capped trees that make it feel like you're walking through vanilla-frosted forest
The lake itself, which might even be frozen enough to safely walk across (do not attempt unless you're experienced on how to check!)
This hike is not extremely steep, but it is consistently uphill. In particular, the second half of the trail will feel like you'll never get a break…remember, walking in snow is harder than a dirt trail and heading back downhill can be slick. While the main trail was packed snow, if you choose to walk the perimeter of the lake toward the warming hut, snowshoes can be really helpful.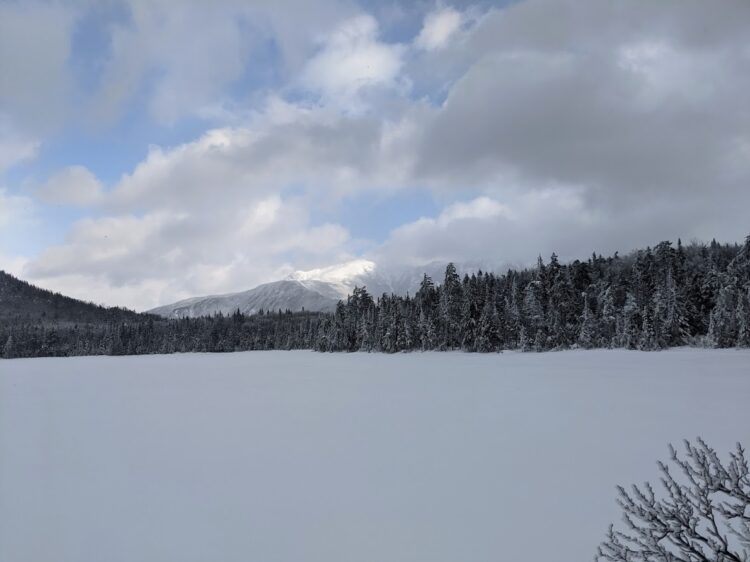 PRO TIP: This hike is very popular, so either come on a weekday or plan on parking on the other side of the highway in the bigger lot at Falling Waters trailhead (there's a pedestrian underpass).
Challenging but Doable Winter Hike: Falling Waters Trail to Cloudland Falls
Distance: About 3 miles round-trip to Cloudland Falls, with the option to continue to the summit of Little Haystack (about 5.5 miles)
Difficulty: Moderate to the falls, Difficult beyond that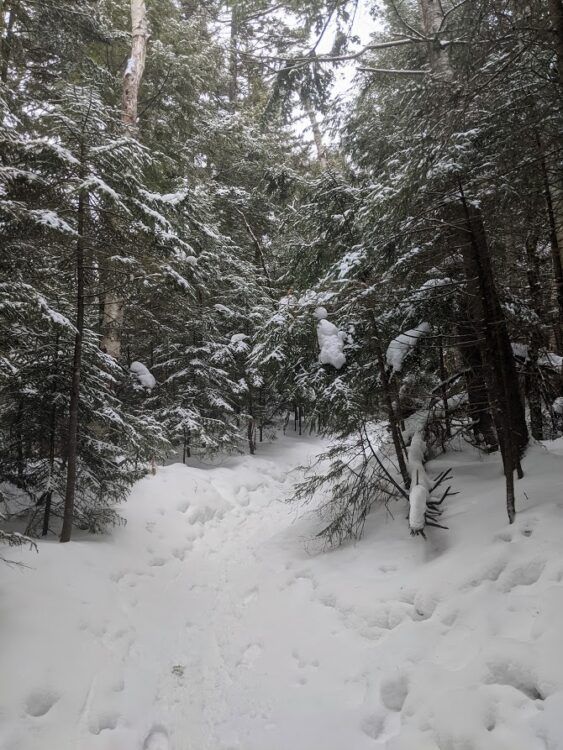 The Falling Waters trail is challenging enough to be interesting but not so hard that you can't complete it. That said, this hike DOES require equipment — I'd recommend microspikes and poles. Snowshoes weren't necessary when we went, but could be helpful after fresh snow.
This trail leads uphill, past brooks and waterfalls along the way. You'll want poles for the handful of brook crossings, both to keep your balance and to confirm if you're walking on solid ground versus a thin layer of ice and snow with cold water underneath!
It's the mostly frozen waterfalls and accompanying icicles that make this one beautiful, though we also enjoyed the solitude on our weekday hike.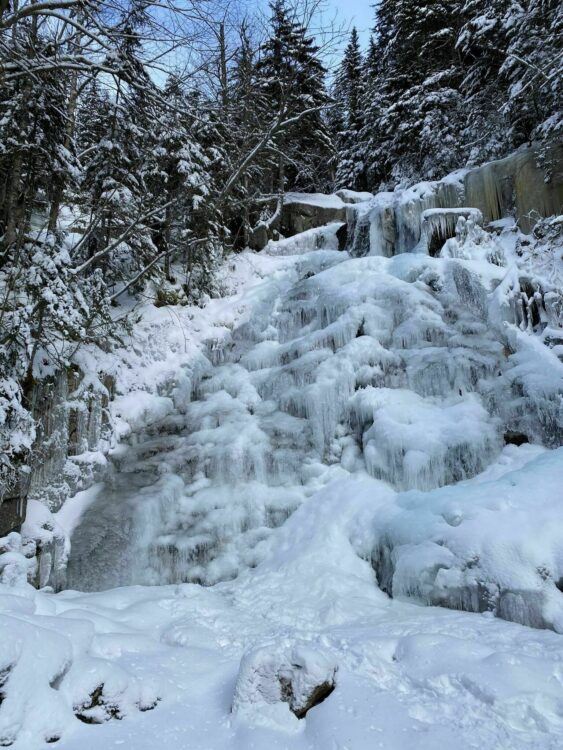 We chose not to head all the way to Little Haystack, but that could be a good option for prepared hikers. The summit is exposed with no trees to protect you from the wind and cold, so pack extra layers and perhaps a balaclava.
Overrated: Artist Bluff Trail
Distance: 1.5 miles round-trip
Difficulty: Moderate
We heard great things about this trail, which takes you to Bald Mountain and Artist Bluff. In fact, we specifically saved the hike for a day with potentially clear skies so that we'd be able to enjoy the view.
Overall, we didn't love the hike. The trail itself is fine, with a little scrambling, but we were expecting jaw-dropping views based on the rave reviews. Instead, we found ourselves overlooking the highway, Cannon Mountain ski runs, and parking lots. Yes, there are mountains in the distance, but it wasn't the picturesque vista I was hoping for.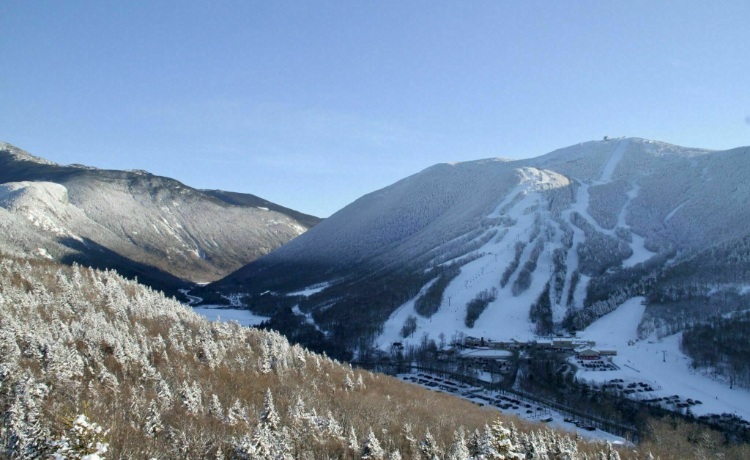 Since there are numerous other hikes in Franconia Notch (and the White Mountains in general), I'd pass on this one.
**For what it's worth, I did see plenty of photographs from this trail, mostly in fall and at sunset — if you're not hiking in winter months, it looks a lot more beautiful.**
What to Know Before You Go
Winter hiking has a few extra things to think about.
Pick the right footwear: You want winter boots with plenty of wiggle room for your toes. Having frozen toes fused together is awkward at best and potentially hazardous to your balance. Thick socks can make a tighter fit, as can swollen feet from a long day on the trail, so size up if needed. Hint: gaiters can keep snow out of your boots.
Dress appropriately: Cold weather scares a lot of people, but in my experience it's easier to overheat than freeze if you're participating in physical activities (yes, really!). Sweat is your worst nightmare in winter because the moisture can lower your body temps to dangerous levels. Dress in layers so you can cool off if/when you need to and remember that synthetic materials are better than cotton. I could say a lot more, but instead I'll just point you to a separate article on what to wear in winter.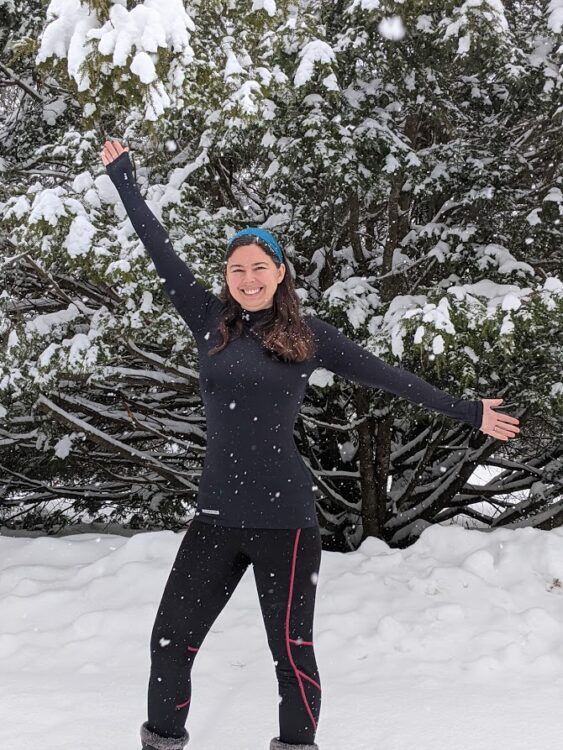 Winter hiking is slow hiking: You will not be able to hold your normal pace while hiking in snow. For one thing, you'll need to be extra careful that you don't slip and fall. Fording deep snow is also slow and snowshoes aren't much better. On average, I find winter hiking to require 50% more time than walking on solid ground.
Eat and drink: Hiking always burns calories, but more so in winter while your body works to stay warm. Pack snacks (or a meal if it's a long hike) and don't forget to stay hydrated! Pro Tip: Trail mix is better than a rock-solid protein bar and water and water bottles are better than camelbacks with frozen water lines. I prefer to pack a travel mug of herbal tea instead of plain water.
Be aware of daylight hours: It gets dark early in the winter, so bring a headlamp or flashlight if there's even a tiny chance you'll be cutting it close.
Cold kills batteries: Batteries drain faster in cold weather, so if you're bringing along a camera or cell phone, bring a spare battery or pack an external charger…especially if you're relying on your phone for trail maps/GPS.
Read More About New Hampshire