This post may contain affiliate links. As an Amazon Associate I earn from qualifying purchases.
* * *
I've had mixed success when using Instagram as inspiration for travel. Sometimes it leads to unbelievable, mind-blowing views. Other times, it presents a contrived look at an experience that doesn't represent reality. Because of this, I wasn't sure what to expect at the New Hampshire Ice Castles.
The photographs were certainly beautiful…but would they live up to the hype?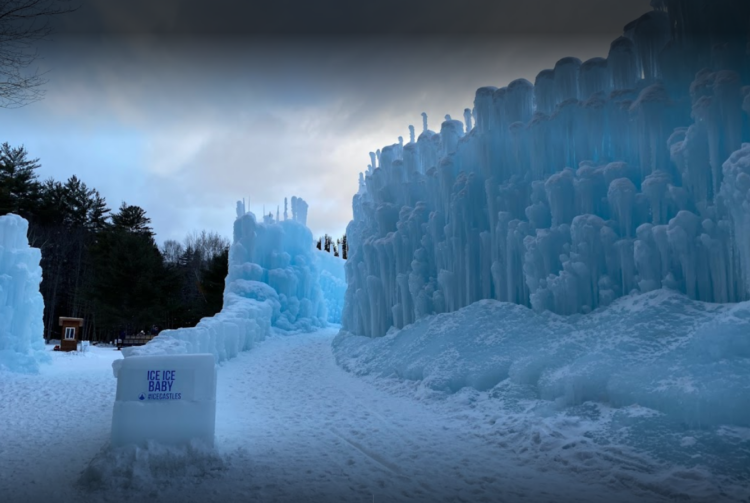 I didn't have much to lose by trying: my husband and I had rented a cozy Airbnb in the White Mountains for a week of cross-country skiing, winter hiking, and indulgent fireside drinks. The Ice Castles were a mere 30 minutes away from us and open after dark when other outdoor activities weren't sensible anyway. So I plunked down $22 per person in hopes it lived up to my dreams.
Upon arrival, we were greeted by a full wall of handmade icicles. Every year, artists construct a full-scale ice "castle" for visitors to walk through and explore as a way to make winter fun (and beautiful).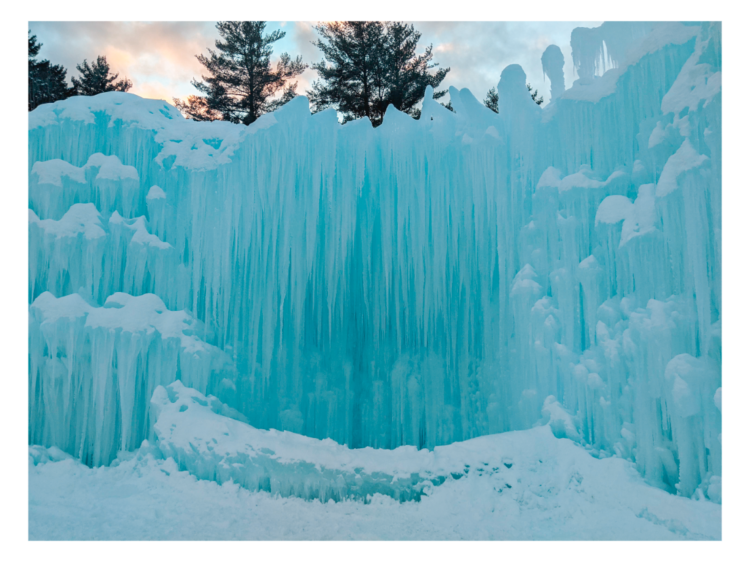 Like everyone else around us, we made our way to the main castle. It was crowded but not crazy and we enjoyed checking out the features up close.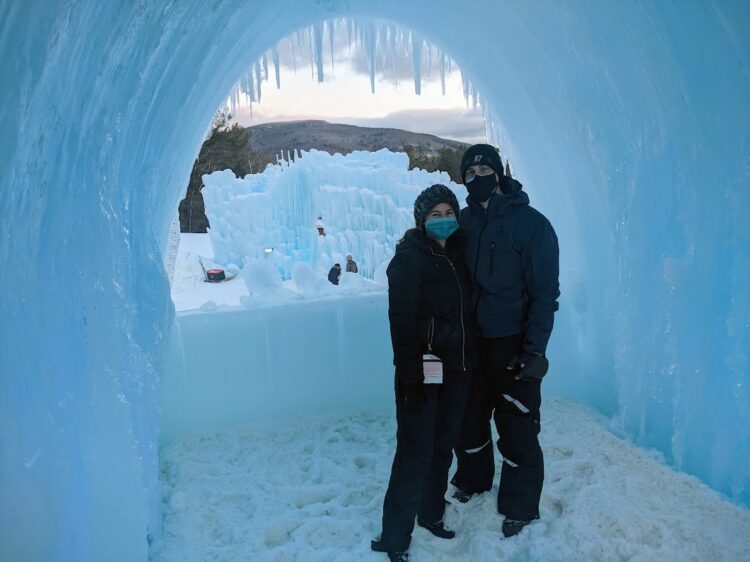 Unlike most ice structures, these ones aren't made from blocks of ice — they're assembled from hundreds of thousands of icicles carefully placed and glued together with more ice. The artists also add in tunnels, slides, fountains and more. Plus, everything sparkles after dark thanks to colorful LED lights within the constructs. In short, it's beautiful.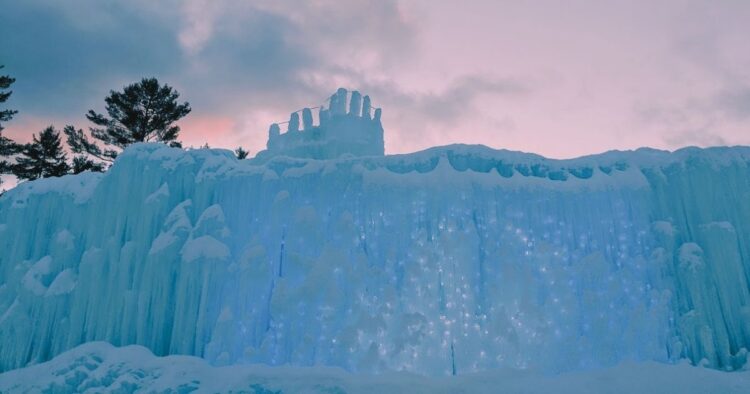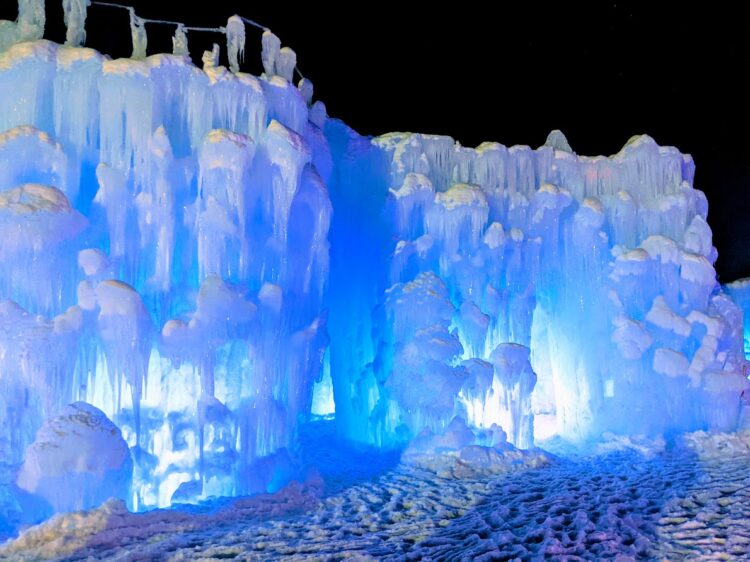 Though the castle is undoubtedly impressive, my favorite part ended up being the enchanted forest walk. The path was short, but lovely, with fairy lights hanging from the trees and illuminating pathways on the ground. With freshly-fallen snow, everything sparkled to create a magical scene that almost made you forget about everyone else around you.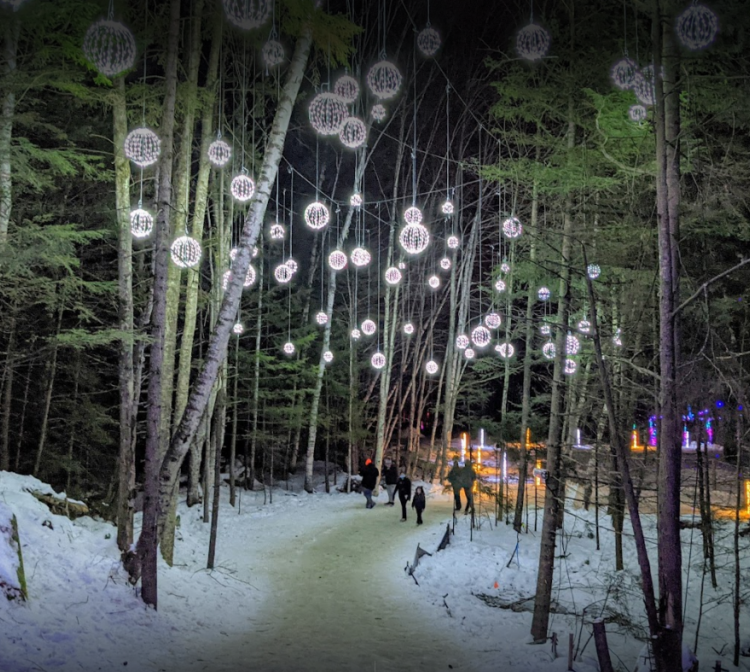 What I didn't realize, though, was how small the Ice Castles site is: there's the main castle, a 5-minute forest path, a tubing hill intended for younger children, a short horse-drawn sleigh ride route, a handful of smaller ice sculptures, and some snack kiosks for cookies and cocoa. If you're not standing in line for photos, you can see it all in 30-40 minutes.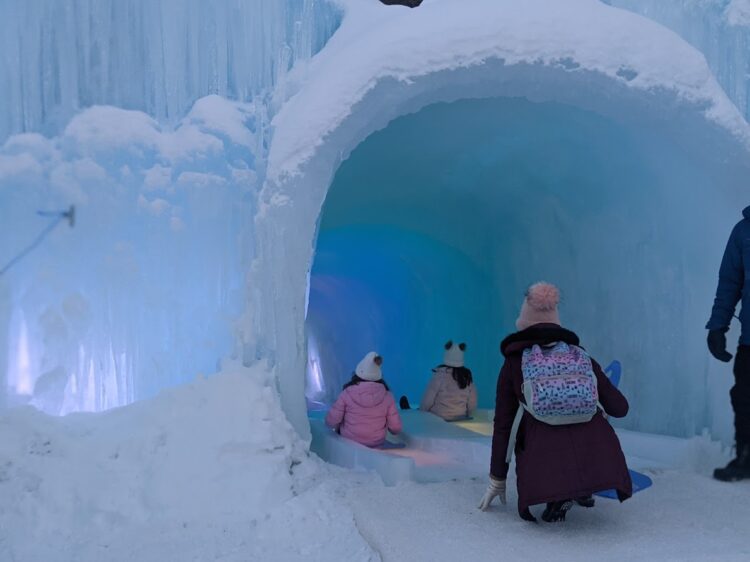 We let out our inner kids while killing time for the sun to set and tried out the ice slides and tubing runs, but I left feeling like there was a missed opportunity. For families, this is surely a fun way to spend an evening. But as a date night, it fell flat. There is a lot of potential to make this a romantic attraction but you're unlikely to find a private spot to snuggle and share cocoa for warmth. The sleigh rides cater to large groups rather than an intimate rendezvous. Even the photo spots meant spending more time in line than enjoying the backdrop.
All in all, the New Hampshire Ice Castles are a novelty but I wish there was more.
Visiting the Ice Castles
The New Hampshire Castles are located in Woodstock (near the popular ski town of Lincoln). It's an easy drive from the center of Lincoln in the White Mountains and only about an hour from the capital city of Concord. It's a doable — but somewhat ambitious — daytrip from Boston or the Killington, VT ski area.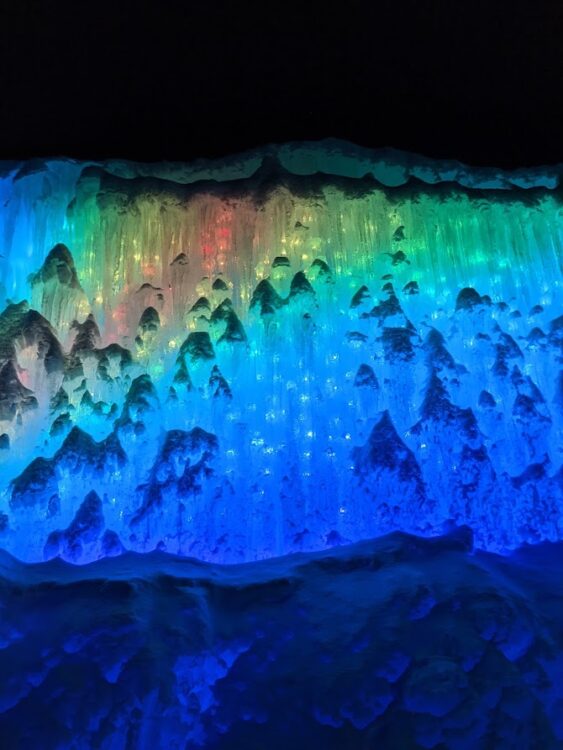 Similar ice castles, all run by the same parent company, can also be found in a few other cities. In 2022, you'll find them in:
Lake Geneva, WI

Lake George, NY
Midway, UT (south of Park City)
New Brighton, MN (Twin Cities-ish)
In previous years, there have also been ice castles near Dillon, CO and Edmonton, Alberta.
Be prepared to buy tickets well in advance; weekends in particular sell out. For an adults-only evening, I'd recommend one of the later time slots. You can also reserve a private alcove (additional cost) if you're planning on an engagement or other special event.
Read More About New Hampshire