This post may contain affiliate links. As an Amazon Associate I earn from qualifying purchases.
* * *
Puebla falls into an awkward category, with just a little too much to squeeze in on a day trip from Mexico City but not quite enough to merit a dedicated trip of its own. You can see it all in one very long day, but even that requires you to spend the night so you don't miss the two best times of day: sunrise and late night. Hit the best of the city (and its neighbor, Cholula) on this Puebla itinerary.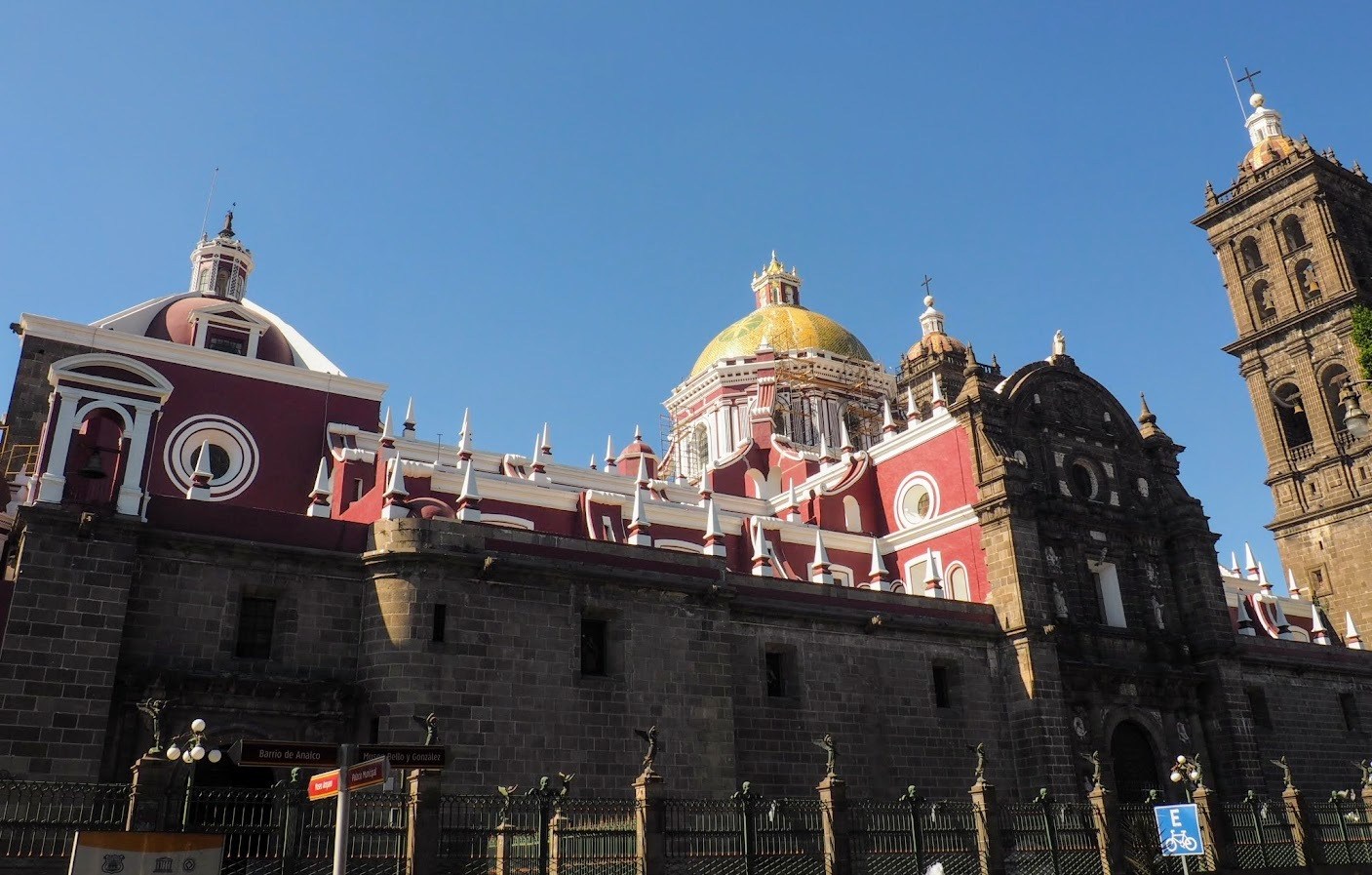 Why You Should Visit Puebla Mexico
Puebla has a lived in feel that isn't matched by anywhere else I've been in Mexico. The streets are packed with locals and the tourists, for the most part, are Mexicans visiting from other parts of the country. There aren't tourist agencies on every corner and you're left discovering things on your own — something that can be a very joyous way to travel.
It's picture-perfect: a colonial city full of colorful street markets and backed by snow-capped volcanoes that's hard to resist. On top of that, Puebla has a ton of history, culture, beautiful architecture, and some delicious, unique food. It's even a UNESCO World Heritage Site.
Puebla vs Cholula
When most people refer to Puebla, they are actually combining the greater area of Puebla and Cholula, less than ten miles away. In some ways, Cholula is a suburb of Puebla (and is home to La Universidad de las Américas Puebla), and in other ways, Cholula is an entirely separate city.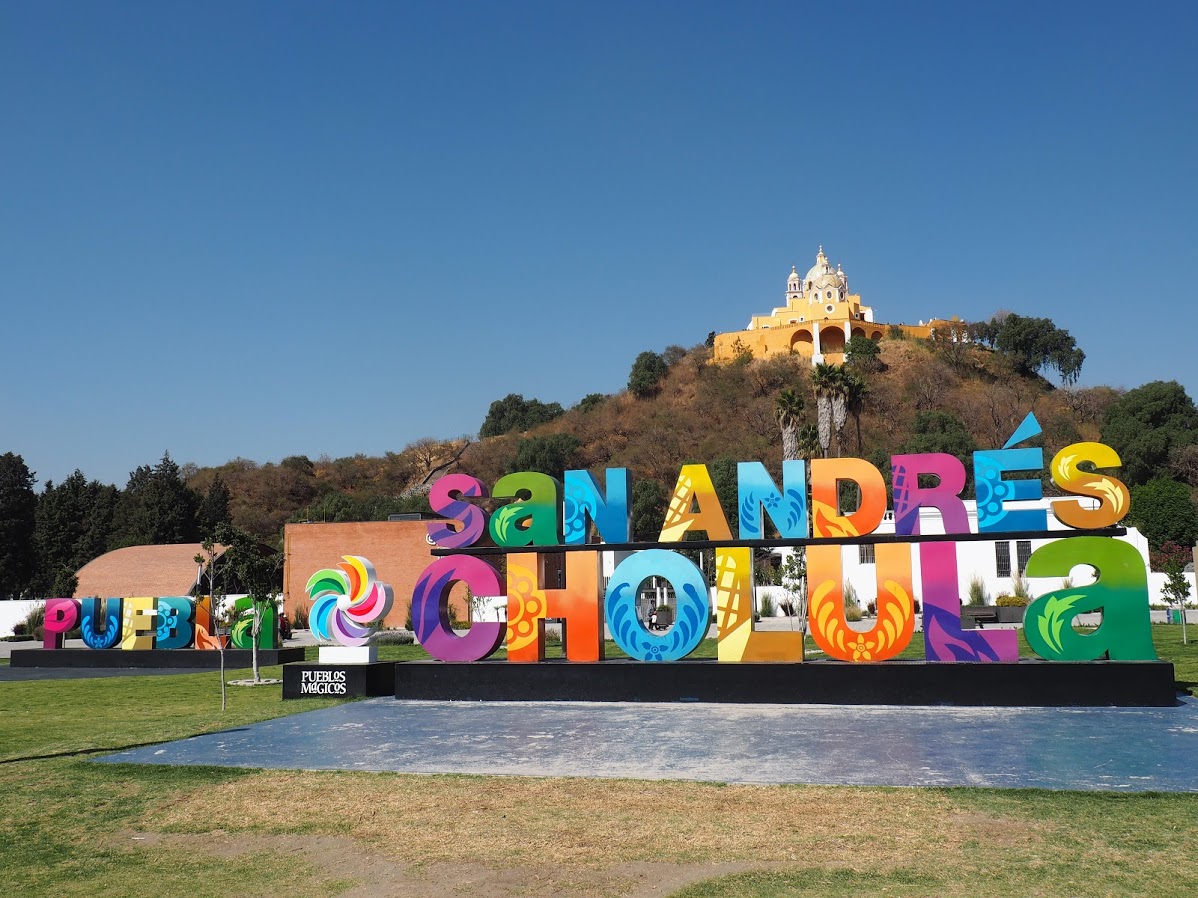 Both are worth visiting and their proximity makes them simple to combine. Puebla, by far, is more famous for its historic center but Cholula is where I found the most character. Partially because of the student body, Cholula has amazing nightlife: everything from fun bars to incredible jazz music and everything in-between. It's also very walkable and easier to navigate.
If I were you, I'd stay in Cholula and just taxi (or Uber) into Puebla for part of your visit.
The Perfect Puebla Itinerary
Early Morning Climb to Iglesia de Nuestra Señora de los Remedios
It's hard, I know, but drag yourself out of bed as soon after sunrise as you can muster. Climb the many steps to the top of the hill in Cholula for marvelous views of Mexico's most famous volcano, Popocatepetl. As the day goes on, views get obscured by clouds and haze, so it's important to go early, even if that means taking a nap later on.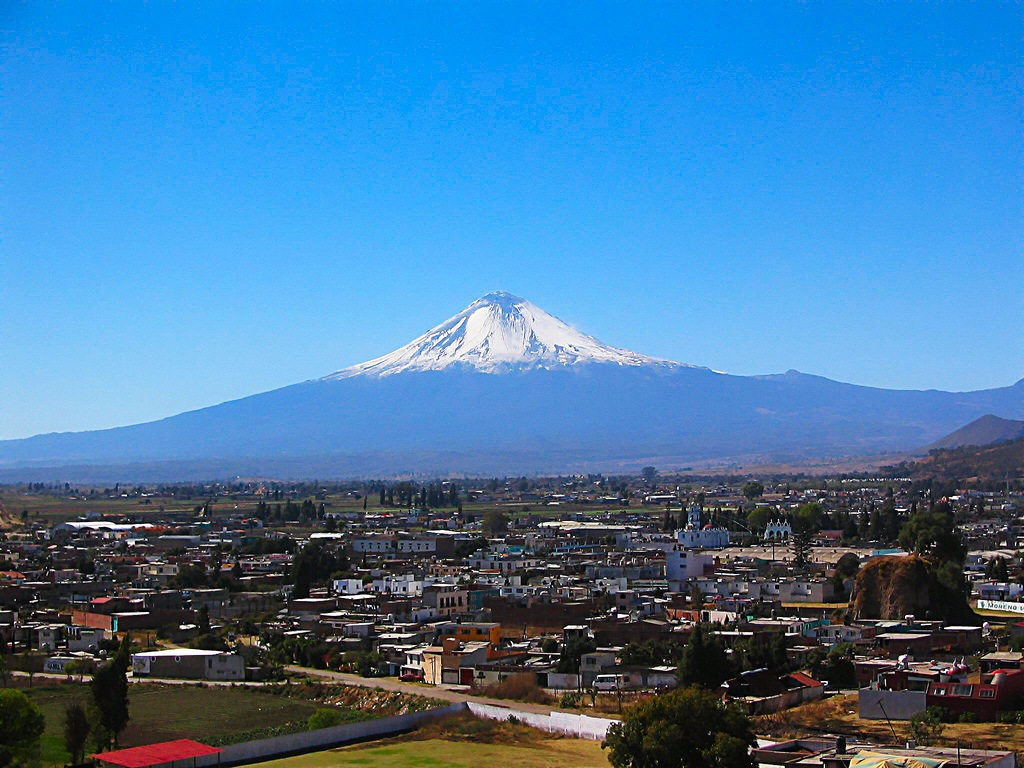 As of February 2018, the church itself is undergoing renovation work from the recent earthquakes, so you can't go in at this time.
Breakfast in San Pedro Cholula: Ciudad Sagrada
What if I told you that you could dine in a gorgeous outdoor garden with perfect views of the town church and some of the best food and service I've ever experienced in Mexico?
Ciudad Sagrada is in the heart of San Pedro Cholula and it gets busy for lunch and dinner when reservations are highly recommended. At breakfast (like everything in Puebla, they open at 8am), tables are fair game. Settle in with a bottomless cup of coffee and listen carefully to the morning specials.
Go Underground at the Great Pyramid of Cholula
At first glance, you'll see a yellow church on top of a hill in Cholula. In reality, that hill actually hides a pyramid 450 meters wide and 66 meters tall. That's the largest monument ever constructed, anywhere in the world, by any civilization — yes, bigger than the Great Pyramids in Egypt.
Tunnels lead right into this hill, allowing you to walk through and get a taste of this massive construction project thought to have started in 300 BC. Get a guide for your visit (they'll be waiting at the entrance). If you simply walk through on your own, it'll look like any tunnel in the world, but the history is fascinating.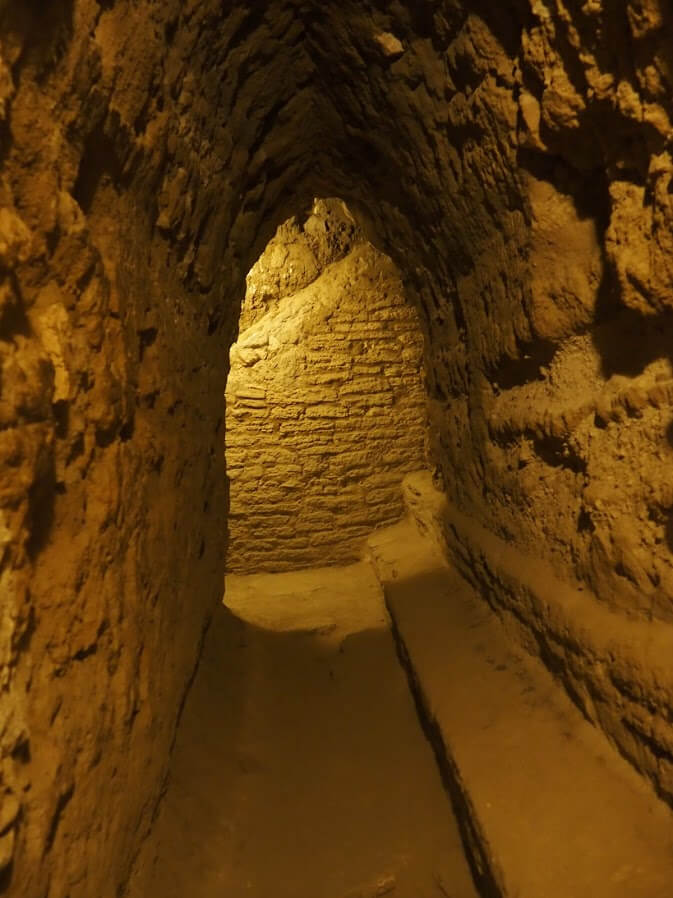 Taxi to Puebla
From Cholula, a mid-morning ride to Puebla shouldn't take too long compared to traffic later in the day. Budget about 120 pesos for a taxi ride (or 90ish on Uber) to the Puebla Zocalo, or center square.
Hint: I don't recommend the train between Puebla and Cholula. It runs very slowly and at 72 pesos per person, each way, there's not much cost advantage either. In a group of two, the train is actually more expensive than a private car!
Things to Do in Puebla
Puebla has a dozen photogenic sites, but none of them take particularly long to visit. The ones I think you shouldn't miss are on a short, easy walking route. If you started early, you can squeeze this all in before dinner.
If you tend to linger, want to spend time in Puebla's museums, see Cholula's architectural sites, or sightsee in the dozens of local churches, you'll definitely need a second day.
For City Views, Visit the Museo Amparo

Puebla's art museum, the Museo Amparo, is a little too "out there" for me, but it was still one of my favorite stops in Puebla. Take the elevator to the roof for close-up views of the city. You'll see church tops, colonial Spanish architecture, and on a clear day, maybe even the volcano. The staff didn't seem to mind at all that I was clicking away on my camera without ordering anything from their coffeeshop.
Tacos Arabes for Lunch in Puebla
The story behind this iconic Poblano food starts with Middle Eastern immigrants who came to Puebla around the First World War, bringing spit-roasted lamb and pita bread with them. As the two cultures fused, more storefronts started serving pork al pastor instead of lamb to attract a larger customer base and serving their flatbread with spicy salsas instead of traditional Middle Eastern flavors. Before long, everywhere had pork roasting the way you'd expect in a doner kebab shop and then being thinly sliced and served on flatbread with spicy salsas.
Here's what you need to know about trying tacos arabes in Puebla: they need sauce. Since the flatbread is thicker and dryer than a standard tortilla, you need something to keep it moist. Most shops have red chipotle salsas and death-defying green chile salsas. Choose carefully, but be sure to use at least one. I tried my tacos arabes at Las Ranas and they were good, but the side of beans was the star of the show.
Do it Yourself Walking Tour of Puebla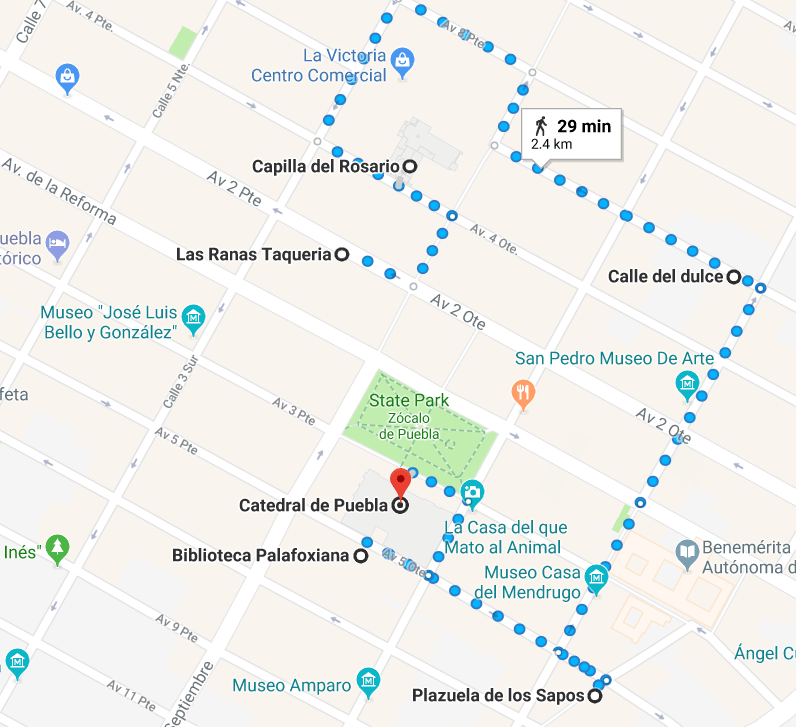 1) Capilla del Rosario
Inside the Church of the Santo Domingo, there's a chapel entirely gilded with gold. Every surface is covered, making this a site like no other. The chapel is to the left of the altar — make sure you don't miss it.
2) Calle de los Dulces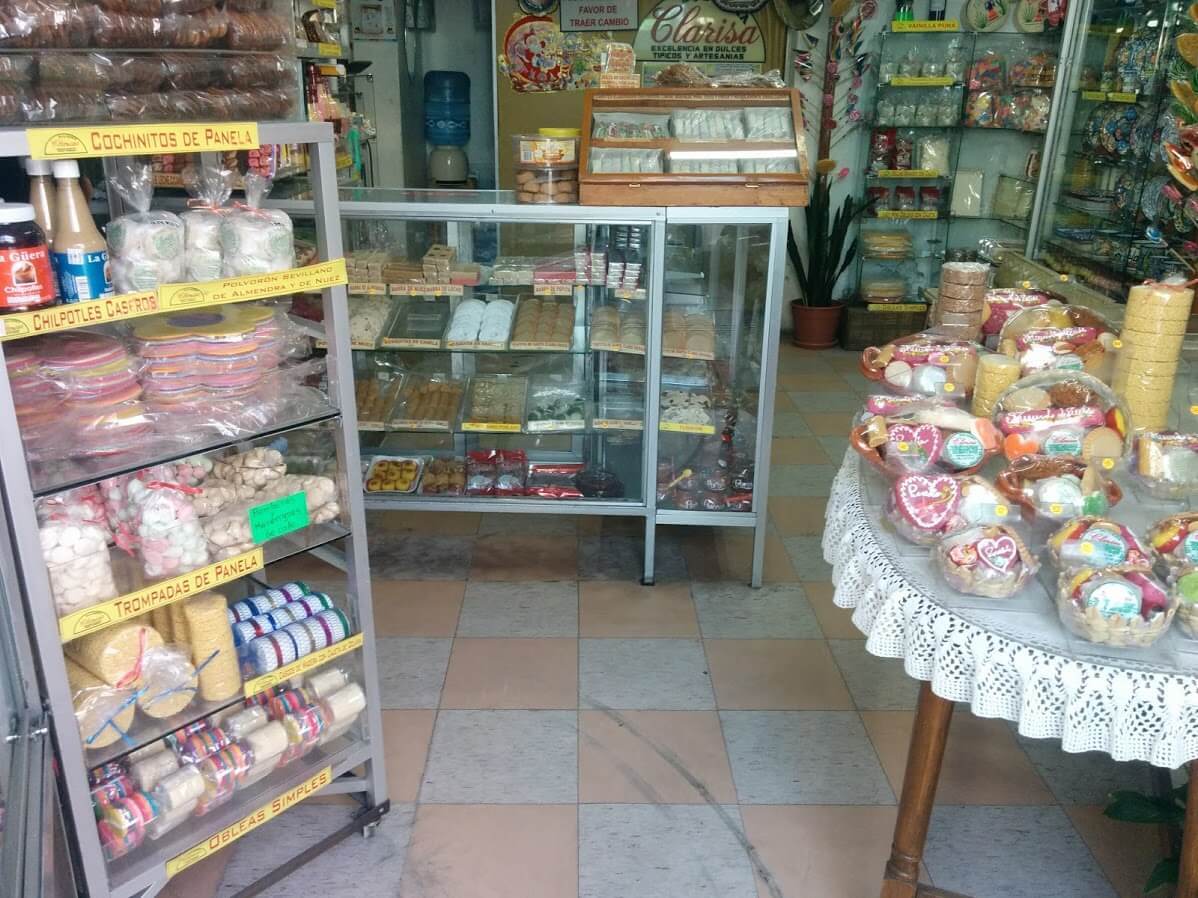 For about three blocks on Avenida 6 Oriente, there are stores filled with candies, cookies, and other sweets. Almost all of them carry similar collections, but for sure you'll want to stop in at least one to buy a bag of what looks yummiest to you.
Hint: prices are pretty much the same on the whole street, but as you get farther from the main square, you'll find staff more willing to talk to you about the different candies.
3) Callejon de los Sapos
The alley of the frogs really has nothing to do with frogs at all. These days, it's a colorful street lined with artwork for sale and leading to antiques shops. Even if you're not a shopper, it's a cute street to walk down.
4) La Pasita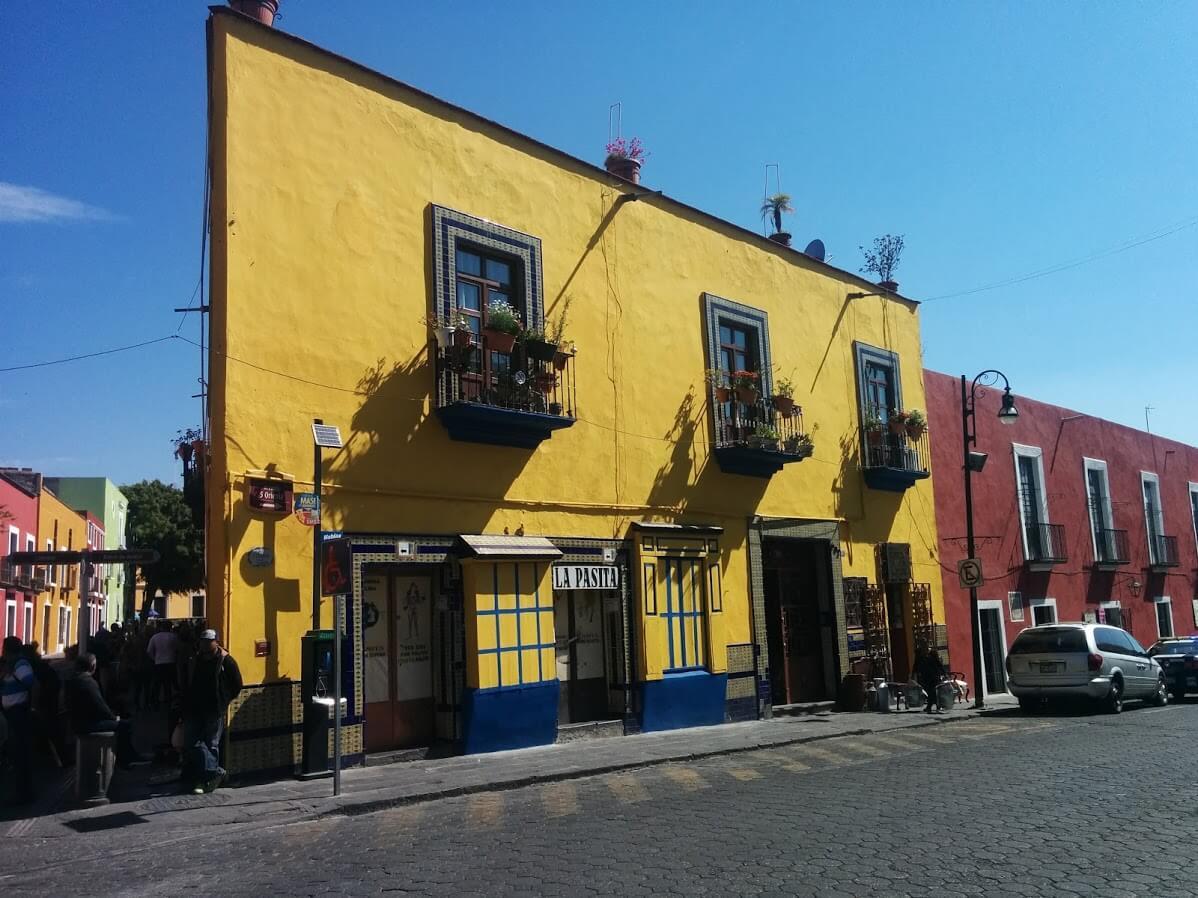 You know it's a hole-in-the-wall bar when they're only open a few hours in the afternoon (12:30-5:30 as of my visit). La Pasita, right at the alley of the frogs, serves shots of liquer made from raisin paste that's served with a garnish of salty aged cheese and a raisin. You have to try it to understand.
5) Biblioteca Palafoxiana
Mexico's first library, and sometimes considered the first in the Americas, this isn't much more than a quick stop. Still, it's interesting to peek inside for the wood carving.
Hint: The library is inside the Casa de la Cultura on the upper floor and is easy to miss if you aren't looking for it.
6) Puebla Zocalo
Like all Mexican cities, Puebla's main square comes alive starting in the late afternoon and heading into the night. It's surrounded by the municipal "palace" and cathedral, among other things, but in my opinion it's better for the people-watching than for the sites.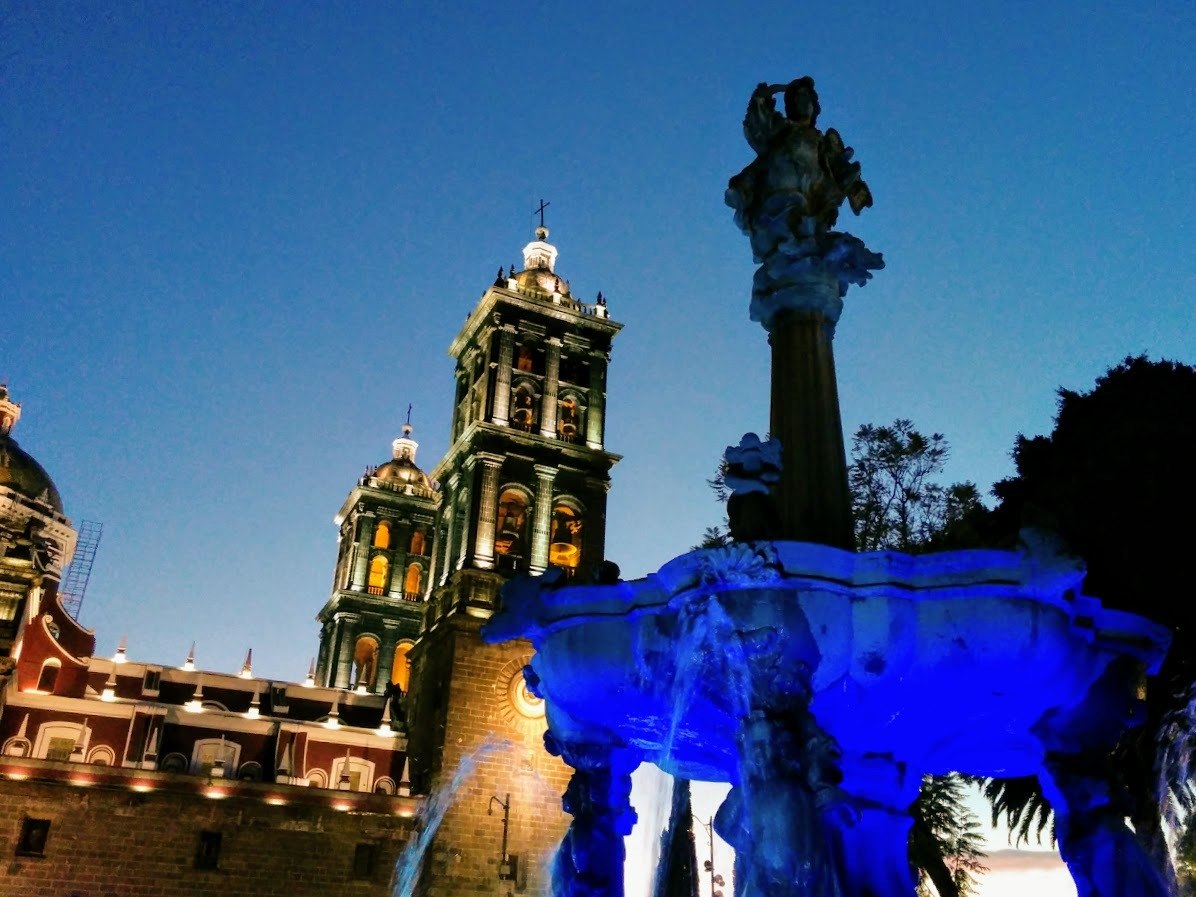 Hint: On Friday and Saturday nights, the cathedral exterior displays a colorful light show. I missed it due to the timing of my visit, but from the photographs, it looks like it's worth a visit.
Where to Eat in Puebla
For dinner, I have a few recommendations…easy to do, since I was there four days and eating is one of Puebla's favorite pastimes. You can't go wrong with any of these, but each one is very, very different.
For a Casual Meal: If it's still open, head to El Mercado de Sabores Poblanos (closes at 7pm). This is a tourist-friendly market, with dozens of food stalls that all looked pretty hygienic to me. The thing to try is a cemita, a sandwich piled high with meat, string cheese, avocado, and as many spicy pickled vegetables as you can handle. This will fill you up for days.
For Traditional Mole: Assuming you made a reservation, Mesones Sacristia is a fabulous place to try more of Puebla's famous dishes. They have a sampler plate featuring chocolately mole plus red and green pipians. They also have a tasting menu that includes the above and several other dishes, but I can't imagine eating that much!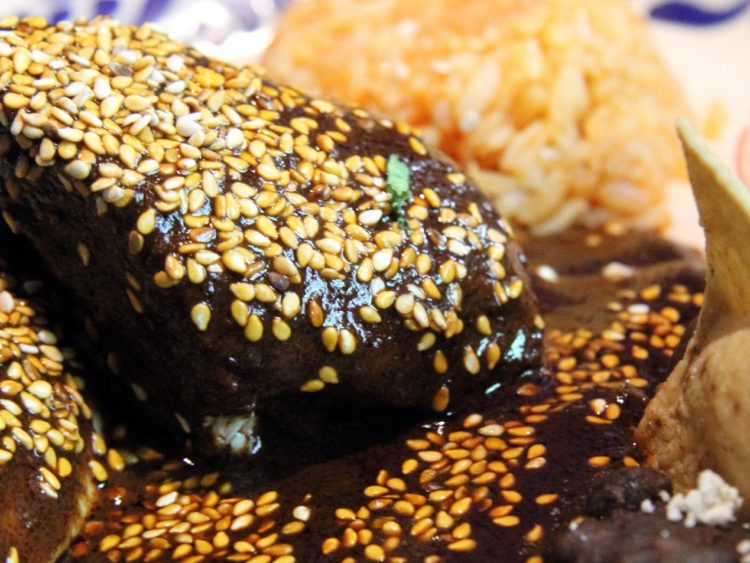 For Something Trendy: Back in Cholula, you can eat with the locals at Ocho 30. The atmosphere was unbeatable and most groups seemed to be ordering rounds of specialty cocktails with thin crust pizza. I'm a sucker for a good salad, which they had many of.
End Your Night in Cholula
Cholula has more memorable nightlife than Puebla. The two main areas to go out are Camino Real, opposite the university, or Container City — a one-of-a-kind center where the bars are made out of old shipping containers.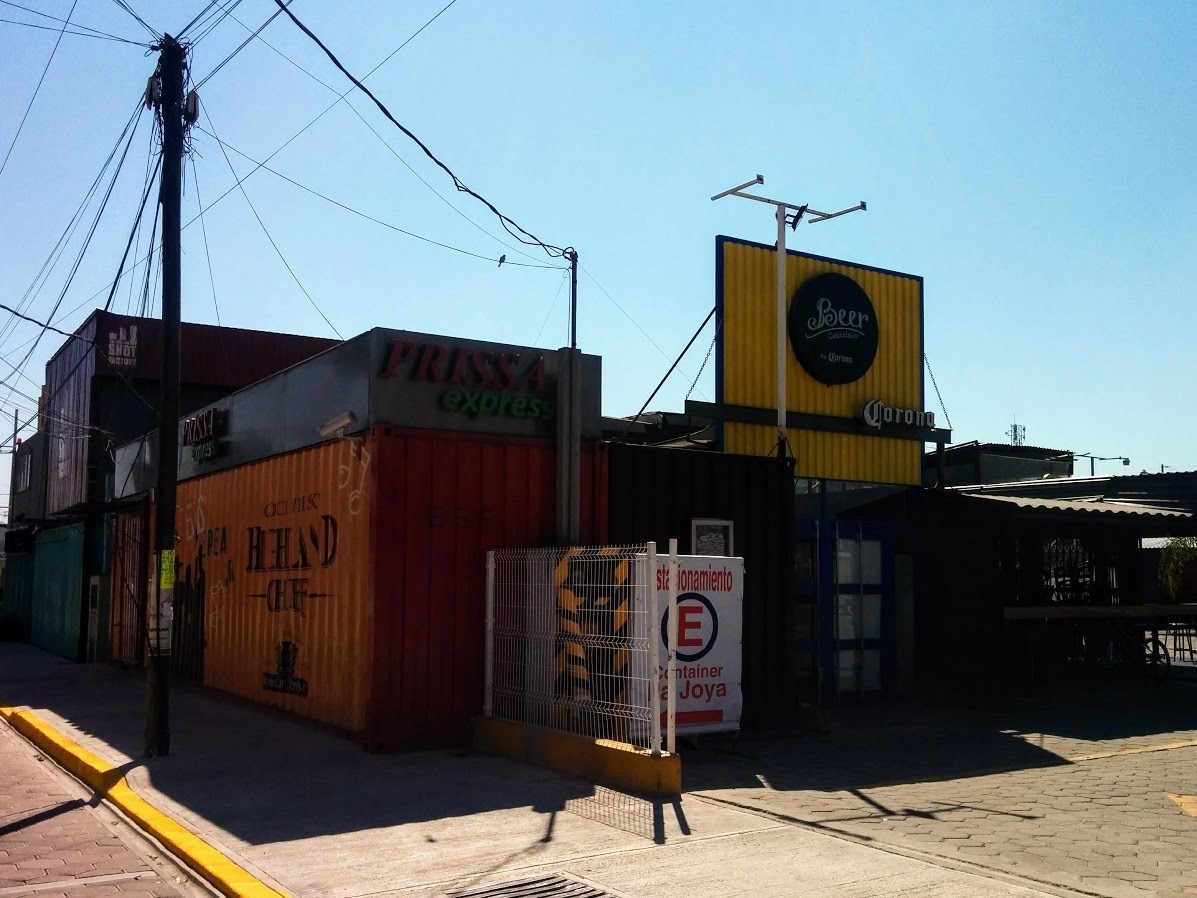 There's a hipster vibe to it, but it's fun to go even if that's not normally your scene. Each shipping container is a separate bar, each with their own theme and menu, so you can bar hop practically without moving. The outdoor space is lively and a fun atmosphere.
A Few Things to Skip in Puebla

Some things just aren't as great as they're cracked up to be.

Estrella de Puebla (the giant ferris wheel) – This is really popular with local families, but I didn't love it from a tourist perspective. As you go around the ferris wheel, most of the views are of the shopping mall and highways below, rather than cityscapes. In my opinion, not worth the amount of time you'll spend in line.

The Legends "Light Show" at Concordia Lake – The show had potential, but the stories are really aimed at children, not to mention 100% in Spanish. If you have kids, they may get a kick out of the laser projections, but I think most travelers can skip this one.

El Mural de los Poblanos – Reviews on this well-known restaurant are very much "love it or hate it" and unfortunately I fell into the latter category. If you want to try mole or pipian, I think you can do better.
Where to Stay in Puebla
As I mentioned earlier, I think the better bet is to stay in Cholula. You'll get those early morning views and nightlife and you can still visit Puebla in the afternoon and early evening when it comes alive anyway.
In Cholula, my pick is Estrella de Belem B&B if you're looking for upscale comfort at an affordable price.
Not sold on Cholula? If you do stay in Puebla, try the NH Puebla Centro Historico for a fantastic location that's also safe and quiet.
How to Get to Puebla
If you're combining Puebla and Mexico City in the same trip, there are frequent buses between the two cities. My favorite bus company in Mexico is ADO, which runs buses specifically between Mexico City's "TAPO" station and Puebla "CAPU", taking about 2.5 hours each way.
You can also take a bus straight from the Mexico City airport to Puebla, which makes a lot of sense if Puebla is the first or last stop on your trip.
>>>>> Related Post: How to Buy ADO Bus Tickets Online
I flew home from the Puebla airport rather than heading to Mexico City. It's a small airport that's very easy to use, but it's at least 40 minutes from downtown Puebla so allow plenty of time for that ride. There is NO Uber service from the airport (it's too far from Puebla's service area), so you'll need cash.
MORE INFO TO PLAN YOUR TRIP