This post may contain affiliate links. As an Amazon Associate I earn from qualifying purchases.
* * *
If there's one thing I've learned from my multiple trips to Mexico, it's that not all buses are created equal. I've been in everything from crowded minibuses that are stuck in first gear to luxury buses that put the USA to shame. Of these, ADO Bus Mexico is the operator you want if at all possible — no other company is as reliable, in my experience. The only problem is that you can't buy ADO bus tickets on their website if you have an American credit card, which means you'll end up trekking to the nearest station to buy a ticket in person (and losing out on the advance purchase discount).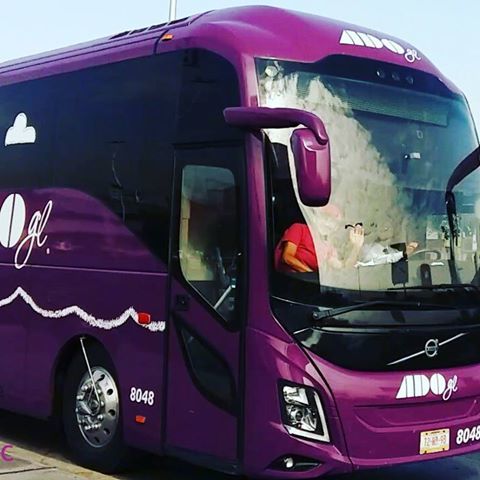 First Things First: Check the ADO Bus Schedule (and Verify if they Travel Your Route)
ADO has a pretty big route network in Mexico, but they aren't everywhere. For the most part, you'll find them traveling between major cities (most recently, I took them from Oaxaca to Puebla) and between major tourist hotspots, like the bus from Cancun airport to Playa del Carmen.
The ADO website doesn't have an English website, but checking the schedule is simple enough in Spanish. Just use their drop down menus to select your start and finish destinations.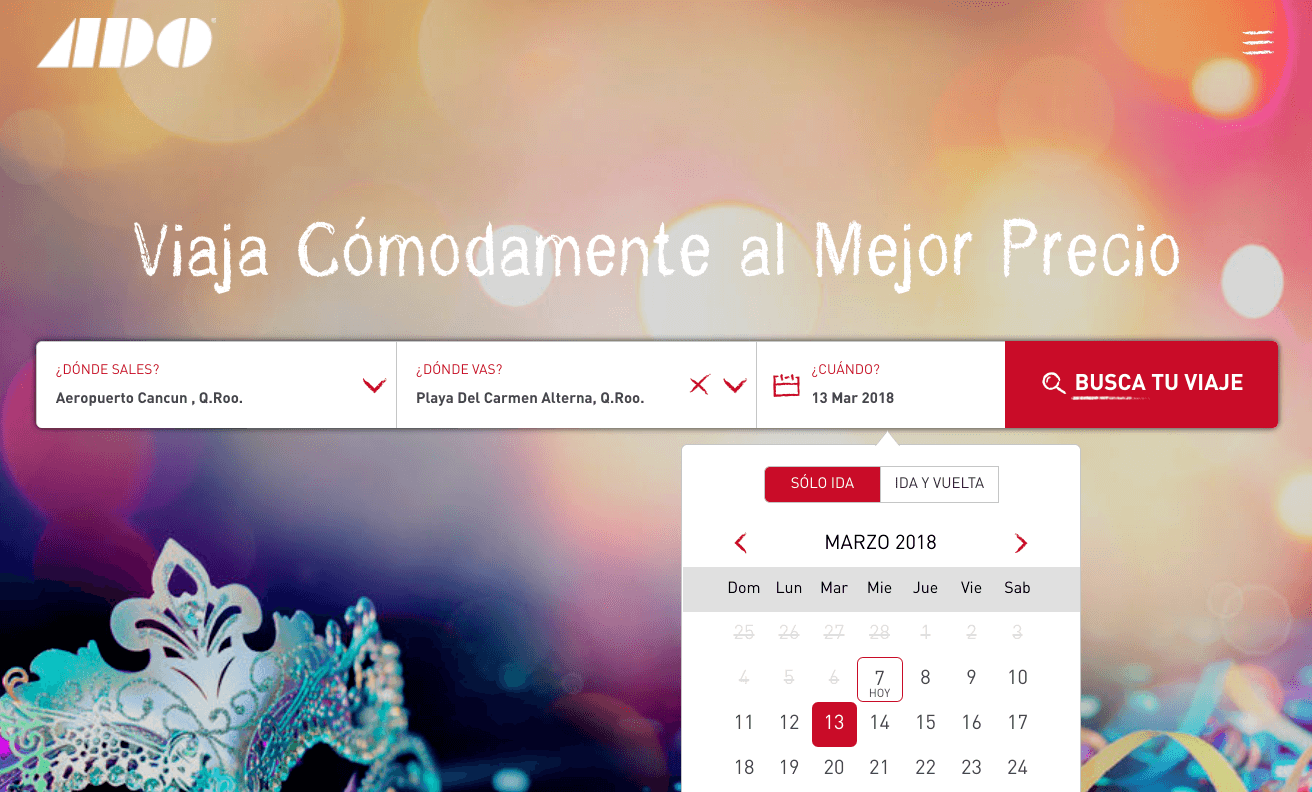 Be aware that some major cities (Mexico City in particular) have multiple bus stations so you'll need to know specifically which one you're headed to.
The website then clearly outlines the bus departures for your date, with the departure time shown in the left column, followed by the type of bus ("OCC", "ADO", etc.), the price, and the expected travel time in small type (in this case 4 hours and 40 minutes).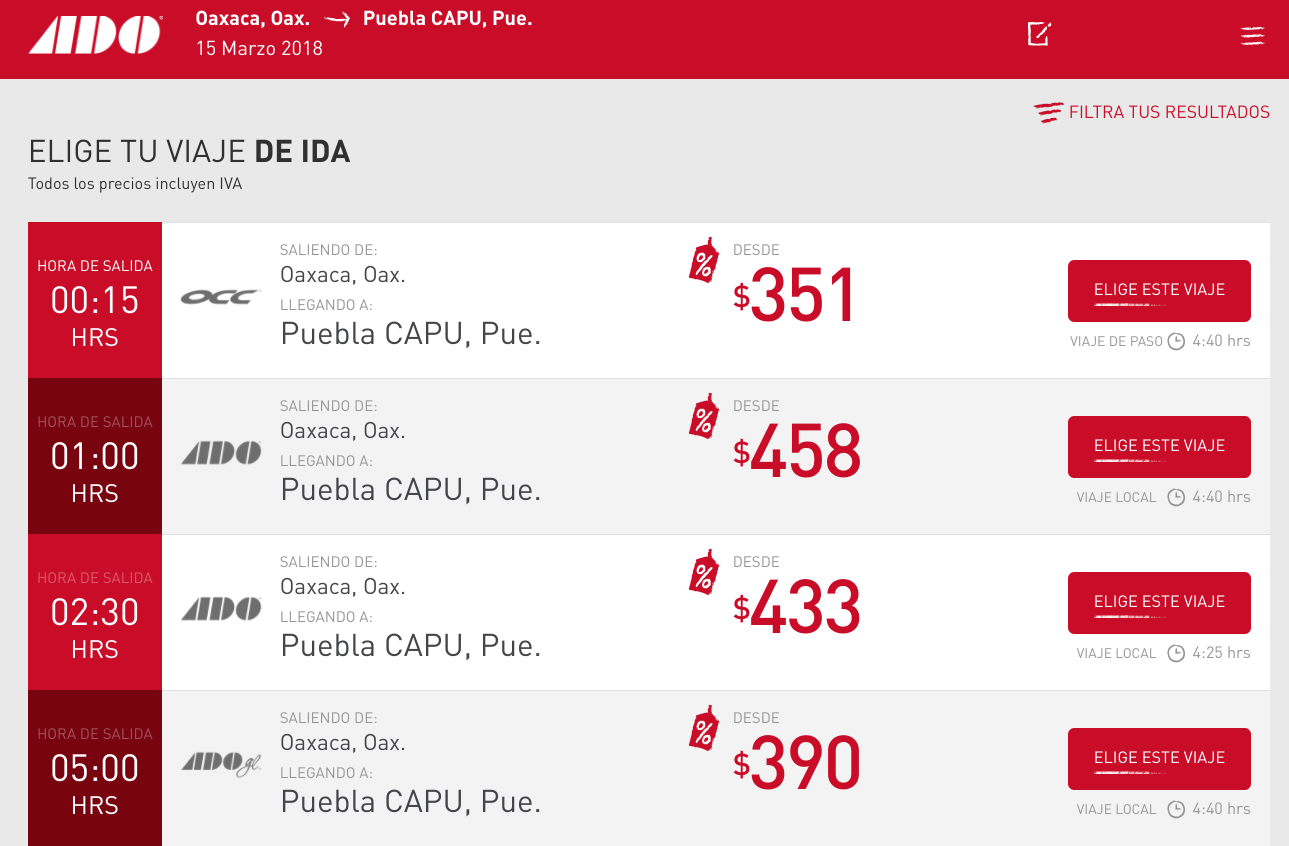 Bus travel is pretty popular in Mexico, so chances are you'll have several departure times to choose from.
Why ADO Bus Mexico is the Best

Air conditioning that works but doesn't make you feel like you're in the north pole.

Comfortable seating with overhead reading lights and curtains on the windows.

Secure, under-the-bus storage for your suitcase (hold onto your claim check!).

Reliable vehicles and a track record of punctuality (anytime road travel is involved, there are cases of traffic delays but for the most part, their schedules are accurate).

Clean onboard bathrooms!

On higher end buses:

Quiet waiting rooms with wi-fi in the bus stations.
Plush armchair seating with deep recline, spacious legroom, and foot rests.
Electrical outlets between seats.
Seatback entertainment screens with headphones.
Goody bags with your choice of drink, snack, and magazine.
Comparing ADO Bus Types
Honestly, ADO does a terrible job of describing their different types of buses. On short trips, any of them are fine and I'd choose the departure that lines up best with your schedule. Obviously as the bus ride gets longer, the upgraded seats and amenities might be something you look at more closely.
AU: These are decent buses, despite being the "low end" of ADO. You'll get the same great service, air conditioning, and a reserved seat. The main downside is that there are no bathrooms on board, so you'll probably want to keep this to shorter routes.
ADO and OCC: Two different names for basically the same experience. The buses include a few TVs to entertain you as well as bathrooms for your comfort. If you've been on a Megabus in the USA, this is a pretty comparable experience.
ADO gl: "GL" stands for gran lujo, meaning a bit of a luxurious experience. The seats are plusher, you get more legroom, electrical outlets, and a bottle of water. I know it doesn't look like it, but there's a lot of legroom and recline, too. Whenever possible, this is my preferred bus option in Mexico.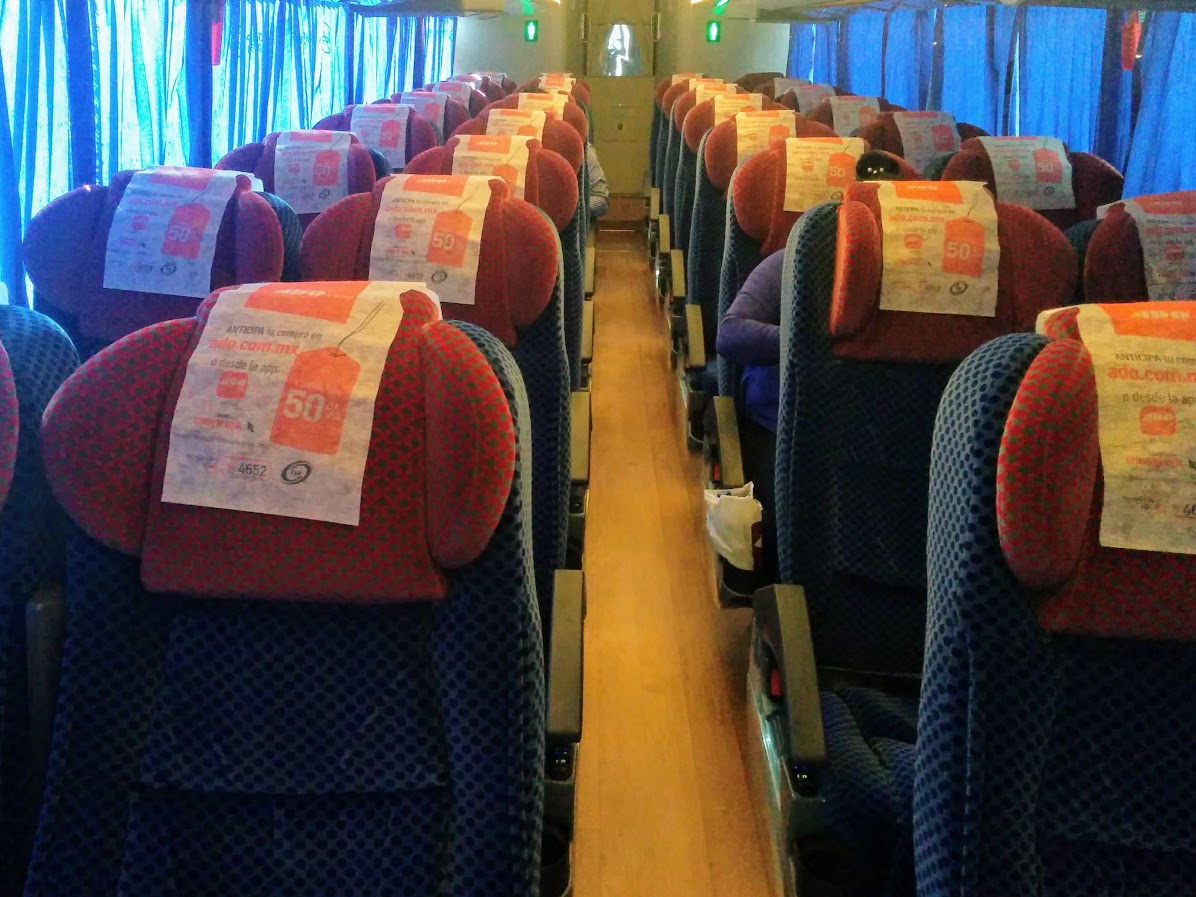 ADO Platino: There are only three seats per row (unlike 4, as shown above on ADO GL) so you've got even more personal space and have the option of a single seat if you want a little privacy. They also have individual seatback entertainment and tray tables. That said, the recline and legroom is pretty similar to GL.
ADO Platino vs GL

ADO Platino is the best of the best, but it's often double the price of GL. In my opinion, there are only two scenarios where Platino is worth the upcharge:

Overnight bus rides, where you want to do everything you can to get some rest. I personally avoid overnight buses like the plague, regardless of how nice my seat is.
If you need to get work done. Pulling down the tray table for your laptop and having some elbow room might be worth some extra cash. But you're on vacation, aren't you?
How to Buy ADO Bus Tickets Online
Except over holidays, most buses don't sell out in advance and you could just show up at the terminal to buy your ticket an hour before departure. But the advance purchase discount (or compra anticipada) can often be a pretty significant savings — in this case, purchasing two weeks in advance saves 325 pesos or $17.
I wish the ADO website told you — before you went through the entire checkout process — that they don't accept American-issued credit cards. You'll simply have your card declined in the final step. Most travelers would give up at this point and end up paying the full adult fare at the terminal, but you don't have to.
The Clickbus travel agency will gladly take your American credit card in exchange for an advance purchase ADO bus ticket. Like the ADO website, it's pretty intuitive to use. The only possible confusion is if you need to buy multiple tickets: you'll choose how many seats you need by clicking on the seat map, not by entering the number of passengers in a form anywhere.
Make sure that for each passenger, you're choosing the "Anticipada" fare.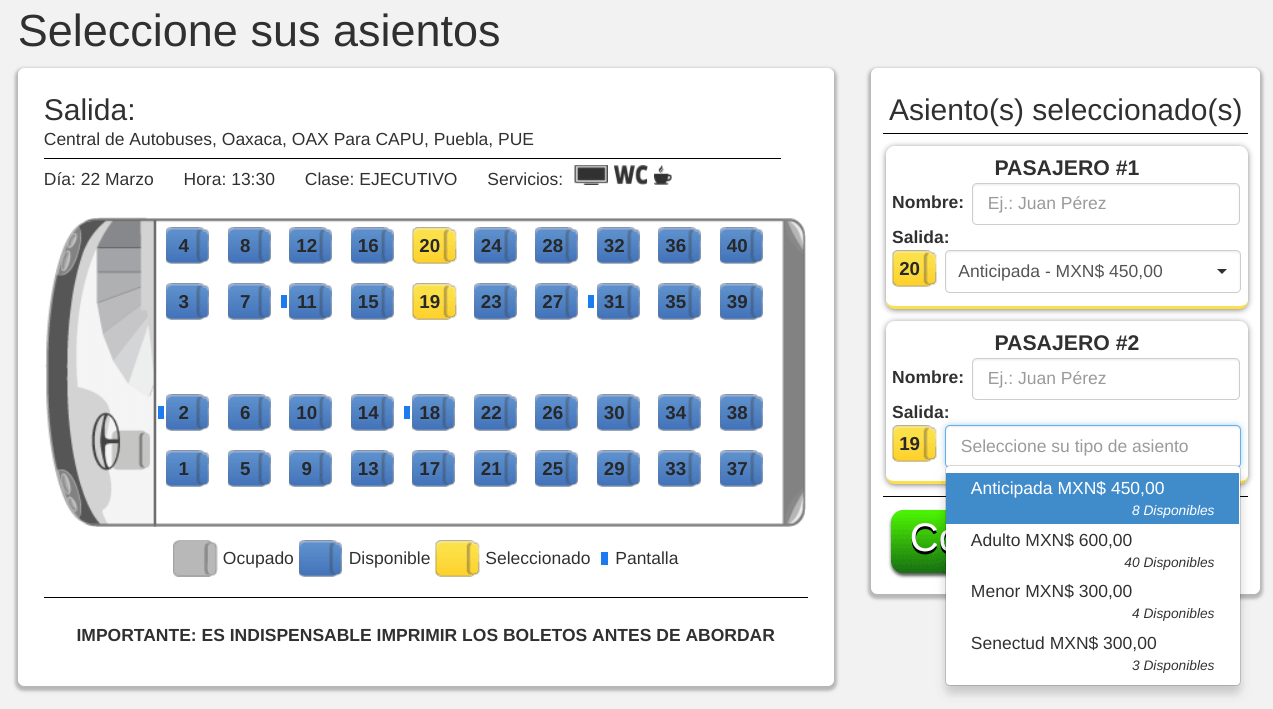 Because nothing's perfect, you'll notice at check-out that Clickbus adds a line item for "Taxes and Fees". That's how Clickbus is making money — these aren't government taxes (which are built into the ADO bus prices), they are agency fees. I actually don't have a problem with this concept since you'll still save money overall but it does add to your bottom line.
Save on Clickbus Ticketing Fees! At check-out, enter code cb-Reb6jlx to Aplicar Cupon and save 10%. That takes the sting out of those extra charges.

Note: The Clickbus form is buggy and it will not allow you to apply the discount until you've filled out your name, phone number, and email address.
After you pay, you'll receive an email from Clickbus and your ticket is attached as a PDF document. You have to print this PDF — without a paper copy of it, you will not be allowed to board.

If you don't have access to a printer, you can reserve buses/seats (and pay at the terminal) by using the ADO mobile app and choosing the option to pay at the terminal. You'll lose out on the advance booking discount, but you'll guarantee your preferred departure.
Clickbus is the best way to get cheap bus tickets in Mexico and pay with a credit card online.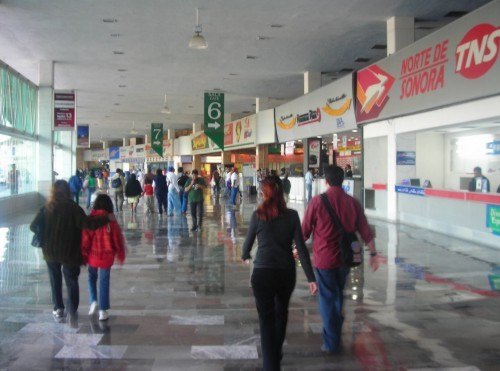 Some Extra Tips for Traveling by Bus in Mexico
Download something from Audible before your trip. Not all roads are smooth rides. On routes with mountain roads, potholes, or frequent speed bumps, I prefer listening to audiobooks instead of watching movies or reading, which can make me carsick.
Have cash on hand. Most Mexican bus stations are on the outside of town which makes it easier for buses to get on and off the highway quickly. You'll probably need a taxi into town (although some cities have Uber).
Always arrive at the station a little early. There can be a lot of departing buses which means it might take you a minute to get to the right spot, check your bags, and settle into your seat.
Keep Reading on sightDOING
* * *
This post contains affiliate links. I am a participant in the Amazon Services LLC Associates Program, an affiliate advertising program designed to provide a means for us to earn fees by linking to Amazon.com and affiliated sites.