This post may contain affiliate links. As an Amazon Associate I earn from qualifying purchases.
* * *
I've long known that holding elite status with an airline comes with a few perks, but I recently became aware that United Airlines has a few unpublished benefits as well. In appreciation for their "most important customers", United is scheduling Premier events around the country to go behind the scenes of your home airport. While I'm sure the exact schedule of events will vary by airport, the general premise is getting a chance to interact with United's staff and get a hands-on experience at an airport's operations.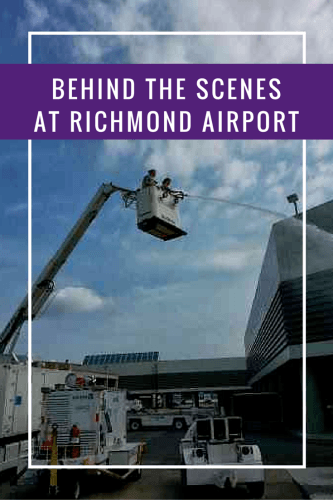 I am definitely not one of United's most important customers, but my friend Jordan was gracious enough to bring me along as his guest. Once at the airport, our day began with formal introductions to the friendly faces we see all the time at our airport.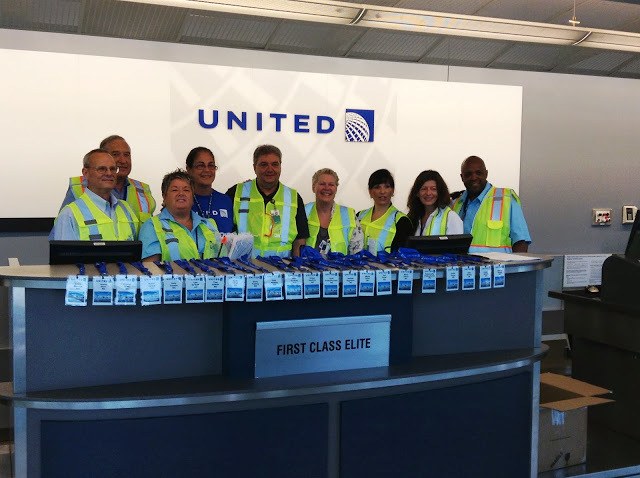 Afterwards, we divided into groups. Jordan and I would get a chance to "work a flight" first and then tour the airport afterwards.
First step: learn how to de-ice the planes…something I guess they didn't actually do on this July flight! This is a two-step process: first to apply a chemical deicing solution to actually remove the ice from the plane and then the wings and tail are covered with a second, anti-icing solution.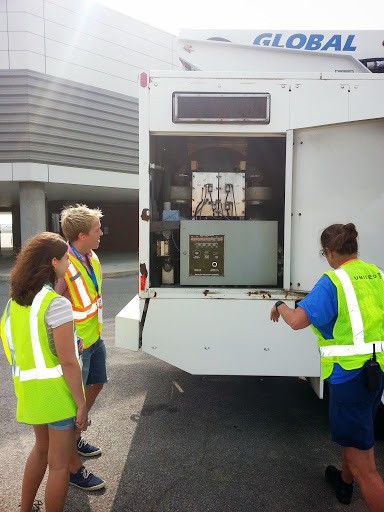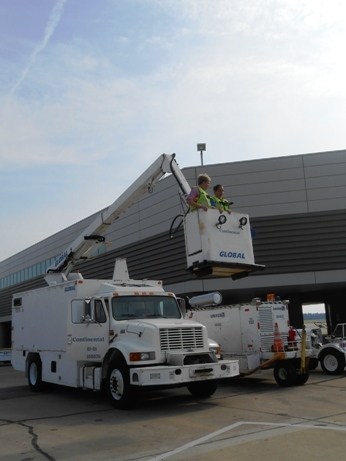 Once we had that down, we were able to drive the tugs that the airport uses for everything from towing airplanes to transporting your luggage. The staff were great and had even set up a mini-obstacle course from road cones to test your abilities.
Other aspects of working "our" incoming flight (a regional jet arriving from, and then departing to, Newark) included learning the hand motions to direct a plane into position, lining up the jetbridge, and unloading luggage.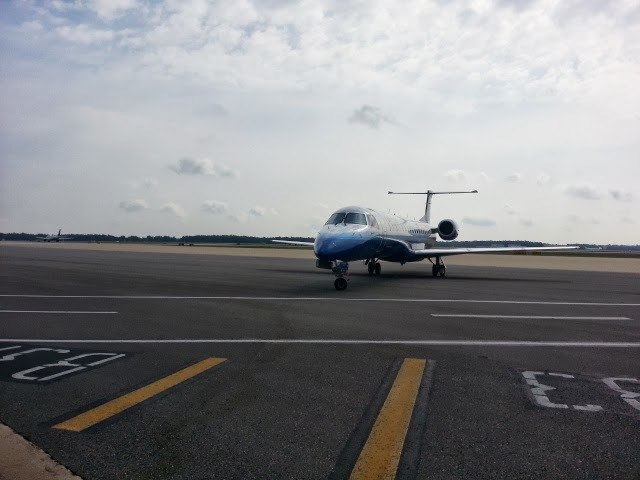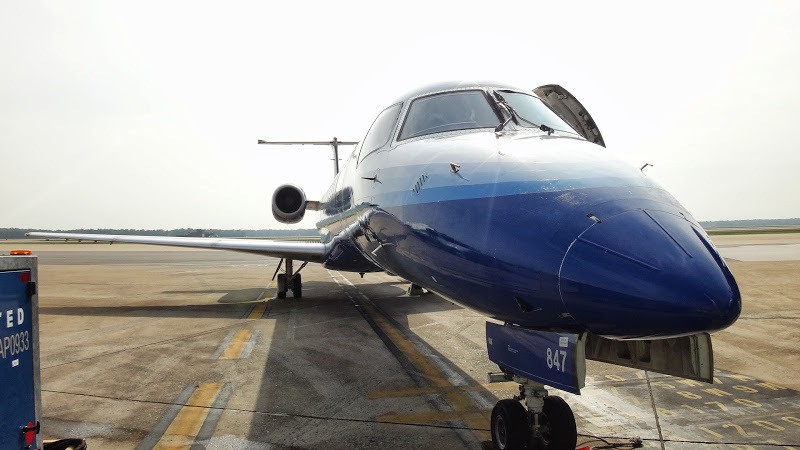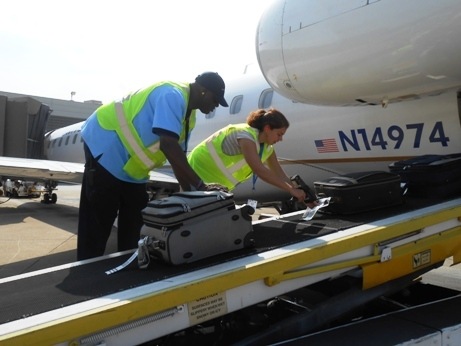 Once all the luggage and passengers were offboard, we turned right around to load the next flight. Making gate announcements and checking boarding passes is easy, but making sure you've got all the paperwork filled out correctly is just as important.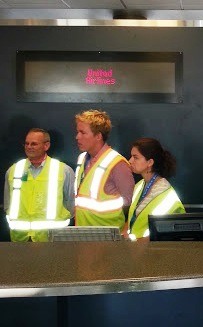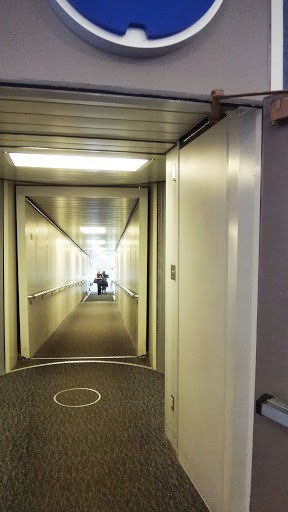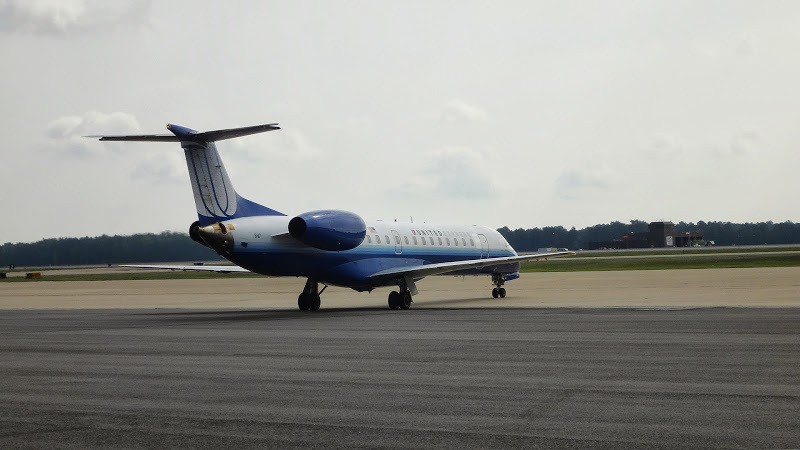 Once our airplane was back in the air, it was time to begin our behind-the-scenes tour. My favorite part of this was definitely the baggage area, simply because I had no idea it would be so big for our tiny little airport. We saw the ride your bags take once you check in and how it's sorted onto trucks to be loaded into your plane. Next time you fly, don't complain about that $25 bag fee: it takes time to get those bags transported properly!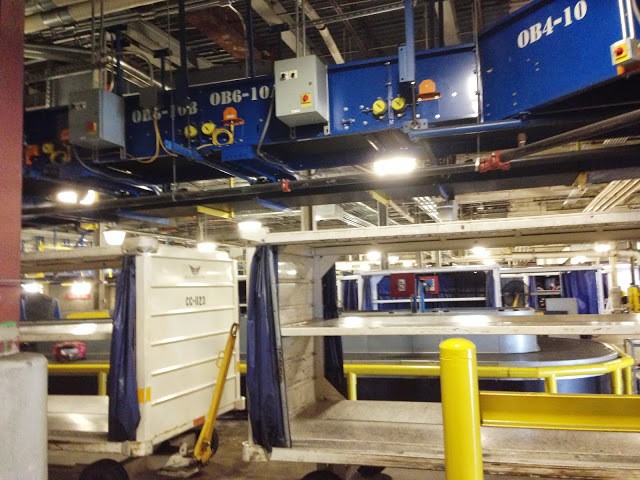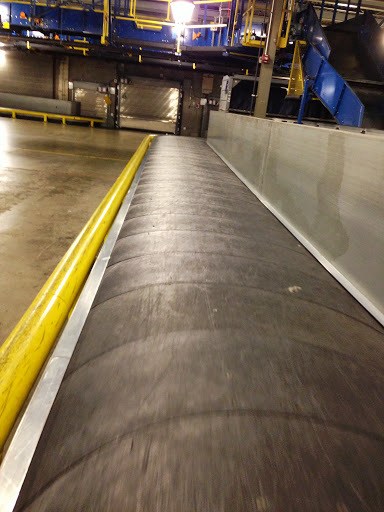 Other stops on our tour were in the lost and found, at the on-site fire department, and in the United back offices.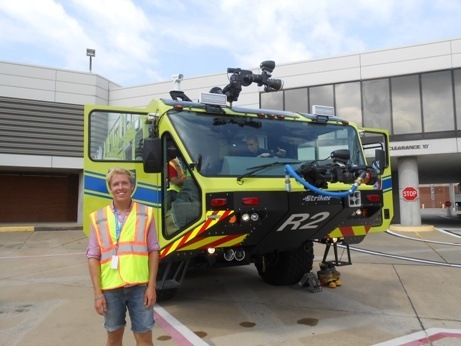 Additionally, we met with our local airport's managers, United supervisors, communications gurus, and staff from United's office in Chicago. We learned how fuel needs are calculated for each flight, why our airspace is a hotspot for NYC holding traffic, a few insider tips (i.e. due to weight restrictions, there are always open seats on the Houston nonstop, so you can spread out), and what happens to iPads when you leave them in your seatback pocket. Some of the candid discussions we had were just as interesting as the prepared experiences.
While I don't have a list of which airports are participating, I do know that United is trying to squeeze in roughly two airports a month for this type of event. If you hold status with United, you may want to check your junk mail or add them to your trusted senders list so you don't miss an email invitation if they make it your way.
Thanks again to Jordan for inviting me as his guest to this great event!