This post may contain affiliate links. As an Amazon Associate I earn from qualifying purchases.
* * *
In the middle of nowhere — and yet somewhere Mike and I have driven by countless times — is Virginia's old-school resort: The Homestead. The original lodge was built in 1766 and even though many things have changed since then, the century-old allure hasn't changed.
After five or six years of saying "maybe next time" whenever we drove through the Virginia Allegheny Mountains, I finally took the plunge and booked a nonrefundable rate. This is the resort's 250th anniversary and more special offers than I've seen in other years. I finally had the push I needed to check the item off my local bucket list.
Most people come for its grand dame status: the chandeliers, the impeccable service at dinner, the sweeping hallways, grand staircases, and feeling like you're hanging out with former presidents (22 have visited).
I was completely blown away by the resort. I loved that the decor made it feel unchanged from when Thomas Jefferson visited. I'm sure it's been refurbished many times over, but the fact that they've chosen carpets, drapes, and period decorations to keep the historical feel was a great touch. Service at check-in was flawless and our room was lovely.
But overall, my assumptions about the resort were far from the truth. The Homestead is billed as a luxury resort (and it's certainly priced as one) and I expected to find people sipping expensive cognacs by the fire and the valet line loaded with Rolls Royce owners.
Nope, this is a relaxed property through and through. It reminded me a lot of cruise ships, where 10 years ago everyone probably took the dress code seriously and was looking for a vacation where service is a step up. Then people realized vacation is fun and loosened up.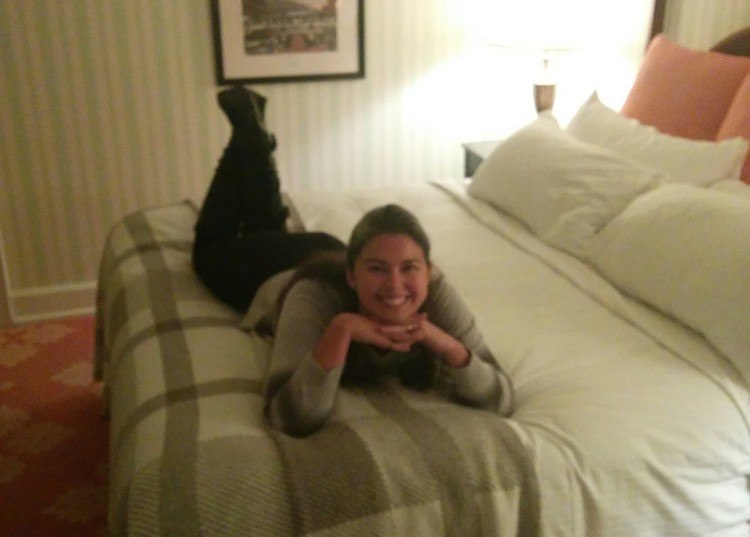 We booked a weekend in January, expecting time to sleep in and relax. I pictured my days sitting in the hot springs and reading books by a roaring fire. Indulging in afternoon tea…and yes, fresh-baked cake with a different flavor every single day in 2016.
Instead, I accidentally found myself at a resort perfect for sightDOING enthusiasts. Even in the heart of winter, there was way more to do than we had time for. The Homestead was Virginia's first ski resort, and even though I don't ski, I love snow tubing and general goofing off in the cold.
We tubed, threw snowballs at each other, ran through deserted fields, hiked on groomed trails, stuck our fingers in natural hot springs, wandered through mazes of hallways, read historical placards, cried a little when the kitchen tour was sold out, and then made up for it by ordering champagne.
And did I mention the ice skating?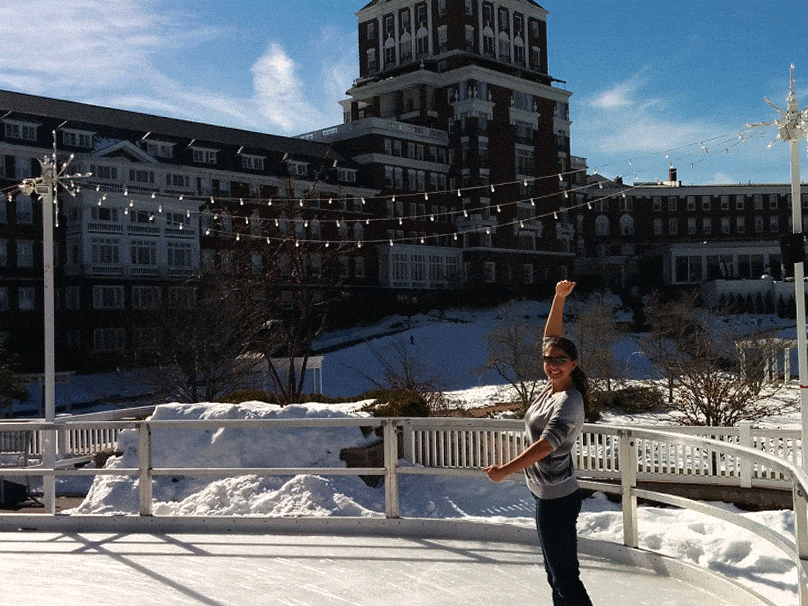 And when we got cold? Simple enough to float in the Jefferson Pools, a set of mineral springs just off-site (the hotel runs a shuttle). They were warm — not hot — but the health benefits of the naturally occurring minerals is thought to rejuvenate you.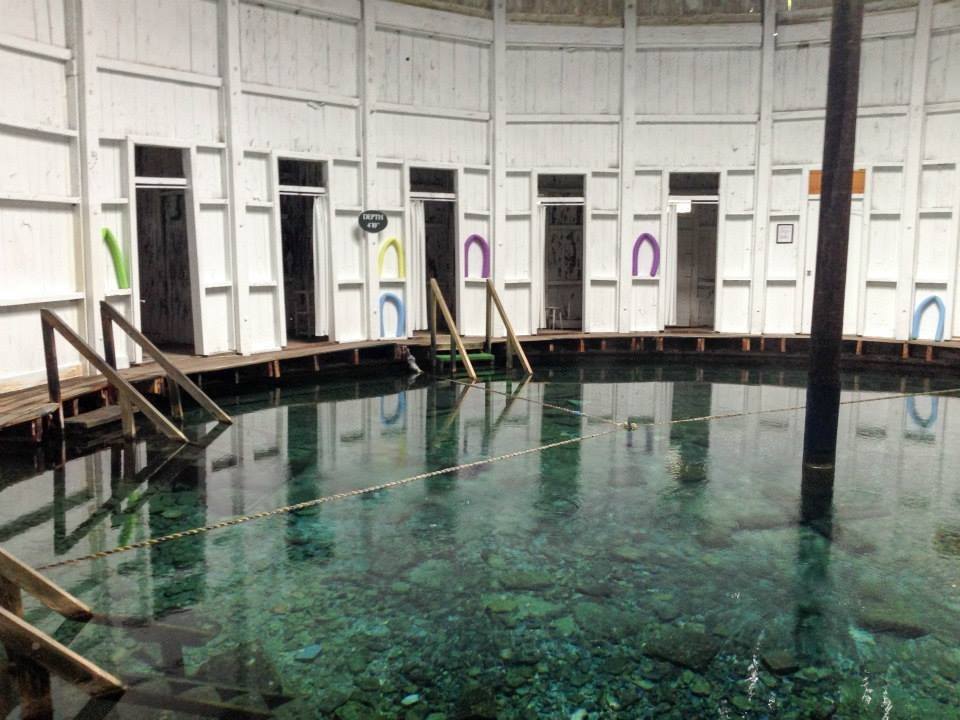 What I totally didn't expect was the daytime list of activities beyond their advertised activities. There was Bingo, cornhole tournaments, movie showings, make-your-own candles, historical talks, open hours at indoor and outdoor pools, and more. We didn't do anything — we just didn't have enough time.
We also missed out on the spa, though that had more to do with choosing to save on very expensive treatments so that we'd have money for a return visit. Although I loved all the winter sports, I want to come back for fly fishing, sporting clays, the water park, and summer fireworks. This is a resort that deserves a second (and totally different) visit.
If you go…
The Homestead is located in western Virginia, and is worth the drive if you're even remotely nearby. It makes a great stop before my favorite part of West Virginia and makes a lot of sense combined with lovely Charlottesville, VA as well.
This is a family friendly property — there may have been more kids than adults the weekend we were there — but it didn't impact our stay in a negative way, so I'd say it's great for couples as well. Do not expect perfect quiet and luxury, but I was glad it wasn't stuffy or ultra-reserved.
We got a steal on room rates by signing up for their email list (not all sales seem to be announced on the website). You might get a few bonuses by signing up for Omni Select Rewards ahead of time as well; we received a room upgrade and a fruit and cheese plate upon arrival. That said, expect to spend on food and activities on-site. Our very casual lunch was $55 and our dinner was about $175. Most prices are available online ahead of time, so at least you can make an informed plan.
* * *
Have you ever booked a resort specifically for the property activities? Share your story in the comments!