This post may contain affiliate links. As an Amazon Associate I earn from qualifying purchases.
* * *
The best part about roadtrips with my husband is that he lets me change plans on a whim. He didn't think twice when I told him I wanted to forfeit our hotel reservation in Detroit and skip over all of Ohio, getting to West Virginia three days earlier than planned. West Virginia is one of the places I know I will always love and appreciate and we needed a vacation that was a guaranteed "win".
There's a lot of the state to enjoy, but my favorite spots are all tucked into a modestly sized section.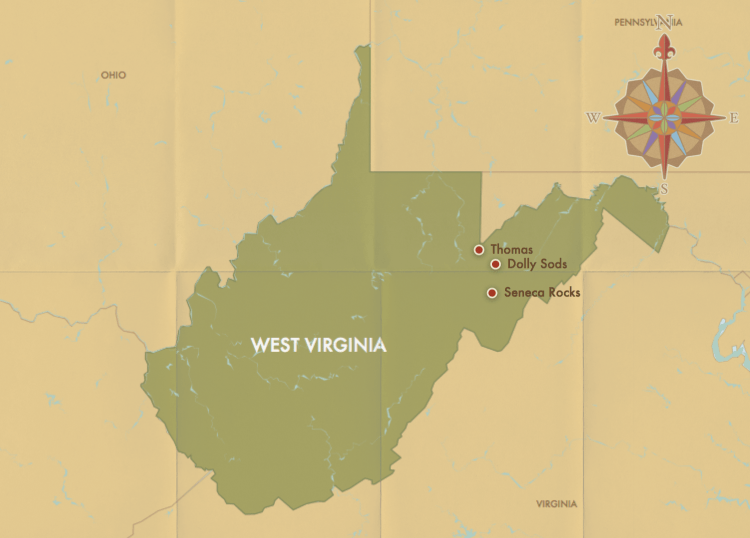 Seneca Rocks
Rock climbers flock to this area to scale the 900-foot rock faces above the North Fork River. There are multiple paths to the top, marked with dots showing the routes and difficulty, but you don't have to climb Seneca Rocks to enjoy the area.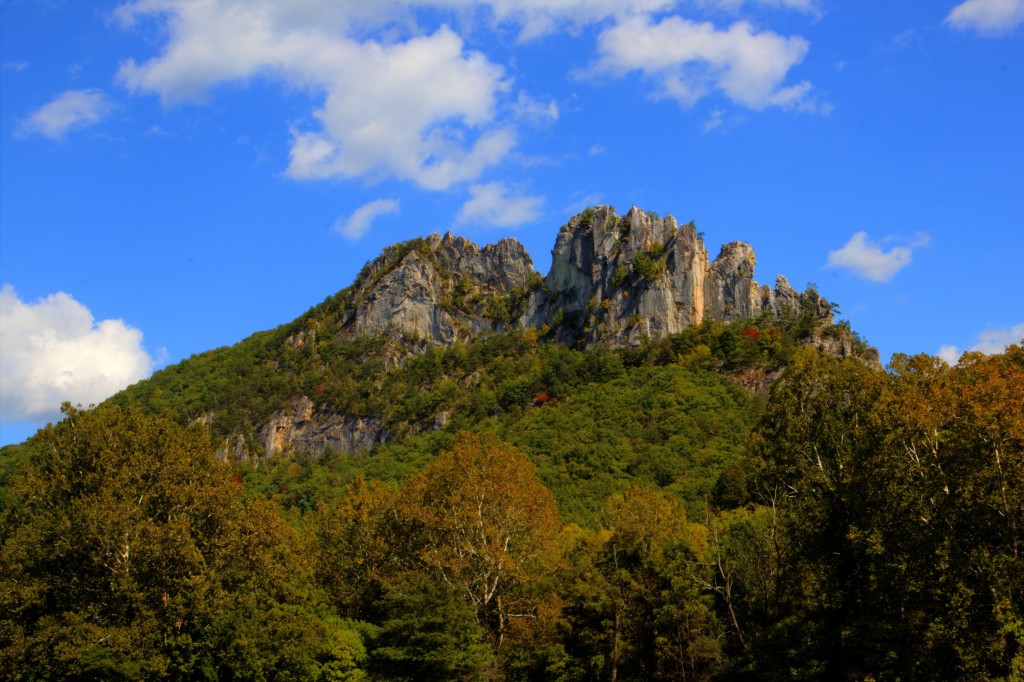 The main hike at Seneca Rocks leads consistently uphill, including sections of switchbacks and stairs, to an observation platform with gorgeous views. It's not terribly difficult and it's only 3 miles round-trip, unless you continue past the observation point. From here, it gets narrow, steep, and has long drop-offs on both sides (several people have died), so even though I wasn't hiking with Mike, I could hear his voice in my head saying, "Don't do it, Becky!" (I didn't).
Seneca Rocks backs up to the Spruce Knob-Seneca Rocks National Recreation Area (Spruce Knob is the highest point in West Virginia at 4861 feet), Monongahela National Forest, and the North Fork Mountain Trail, making it a great place for backpacking circuits and longer hikes. I haven't done any yet, but they are all on my wishlist for next year.
And yes, if you want to try rock climbing, there are several schools in the area or you can cheat like I did by doing the via ferrata at Nelson's Rock, where clips and cables make it possible to climb over 1000 feet even if you're a beginner.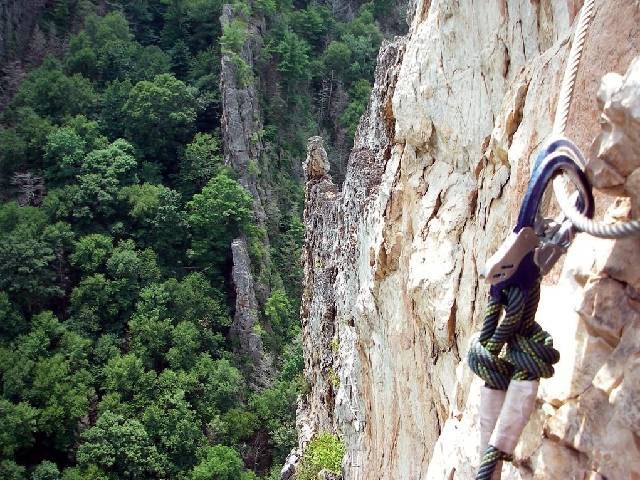 Still not convinced? Try fishing (mostly trout), canoeing, ziplining, geocaching, or just relaxing with a great view.
I've camped at Seneca Shadows campground twice, which has relatively private campsites for $20 and a meadow with great stargazing on clear nights. Plan for cool temperatures overnight — it was 27 degrees on my April overnight and around 40 when I was there last week (end of September).

If you don't have a tent, try nearby teepees or super cute log cabin rentals.
Dolly Sods
The harrowing weather at Dolly Sods narrows your opportunities for a visit, but it's precisely the weather that makes it so interesting. Near constant winds (of up to 100 miles per hour), heavy precipitation of 55 inches per year/150 inches of snow, and extreme low temperatures (down to -40 degrees Fahrenheit) make the area unpleasant.
Dolly Sods is on the highest plateau east of the Mississippi and it is a spectacular landscape like nowhere else I've ever been. It's desolate, rugged, and an incredible wilderness that shows the power of nature.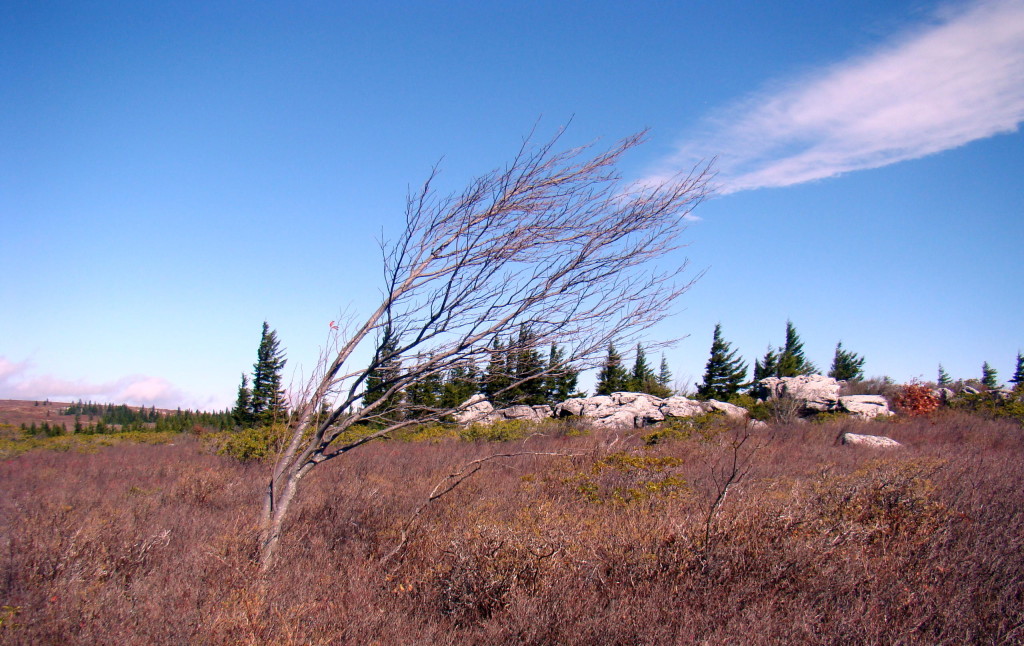 If you like backcountry camping, the area is ripe with opportunity with sections of bogs, grassy meadows, and great overlooks. If you're not a camper, this is not the place to start, but you can still enjoy a day hike, picnic, and the chance to view deer and lots of other wildlife. Dolly Sods is only about an hour from Seneca Rocks (it's also part of the Monongahela National Forest) and Thomas (below), so you could definitely include it as a day trip.
Call me a masochist, but I've been caught in windstorms, camped through downpours, and gotten completely lost off-trail in the dark and it just leaves me wanting to come back for more! That said, come prepared with rain gear, warm layers, and a GPS.

Oh, and if you find my camera off-trail where I lost it (and myself) for awhile, let me know. I think there were some fabulous photos on there.
Thomas
Thomas is a tiny mountain town, and I do mean tiny. There's only two or three blocks on the main drag and the population is right around 500. Thomas is great because it's the perfect place to stay to head to Dolly Sods for a day trip or to other places like Blackwater Falls State Park or Canaan Valley Ski Area. If you wanted, you could even get all the way to Seneca Rocks for a day (about 1.5 hours each way).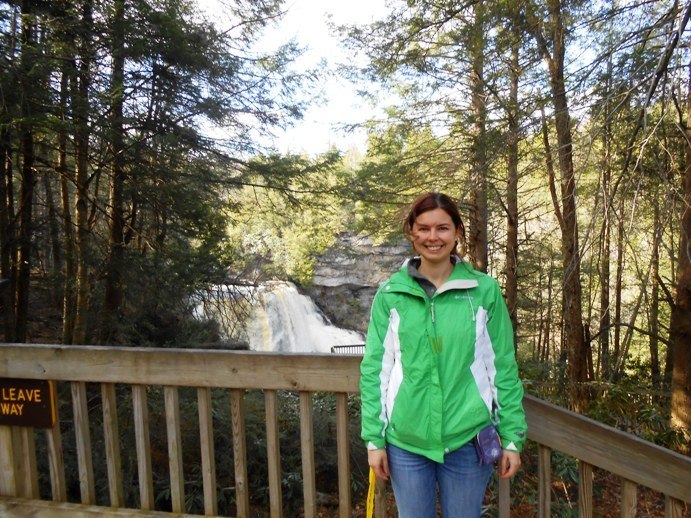 Thomas has just enough to keep you interested in combination with a full day outdoors. Shake off morning chills with a pour-over at Tip Top Coffee (just don't plan on getting in and out quickly) or get a full breakfast at Flying Pigs. At night, toast to your accomplishments with an "Almost Heaven" Amber at Mountain State Brewing, and catch live music at The Purple Fiddle.
Thomas is also a saving grace on a rainy day. There's not a ton to do, but there are a few antique and vintage clothing stores, a strange art gallery, and it's easy to strike up a conversation with locals.
I always do it backwards — coming into Thomas for the evening while staying somewhere else — but there are a few bed and breakfasts in town plus a hostel next door to The Purple Fiddle.
Wild and Wonderful West Virginia
We've been to other parts of West Virginia and I generally love it all, but there's something special tucked away in this part of the state. I'll be back, probably a few times a year, and I doubt I'll ever get sick of it.
* * *
Where in West Virginia have you traveled? Where should I check out next?