This post may contain affiliate links. As an Amazon Associate I earn from qualifying purchases.
* * *
I tend to fall victim to the mindset that travel has to be far away to "count", forgetting that sometimes there are wonderful attractions right in my own backyard. However, when life got in the way of my existing travel plans for last weekend, a "near-cation" became an incredible back-up plan.
For this particular experience, I didn't travel very far in distance at all, though I did travel a few hundred years in time…
Every December, Colonial Williamsburg hosts a Grand Illumination festival to celebrate the holiday season as they would historically. The event is a very big deal in this neck of the woods, and I finally managed to make it in 2012. In the 18th century, a special occasion was celebrated with musical performances, bonfires, and low-set fireworks. For Christmas in particular, buildings were decorated with wreaths, bow, and the lighting of candles in the windows or cupolas of buildings.
Today, the festivities have grown into an entire weekend of events with the grand finale occuring the first Sunday evening of December. Late afternoon transitions to a true event, with carolers walking down historic streets and characters dressed in period wear while providing entertainment on outdoor stages. A parade of fifers and drummers play the Grand Tattoo to signal an important event.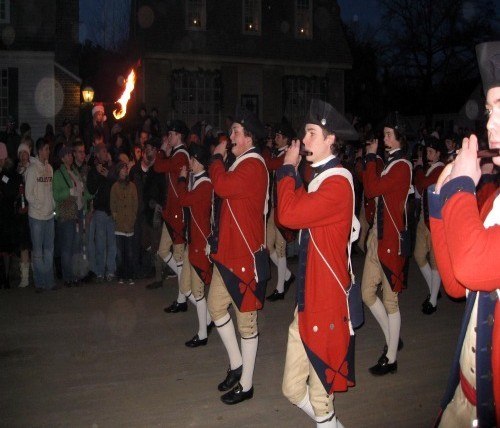 As the sun sets, candles are lit in both public buildings and private homes and torches ("bonfires") are lit along streets and in public squares. Cressets light up market stands for a colonial version of Christmas Markets, including souvenirs, handmade gifts, cookies, cider, and cocoa for purchase.
The night ends with a huge fireworks performance. Similar to the 18th century, fireworks are set off low in the sky, giving everyone a spectacular show. Today, they are set off from three different locations, lighting up the sky tremendously. As a helpful hint, all three shows are identical and simultaneous, so you won't miss out by choosing your preferred location.
No, Williamsburg may not be a draw for skiiers or beach bums, the typical December getaways, but it is well worth a visit. Round out your weekend with a tour through Colonial Williamsburg's living history buildings, the other historic areas of Jamestown and Yorktown, Busch Garden's Christmas Town, plenty of shopping and more. If 2013's weather is as nice as this year's was, you may even find yourself outside golfing!
If you're interested, mark your calendar for December 4, 2016 and check for an official date on the 2017 Williamsburg Grand Illumination beginning in August of next year. Williamsburg is closest to the Newport News airport, but Richmond and Norfolk are also viable options at about an hour drive away. Washington Dulles is the nearest international airport, and at roughly 3-hours driving time, may make more sense than connecting into a smaller airport.