This post may contain affiliate links. As an Amazon Associate I earn from qualifying purchases.
* * *
The first time I went to Spain, I included Madrid as part of my plans because the guidebooks said it was a must, not because I wanted to go there. I did a fair amount of reading on the city and came up with exactly one thing I wanted to see there (Palacio Real de Madrid), and yet came to the conclusion that a few days in Madrid was still worthwhile because everyone else liked the city so much.
Unfortunately, while I was there, I found that Madrid was just not the most interesting place for me to visit, though I tried to make the most of my time there anyway. However, when 2012 rolled around and my husband requested a one night stopover in Madrid, I decided it was only fair to give Madrid a second chance.
I went into this second visit with a whole different outlook. This time, I decided not to force my visit in Madrid to fit my top interests and instead I'd focus on what Madrid does best: food, drink, and nightlife. Officially, our original plans also included a Real Madrid futbol game, but the combination of a flight delay, sheer exhaustion from running ourselves ragged in Morocco, and my husband's unfortunately-timed illness meant we squeezed in an afternoon siesta rather than a soccer game.
After a rest, snack, and some time to get fashionably dolled up, we headed out for the evening. It was still early – by Madrileno standards, at least – so our first stop was to the Christmas markets.
I've wanted to visit European Christmas markets ever since I realized they existed, and this was a great opportunity to see one of Spain's. Unfortunately, I was underwhelmed, expecting more of the traditional offerings and less of the tacky made-in-China trinkets bombarding us everywhere. We browsed for less time than I anticipated and I'm glad we went to check it out, but I personally wouldn't return.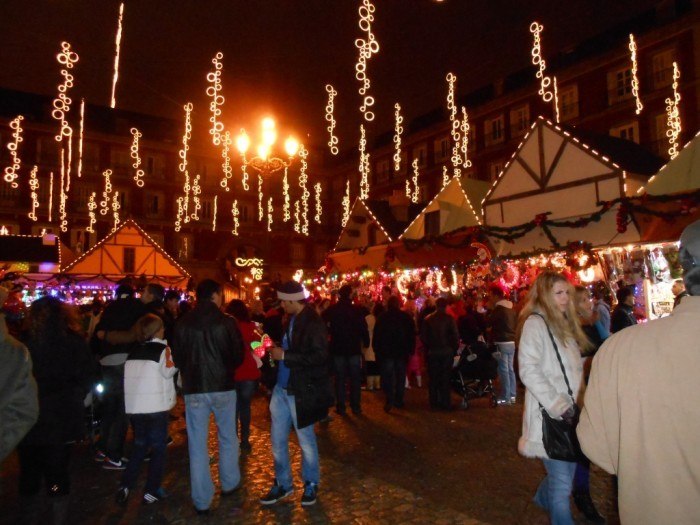 The rest of the evening was spent wining and dining, something I'm quite fond of doing. We stuffed ourselves silly on a tapas crawl and I can honestly say that it was a fun night. However, I left Madrid still feeling underwhelmed. It was nice, but not special. I made my stopover into a good one, but looking back, I can't say that Madrid improved the quality of my overall vacation or provided a meaningful experience.
Madrid falls onto my list of "one-day wonders": places I'm grateful I've visited briefly, but not places that I feel deserve much of my time. Millions of people love Madrid for various reasons and there's a really good chance you'd love it as well…but it wasn't a good fit for me. It's important to travel the way you want to: you'll never be able to see and experience the whole world, so it's best to pick the places that will resonate most with you.
Have you ever gone on vacation somewhere solely because it was recommended? What was the outcome?