This post may contain affiliate links. As an Amazon Associate I earn from qualifying purchases.
* * *
For the most part, group tours are boring. I have no interest in paying a premium to drive by monuments, visit a museum or two, and take a generic walking tour of a world capital. I can do that on my own — or most likely, I'll skip it and do something that better fits my interests.
The one tour that caught my interest enough to participate is truly one-of-a-kind: Competitours. It's marketed as "The Amazing Race for regular people" and sure enough, there are a lot of similarities to the TV competition.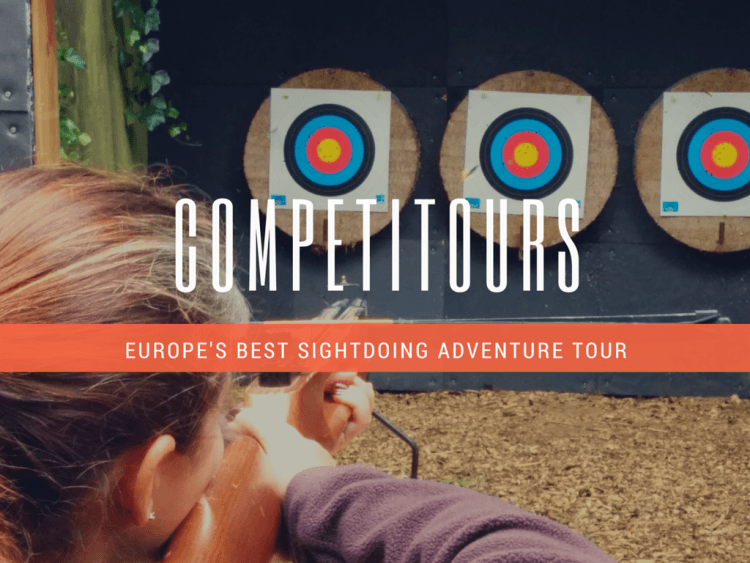 You and a partner will head to undisclosed mystery locations in Europe to complete unique challenges, earn points, and maybe earn prizes. And while I don't care about winning, I do care about sightDOING and this tour has LOTS of it. Among other things, I tried fencing in Maastricht (home to the Three Musketeers), made Belgian chocolate in Brussels, and even turned eating into an "activity" by dining in the dark to simulate blindness.
Every year's trip is different, so what I did has no bearing on what this year's participants will do. You may or may not go to some of the same cities and you may or may not do similar activities. Take a peak at what the 2015 trip did:
What I do know is that you'll have a good time — and that the activities are structured to encourage camaraderie across teams. I still keep in touch with several trip participants from my 2014 competition and you just might end up with a new friend!
The manager and tour leader, Steve, runs just one tour per summer and this year's trip is scheduled for June 25 – July 5. I can't go because I'll be in the midst of my own European adventure, but there are still spots for YOU to join! Full details are available online, but you're welcome to ask me any questions you have 🙂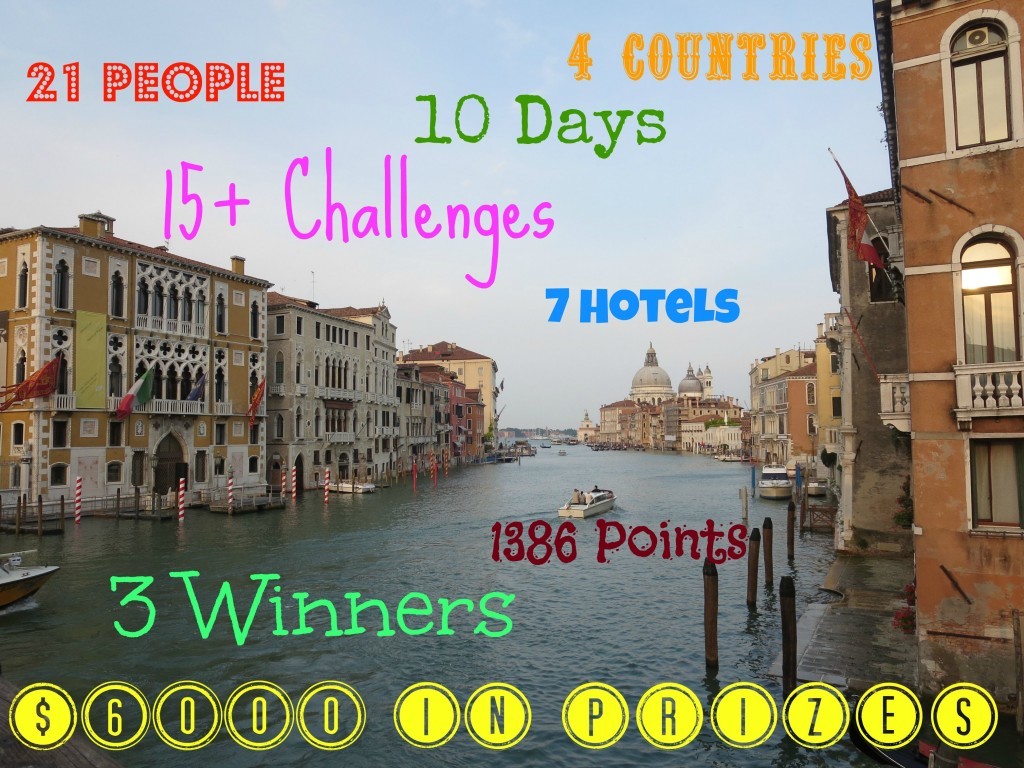 Top 7 Tips for Joining Competitours
Embrace the Spontaneity and Mystery: When you find out you're headed to Rome (or wherever it is you're headed), don't expect to see the Colosseum because you might not have time. Enjoy the activities that are scheduled — and plan a return trip to see city highlights on your own.
Arrive Early and Depart Late: If at all possible, plan on arriving a day early and staying an extra day at the end. The tour is great value because there are so many included activities, but you won't have much free time for rest, relaxation, or city sightseeing. Add time for yourself!
Pay for Premium Data on Your Phone: Some challenges will require you to have Google Maps on your phone and others require you to upload video of your participation. Wi-Fi isn't always available, and even T-Mobile's FREE international data isn't always fast enough. Buy a local SIM card or pay for upgraded coverage.
Get to Know Your Fellow Competitouristas Ahead of Time: Before my trip, Steve set up an online message board to communicate with the other participants, which is a GREAT way to feel like you aren't traveling with strangers.
Don't Expect to Win: You'll have a better time on the trip if you set your expectations that this is a great vacation with lots of unique experiences and activities rather than getting frustrated if you're not in the lead.
Look for (Almost Free) Airfare: Competitours isn't cheap, especially if you're used to budget travel. Instead, focus on value travel: you'll literally receive access to activities you could never arrange independently. Save on the bottom line by redeeming frequent flyer miles, like those from my favorite credit card. If you need help, fill out a request at Book Your Award and Steve and I will help!
Read More About My Experience With Competitours
Making gelato in Sorrento, Italy!

Going Beyond the Guidebook With Competitours

Europe has a lot of iconic experiences, and Competitours does a great job incorporating those in a more interactive way, like making gelato instead of just eating it!

Chartered buses instead of navigating on your own makes Competitours easier than the TV competition.

Is Competitours Better Than the Amazing Race?

Well, I think so — but find out why this group tour is superior, even if there isn't a million dollars waiting for you at the end.

It's about the journey, not the destination.

Stepping Out of My Comfort Zone With Competitours

I love to plan and I love control. Neither is possible with Competitours, so if you're "Type A" check this out and see if you'll still enjoy the trip (hint: I did).

Flying from Cologne to Zurich with Competitours – a good way to cover a lot of ground.

3 Merits of Rapid Travel

Competitours travels faster than I usually do on my own. Find out why it works really well in Europe!

Team bonding is one thing Competitours does best

Europe With a Twist, In Case You've "Been There, Done That"

NEW for the 2018/2019 season are some revamps to make Competitours even better! Check it out and if you've been putting off the trip, this is the year to go.

Ghent, Belgium – a town I didn't plan on visiting but ended up loving.

Why You Should Go to Ghent

Ghent was the first city we visited with Competitours, and it's one I wouldn't have discovered on my own otherwise. I loved it — find out why I was surprised.

Looking down from the via ferrata course.

The Day a Mountain Strengthened My Relationship

One of our challenges was a via ferrata (assisted rock climb) in Switzerland. Since Mike's afraid of heights, this helped us reach new heights in our relationship.

Receiving instructions on our next dance moves.

"Dancing" the Tarantella in Sorrento

Proof of those otherwise inaccessible activities, part of our competition was learning folk dances from a famous dance troupe on the Amalfi Coast of Italy.

Don't mess with me. I know how to use a net.

Learning Gladiator Secrets in Rome

We spent about half our trip in Italy, but traveled to several cities, including Rome. Here, instead of seeing the Colosseum, we lived it by being gladiators for the day.

My completed project!

Preparing for Il Carnevale di Venezia — in June!

We did several activities in Venice, including glassblowing on Murano and a scavenger hunt on Burano, but my favorite was making Venetian masks!
If you're looking for the ultimate summer vacation through Europe, Competitours is the only group tour I recommend. Get more information online and when you sign up, say you found out from Becky. Maybe Steve will give you a few bonus points toward the grand prize!
* * *
I have no financial interest in Competitours, but I had a great time and wanted to share a sightDOING option with you! In the interest of full disclosure, I work with the owner at a totally unrelated business and have traveled with him extensively through Nepal, Laos, and Thailand.
This post contains affiliate links (but not to Competitours itself). Thanks for your support if you make a purchase on my recommended travel products.