This post may contain affiliate links. As an Amazon Associate I earn from qualifying purchases.
* * *
Everyone raves about the beauty of Switzerland, but few talk about the adrenaline rush. Travelers save stories of epic mountain adventures for destinations like New Zealand, Patagonia, and the Himalayas. For some reason, Switzerland is left out from a worthy conversation on alpine excitement and instead is known for its (equally worthy) scenic train rides, downhill skiing, and expensive pricing.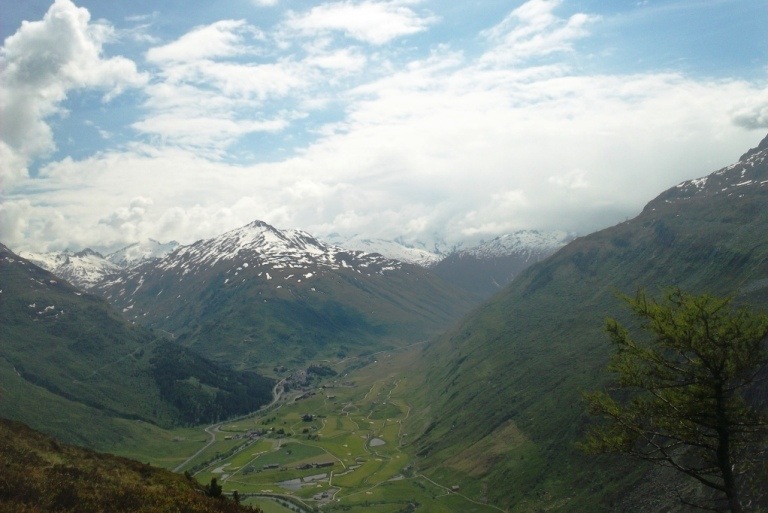 I'm hear to set the story straight: there is at least one remarkable activity in Switzerland that has nothing to do with trains, snow, or pricetags.
Setting off with half of my Competitours group, I arrived at the face of the Via Ferrata Diavolo, the "Devil's Iron Way". A via ferrata is essentially a series of iron rungs installed on the side of a mountain — in this case, an Alp outside of Andermatt, Switzerland — so that you can mountaineer your way upward without needing extensive rock-climbing or belaying equipment. I'd completed a similar course in West Virginia, but I was truly looking forward to this one and another chance to climb a vertical rock face for great views.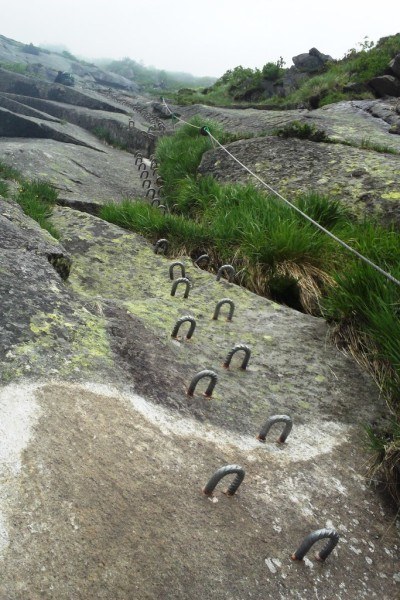 My husband, on the other hand, was terrified.
Mike's not fond of heights to begin with and especially not comfortable with them when the only thing separating you from a free fall is two carabiners and the guidance and instruction of a man who completed the course only once before. Still, Competitours is first and foremost a competition, and Mike was determined to give us a fair shot at winning by attempting the day's challenge.
And so we set off.
Mike made a mad dash for things because "the sooner you finish, the sooner it's over." I applauded him as he faced his fear, passing the 100-meter mark. I followed quickly, enjoying every step and monkey climb I made. Every once in awhile, I tempted fate by letting go with both hands and hanging from my carabiners or by trying to round a corner that looked impossible.
For roughly half the climb, this is how we scaled the course: him, frightened and trying to get it over with; me, enjoying every possible moment.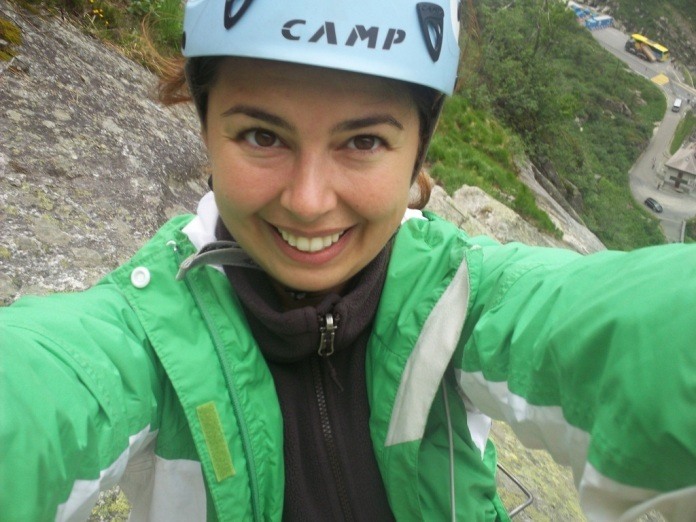 It was at the halfway point that all hell broke loose.
It started to rain and the mountainside was slippery. We were hungry and thirsty, plus chilled to the bone from the sweat clinging to our boddies. For an unhappy climber, it was enough to change the situation from miserable to unbearable. After four years of marriage, I finally put two and two together: Mike didn't just have a distaste for heights, he had an intense phobia. And he was persevering through an incredibly traumatic experience for our benefit as a team. As I was enjoying the scenery below, my husband was flat as a pancake against the rock wall, willing with all his might for this activity to be over.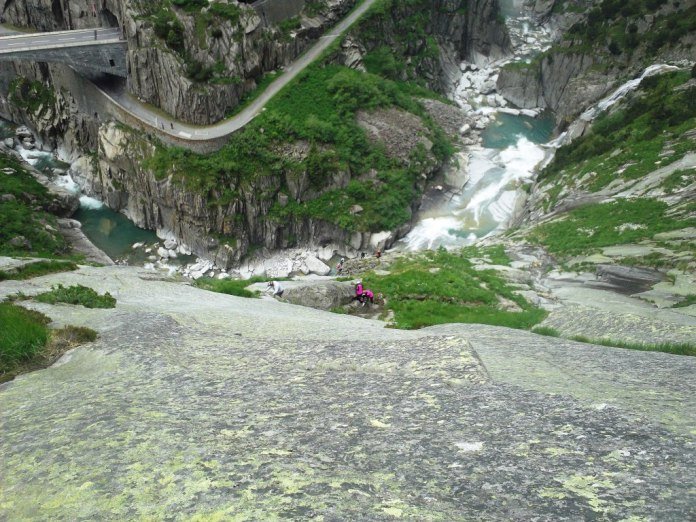 From then on, we continued together, clipping carabiners in unison. Sharing words of encouragement and, at times, physical help at unclipping and re-clipping to move upward, we kept going.
There was nowhere to go but up, and we were bound and determined to finish together. Each horizontal traverse was the worst, since you had to focus more on technical movements and foot placement rather than climbing a pseudo-ladder. You had to keep your eyes open and your mind focused without the distraction of quick movements. Rounding a corner was even more extreme as it was nearly impossible to have both hands on iron rungs at the same time.
Eventually I could see the Swiss flag waving in the distance, the end of the course within sight. My husband didn't even acknowledge my announcement that we were nearly done. For him, it wasn't over until it was over.
Finally, we reached solid ground and the sense of security again. We could sit, catch our breath, and think about what we just accomplished. It wasn't a pretty feat, but it was teamwork at its finest. Here, on our annual "honeymoon", we renewed our vows to each other without speaking a word. Through thick and thin, we'd get each other through this and every other challenge life throws our way.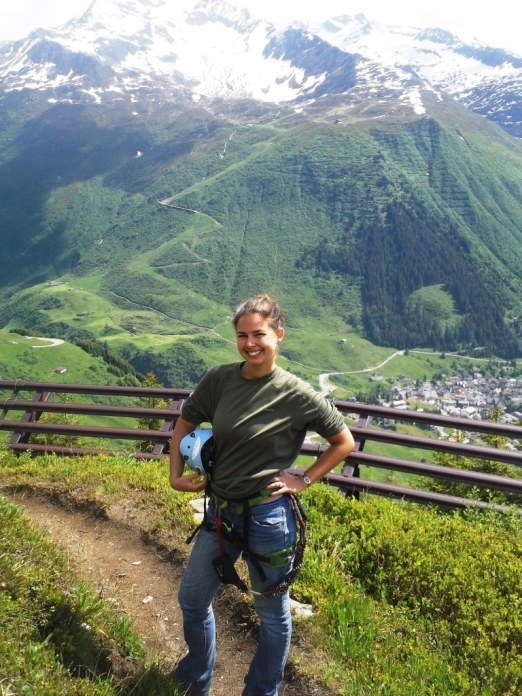 Sitting through the silence, the clouds broke and the view began to clear. We could see the fairytale town of Andermatt below us, a pleasant reminder of where we started and why people choose this course. After all, the scenery in Switzerland is phenomenal.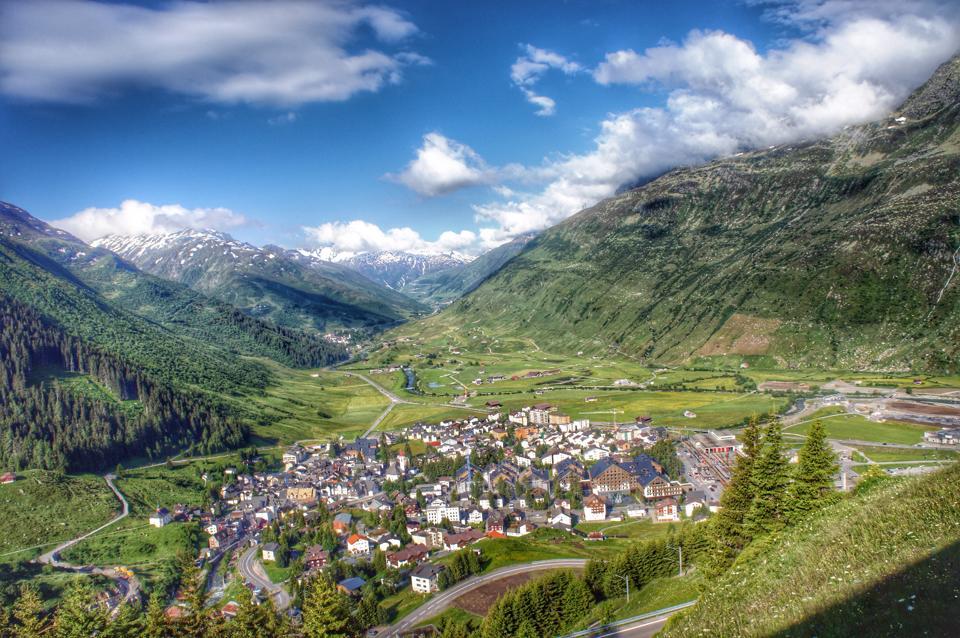 * * *
Want to learn more about the Via Ferrata? Fellow Competitourista Laura of Far Flung Travels made an incredible video of what it's like to climb the course. Check it out on Youtube!
* * *
We completed the Via Ferrata Diavolo while on tour of Europe with Competitours, a fabulous group vacation of challenges, mystery destinations, and the chance to win prizes. However, if you're in Andermatt on your own and want to try the via ferrata, you can rent equipment for the half-day excursion and get information from Alpina Sport.