This post may contain affiliate links. As an Amazon Associate I earn from qualifying purchases.
* * *
Think back to your first trip to Europe: where did you go? what did you do? and what do you remember most vividly? If your trip was anything like mine, the focus was on being able to say "been there, done that" instead of creating lasting memories. I simply followed the guidebook's recommendations, enjoyed a few moments thoroughly, and came home wondering why on earth I chased down a statue of a naked boy peeing in Brussels.
Ever since, my travels have migrated more and more toward experiential travel since I've learned that the memories I recall most fondly are from being involved with new activities or a local way of trying something…and even failing miserably, at times. That's the reason Competitours appealed to me: it might be a group tour, but it certainly doesn't do stick to what's traditionally recommended in a guidebook. Don't believe me? Just check out a little of what we did.
Brussels Guidebook Recommendation: Buy chocolate.
Competitours Challenge: Hold a chocolate war.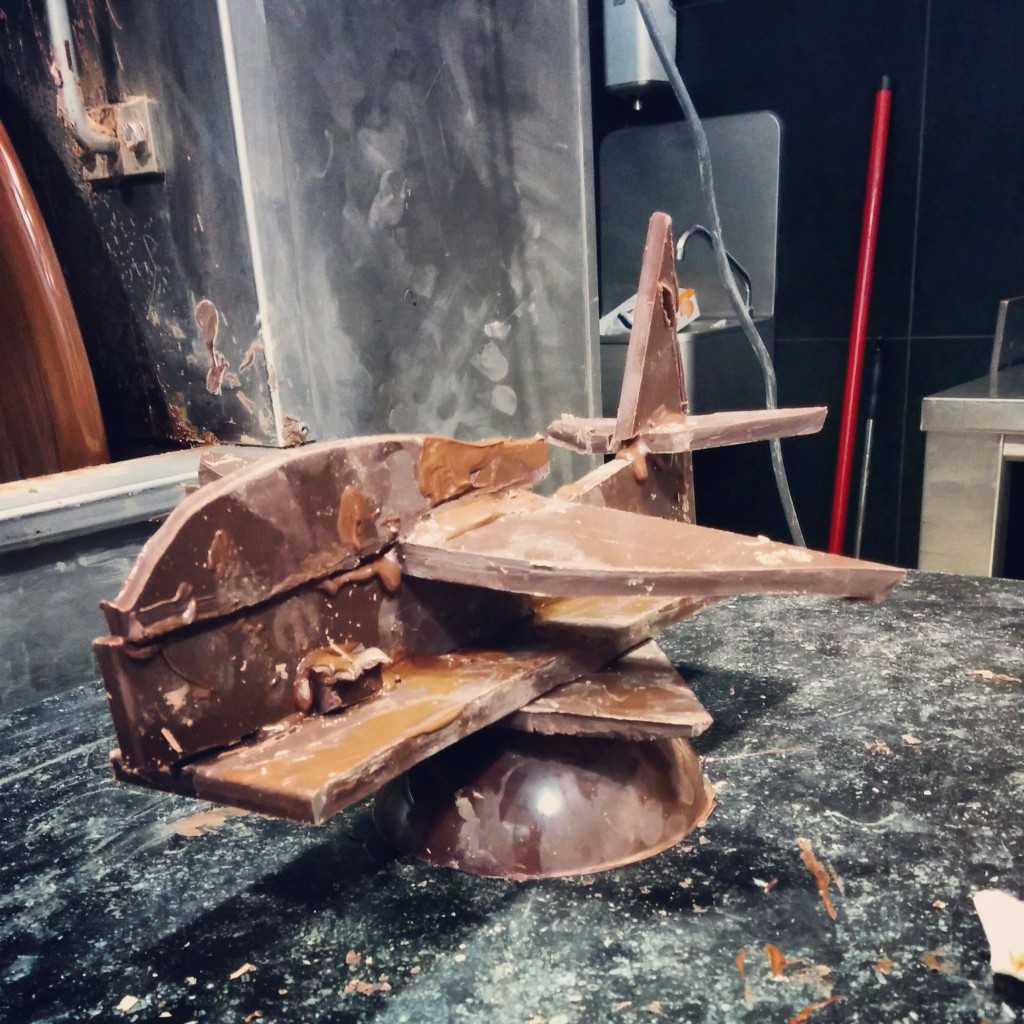 Belgian chocolate is delicious, but you can only eat so much of it before you get sick (trust me, I tried). While you might have some fun popping into one store after another to buy a few treats, that'll hardly make a good story to come back and tell at the office. We spent an entire day at a famous chocolatier in Brussels learning about how chocolate is made, designing chocolate shapes, creating chocolate sculptures, filling molds, and guessing truffle fillings. Of course, everything became a competition and I'm happy to say my team did quite well in this delicious battle.
Switzerland Guidebook Recommendation: Oooh and ahhh over the Swiss Alps.
Competitours Challenge: Race down the mountain in an alpine coaster.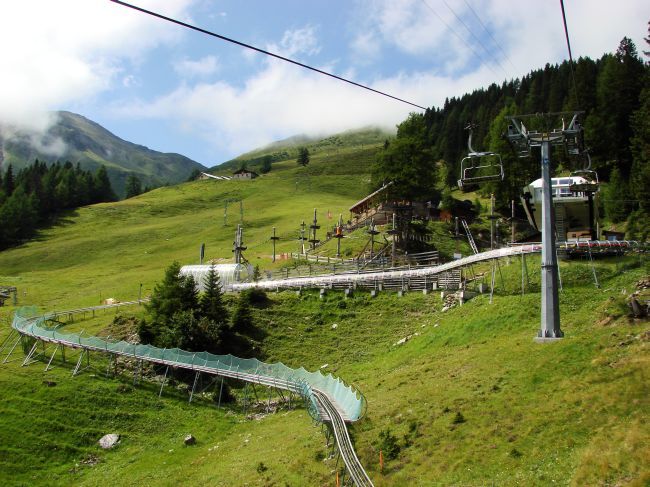 There is no bad way to experience the Alps, and I loved having the chance to enjoy the scenery from our group's private train car and from the top of a via ferrata course, but riding down the mountains on an alpine coaster is a screaming good time. Barely buckled into a car and having control of your own speed, would you dare to accelerate a little more or would you brake for the curves? I'm still not sure if it's possible to fly off the track, but it sure felt like it. My record was 4:07 to the bottom, but you can bet I took the ski lift back up a few more times to try and beat the 3:57 record.
Rome Guidebook Recommendation: Imagine history at the Colosseum.
Competitours Challenge: Become a gladiator for the day.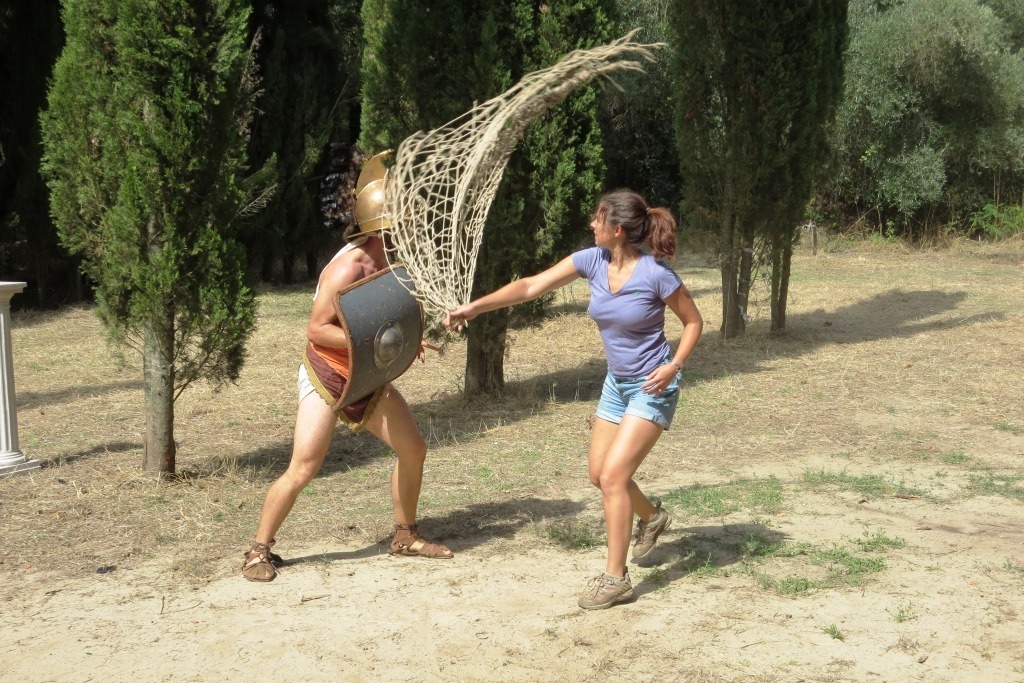 When I first heard we were going to do a gladiator challenge, I was not impressed. Who wants to dress up in Roman armor and fight to the death? Once we actually got to a local park in Rome, though, I really got into it. We tried our hand at sword-fighting, spear-throwing, capturing our opponent in a net, and attempting to dress in full gladiator gear (it's not easy to put it on correctly). Once victorious, we celebrated with an ancient wine recipe and other traditional foods. I'm happy to report no tourists were harmed in this competition.
Murano Guidebook Recommendation: Visit a glass-blowing studio.
Competitours Challenge: Sculpt a glass fish. Without instruction.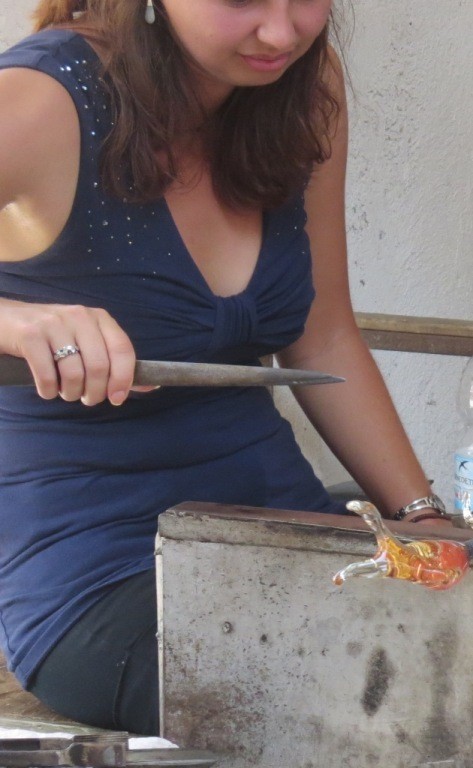 Silly me, I thought that because I learned some basic glassblowing at the Corning Museum of Glass that I'd be a natural on Murano, an island near Venice known for it's long history (and expertise) in glassblowing. Instead, I discovered that letting my ego get the better of me just made things harder. After several attempts, I still had almost nothing to show for my work. Regardless, I had a great time — and luckily did much better at blowing glass bubbles and making glass mosaics at the same studio.
I wasn't great at everything, but I had fun every single day on this trip and will remember this trip to Europe for the things I experienced (and a few that I accomplished). Besides, I think I ended up with some pretty good stories to share at the water cooler, don't you think?
* * *
These experiences — and more! — were made possible through my trip to Europe with Competitours. If you're interested in experiencing Europe through activities and friendly competition, start thinking about joining 2016's trip (tell Steve I sent you!).
Although I partnered with Competitours for my trip to Europe, I was not required, nor paid, to write this blog post.