This post may contain affiliate links. As an Amazon Associate I earn from qualifying purchases.
* * *
I'm always looking for great weekend getaways, and I've got a stockpile of bookmarked websites for inspiration. Often, these bookmarks get buried under more recent findings, but I brushed off my plans for Fallingwater after I saw Travel Bug Diary mention it in her 2012 travel highlights. The trip started to piece itself together further after Budget Travel highlighted a few nearby state parks to complete my weekend.
I had grand intentions for this trip, some of which will have to wait for later. My original plan was to leave Friday at 5pm for the drive up to Ohiopyle, PA so I'd have time to bike part of the Great Allegheny Passage. Unfortunately, a combination of being stuck at work late, rainstorms, and a tornado watch delayed my departure by about 12 hours. No bike ride for me this time, but it did look fantastic if you're in the area. Instead, my first stop was into the Laurel Highlands, still a bit dark and gloomy.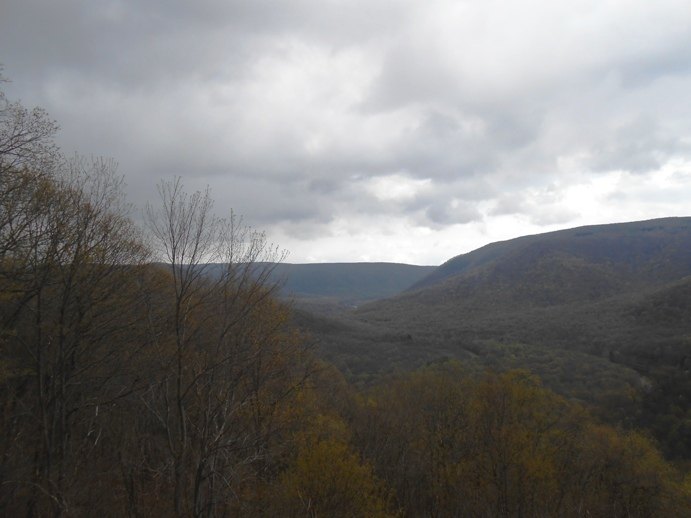 From there, just a bit south was the grand attraction of the weekend: Fallingwater. This Frank Lloyd Wright masterpiece is one of his most famous, and rightly so. The building itself is genius and the setting is beautiful, even on an ugly spring day.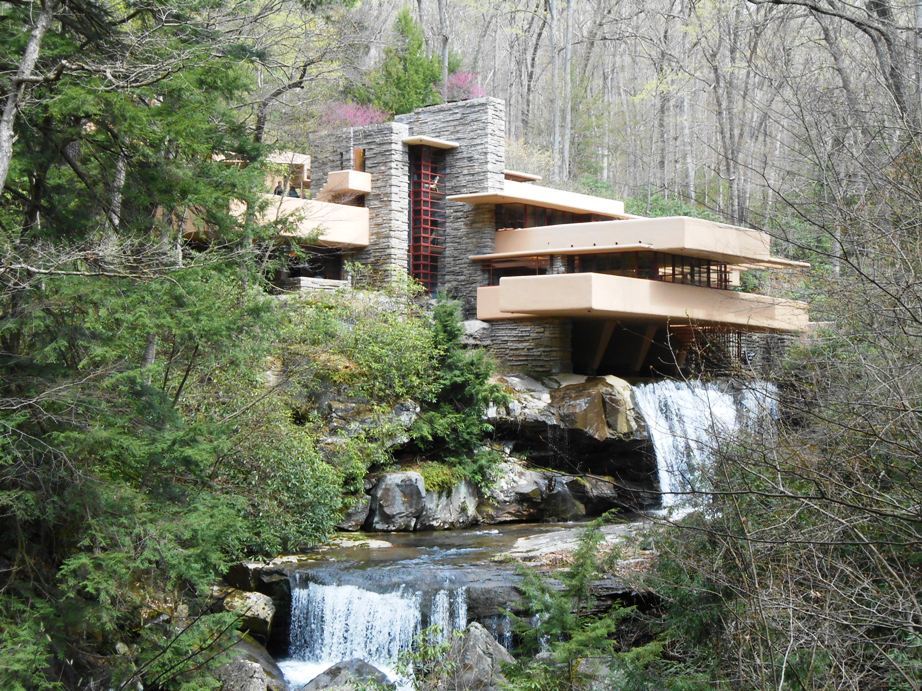 Entry into the home is only allowed with a guided tour. I debated for awhile whether to choose the standard tour (about an hour) or the in-depth tour (two hours) and in the end, chose a standard tour. I had hoped to use the time saved for additional hiking in the area, though in the end would have had time for either one. Still, the standard tour covered a lot of information and for first-time FLW tourists, I think you'll still be impressed. The surrounding grounds are also quite scenic, and most visitors don't bother to take the 10-15 minute walk (one-way) up to a scenic viewpoint.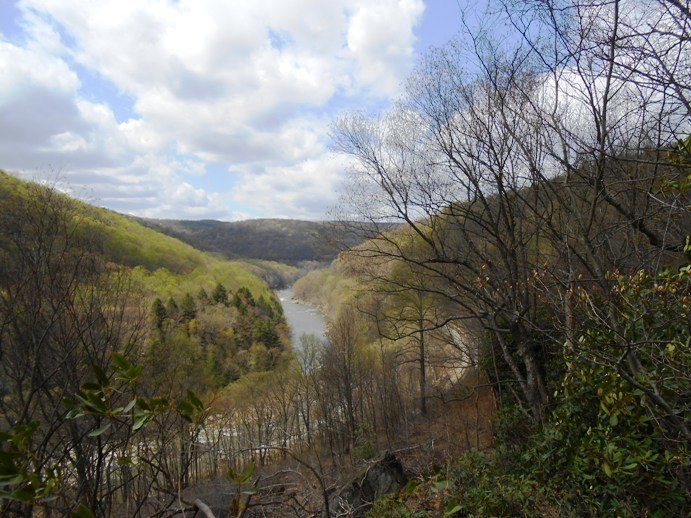 While Fallingwater itself appears to be isolated, the town of Ohiopyle is an easy drive away and is quaint. The town was pretty sleepy in April, though locals told me it springs to life in the summer when bikers, whitewater rafters, and hikers come through. Based on the number of ice cream shops in town, I believed them. You won't find chain hotels without driving at least 30 minutes out of your way, but there are ample B&Bs and campgrounds. I unfortunately didn't have time to stay overnight.
I enjoyed strolling on the easy trails in the state park and picnicking on my own before heading out of town. Despite being a short visit, it was a nice corner of Pennsylvania and one that could easily fill a weekend on its own in a different time of year. This time, though, my destination was in West Virginia.
As much as I love the outdoors, I decided to spent the evening in Thomas, WV. There's not much to do there, but there's just enough to make it a great base for the many parks in the area and the locals are friendly, making it a gem of a town. The pour over coffees at TipTop were surprisingly upscale and the music at the Purple Fiddle was entertaining, even if it wasn't world-class. With Blackwater Falls, Canaan Valley, Seneca Rocks, and Dolly Sods all nearby, I'd highly recommend Thomas as a town to stay. Again, don't expect any chain hotels, so consider a local guesthouse instead.
West Virginia is actually one of my favorite states these days because of it's wide variety of natural beauty and outdoor activity. The state is full of adrenaline-packed adventure, but for a quiet afternoon, Blackwater Falls State Park is a good choice. Like many other West Virginia state parks, this one houses a lodge and other helpful facilities, making it a family-friendly destination. The real attraction here are the namesake falls, which unfortunately were blocked off at the time of my visit after trees had destroyed some of the trail (stairs) down to the base of the falls. I got as close as I was able and even still they were beautiful.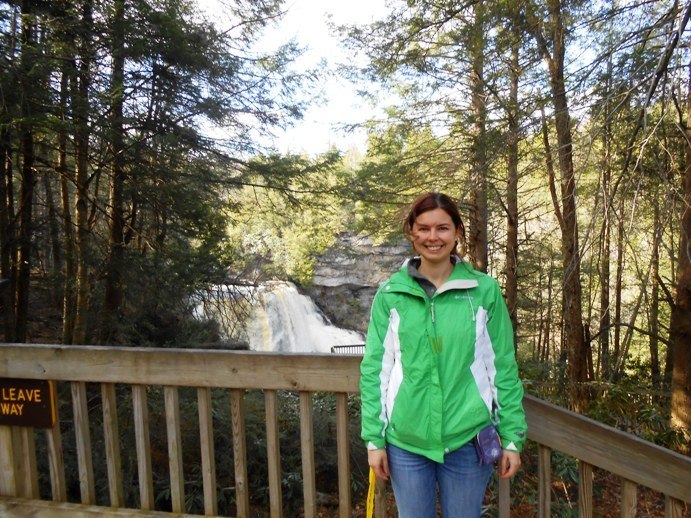 Luckily, there was still more to do in the state park, including hiking to Lindy Point and watching the abundant deer.
My last stop for the weekend was further south, at Nelsons Rock Outdoor Center. Nelsons Rock is home to the only American-made via ferrata, an engineering feat that allows you to rock climb using a long series of iron rungs that were installed directly into the rock face that you can use as hand holds or foot rests. You clip yourself into an attached cable using carabiners and use the rungs for support. They tell me its safe, but you'll definitely want to stay focused for the trip.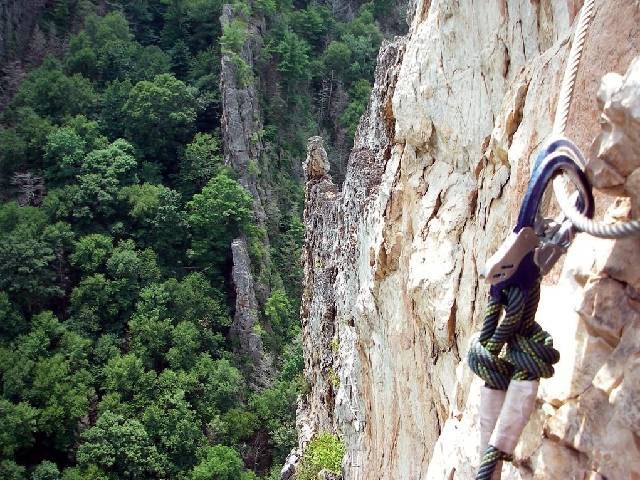 Frankly, the course wasn't as fun as I expected it to be. With morning temperatures hovering around 30 degrees, it took all my brainpower not to dwell on how numb my fingers were from working with metal carabiners and rungs. Additionally, it's hard to enjoy the views when you're trying not to think about how precariously perched you are! I have to give tremendous kudos to the staff for keeping the group safe and under different circumstances, I think it could be a blast.
All in all, my weekend getaway really transported me to an entirely different set of places, without even stepping foot on an airplane to get there. These parks and attractions were in my own backyard and had been overlooked (even by me!) for a year or more while they sat dusty in my bookmarks. Maybe I didn't leave the time zone, but I definitely experienced something new.
What's in your backyard?