This post may contain affiliate links. As an Amazon Associate I earn from qualifying purchases.
* * *
Although still relatively unvisited compared to neighboring countries Thailand, Vietnam, and Cambodia, Laos is starting to gain more popularity as a travel destination. It's easy to see why: Laos has a variety of activities, beautiful scenery, and low prices. I loved traveling throughout the country, and I hope this Laos travel guide puts it on your travel wishlist.
How do I get there?
The country's largest airport is in the capital, Vientiane. It's still a fairly small airport, but it has connections to major Asian airports like Bangkok, Kuala Lumpur, Seoul, and Singapore. It also has flights to some airports in Vietnam, China, and Cambodia. A limited number of international flights also arrive in Luang Prabang or Pakse. If you're on a budget, you can also fly to Udon Thani, Thailand and cross the border by land (about 40 minutes from Vientiane).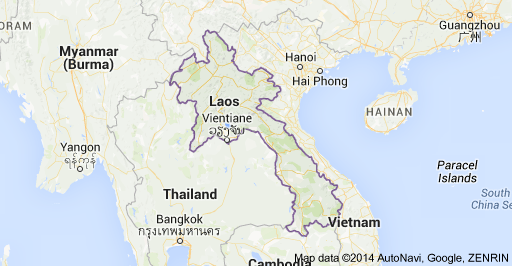 If you're traveling by bus, it's also possible to cross into Laos from Cambodia, Thailand, Vietnam, and some Chinese border points. It is currently illegal for foreigners to cross into Laos from Myanmar. As always, check for information at your specific intended border crossing for updates on operating hours, costs, and whether a visa-on-arrival is available for your nationality.
As an American citizen, do I need a visa ahead of time?
A visa on arrival is available at Vientiane, Luang Prabang, and Pakse airports as well as at some land borders, such as the Friendship Bridge from Thailand to Vientiane. Visas cost $35 (payable in US dollars). Lines moved relatively quickly, and you can save time by having your paperwork filled out ahead of time and a passport photo ready.
For other points of entry, you can obtain a visa through an embassy/consulate or through visa services in neighboring countries. Plan 2-3 days in advance.
Are there any safety concerns in Laos?
I never felt unsafe during my visit. Independent travelers should take standard precautions and be aware of petty theft, but overall Laos is a safe place to visit. Some parts of the country still have unexploded ordinance, but the main tourist destinations do not have that issue.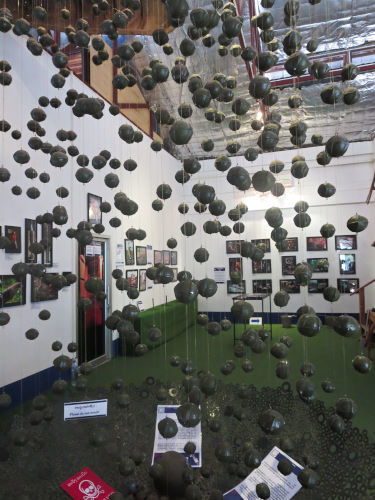 Any health concerns?
The main health concern in Laos is food and water sanitation, like in most of Southeast Asia. Tap water is not safe for consumption and food preparation and sanitation is not what you're used to at home. I ate to my heart's delight at local restaurants, family kitchens, street carts, and from farm stands. I did get sick at one point, but the timing leaves me wondering if it was a delayed reaction from somewhere in Laos or from the lunch I ordered at the Bangkok airport.
Additionally, you may want to consider malaria medication. Malaria is not a problem in Vientiane or Luang Prabang cities, but you should take precautions when heading into the countryside and especially southern provinces. Where long pants and long-sleeved shirts, apply mosquito repellant, and at least look into further travel health needs like antimalarials.
What does it cost?
Laos is a cheap country to visit. I stayed in very comfortable rooms with private bathrooms, wi-fi, and breakfast for $18-35/night. Meals at local restaurants were easily under $5; street food will be cheaper. I ate at one upscale tourist restaurant in Luang Prabang, and while it was more expensive than a local joint, it was still a relative bargain with most entrees around $12 compared to the $30+ they'd be at a comparable restaurant in the United States.
Activities ranged in cost considerably: you can tour a temple for $1, rent a tube in Vang Vieng for $8 or rent a dune buggy for $100. You'll find something to do no matter what your budget is.
How do you pay?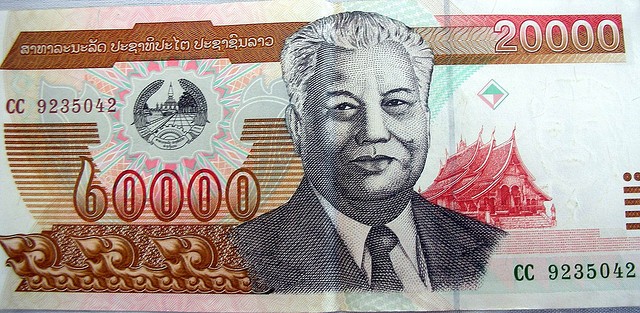 The official currency of Laos is the kip. The above 20,000 kip note is worth about US $2.50 as of late 2014, so carrying 1 million kip is about $125. US dollars are also frequently accepted at relatively fair rates.
Although many hotels and tour agencies accept credit card, be prepared for a 3% bank fee or pay in cash. I had no issues using my Charles Schwab ATM card in Laos and got very favorable rates. However, many ATMs have low withdrawal limits so you may need to make multiple transactions.
What's the weather like in Laos?
Weather varies considerably by destination and season. It can get below freezing, especially in the north, or it can be very hot and humid during daytimes (especially March-May). The south reaches extremes over 100 degrees Fahrenheit! To avoid the rain, it is typically best to visit from November through February. For my visit in early/mid-November, I found it comfortable to a tad warm during daytimes and sometimes needed a sweater at night.
Were the locals friendly? Any tips on making communication easier?
My experiences varied, but most of the locals were friendly and those that weren't simply seemed to ignore tourists rather than being unfriendly. Making an effort to leave the tourist drag and say hello will go a long way. Monks in particular like to chat as an excuse to practice their English.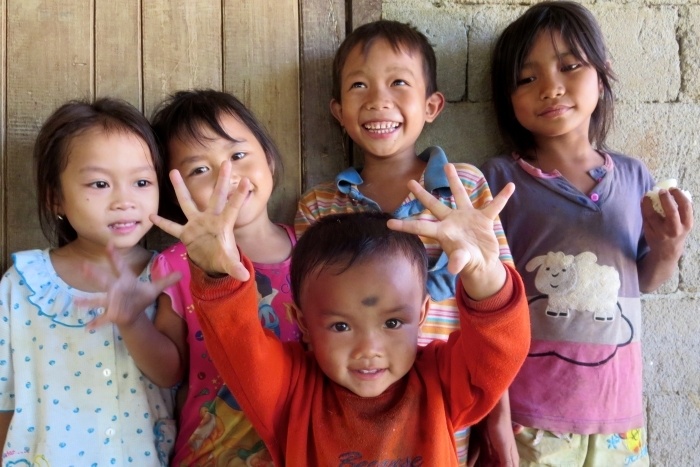 As for communicating, we made do at all times. I had tour guides who didn't speak English in Vang Vieng and my rice farm guide was amazingly quadrilingual. Even when I met people who didn't speak any English, we still communicated through smiles, pantomimes, and even a drawing or two.
How do you get around?
The roads in Laos are terrible. In fact, on my bus ride from Vang Vieng to Luang Prabang, there was a section of road completely washed out by mudslide and we had to get towed by a bulldozer to make it across. I'll admit: I was a little nervous! On the bright side, my bus ticket was much cheaper than Disney admission and the adrenaline levels were much higher!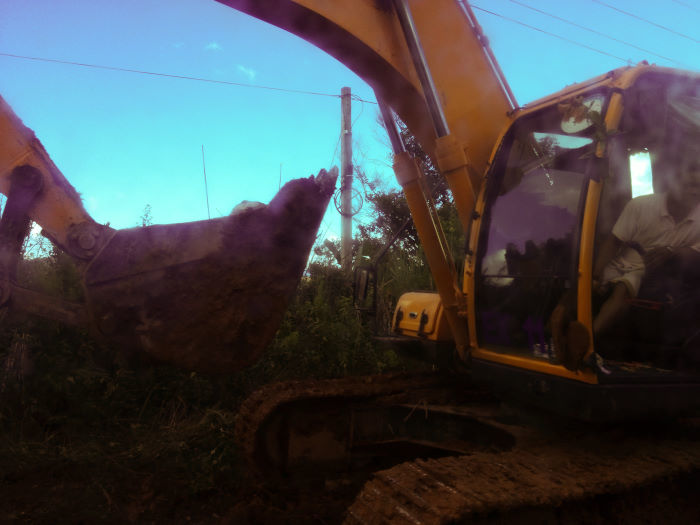 Generally speaking though, bus or rental motorbikes are the only way to get around. Suck it up, say a prayer, and hope you get there safely and without too much of a delay. Take domestic flights whenever possible and don't cut it close; my flight out of Luang Prabang left a whopping 30 minutes early.
Was the food good?
I really enjoyed the food in Laos. Recipes use a lot of fresh herbs and spices so dishes are very flavorful. Although some meals were spicy, I'd call it "American hot" and not unbearably so.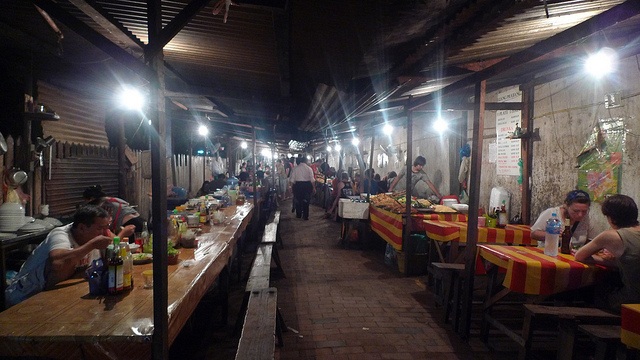 Along with sticky rice, you'll find grilled meats and river fish, vegetables, and noodles. Be sure to try the laap (minced meat that can be very spicy), papaya salad, lao-lao rice whisky, and coconut custard.
What should I see? Anything overrated?
My favorite city in Laos was Luang Prabang. Don't miss it: it's a great mix of Buddhist culture, colonial French history, and near to Hmong and Khmu village life. It's also a great base for outdoor activities like hiking, kayaking, and waterfall swimming.
Related Post: The Best of Laos
I also really enjoyed the scenery near Vang Vieng. It's still very much a backpacker scene, but it's not overrun with drunken or drugged visitors like it was previously. Vientiane, on the other hand, was in my opinion skippable if you're short on time.
Any purchases I should consider?
Lao silk is a great souvenir option. You can learn all about handmade silk at Ock Pop Top in Luang Prabang or from reputable sellers nationwide; it's worth some research so you can recognize real high-quality silk.
Elaborate handicrafts like jewelry, carvings, pottery, and mulberry paper are also available. You'll find the best prices in the small villages that specialize in specific types of art, but you can bargain for a good price anywhere.
Any last thoughts?
In my opinion, Laos is still underrated and a great alternative or new option compared to more known southeastern destinations. Hike through northern Laos instead of Chiang Mai, go temple hopping in Luang Prabang, and relax in the Four Thousand Islands of southern Laos. It's cheap, interesting, and a great option. I'll be back to see what I missed and re-visit favorites.
Now that you've read through this Laos travel guide, I hope you've added Laos to your wishlist. If you still need more inspiration, check out my other posts about Laos.