This post may contain affiliate links. As an Amazon Associate I earn from qualifying purchases.
* * *
Every year, there's a country or two that captures my interest more than the others I've visited. After spending 10 days in Laos, my reaction is that I simply want to explore even more of this small nation. I only had time to visit three cities, but I had one fascinating experience after another.
Compared to its neighboring countries (especially Thailand, Vietnam, and Cambodia), Laos hosts relatively few tourists. Don't let it slip your travel radar! The traditional culture, incredible scenery, flavorful food, and low prices should put it on the map. Based on my experience, I can only imagine that anywhere you go would result in a great trip but there were a few moments that really stood out to me.
Learning to Weave (Vientiane)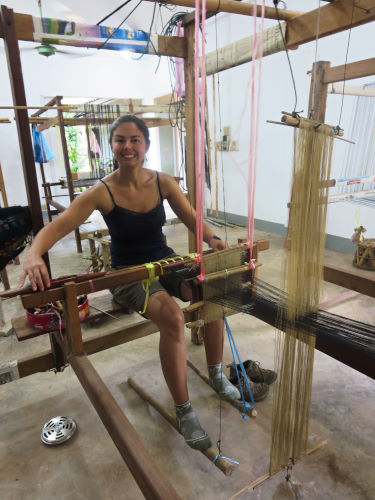 One of the reasons I loved Laos is because it's like stepping back in time. The Lao people recognize that doing things the old-fashioned way can result in remarkable quality and amazing artisanship and there's no better way to appreciate the skill that goes into these crafts than by trying it yourself. At first, I decided to sample loom weaving simply to understand how it worked, but I quickly fell into a rhythm and enjoyed creating my own silk handkerchief. My finished product won't win a blue ribbon, but I'm proud of it anyway and I loved the process even more than the finished product.
Visit the Houey Hong Centre to take classes or even just to watch weavers at work. Hint: using their provided transportation is definitely the easiest option to get there!
If you're not going to Vientiane, Ock Pop Tok in Luang Prabang is also a good option. Be sure to try the silkworm poop tea while you're there (I'm not kidding!).
Turning Despair to Hope at COPE Laos (Vientiane)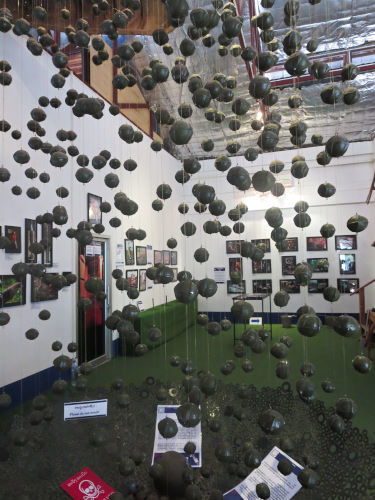 Did you know that Laos is the most heavily bombed country per capita in all of history? During the Secret War from 1964 to 1973, the US dropped more than two million tons of bombs over 580,000 missions, destroying villages, injuring civilians, and displacing entire families. That's bad enough, but a third of the bombs didn't explode on impact and over the years, they've continued to injure and kill Lao people. The COPE Center shares the story from a point of view of great hope. Providing prosthetics, orthotics, and rehabilitative care to those who've lost limbs from bombs that exploded years after the war ended, the center is truly inspiring.
Anyone can visit COPE on their own, but my visit was part of a "Tuk Tuk Safari" that got me off-the-beaten path over the course of a great day.
Off-Roading Around Town (Vang Vieng)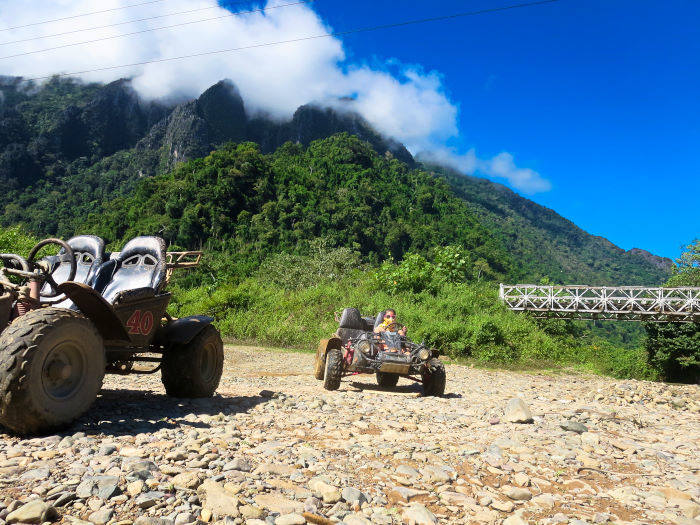 Is it a dune buggy, quad bike, ATV, or go-kart? I'm not really sure, but I rode one! Vang Vieng is in the mountains of Laos with plenty of empty dirt roads waiting for you. I spent half a day zipping around and getting covered in mud. My guide pushed the limits a couple of times which led to a lot of fun and one (minor) accident when I took a corner too fast and ended up in a bunch of bushes in a small ditch. Anywhere else in the world, I'd probably be in a bit of trouble but in Laos my inability to drive simply resulted in a whole lot of laughter. Thank goodness only my pride was injured!
This was the most expensive thing I did in all of Laos and it was worth every penny. Just come prepared with a bandana so you're not breathing in dust, earplugs, and sunglasses or safety glasses to keep things from flying into your eyes. Otherwise you'll be buying $2 "Ray-Bans" last-minute like I did!
Swimming at Tad Sae Waterfall (Luang Prabang)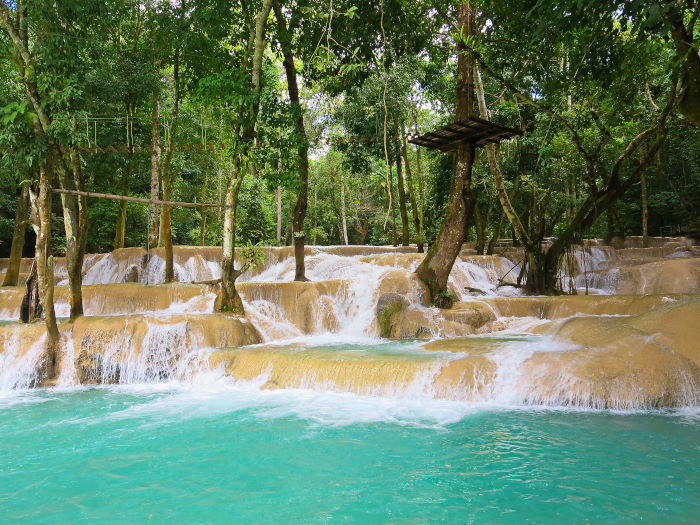 There are two popular waterfalls in Luang Prabang and I ran out of time before visiting the more popular one. Tad Sae was a great alternative, especially since I combined it with six hours of trekking, three hours of kayaking, and Hmong and Khmu village visits on an overnight adventure. Once I worked up a sweat, I barely noticed the slightly cool water, especially since I was fully distracted by how beautiful it was. If you're not up to working your way to the reward, you can head on a combination of bus and boat to get there.
I booked my trip through Tiger Trails and thought they did a great job arranging everything. Save money by booking the trip in person (we went the day before) instead of paying online — the walk-in rate was about 25% lower.
Getting Showered by an Elephant (Luang Prabang)
Yes, you can ride elephants all over Southeast Asia but not everywhere bothers to deliver an ethical tour with happy, healthy elephants. You can spend a day feeding the elephants and taking an elephant ride but my favorite part was bathing my new friend Ping Pong. Unfortunately, she didn't get the memo that it was her bath time and instead I was the one who ended up taking a shower!
You can combine two of my favorite experiences by taking an elephant ride AND swimming at Tad Sae with an Elephant Village package. If you're serious about elephants, you can even sign up for multi-day training courses.
Cooking — and Eating! — Sticky Rice (Luang Prabang)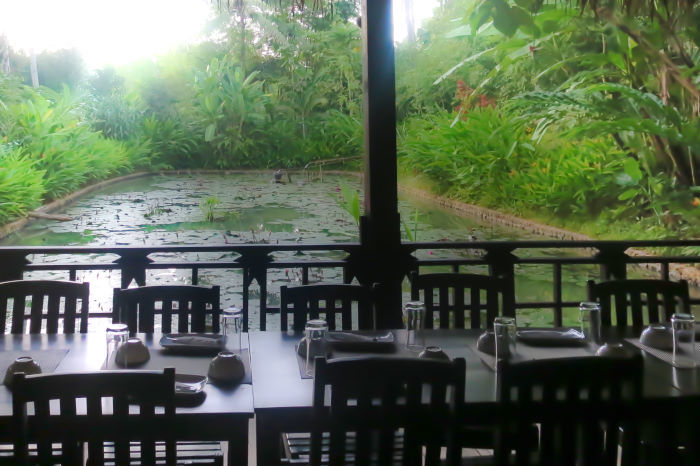 If I never see rice again in my life, I'll be okay. The Lao people eat so much sticky rice that it's not even funny. I was sick of it on day 1, so I was surprised on day 10 when I finally found some more rice that I actually wanted to eat. At a cooking class, I learned how to prepare several prominent dishes, including the infamous sticky rice dessert topped with fresh fruits like pineapple, banana, mango, guava, and longan. The other dishes we prepared were just a bonus!
If you're considering which cooking class to attend in Luang Prabang, head directly to Tamarind. I've taken courses all over the world and this one is top-notch: you make everything to taste so you account for personal preferences, the setting is beautiful, the food is delicious, and our instructor had a great sense of humor.
The only problem with Laos is that it'll leave you wanting to come back for me. I need another two weeks to see everything I didn't get around to this time and just maybe to repeat what I found to be the best of Laos.
Join me on Facebook, Twitter, and Instagram for more travel conversation, articles, deals, and photos from around the globe!