There's never been a better time to sign up for T-Mobile international roaming.  T Mobile ONE plans include unlimited texting and data in 140+ countries at no extra cost.
I travel every month, so I thought I'd put T-Mobile international roaming to the test.  Since June 2014, I've tested T-Mobile in 18 countries on 4 continents.  Although it works well abroad, there are some significant downsides.  Here's what you need to know.
T MOBILE INTERNATIONAL ROAMING
T-Mobile ONE Plans include
Unlimited talk within the USA
Unlimited texting in the USA and 140+ other countries
Unlimited high-speed 4G LTE data in the USA (where available)
Unlimited 2G data connections in 140+ other countries (full list here)
Compatible phones also include free Wi-Fi calling and in-flight texting.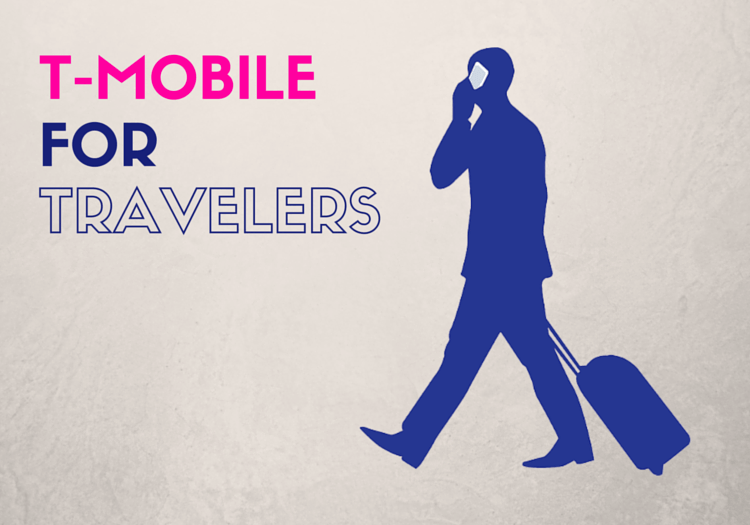 T-Mobile International Roaming FAQ
How do you get international access to T-Mobile unlimited data?
All T-Mobile ONE plans include international data and texting automatically.  "No credit check plans" are not eligible.
Individual T-Mobile ONE plans start at $70/month.  Prices per line drop as you add more lines: it's $60/line for 2 phones, $47 each for 3 phones, or $40 per line for 4 lines.
Do I need a special phone to use T-Mobile international roaming?
Sort of.  You need a phone that is compatible with the cellular network in the country you're traveling to.  Most modern smartphones are quad-band and support frequencies used all over the world.  However, if you have a basic model, check with T-Mobile ahead of time to see if your phone is compatible with your travel destination.
I personally use a Nexus 5X — a reliable Android that's about half the price of an iPhone.
Where can you use T-Mobile international data?
T-Mobile international roaming and texting is included in 140+ countries, so it's not all-inclusive but it's pretty darn close.  You'll want to confirm with T-Mobile prior to your trip if your destination is covered, but there's a pretty good chance!
Just like in the USA, if you're heading to obscure or rural destinations within included countries, you may not have coverage.
How often can you travel?
Let's be clear: this service is meant for people who live in the USA and travel sometimes…not for people who want to live abroad.
The terms specifically state excessive users of T-Mobile international roaming may have service terminated.  In practice, it seems like you should use your phone abroad less than 50% of the time.
How do you use T-Mobile international roaming?
You don't have to do anything.  Seriously, once your phone recognizes you're in a new country (like when your flight lands), you'll automatically have coverage.  T-Mobile sends a text message confirming your service.
I love that you don't have to call T-Mobile in advance and ask them to turn international roaming on and that you don't have to set up your phone in any special way.  It works the same way it does at home and frankly you'd never even know that you're traveling abroad!
The one time my T-Mobile international roaming didn't work automatically, all I had to do was restart my phone (and it seemed to be a device issue).  Please note that I have no affiliation with T-Mobile and cannot provide tech or billing support.
After 18 months of using T-Mobile, I've never been billed more than my standard monthly amount.  There are no hidden fees!
What's the advantage to T-Mobile international roaming vs. buying SIM cards abroad?
It can be cheaper (especially for occasional travelers) to rely on other phone service in the USA and simply buy local SIM cards when they travel.  I've done that previously and you'd be amazed at how cheap you can pick up prepaid service in many countries.
T-Mobile has two main advantages:
Your phone number doesn't change.  You don't have to inform friends, family, and coworkers of a new number for every trip!  Plus they can continue to text your US number at no surcharge, unlike if you just picked up a Nepal-based phone number.
It's convenient.  You don't have to wait in line and deal with language barriers trying to buy phone service abroad.  You don't have to switch SIM cards if you enter a new country (like on round-the-world trips).
Do you drain your phone battery? Maps in particular strain your battery, so I always pack an external battery.  Power users can quadruple battery life with a compact version for only $25.
How fast is the international data?
Not fast: in fact, T-Mobile specifically advertises speeds of approximately 128 kbps ("2G").  These speeds are great for travelers to check email.  Features like web browsing, social networking, and GPS/maps work if you have a little patience.  However, streaming radio or video is basically impossible.
Texting works perfectly, although some multimedia messages make take a few seconds to download.
For an extra $10/month per line, you can double your data speeds by purchasing T-Mobile ONE Plus.
What do phone calls cost?
MOST PHONE CALLS ARE NOT FREE.
Phone calls to/from Canada and Mexico are included in your plan, but all other calls are charged!  Costs can add up quickly.
If you make a phone call in one of the 140+ covered countries while you are abroad, it will be 20 cents per minute. (example: you call your pet-sitter at home to check on your dog)
If you call from an uncovered country while you are abroad, you'll pay international rates and roaming rates may apply, so expect to pay $0.50-$5.00 per minute! (example: you call your tour guide to mention you're running late)
Related Post: How to Make an International Call (opens in a new window)  When you just don't want to pay 20 cents a minute, these 3 alternatives will save you money when calling from abroad.
Just like with data and texting, you don't need to turn international service on.  It will work automatically.
Are there other benefits to T-Mobile?
T-Mobile doesn't require a contract, so if it doesn't work for you, you're not locked in.  That's a great way to try things out without committing long-term.
T-Mobile ONE family plans (2 lines or more) also include Netflix subscriptions to use on your phones.
Lastly, T-Mobile users get free passes to GoGo in-air Wi-Fi so you can surf the internet during your flights.
Do you have T-Mobile and don't have great coverage at home?  Find out how Google's Project Fi compares (opens in new window).
What's the catch?
If T-Mobile international roaming sounds too good to be true, you might be right.  Although it works well abroad, there are downsides within the United States.
T-Mobile has a fantastic network in urban areas which quickly degrades in low-population areas.  If you're the type of traveler who likes to visit small towns and national parks, you may have trouble.  I don't have service on parts of the Virginia I-95 corridor (despite being a major highway) and it can be hit-or-miss as soon as you hit suburban outskirts.
T-Mobile coverage has improved in the USA over the past year, but it's not perfect.  That said, T-Mobile is still a great choice for travelers.
THE BOTTOM LINE
If you travel to major cities, T-Mobile international roaming is an amazing deal.  When it works, it is incredible value.
However, T-Mobile disappoints in smaller towns, national parks, and rural areas.  If that's where you visit, consider a different US carrier and separate international sim cards when traveling.  Frugal travelers can make calls over Wi-Fi through Skype, Google Voice, or Facetime.
You can try risk-free since T-Mobile doesn't require a contract.  Getting started and moving my number was quick and easy.  There's no downside to trying it, even if it doesn't work out long-term.
*     *     *
This post contains affiliate links.  Thanks for your support of this website and the free information it provides to travelers like you.