This post may contain affiliate links. As an Amazon Associate I earn from qualifying purchases.
* * *
Thailand is known for its beaches, but until 2014, I hadn't been to any of them. I've never been a beach lover…until I found Hong Island.
Normally, I wouldn't fly halfway around the world just to sit by the ocean, but I had a few days between the end of my trip in Laos and my flight home from Bangkok. Somewhat arbitrarily, I flew to Krabi (transit hub for Ao Nang beach) for a few days of rest and relaxation. After all, nearby Railay Beach is touted as one of the world's best.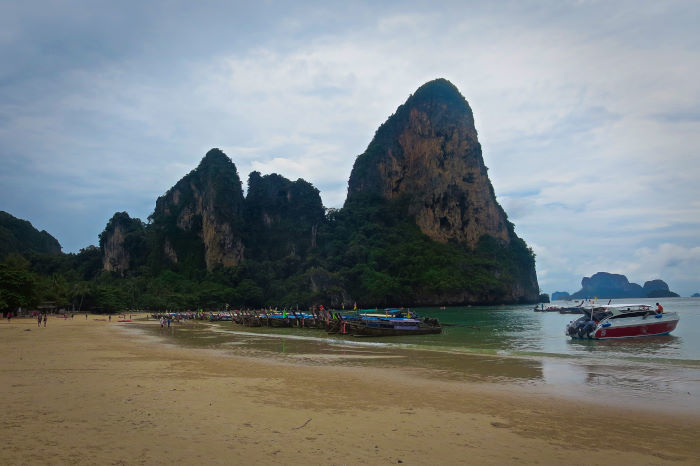 But to fall in love with a Thai beach, it would have to be spectacular. Unfortunately, after two days in the area, I was still unimpressed by both Ao Nang and Railay beach. On day 3, it was time to seek out other things to do in Krabi.
Following a lead from another traveler who had been on my Four Islands sunset tour the day before, my companion and I chartered a private longtail boat to Hong Island. At 3200 baht (about $100), this was a splurge worth every penny.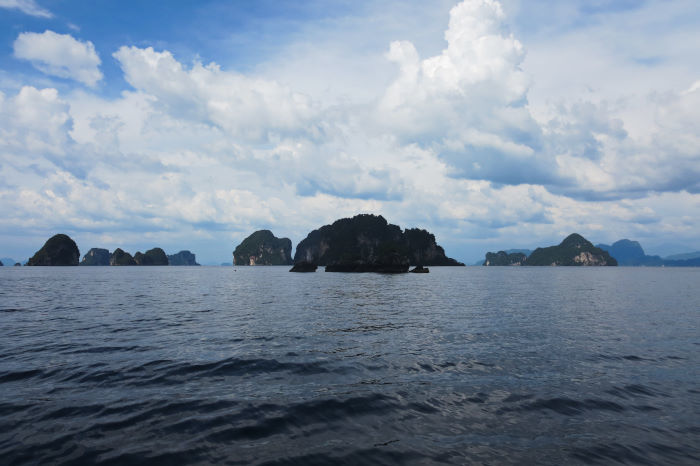 The Koh Hong archipelago is about 45 minutes away from Ao Nang beach: perfect for a day trip. The rocky outcroppings rise up out of the water, creating a scenic ride. They all looked the same to me, but our first stop at Koh Daeng was particularly special.

With coral reefs at its base, Koh Daeng was one of the best snorkeling spots I've ever been to. When conditions are right, the water around the island is crystal clear. Visibility is great and swimming is easy, with fish everywhere around you.
It's easy to lose track of time snorkeling there, especially when there isn't a tour guide anxiously looking at his watch for the next stop. On our own timeline, I enjoyed watching the trumpet fish and small colorful fish the most.
Still, we had more to see. Next on the agenda was the main event: Hong Island.
Koh Hong is part of a marine park and is uninhabited, except for some birds and lizards that call the island home. There are two powdery white sand beaches lining twin bays. Each has calm, warm water, nearly transparent enough to snorkel without putting your face underwater. A few fish dart in and out of the bay area, but mostly, this is just an ideal place for swimming and bathing.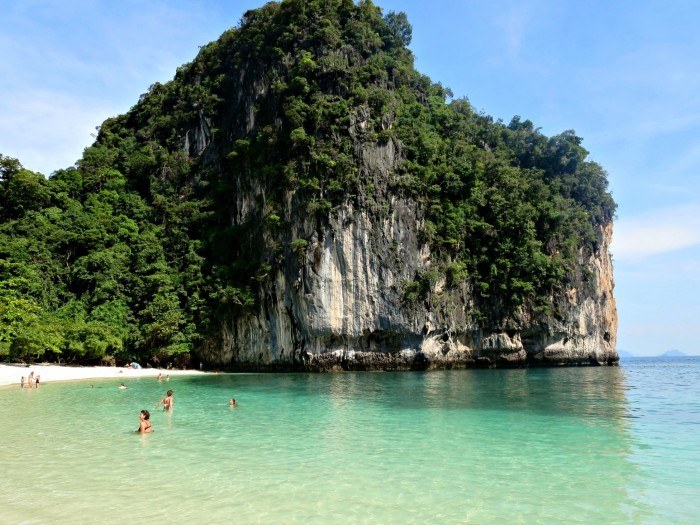 Hong Island is a gem because of its tranquility. Even though day trippers include the beach in their island hopping plans, it's quiet. Come to swim. Come to float. Come to relax.
There are no services on the island, which is both a blessing and a curse. There aren't hawkers selling things, restaurants playing music, or drunken escapades. Although that's peaceful, that means you have to pack everything in yourself. Bring a picnic lunch, a towel to sunbathe on, and anything else you need for the day.
Still only halfway through our day, the next stop was at the island's hidden lagoon. You won't get there by walking on Hong Island's trails, but you can enter by boat. The word Hong means "room" in Thai, and as we approached the narrow entrance to the lagoon, I realized we were actually entering a room-like area.
The scenery at the lagoon is mesmerizing for its turquoise waters and tall cliffs, but it is little more than a photo stop. There weren't any fish there nor was it deep enough for much swimming. Still, Hong Lagoon is a beautiful and pristine detour.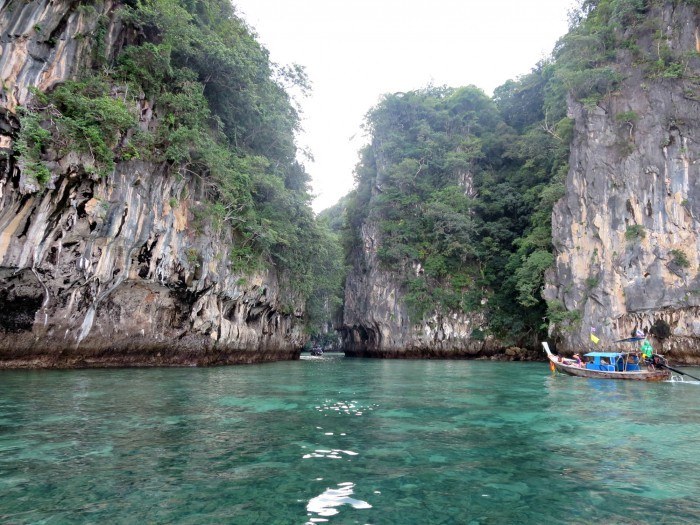 The day trip to Hong Island is one of the best things to do in the Krabi region. If time is short, skip the island hopping closer to Ao Nang beach and move this to the top of your list. Hong Island is paradise and one I'd gladly return to.
* * *
Have you been to the Ao Nang / Railay Beach / Krabi area? Did you like it?