This post may contain affiliate links. As an Amazon Associate I earn from qualifying purchases.
* * *
WOW air advertises $99 flights to Iceland, so what's the catch? I love the idea of cheap flights to Europe but I knew there would be a trade-off. If you're curious, WOW air reviews can help you decide if it's the right option for you.
Read Before Buying a Ticket –> WOW Air Cancels *All* Flights as of March 28

After watching WOW air struggle financially for months and eventually have a few aircraft repossessed, they are ceasing operations as of March 28, 2019 and all flights are cancelled.

If you already have a ticket…I'm sorry, but you will need to find an alternate way home. If you have travel insurance, keep ALL paperwork around your trip including receipts for the original and new flights, e-tickets and boarding passes, and any other receipts that may be associated with your travel (like unexpected car rentals, meals, etc.)

Don't have travel insurance? Think about it next time. I use RoamRight.

I also recommend you check out my guide to receiving government-mandated EU 261 compensation. If your flight was cancelled last-minute, you should qualify for 600 euros in compensation (above and beyond insurance reimbursements).

To look for alternate airlines, check out Skyscanner for bargains on Iceland Air and other cheap flights to Europe.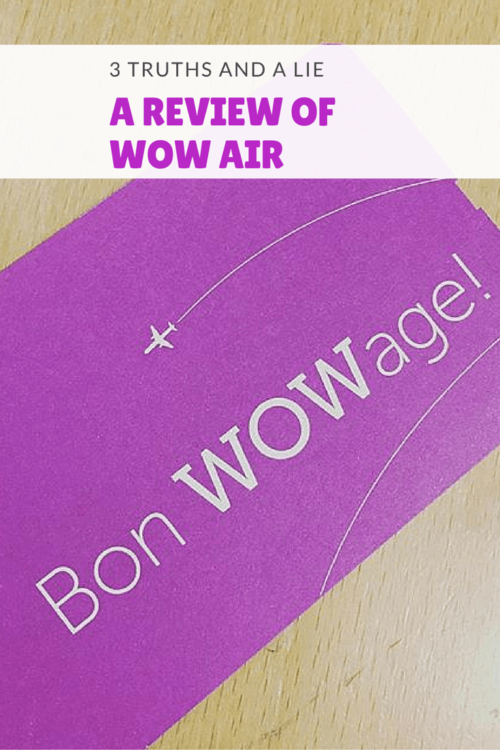 Truth: WOW Air fares really are that cheap
When WOW Air advertises a one-way flight for $99, it's actually $99 including taxes. It's possible to find flights to their hub in Reykjavik for $250 round-trip and mainland Europe isn't much more. expensive
I know what you're thinking: other WOW air reviews mention all the extra fees, from selecting a seat to a checked bag. The trick is doing your homework ahead of time to price out the options you need and make sure it's still a deal.
Pack lightly! WOW airlines does not allow free carry-on suitcases. You may board the plane with one personal item such as a small purse or camera bag.

If you pack smartly, you can squeeze a long weekend into a single bag and avoid baggage fees. Use my carry-on only printable packing list and my favorite products to travel without going over weight restrictions.
Truth: The Staff and Service Beat Most Other Airlines
What made WOW Air stand out was the service I encountered at all three airports (Baltimore-BWI, Reykjavik Keflavik, and Bristol, England).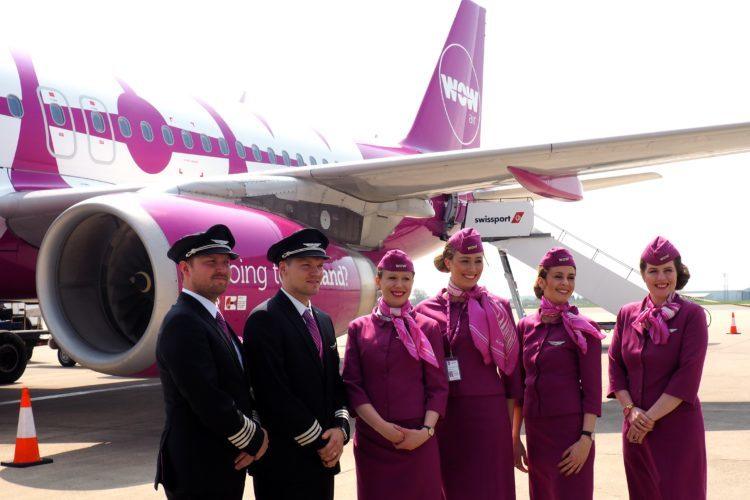 Their staff was actually helpful, which is a rarity these days. My flight was delayed because Icelandic Air Traffic Control was on strike, but customer service provided honest information about flight delays — something that is refreshing. They were upfront about it and reassured me that I'd make my connecting flight (I did).
And did I mention everyone seemed happy to be working? The plane is full of cheeky little sayings like "Rolling, rolling, rolling…keep those trolleys rolling" on the side of beverage carts or "Honk if you're hungry" by the call button. It's fun, and the personality continues with the flight attendants. All WOW air reviews agree: it's a fun plane to be on!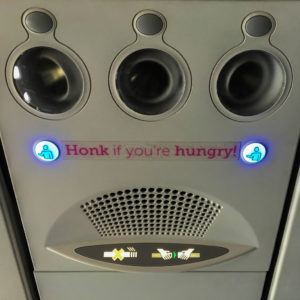 Truth: Keflavik Airport is a Dream
Have you connected in Europe lately? Most major airports are a pain in the butt to connect in, with extra security procedures, long walks (or buses) between terminals, and huge crowds.
Tons of WOW air reviews leave out one of the best selling points to the airline: all flights connect in Keflavik International. Keflavik (the Reykjavik airport) is easy and straightforward. There's free Wi-Fi, clean bathrooms, display monitors everywhere, and all Icelanders speak great English. On the other hand, food at the airport is VERY expensive.
If you have to connect somewhere, you might as well make it easy.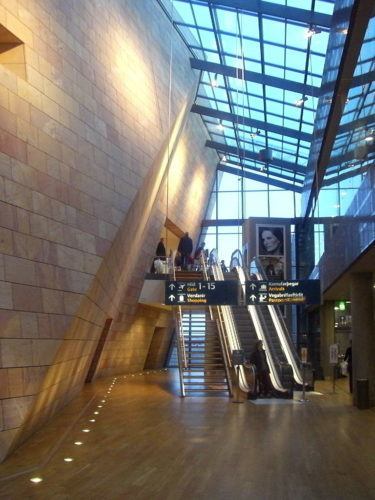 Since all WOW Air flights connect here, you're assured a relatively smooth experience.
Plan Your Stopover in Reykjavik: Spend one day in downtown Reykjavík and another day on a Golden Circle tour. But I don't recommend a Blue Lagoon tour.

Plus, don't get caught off-guard after buying a cheap flight: Iceland is expensive.
Lie

: All Seats Are Created Equal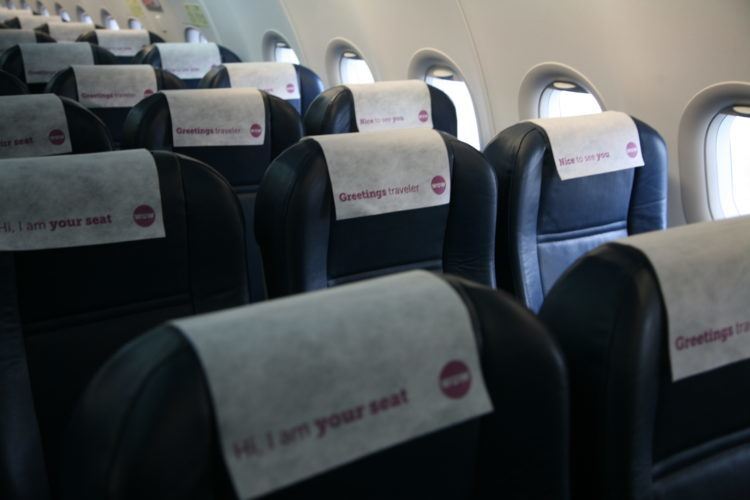 Ready for my main gripe?
The bottom cushion on my seats between BWI and Keflavik were very thin and could've used some extra padding. The seats felt harder than normal, the way some slimline seats do on other airlines. In all fairness, I didn't experience the same issue from Keflavik-Bristol.
I had XL legroom seats for my longer segments between BWI-Keflavik which come with plenty of space — and were reasonably priced. I'm not particularly tall, but the few extra inches of leg room made a big difference for me. I'd highly recommend you pay extra for the upgrade if the total price is still a good fare to Europe.
One other seat observations: their seats recline deeply. That's great for sleeping and terrible if you need to work on your laptop while the person in front of you is napping. I'm going to call that one a wash, given that the majority of passengers on my long-haul flights were snoozing.
Related Post: Travel Tips for Long-Haul Flights
Overnight flights suck, so packing the right extras can make or break your in-flight comfort.


WOW air Reviews Depend on One Question: Would I Fly It again?
Yes, absolutely (for the right price). I love that their fares are so accessible that anyone can afford to go to Europe.
Flying from the east coast to Iceland is surprisingly close — and cheap! — for an amazing opportunity to experience a different culture and natural setting. And when you're not spending thousands on airfare, there's no pressure to plan the "trip of a lifetime". That's great for short city breaks, repeat trips, or saving for the stuff on your trip that matters most: sightDOING.
The downside? You need to live near one of their hubs in order to take advantage of their flights and you need to budget separately for any extras that are important for you.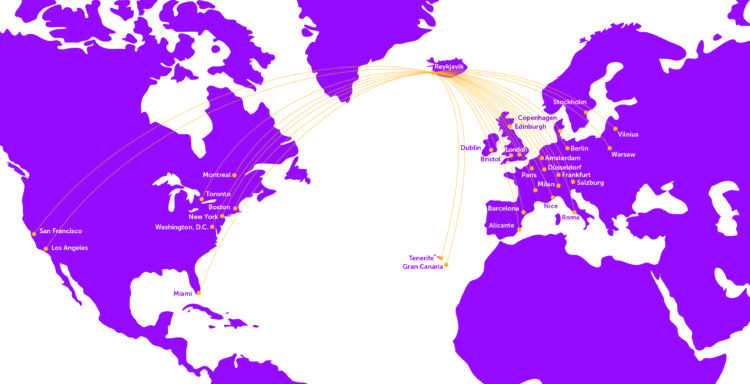 But I'll be honest: although WOW air has a few advantages over other airlines, the low cost is their biggest selling point. Especially if you can pack light, it's an amazing deal and a great way to get to Europe.
* * *
I was a guest of WOW air for their inaugural flight to Bristol and received complimentary airfare. I was not required to write this review, but love saving you money on travel. All opinions remain my own.
This post contains affiliate links. By purchasing the recommended products on this page, you are supporting this site and the free information it provides to travelers like you. Thank you for your support!
* * *
Protect Yourself Against Possible Flight Cancellations or Issues:
* * *