This post may contain affiliate links. As an Amazon Associate I earn from qualifying purchases.
* * *
No matter how much research you do ahead of time or how many recommendations you've received, there's no way to guarantee what your experience will be like. I've been disappointed at bed and breakfasts that had amazing reviews and I've been pleasantly surprised by attractions I expected to be mediocre. Ultimately, on every trip, there are some big wins and a few misses.
The Blue Lagoon was a miss.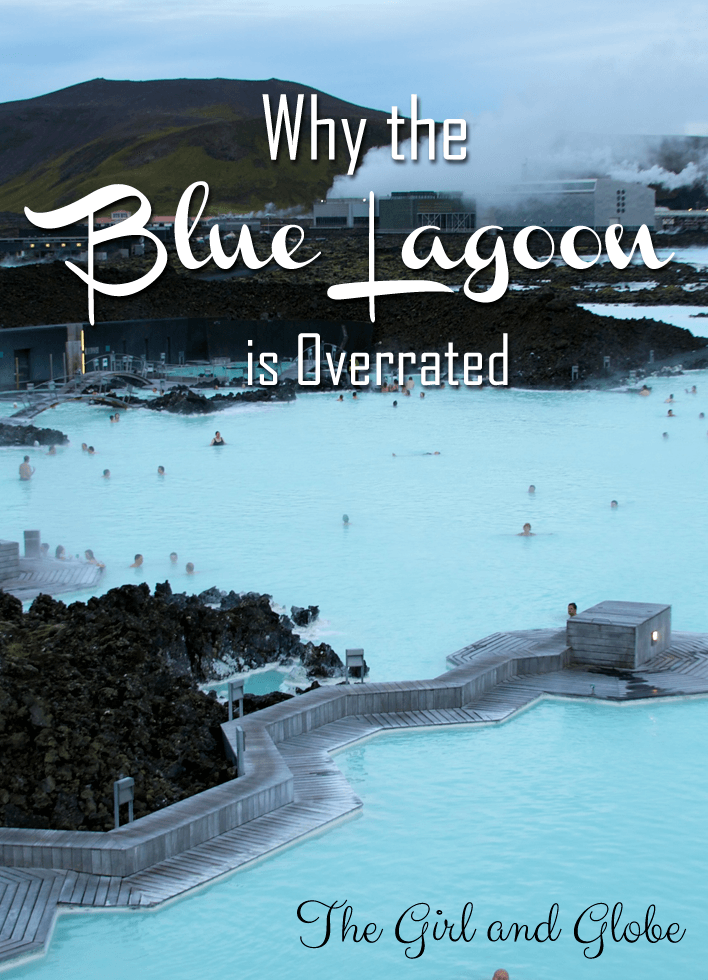 Our package from IcelandAir included a day at the Blue Lagoon, something I was really looking forward to. I love baths, hot springs, spas, and the outdoors and I didn't even have a chance to complain about the price. I was convinced the Blue Lagoon would be the perfect way to relax before heading to the airport for a flight home.
The Blue Lagoon markets itself as exactly that: a great stopover between the airport and downtown, whether you're coming or going. It advertises a simple solution: a bus ride from downtown to the pool (with wi-fi to entertain yourself for the 40 minute drive), luggage storage during your visit, and then another bus to the airport. They'll rent towels and slippers for your convenience and they'll sell snacks, cocktails, or sit-down meals with lobster, if you prefer.
And so, on a Sunday morning, we showed up at the Blue Lagoon at 10am, finding ourselves amongst hundreds of other tourists all dropped off at the same time looking for the same relaxing experience. Our first task was to store our luggage, which required standing in line — outside, with most of our winter layers packed, of course — while one lone staff member stored suitcases and provided claim tickets, as if the fact that a half a dozen buses had arrived was a complete surprise. Inside, there's another line and even though we already had tickets, we had to snake through the queue just to pick up our wristbands, towels, and other amenities.
But finally, nearly an hour after we arrived, we had made it to the pool and all stresses were forgotten.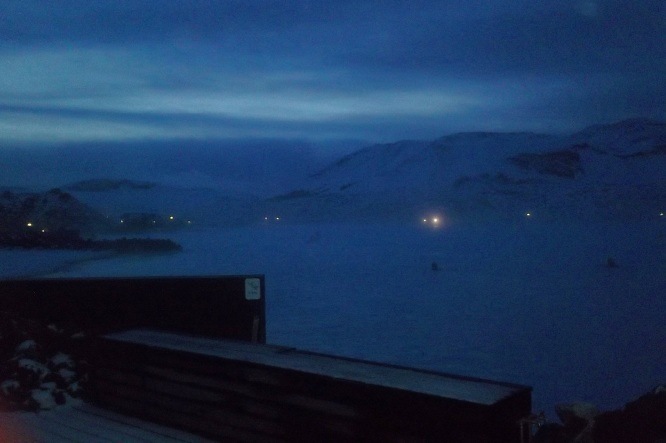 Ironically, the Reykjanes Peninsula is full of hot springs and geothermic activity, but the lagoon itself isn't directly heated from natural sources. The water is fed from a nearby geothermal power plant, steam and superheated water that was previously used to run turbines that generate electricity. Regardless, the water is naturally rich in minerals like silica and sulphur that gives the pool a milky look and a luxurious feeling against your skin.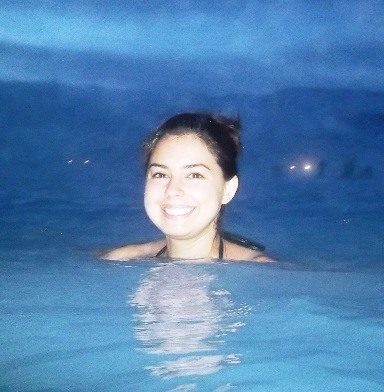 Here is where the Blue Lagoon excels. The pool is massive and never felt crowded, with lots of nooks to explore. There are hotter spots and cooler spots, so walking or swimming around will help you find the section of the pool that best suits you. It's beautifully landscaped and the steam escaping into the cold winter air makes the whole experience very atmospheric.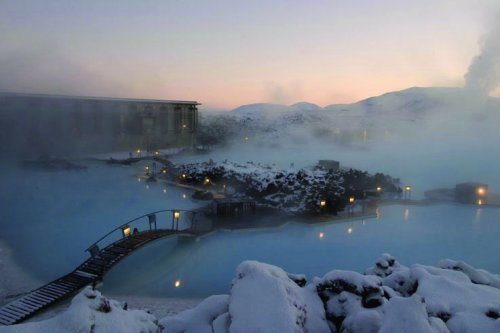 There's not a lot to do in the pool itself, which is exactly the point. Swim around, float a little, massage your shoulders under the waterfall, and make some new friends. Or start day-drinking. Nothing says vacation better than sipping sparkling wine in a gigantic hot tub!
The Blue Lagoon has a full-service spa, including standard treatments or the more unique option of having a massage given while you remain in the water. I love spas, but after recently getting a $9 massage in Nicaragua, I had trouble justifying Icelandic prices. Besides, our package included our choice of a mineral scrub or mask to self-apply, which would be just as effective (if not quite as pampering). We had also seen several enterprising people scooping silica from the bottom of the pool to use as a face mask if they didn't buy the upgraded package.
Hint: You can also find silica masks in big, wooden boxes over by the saunas. They're 100% free to use and won't be recycled minerals that a thousand people have stepped through. In other words, the for-sale masks are a complete rip-off.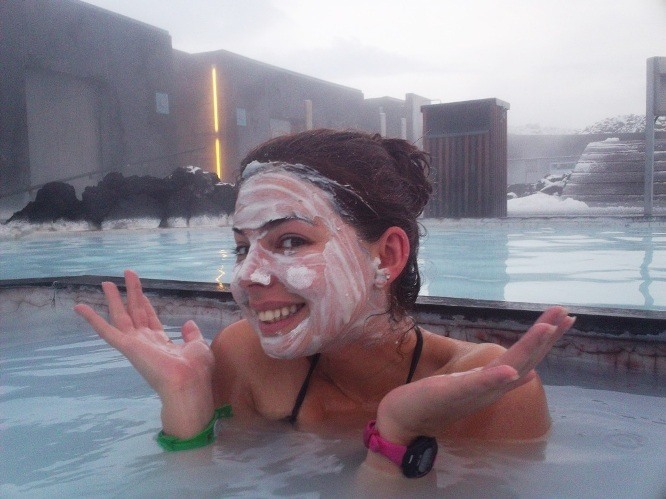 When your fingers get wrinkly from being in the water too long, you can escape to the dry saunas, steamrooms, restaurant, or indoor relaxation room (which is nothing special, but offers some lounge chairs to read on). In the winter, getting out of the hot water to walk on icy surfaces to your next destination was both a good way to get frostbite and to slip and fall, but that's no fault of the facility and we managed to survive.
Our morning stresses were long forgotten…until we had to leave. The same organization nightmare waits for you when you depart, with one understaffed line to pay for any charges you've accumulated (like that sparkling wine or spa treatment) and another to re-claim your suitcase. Before we knew it, we were running to catch our bus to the airport. Immediately, that spa glow was gone.
Overall, the lagoon is a beautiful facility and one with a lot of potential. However, the logistics of getting in and out were unfortunate at best and detracted from the premium experience that's marketed. I was frustrated as it was, but I'd be even more disappointed if I had paid for the 60 euro experience explicitly.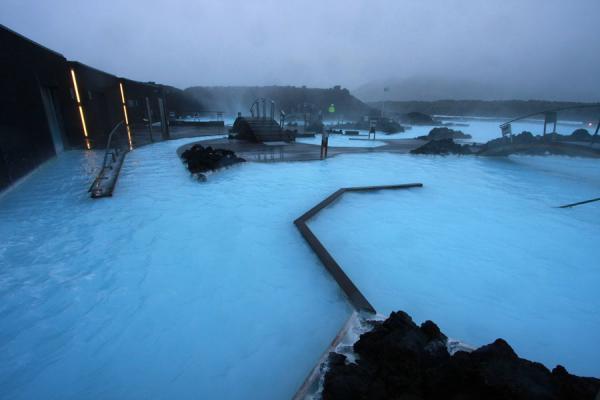 Iceland is full of other pools to choose from, and if you'll be heading to other destinations in the country anyway, they may be just as convenient. If not, you'll find public pools that the locals use, which are just as warm and much cheaper but look like a generic swimming pool. It's your call on which experience you'd like.
If you go…
Admission to the Blue Lagoon starts at €35 per adult, with higher prices in summer and extra costs for rental items, food, and drinks. My "Comfort Package" is sold for €60 and came with a towel, bathrobe, mineral scrub for use at the lagoon, cocktail, and sample product to take home.
Transportation is at an additional cost and I'd highly recommend Reykjavik Excursions, who provided our bus transfer. They provide punctual pick-up from your hotel, comfortable buses with wi-fi onboard for the 40 minute trip to the lagoon, and clearly communicated times for bus transfers continuing to the airport (they also provide this service in the opposite direction).
Having your own rental car would be even better, allowing you to come and go at times offset from the buses, and hopefully avoiding some of the crowds that come with it (and allowing you to keep luggage in the trunk of the car, instead of checking it on-site). If you've got a car and all day to kill, the Reykjanes Peninsula has a lot to explore.
* * *
WANT MORE INFORMATION ABOUT VISITING ICELAND? CHECK OUT MY COMPLETE ICELAND TRAVEL GUIDE THAT COVERS DESTINATIONS LIKE THE Reykjanes Peninsula AND EVEN HAS A RESTAURANT GUIDE FOR REYKJAVIK.