This post may contain affiliate links. As an Amazon Associate I earn from qualifying purchases.
* * *
My weekend in Salt Lake City was such a tease. Utah is a state that beckons to outdoors-lovers, urging you to come play under its big, blue skies. I always considered Moab to be the mecca of the state for adventurers, but perhaps I'm wrong. Maybe it's actually Salt Lake City, where you can go from the canyon rock formations to evergreen Park City to the Salt Lake itself within the span of an hour.
My trip to Salt Lake City had nothing to do with travel or exploration, though. I was in town to take care of some personal business, and yet everywhere I went, I could see the mountains beckoning: "come play". When my original plans fell through, I was half disappointed and half excited. At least I would get a chance to head onto the trail.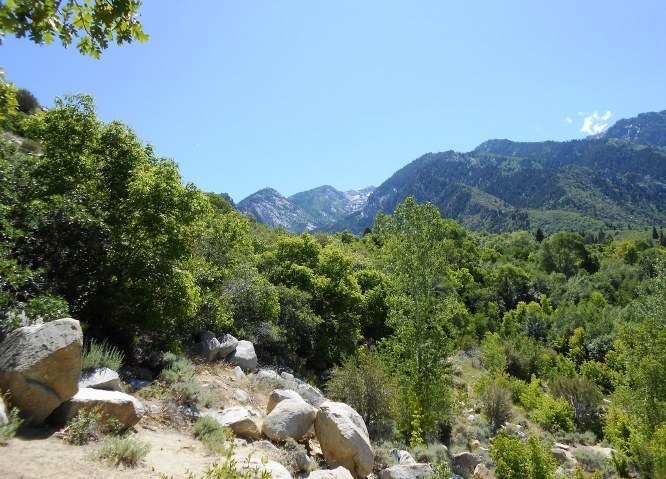 Somewhat arbitrarily, we chose the Bells Canyon hike near Little Cottonwood Canyon to fill our day. I had no knowledge on the best hikes in the area, but the trailhead was nearby, the area looked beautiful, and it was short enough to finish in our limited time.
The hike is especially popular on the first leg of the trail. On a gorgeous Saturday morning, we shared the trail with dozens of families intending to hike to the reservoir three-quarters of a mile up. It's a great distance for young kids to burn off some energy and the destination is stunning. You'd never know that down in the valley is so dusty because here the greenery surrounds you. We were happy to soak in the views while watching locals fishing or kids chasing after ducks.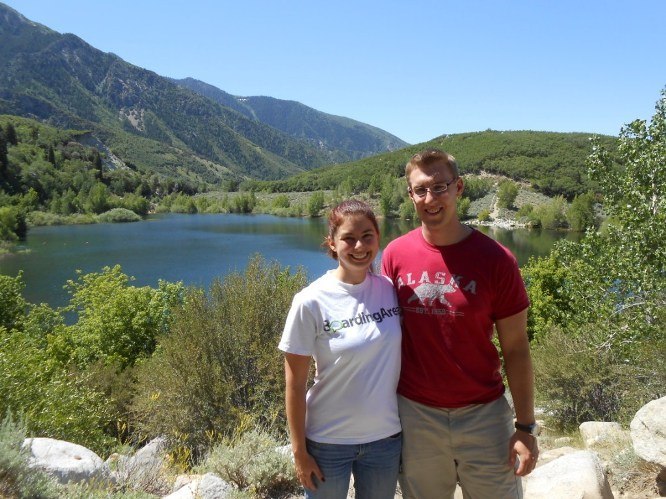 Choosing to forego the path around the reservoir and instead continuing straight ahead, we passed through a forest of alpines and scrub oaks, enjoying the peace and quiet. We continued to follow a stream, eventually leading to some small cascades with mountains peeking in the distance.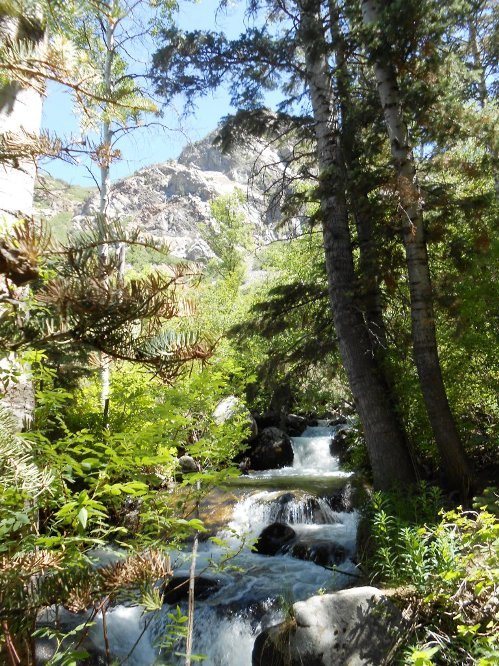 As it seems all good trails do, the path continued uphill. Giving my glutes a workout, we stepped over boulders and kept going. Every once in awhile, we'd find a clear spot perfect to admire the scenery. The large granite cliffs on the north side of the canyon, coming in and out of view, are known as the "Bell Towers", giving Bell Canyon its name.
As we continued, we heard the waterfall before we could see it, but rounding the corner led us to a partial view. The path at this point descended steeply, bringing us up close and personal to the hike's star attraction.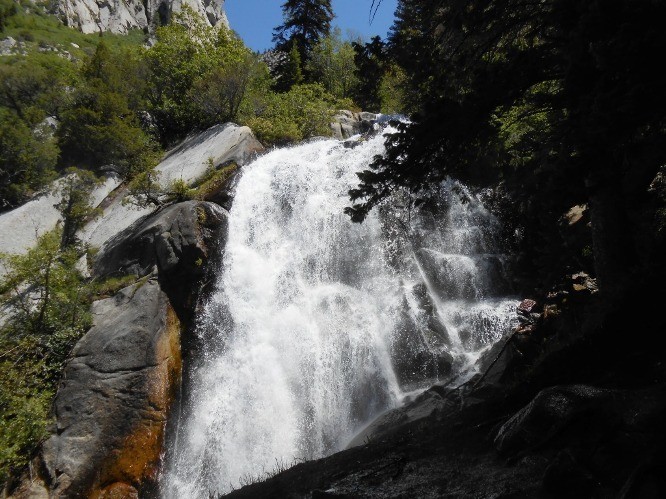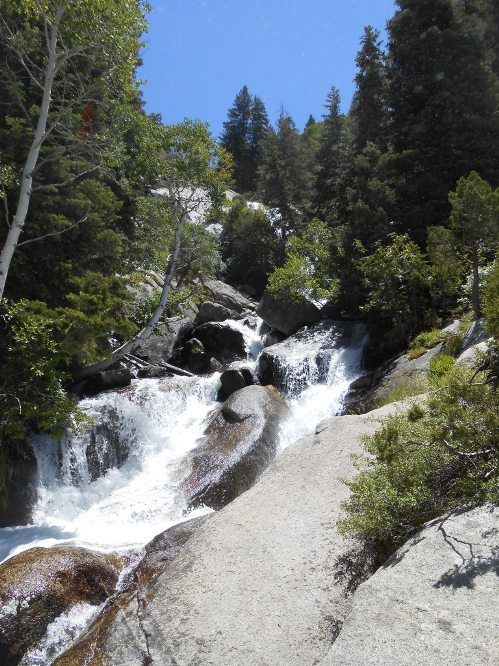 It wasn't until we stopped to take in the view from all angles that it was apparent that we came from sea level just the day before. The trail starts at about 5300 feet in elevation and we'd gone uphill from there; I struggled to adjust to the lesser oxygen levels. Basking in the sun, eyes closed and listening to the water's roar while catching my breath, I was glad to have given into Utah's temptation.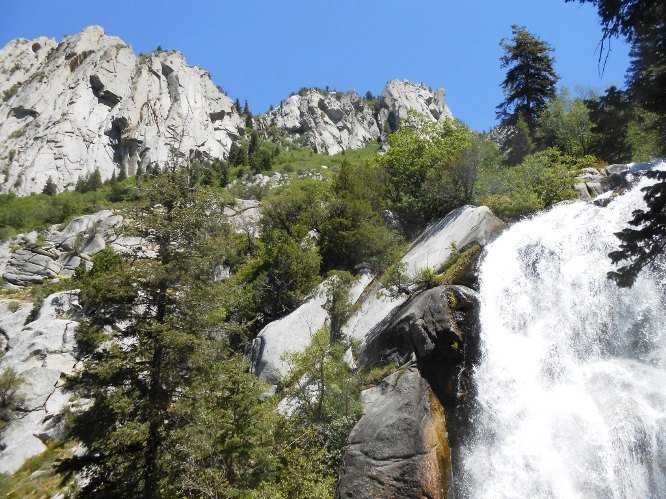 Eventually, we forced ourselves to leave our comfortable spot to return to the main trail. Most hikers simply return to their cars after making it to the falls, but we had no idea what may lay ahead and we didn't want to miss out. From here, we climbed a series of steep inclines, feeling the burn simultaneously in our legs and our lungs.
As we continued higher, we passed a few lone hikers and asked basic questions: what's up there? is it worth it? The general consensus was there were better things to see elsewhere in the area, so we turned around. Later, we'd find out that we missed a second set of falls and an upper reservoir, but we were clueless at the time.
Now retracing our steps, it was possible to overlook the spread of Salt Lake Valley.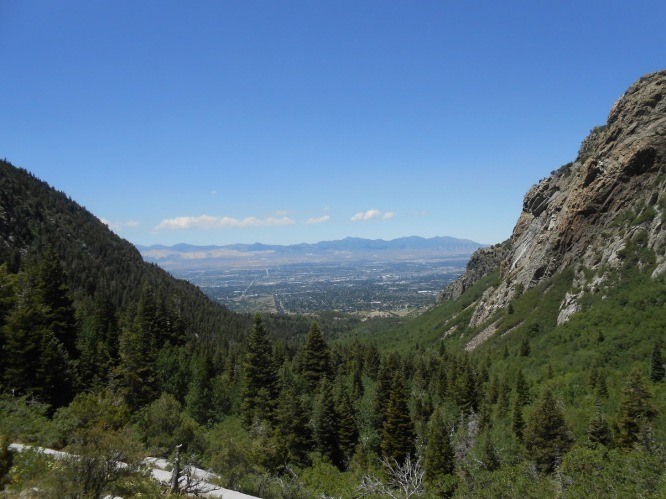 Admiring a few last views of the impressive granite walls, the downhill hike went quickly and before we knew it, we were saying goodbye to Bell Canyon. The trip had been just a tiny glimpse of what Salt Lake City had to offer, but I saw enough to know I'd like to return.