This post may contain affiliate links. As an Amazon Associate I earn from qualifying purchases.
* * *
Shopping for travelers can be hard! Many of them value experiences more than things (hint: time to wrap up concert tickets, sporting event passes, and tour certificates), but if you prefer to buy physical items as Christmas gifts for travelers, these travel gift ideas will get you started.
Top 10 Travel Gifts for 2019
If you're short on time, here are my favorite suggestions for 2019's gifts for travelers.
Photo Credit: www.ebags.com
I finally bought a new laptop bag this year after my old one fell apart and I can't believe it took me so long to treat myself! This one is perfect for travel, with two external water bottle pockets, an easy slip-through over suitcase handles, and plenty of (organized) space.
Now that I have a house, I look for opportunities to decorate every chance I get. This personalized departures board is a really cute way to highlight someone's previous trips.
Performance wear that actually looks good enough to wear out to lunch? That never happens -- until now. My Prana Halle pants are my all-time favorite style, with water-repellant fabric, hidden stash pockets, (optional) roll-up legs, plenty of stretch for adventures, and a classic trouser fit.
Photo Credit: www.amazon.com
Hotels are getting rid of mini-toiletries and switching to wall-mounted dispensers. That's great for the environment, but they're often unsanitary, empty, or low-quality products. Fill these leakproof containers with your favorite products to bring with you.
Photo Credit: www.amazon.com
As a wildlife junkie, these are a must-have. These are perfect for whale watches, national parks, and more — plus I can't tell the difference between these and my husband's $400 version.
Photo Credit: www.etsy.com
Is this not the cutest? You can personalize the signs on your tree to places you've been or places you want to go. You can always add or swap out other signs in the future, so the possibilities are endless. I'd make signs for the places I'm going this year, then change it out next year for inspiration.
Photo Credit: Etsy
I love this sterling silver ring and you can personalize the inside with any inscription you'd like (though I love the default). Since fine jewelry isn't a great option for travel, this one helps me still feel fancy without the risk of theft, damage, or loss.
Photo Credit: www.tortugabackpacks.com
Travelers who use backpacks instead of rolling suitcases are more nimble. This particular bag by Tortuga is especially well-made so that it's perfect wherever someone's next adventure is. Read my full review.
Photo Credit: VacayStyle
Have you heard of capsule wardrobes? They're a set of mix-and-match clothing items, and VacayStyle has pieced together 5-piece collections that ultimately form 15 outfits. It's a carry-on packing dream.
Photo Credit: stowawaycosmetics.com
Natural cosmetics in travel sizes, so everything you need fits neatly into a compact bag. I love the idea of keeping a separate set just for travel, to make packing a breeze.
Travel Stocking Stuffers
These inexpensive gifts are also small enough to fit inside anyone's stocking!
Airplane (Temporary) Tattoos: Not every gift has to be practical, and these temporary tattoos are a cute way to show off a love for travel.
Skin Salve with Aloe: Solid products are great for travel since there aren't restrictions on packing, and Green Goo's all-natural salve is great for sunburns, dry skin, and blisters.
KIND Bars: These nut-based snacks are great for protein on-the-go and come in tons of flavors, like my favorite Almond Coconut.
Towel Clips: Keep your towels in place on lounge chairs at beaches, pools, and cruises.
Steripod – No more nasty mildewy toothbrushes when you have to pack up first thing in them morning.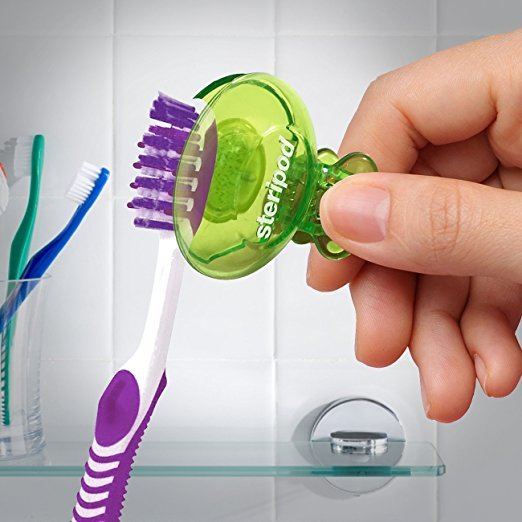 Cell Phone Card Holder & Stand: Travelers on the run love this stand that props phones up for easy use as GPS in the car and keeps cash or cards close at hand.
Travel Stickers – Perfect for scrapbooking, decorating laptops, and other projects.
Marvis World Flavors Toothpaste – I'm fascinated by flavor combinations like "Karakul", with orange juice, cardamom and mint. The travel-size gift set can be divvied up between multiple recipients or give them all to one person!
Manta Sleep Mask – Yes, someone really did improve upon the classic sleep mask. There's finally one with anti-slip gel so that it doesn't fall off during the night. It has complete black-out, deep eye cups allowing REM sleep, and memory foam for a comfortable fit.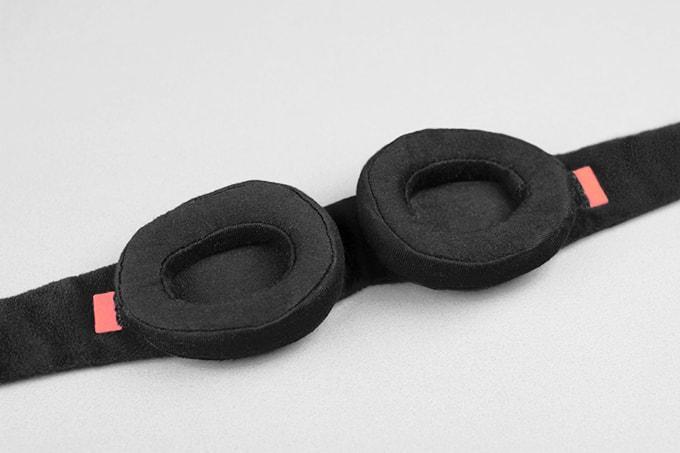 Affordable Gifts for Travelers
All of these travel gift ideas will set you back less than $25.
Lonely Planet Magazine: This subscription is my favorite of all travel magazines because they usually lean towards trips and adventures I can actually afford — unlike the luxury travel that other publications lean toward.
Platypus Water Bottle – Water is the magical cure to all sorts of travel ailments. Platypus bags roll up compactly so they barely take any space in your suitcase but still stand upright in cupholders.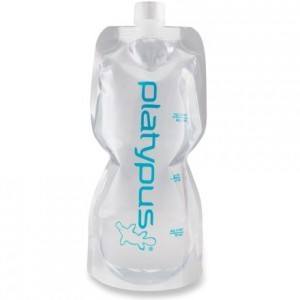 Softcover Notebooks – I know I'm not the only traveler who journals along the way. These notebooks are easy to stash in any carry-on and downright beautiful.
Lokai Bracelet: This simple bracelet containing mud from the Dead Sea (lowest place on earth) and water from Mount Everest (highest place) reminds travelers to stay balanced.
Adventure Fund Jar – This is so simple, but so adorable. Buy this on Etsy, or if you're crafty, make one yourself with specialty paints or stickers.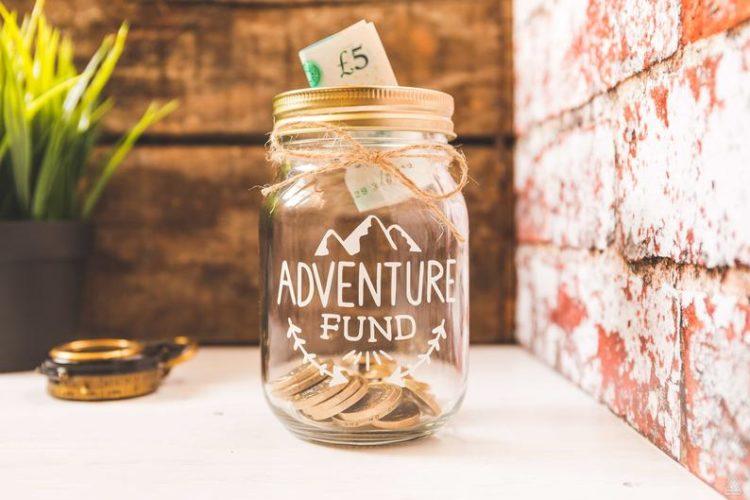 Clip On Cup Holder: I just started working on airplanes this year, but there's not enough space on an airplane tray table for a laptop AND a drink unless you "build" some extra space.
Dry Sacks – Dry bags take "waterproof" to maximum level. I've kept expensive cameras dry during whitewater rafting and clothing dry during thunderstorms.
Human + Kind Family Remedy Cream – Not just lotion, this all-natural cream is great for anti-itch, sunburns, insect bites, and razorburn. Since it's all-in-one, it's great for travelers short on space.
Contigo Autoseal Mug – Keeps my tea piping hot for ~3 hours and never, ever leaks, even when it's thrown upside down in my laptop bag.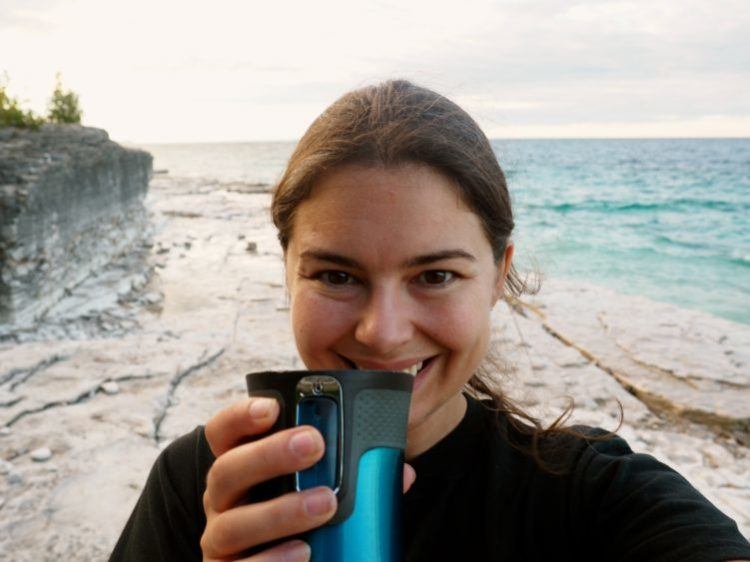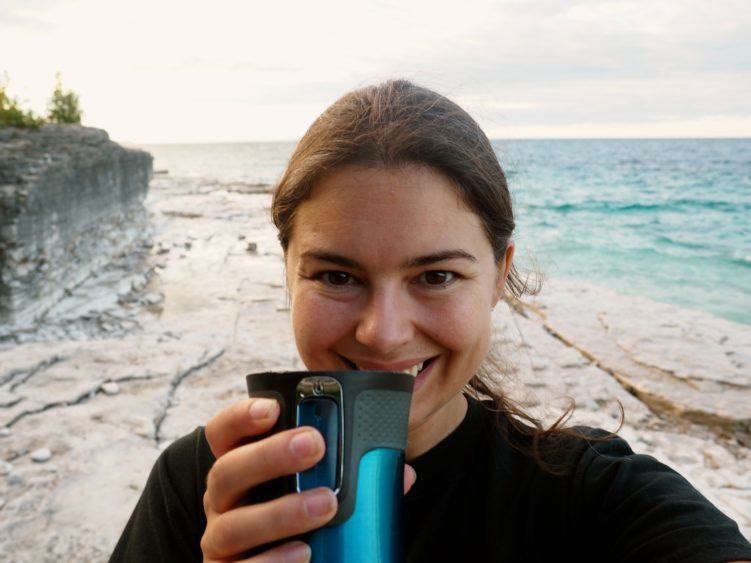 Compression Socks: Great for long flights or after long hikes, and Sockwell brand is cute and high quality!
Airplane/Map Toiletry Bag – Packing is more fun when you have cute accessories. This toiletry bag is perfect for non-liquids, like your toothbrush and hair clips.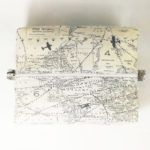 36 Hours USA & Canada: This book is great inspiration for anyone with limited vacation time!
Practical Travel Gifts
Waterproof Daybag – The best day pack in the world, with easy access to inside, water bottle pockets, and extreme waterproofing (trust me, I've tested it).
Decoy Wedding Ring: Whether you're married or not, this fake diamond ring looks real and helps ward off unwanted attention without the risk of traveling with valuables. Men's styles also available.
Packing Cubes: Staying organized while packing is a great way to pack lighter and not feel like you're living out of a suitcase.
Picture Dictionary – Language barriers are difficult for international travelers to overcome. Apps and dictionaries have a helpful place, but there won't be confusion on pronunciation if you just point to pictures as part of your pantomimes. This book has frequently used topics all in photo form so you can get your point across.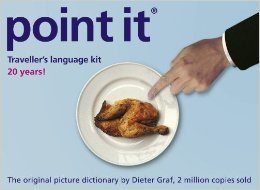 Nap Anywhere Pillow: Normal U-shaped pillows for planes aren't comfortable if you're not normally a back-sleeper, but this unique shape is great for buses, trains, and planes.
Mondly: Knowing the basics of a foreign language is one of the best ways to make a good impression and meet more people while traveling.
Global Entry: Skip the lines at U.S. immigration and get access to TSA Pre-Check at airport security. You can't apply for someone, but you can gift them $100 to apply.
Sawyer Water Filter – So easy to use and it filters out 99.99% of bacteria, making it possible to drink tap water anywhere in the world (or from streams and rivers).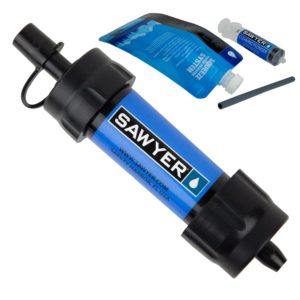 Travel Insurance: Insurance isn't sexy, but it can save a traveler's butt in some situations and policies are usually quite affordable.
VPN Subscription – Do you know what a VPN is? It's super important because it protects and encrypts your personal and financial information whenever you're using public wi-fi (which travelers do often).
Travel Gadgets
Know a traveler who loves electronics? Here's what to get them this holiday season.
Phone Gimbal – What's a gimbal, you may ask. If you've ever watched a video that looks super steady even while moving, it's probably because the camera was attached to a gimbal to smooth and stabilize the image even during jerky movements.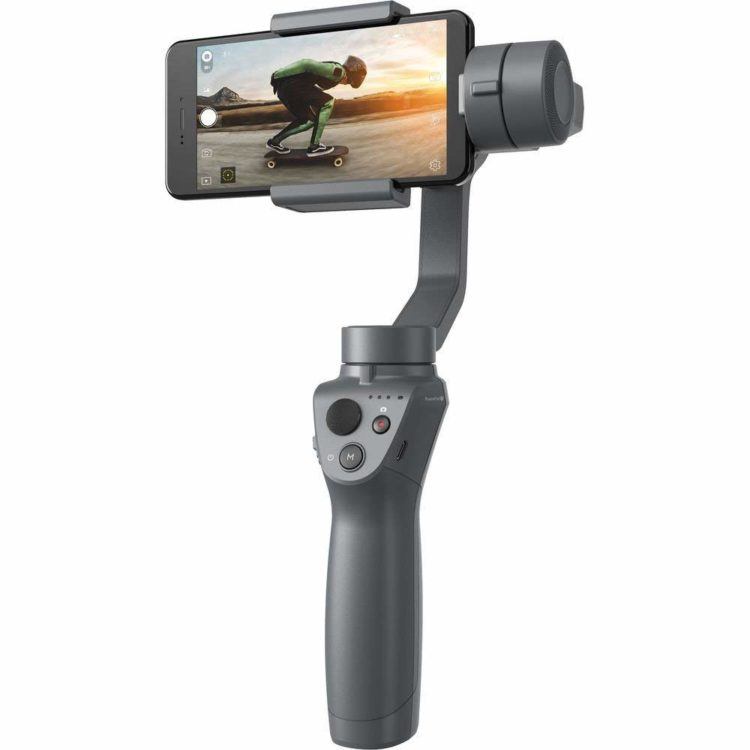 Mini Travel Charger: With three outlets and 2 USB outlets, this multi-plug is great for hotels, airports, and anywhere you're likely to fight to charge electronics.
Electronics Case – It's nearly impossible to travel without electronics now, so keeping them in a single case keeps them organized and protected. This one from Amazon is sturdy and just the right size. It has slots for a pocket camera, memory cards, chargers, spare batteries, and even a headlamp.
Dash Cam – For epic roadtrips, scenic drives! My parents have caught great video moments not just of scenery, but also fast-moving wildlife you'd never be able to stop in time to photograph while driving.
Keyboard Skin – You can protect your laptop from minor spills (like from airplane turbulence) with a silicone skin — not to mention, it's cute, has great tactile feel, and has been a conversation starter all over the world.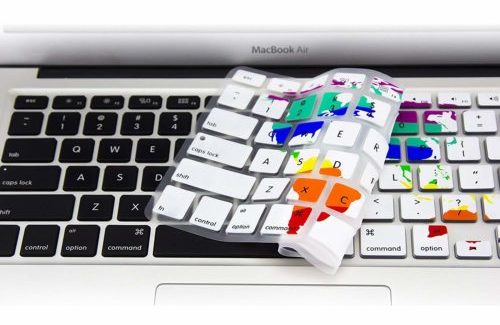 Kindle: I love my Kindle; it's the best way to carry thousands of books, read in the dark, and store travel maps, reservations, and PDF itineraries.
External Battery: Power hogs take note! This external battery will re-power your cell phone or other USB-charged device over and over again without access to a wall outlet.
Smartphone Projector: Photos aren't just for Instagram. Share your favorites with a crowd easily by using a projector and a blank, white wall. You can connect it to your phone, tablet, or laptop but unfortunately not directly to a camera.
Travel Clothing Gifts
I can't be the only person who likes to get clothes for Christmas — after all, they're good when traveling or at home!
Smartwool Socks: Happy feet make happy travelers! No matter how wet, sweaty, or gross my feet have gotten, with Smartwool I've never had cold or blistered feet.
City Map Tie: There are tons of women's scarves with maps, but this is the first (classy-looking) map tie I've seen, with cities like Chicago, San Francisco, NYC, London, and Paris available.
Clothing Rentals: A one-month subscription to LeTote means you can rent party wear in Las Vegas, something chic in Paris, or sundresses for Florida.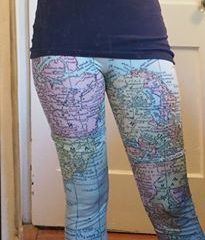 Map Leggings: I get compliments on my map leggings every time I wear to them to yoga. If you're looking for something you know she doesn't have yet, this is the perfect gift idea! (If you're between sizes, size up).
Home Flight T-Shirt: If you fly a serious amount of miles, this tee is just for you.
Chilly Jilly Wrap: This wrap packs down into a small, light bag and is multi-purpose as a shawl, sarong, or scarf!
Jewelry in the Shape of Your Route: With Meshu, you can trace your journey and have that geometric shape turned into a necklace, earrings, or even just a postcard.
Travel Gifts for Women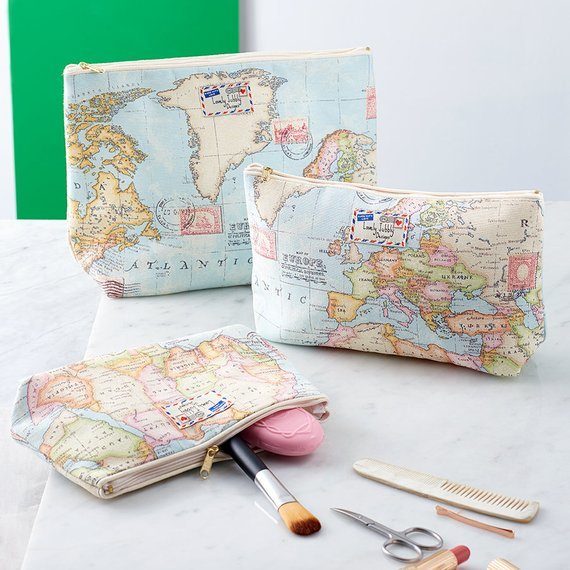 Map Makeup Bag: Packing is so much easier if you have a makeup bag with the essentials inside that's always ready to go. This cute makeup bag (especially when stocked with travel-sized Stowaway Cosmetics) is perfect for weekend trips or longer adventures.
Tieks Ballet Flats: Is it an impulse purchase if you've been eyeing the same product for years? Tieks have a great reputation for being comfortable walking shoes — and they're stylish enough to wear all over the world. I'm all about a classic black to go with everything from a little black dress to skinny jeans.
Earring Travel Case: If you travel with more jewelry than I do, this earring organizer will keep everything handy, organized, and de-tangled.
Lush Ultrabalm: Lush ultrabalm doubles as a moisturizer, lip balm, makeup remover, and more. Since it's not liquid, it won't leak in your purse or luggage and doesn't count toward your carry-on allowance!
Travel Pendant: This pendant reading "Oh, the places you'll go" is something I'd actually wear every day. And at this pricepoint, it's jewelry you can actually afford to buy for someone else!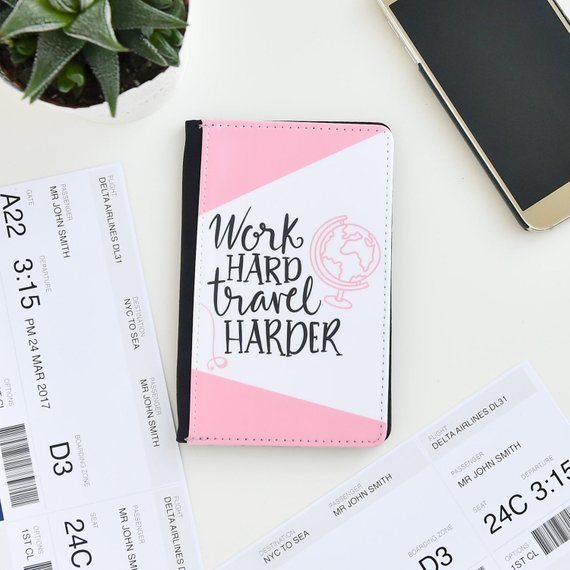 Passport Cover: Sometimes, you just need a reminder of how much you've earned that trip. This passport cover is adorable and easy to slip on.
Fitbit Bangles: The best travel gifts are ones that you can use in everyday life, too. I love Fitbits to keep track of steps while traveling (it's easy to hit 15,000 in a city like London) and the bangle straps make them look like jewelry or watches instead of ugly rubber bands.
Anti-Theft Day Bag: This fashionable backpack has locking compartments, RFID-blocking credit card and passport slots, and anti-slash construction on the bag and straps. For things that are less valuable (like sunglasses and lip balm), there's a zippered pouch that's easy to get in and out of.
Best Gifts for Foodies Who Love to Travel
Regional Foods – Goldbely is a fun food delivery service with favorites like New York pastrami, Chicago pizza, Louisiana crawfish, and San Francisco sourdough to relive your vacation experience. New customers can get $10 off a $20 order or using my referral link bumps it up to $15 off $40.
A Cook's Tour by Anthony Bourdain – I love all of Anthony Bourdain's books, but this one is a great blend of food and travel. Of course you're buying the Kindle version since Kindles are great for travelers.
Sunbasket Meal Kit – Like other delivery meal services, Sunbasket ships everything you need to make three meals at home, but with international flavors. Perfect when you're renting a timeshare and don't want to deal with the hassle of grocery shopping (or the inconvenience of needing to buy a full set of spices for a single recipe).
Airplane Wine Bottle Holder: Show off a love for travel and a love for wine simultaneously.
World Tea Kettle: For part-time travelers, this is one way to satisfy wanderlust without leaving home.
Foodie Maps: These maps of New York City and Paris (arguably culinary capitals of the world) focus on the best places to eat rather than traditional attractions. Try the Paris croissant map or New York pizza-by-the-slice to start for the ultimate travel guide.
In Her Kitchen by Gabriele Galimberti: This combination cookbook and coffee table book is a must-have. Each recipe is inspired the author's international travels and comes straight from a grandmother she met on the road — meaning it's delicious food plus insight into local homes and culture. Bonus: the photography is inspiring (so buy the paper version, not a Kindle edition).
Presents for Travel Photographers
SmugMug Subscription: For travel photographers, SmugMug galleries are a great way to show off (or sell) your best shots.
DSLR Camera Backpack – For the traveling photographer, this waterproof backpack has a brilliant protective area to carry and access your DSLR, plus pockets for other necessities during the day. A great option that looks more expensive than it really is.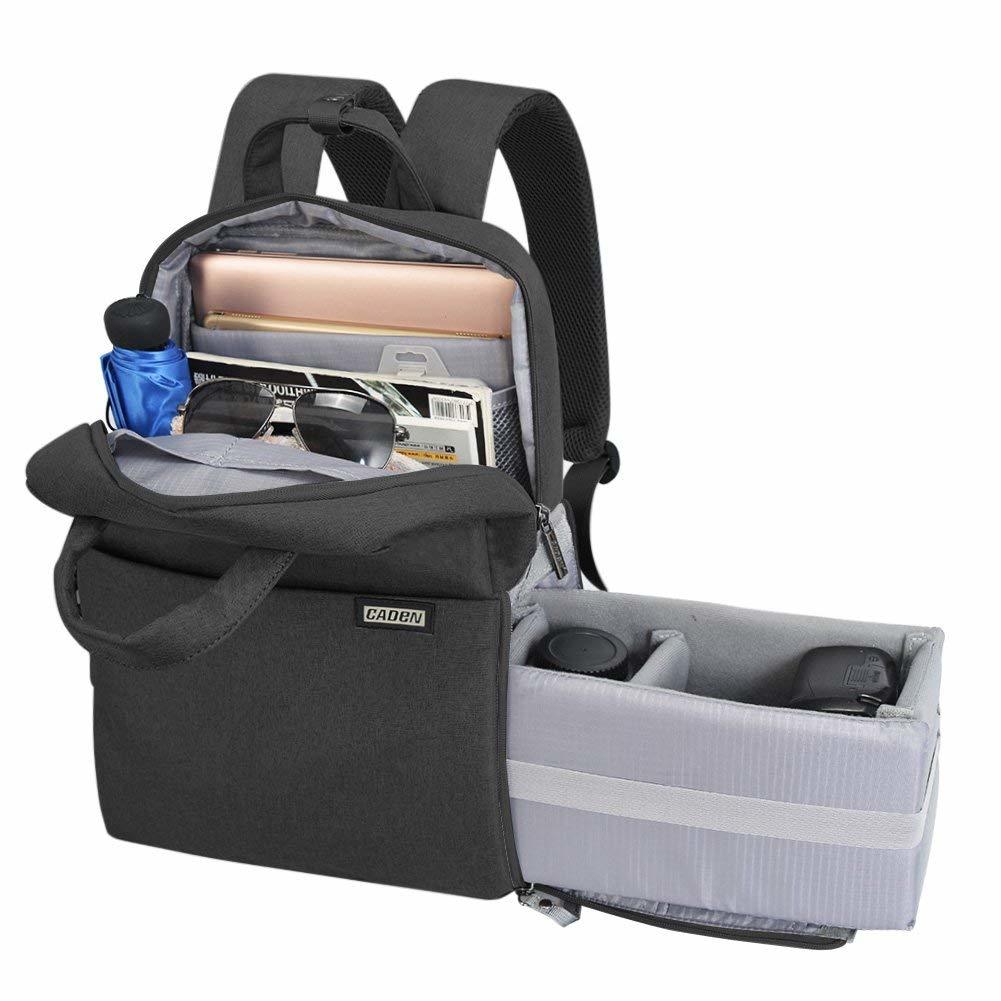 Anti-Theft Camera Strap – If you've got an expensive camera hanging around your neck, the least you can do is make sure it's on a slash-proof strap.
Instagram Books: Print 80 of your favorite Instagram photos as a compact book so you can flip through pictures at your next dinner party.
External Hard Drive:When you store as many travel photos as I do, you need extra space…and this hard drive is meant to be manhandled across continents and keep your files safe.
Travel Decor & Home Goods
Globe Bookends – The more I travel, the more I appreciate home, but being able to blend the two is best of all. These bookends are great for showing off a travel passion even when you're at home. Pair it up with some travel books or photo albums to make it a complete set.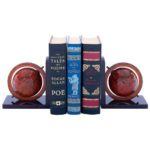 Travel-Themed Baby Mobile: It's never too early for a love of travel 🙂
Romantic Map – Everyone has a map, but most of them are pretty generic. This handmade artwork is perfect if you need a gift for couples. (Hint: keep it in mind for traveling newlyweds, too).
Personalized Photo Ornament: Display and reminisce over your favorite vacation memories by sharing your favorite photos as ornaments.
Mountain Shelf – Nature lovers, this is such a unique way to display photographs from your adventures in your own home. It is custom made with your preference in stain color and a lovely way to blend travel with everyday life.
Mapnetic World Map – Scratch-off maps are so 2013, but travelers still love showing off where they've been and where they're going. This dry-erase magnetic map is the perfect size to put on your fridge to show off adventures. As a bonus, you can stick photos and postcards on the map, too!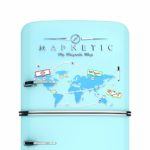 European Neighborhood Map Coasters – Know someone who loves a Europan city inside and out? These map coasters show different neighborhoods of beloved cities, such as the arrondissements in Paris.
Home State Return Address Stamp: Frequent travelers make new friends on the road, and these super cute return address stamps fit your name and address into the shape of your favorite state.
Just for Fun Travel Gift Ideas
Looking for something more lighthearted? These are the types of gifts most travelers would never think to buy for themselves.
Anywhere Connections Cards – Pack this deck of cards for conversation starters. About half the cards are good to prompt new topics with old friends and half are more suitable as interesting small talk — perfect for striking up a chat with locals during your travels.
Bike Trunk Mount Rack: Make it easy for travelers to pack their bikes on their next roadtrip with this rack for their car.
Bananagrams – Games are great for passing time while waiting for buses and planes or for breaking the ice with other travelers and/or locals. Bananagrams is a fast-paced version of Scrabble and packs nicely into your backpack.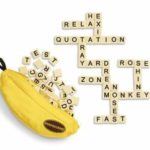 Adult Coloring Poster: U.S. Map – Adult coloring books are popular because they're so relaxing. This map of the United States has cute patterns to color in every state and would be cute framed afterward. Throw in a pack of colored pencils and it'll keep travelers entertained on their next airport delay.
3D Globe Puzzle: On quiet weekends at home, this is a fun project for travelers.
Complete Set of Peter Moore Travel Books: For travelers that think they have seen it all, these adventures will have them laughing over cultural differences like No Sh*tting in the Toilet.
Unique Travel Gifts for the Person Who Has Everything
Massage Ball Set: Long flights leave you stiff, cramped, and sore, but these balls really work for self-massage and can be used just about anywhere! Bring all 6 for a full massage, or minimalist packers can just put 1 favorite in their carry-on. (Also great after hikes or other adventures).
50 States Journal: I love this handmade journal and how it divides up each page by state — great for chronicling your quest to visit all 50 U.S. states. I'd twist things around though and use it as a place to jot down ideas and suggestions for future trips. But that's because I'm more of a planner than a nostalgia-lover. Great either way.
In-Flight Foot Rest: This in-flight foot rest helps you stretch out on long flights and is small enough to realistically pack on your trips. Sometimes it's the little things that make the largest differences in flight comfort.
Customized Luggage: Because who doesn't want luggage designed with their custom logo, team mascot, or photo from one of their other adventures? As a blogger, I think this is the perfect holiday gift!
Experiences and Gifts for Travelers Who Don't Like "Stuff"
For anyone who wants to avoid clutter and embrace minimalism.
Kiva Gift Cards – I've seen firsthand how budding entrepreneurs in developing countries have fabulous ideas and strong work ethics but simply can't succeed because they don't have the startup capital. Make a difference this holiday season by making a capital contribution and helping people around the world start a business.
Airport Lounge Pass: On long layovers, airport lounges can take away some of the stress by providing snacks, drinks, free Wi-Fi, and a quiet place to sit.
Urban Adventures Gift Certificate – Travelers value experiences above all else. I've taken a couple of Urban Adventures tours worldwide and they're always fantastic. Pick a specific tour if you know where someone's headed or shoot for a gift card (most tours are $35-80).
Gogo 1-Month Internet Access: For frequent flyers, staying connected while in-flight can be a godsend.
Massage: Think about how stiff you are after a long flight home — and then pamper your favorite traveler by promising them a free massage after their next trip!
Audible Subscription – I have a long flight to Kenya coming up on an airline that consistently gets reviews for terrible in-flight entertainment. Audiobooks to the rescue!
Online Spanish Classes – Tourism in Nicaragua (one of my favorite countries) has fallen off a cliff due to political unrest, with many locals losing their jobs and businesses. One way to help locals there is to hire them for online language classes via Skype.
Lump of Coal: The Adventure Project sells charcoal soap with an incredible cause behind it. For each bar of soap you buy, they'll donate a new stove to a woman in Kenya so that she know longer has to use a charcoal stove (which is terrible for your lungs).
More Gifts for Travel Lovers
If you need even more travel gift ideas, check out some of my other travel gift guides:
* * *
All these recommendations are based on my experiences and holiday spirit — not sponsored placements. However, several products include affiliate links and I may earn a commission from qualifying purchases. Thanks for your support of sightDOING!