This post may contain affiliate links. As an Amazon Associate I earn from qualifying purchases.
* * *
Bridging both Phoenix and Tempe, Papago Park is one of my favorite spots to add. It's a little piece of the Sonoran Desert just a few minutes from downtown, making it one of the best ways to enjoy the southwestern environment without having to carve out a major commitment.
Now, if you're picturing any old park in your head (just with a rockscape instead of greenery), you're totally underestimating it. Papago Park is more than a place you'd go to walk your dog — it's a full-blown attraction worth a day on your trip. In fact, there are so many things to do in Papago Park that you may want to return on every trip. As someone who's done exactly that, I can guarantee you won't get bored.
7 Tremendous Things to Do in Papago Park
Visit the Desert Botanical Garden
The Desert Botanical Garden proves that the desert is more than dust and tumbleweeds. This perfectly-manicured garden shows off native plant species from the area (and in some cases, around the world) with several walking trails to choose from. You'll see cactus, flowers, trees and more, each with their own beauty. You'll definitely want a camera.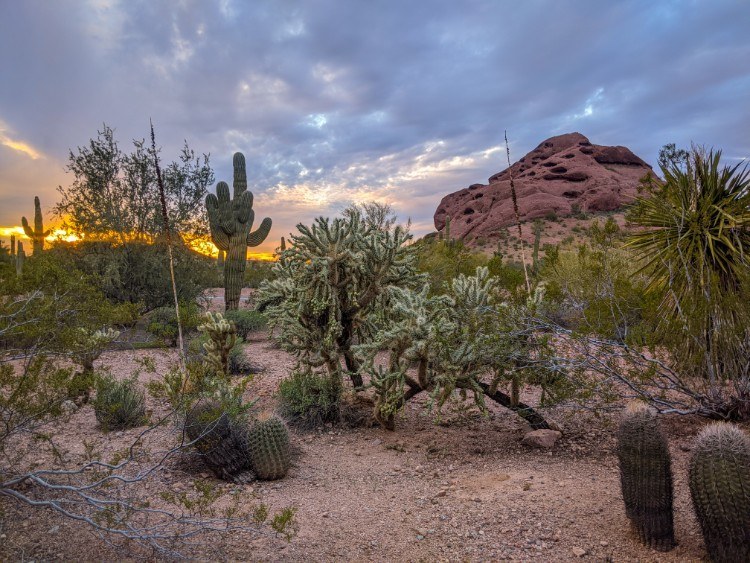 In addition to the plants and walking trails, the Desert Botanical Garden has an indoor butterfly pavilion and rotating special exhibits that seamless blend art and flora.
Hike to Hole in the Rock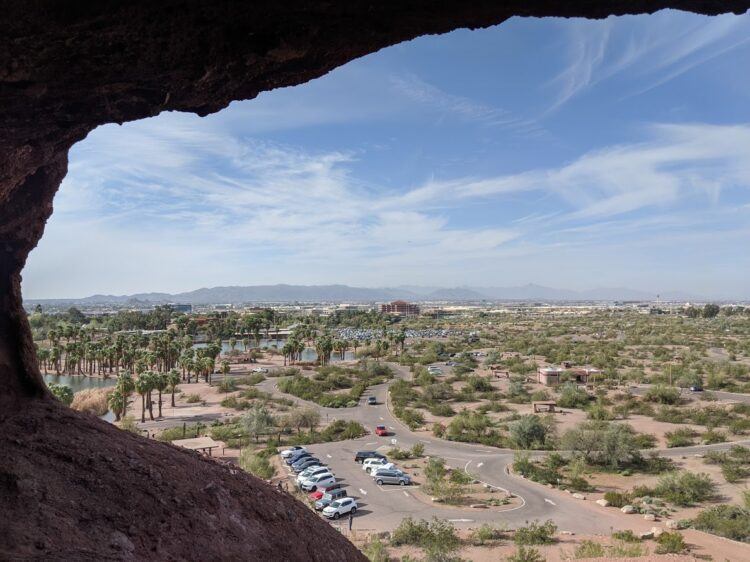 Hole in the Rock is so short that it barely qualifies as a hike but it's such a cool feature in Papago Park that you shouldn't miss it. You'll have to head uphill, but it's worth it for views that overlook the fishing ponds and park trails.
Be aware, this is a popular part of the park so it's nearly always busy. Share the view and make some new friends!
Bike on Park Trails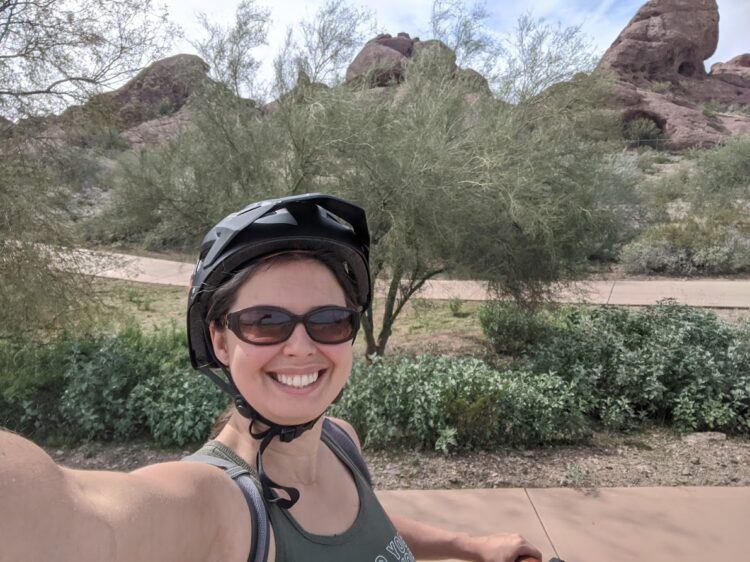 There are several different trails in Papago Park, some perfect for easy road biking and others that are dirt trails intended for mountain bikes. They range from easy to moderate so that you can find something you like.
My personal favorite is the Double Butte trail, which shows of the park's rock formations beautifully. Along the way, you'll also enjoy views of Phoenix, Temple Town Lake, and more. Trails connect to the Green Belt and other routes, too, so you may want to rent an e-bike and check out the whole area.
PRO TIP: Stop at Pedal Haus Brewery afterward for a much-deserved beer and lunch.
Check Out the Phoenix Zoo
With over 3,000 animals, the zoo in Papago Park is the largest privately-owned nonprofit zoo in the country. It's great for families (and kids at heart) and a lovely way to spend more time outside. I recommend going early, when animals might be more active before the heat sets in for the day.
Although the zoo has animals from all over the world, there's a special emphasis on native desert species. You can see the black-footed feeret, pygmy owls, and narrow-headed garter snakes, among others.
Slow Down at the Fishing Lagoons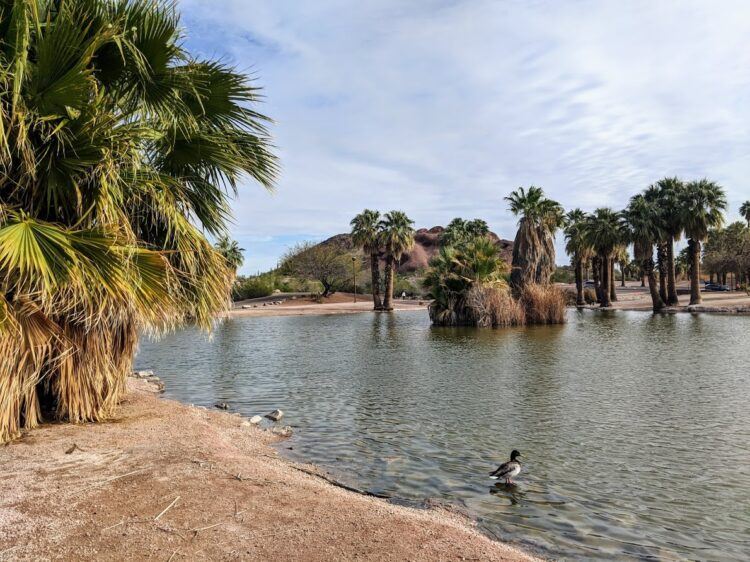 It may surprise you that fishing is one of the activities that Arizona offers as well, and there are three fishing ponds in Papago Park right next to the zoo. These ponds are stocked with catfish, trout, bass, sunfish, and white amur.
Even if you're not a fisherman (I'm not), it's a beautiful part of the park to explore and a great place to enjoy the sunshine with a good book. Unfortunately, swimming is prohibited.
Take a Swing at the Papago Golf Course
The Papago Golf Course is considered one of the best public courses in the state, so you if love golfing you won't want to miss it. The greens are well maintained and the backdrop of the buttes in the park means you'll enjoy the view in-between holes.
Best of all, the course is open for long hours which should make it really easy to add into your travel schedule. Pack a set of clubs and book a tee time online.
Stop in the Arizona Heritage Center
The Arizona Heritage Center at Papago Park is a fascinating look into local history with permanent exhibits as well as changing displays to keep things fresh. There's also a library and archives where you can dig into the rich state history if you're researching something in particular.
While this museum is a great way to break away from the heat, it can also be worth planning a special trip to attend one of their lectures or other special events. Keep an eye on their caledar for anything that catches your interest.
As you can see, there's a wide variety of fun things to do in Papago Park with something to fit anyone's interests. You can explore it at a leisurely pace or just pop in for one or two activities — either way, it's a must-add to your Arizona vacation.
Read More About Arizona