This post may contain affiliate links. As an Amazon Associate I earn from qualifying purchases.
* * *
Driving up and down the California coast is a popular U.S. roadtrip, but the central section in San Luis Obispo county often gets passed by too quickly. I know all too well: I skipped over this piece in favor of San Francisco to Big Sur on my first trip and Los Angeles to Santa Barbara on my second.
California's a huge state — and with 840 miles of Pacific coastline, it's hard to do it all on a single trip. They say third time's the charm, but you don't have to wait that long to include the beautiful Central California coast in your trip plans. Frankly, I liked it better than the southern half of Route 1, but you can decide for yourself after you give it a try. Here are some of the best outdoor activities on the central California coast.
Where to Go on the Central California Coast
Pismo Beach: Hike the New Pismo Preserve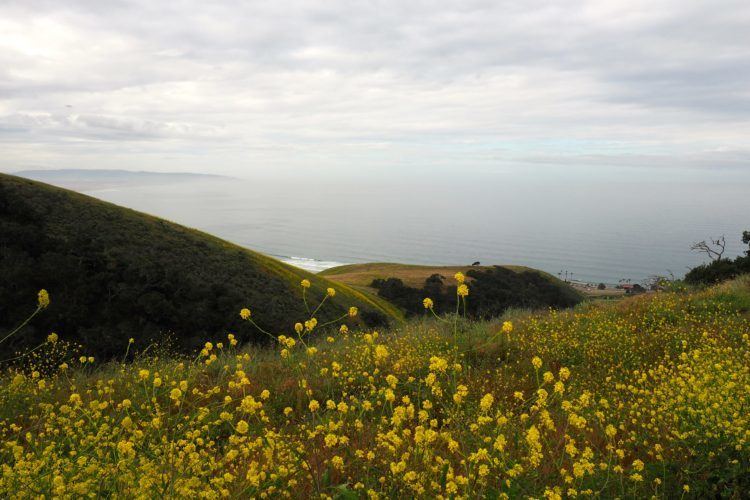 After driving up from Los Angeles, Pismo Beach was one of the first stops I made in San Luis Obispo county. The city is currently working on an exciting new project: the Pismo Preserve, which will turn the 900-acre ranch overlooking Pismo Beach into an area for outdoor recreation.
Right now, only volunteers and donors can hike the 14 miles of trail in Pismo Preserve, but it's expected to be open to the public in late 2016. It's worth planning ahead to include this gorgeous protected area. Views of the California coast span for miles, even on grey days like the one I visited on.
San Luis Obispo: Surf the California Coast
Is eating a sport? No? Too bad, because the food in downtown San Luis Obispo is amazing. That's why it's so important to burn off some calories during your visit.
One of the most popular outdoor activities is, of course, surfing. Sure, you can do it all over the California coast, but San Luis Obispo offers 100 miles of coastline for surfers of all skill levels. It's a great place to take lessons as a beginner while more experienced surfers will appreciate the challenging coves like St. Anne's.
Afterwards, order a plate of tri-tip from Old San Luis Barbecue Company and wash it down with a Mango IPA from BarrelHouse Brewing (my favorite of the trip and I don't even like IPAs!).
Morro Bay: Kayak or Paddleboard with Sea Otters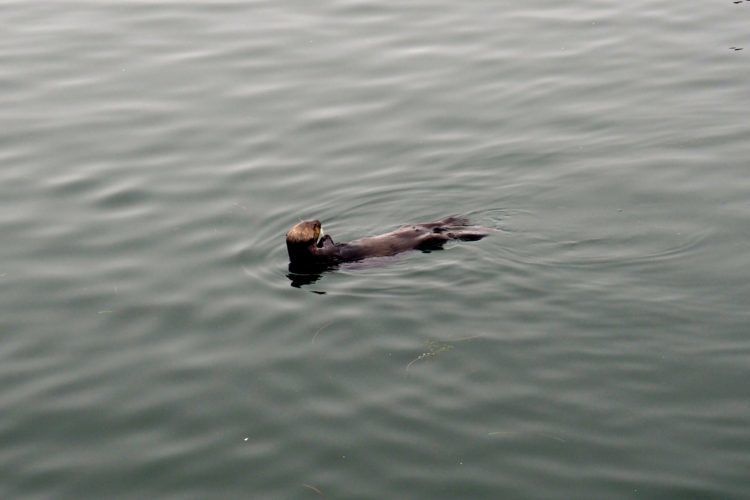 I was a sea otter in my past life, as evidenced by my love of the ocean, seafood, and playful critters. There are 15 miles of protected waters in Morro Bay, one of the most beautiful locations on the California Coast.
Morro Bay is home to approximately two dozen endangered or threatened species, including the peregine falcon, snowy plover, and sea otter. You'd never know otters were endangered here, due to their abundance in the area, so a trip on the water is a fun sightDOING activity.
While it is possible to simply view sea life from the beach or along the coastal walk, you'd be surprised how close you can get by kayaking or paddleboarding. If you can, pack your binoculars, too!
San Simeon: View the Elephant Seals
Best known for the Hearst Castle, San Simeon is the farthest north I visited on this trip. As an outdoor lover, I was more drawn to the nature, like the elephant seal home just a few miles away.
While elephant seals spend eight to ten months a year out at sea, they migrant thousands of miles to land in order to birth, breed, molt, and rest. During this time, San Simeon visitors can view these magnificent mammals from Piedras Blancas. Peak season to view the seals in December to March, but you'll likely see some activity year-round.
* * *
Fess Up: Where's your favorite California Coast spot?
Even after three trips to California, I haven't seen it all. Where are your favorite spots on the central coast? What are your favorite activities?
* * *
My trip was hosted by San Luis Obispo County — as I'm sure you know, my love and opinion of the outdoors, wildlife, and sightDOING is completely my own.