This post may contain affiliate links. As an Amazon Associate I earn from qualifying purchases.
* * *
Biking in Conejo Valley California is my husband's dream come true. There are rolling hills (plus a few serious climbs), bike lanes, and drivers actually remember to make space for cyclists.
It's my dream come true, too, but for different reasons. It's gorgeous in all directions, so different from nearby Los Angeles. And it's the perfect distraction from aching quads and a sore butt.
So here's the problem: Mike takes off like a bat out of hell, showing off his Ironman status. I lollygag my way down designated paths, paying more attention to the butterflies than my speed. It's like one of those math exam questions: "If he's riding at 22 miles per hour while she's piddling along at 8 miles an hour, how long will it take before they're not even on the same planet anymore?"
Luckily, in Conejo Valley, I could solve our problem by renting electric bikes. Part beach cruiser, part battery-operated scooter, these were the answer to our question.
No more compromising in our marriage, just a few extra horsepower to keep the peace. With "pedal assist" technology, you go twice as fast with half the effort.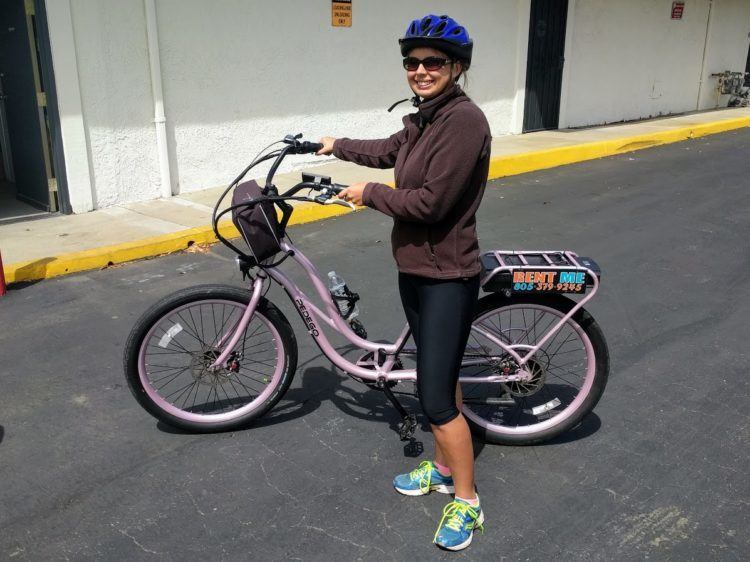 The first half of our ride was pleasant, as I relied on a little extra oomph to keep up with Mike. But we were still testing the waters, with jittery starts from each red light until we got used to the extra power. By the time we made our pit stop at Paramount Ranch, we had it down.
Paramount Ranch is a former film set, used in movies and TV shows I've never scene. Today, the Old West town seemed to be a popular place for weddings, events, and as a park for hiking and horseback riding.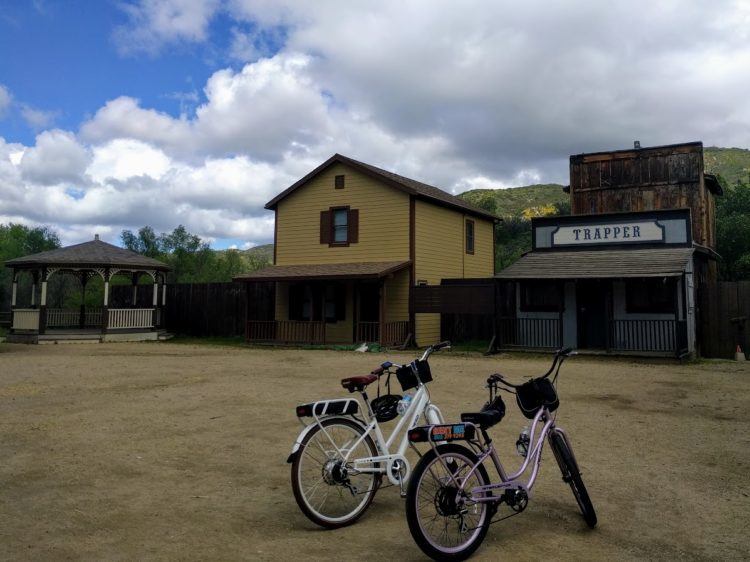 Hopping off our bikes, we meandered in an arbitrary direction, stopping to pet local dogs and say hi to their families along the way.
From there, Mulholland Highway twists and turns, mostly downhill. Even just coasting, you pick up speed so fast you wonder if you'll wipe out. I held on and tried to ease on the brakes in a safe way until I had no choice but to do a double take.
"Was that a coyote?!"
It was worth stopping to find out. Sure enough, in broad daylight in the middle of the afternoon, we saw a coyote.
Wildlife is just icing on the cake in Conejo Valley. No matter when you go, you'll be treated to gorgeous vistas around every bend.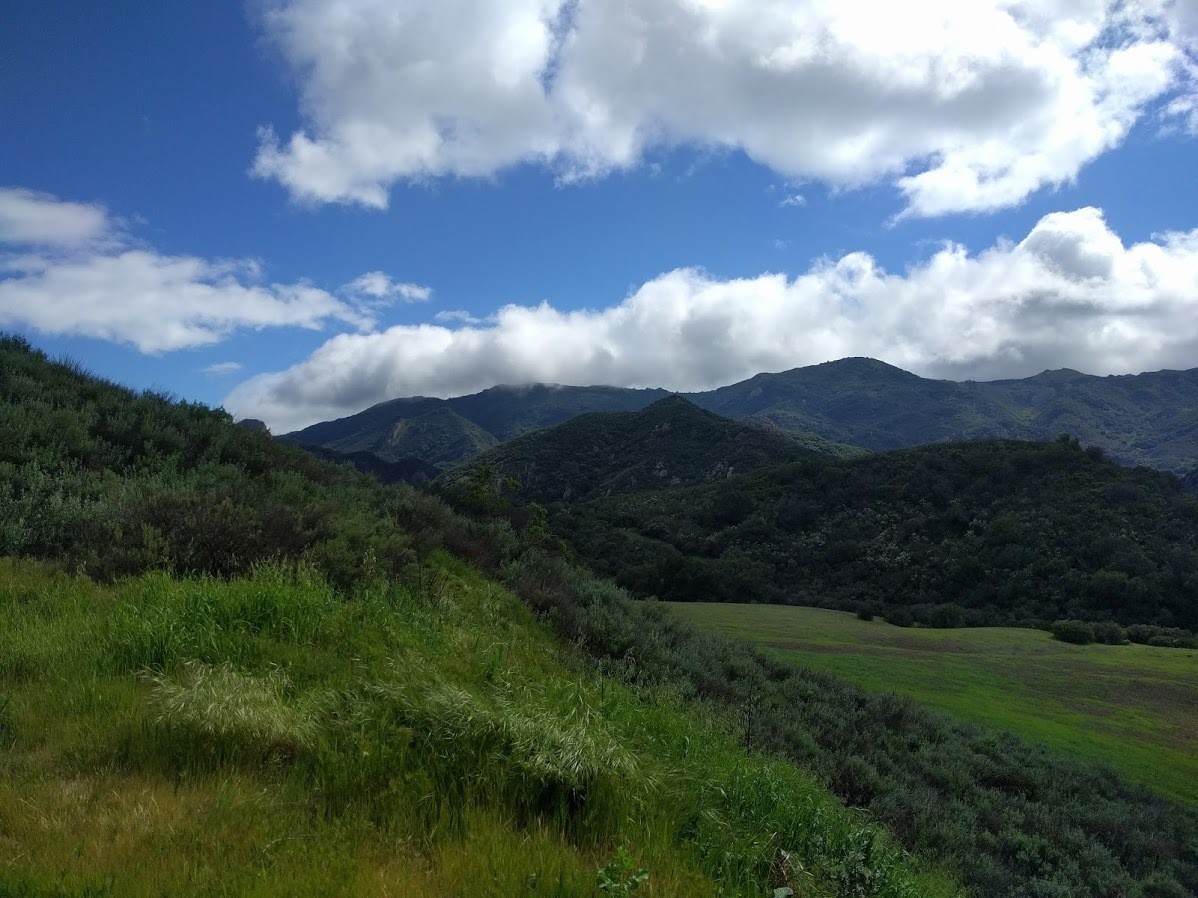 Normally, re-tracing your steps to get back isn't so great, especially when climbing uphill. This time, with my pedal assist and the chance to slow down to take in the views, I liked it so much I wanted to do it again. Our route past Malibu Creek State Park, Liberty Canyon, and the Santa Monica Mountains was worth repeating.
I'm proud to say I never set my pedal assist to more than a 2, even on the steepest sections.
Mike cheated way more than me, at times using the throttle to 100% kick back and relax. "Just because I can conquer a mountain doesn't mean I want to," he admitted.
In a place like Conejo Valley where the whole point is to catch your breath from life's stress, I guess that's all right.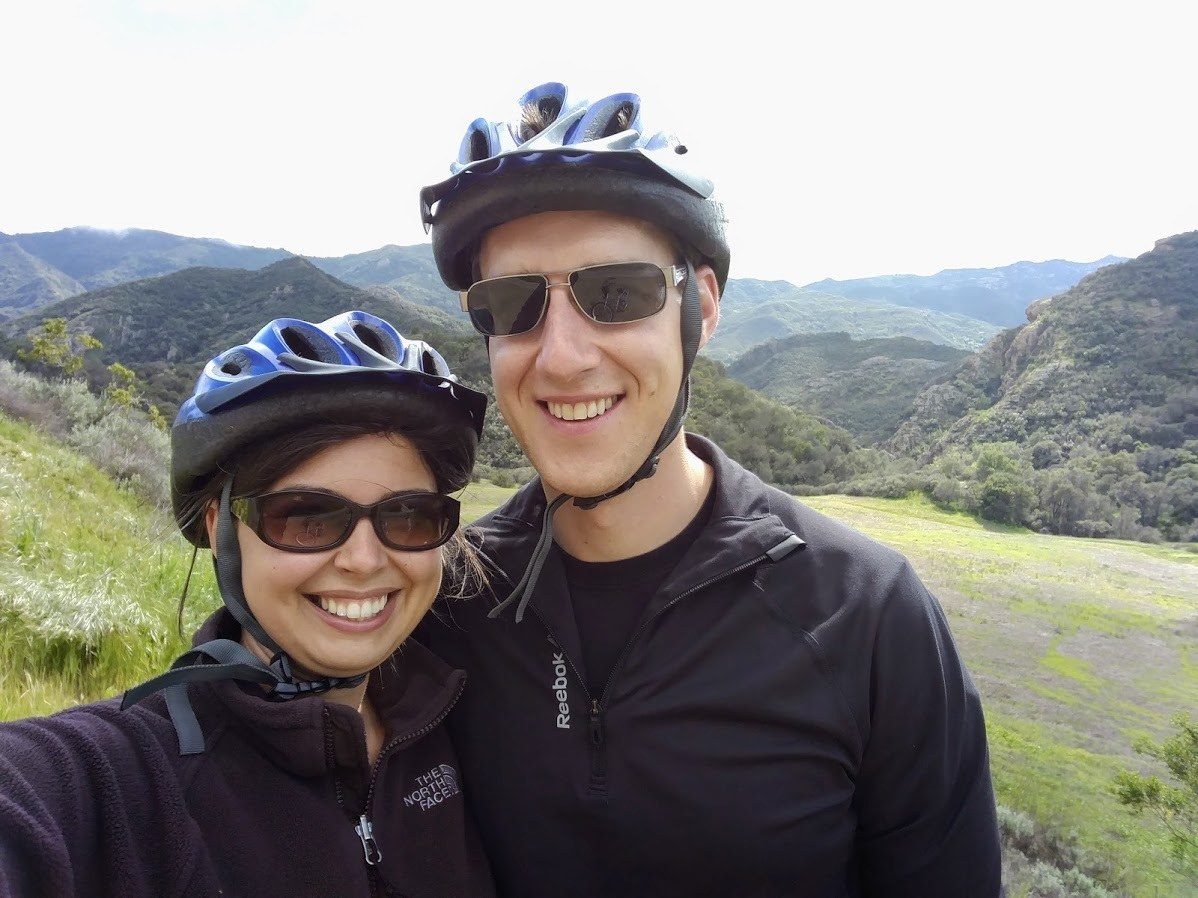 * * *
If you go to Conejo Valley…
First-time visitors to Los Angeles would never think to book a hotel in a town like Agoura Hills, Westlake Village, or Thousand Oaks. It doesn't have the glamour of Hollywood or the name recognition of Santa Barbara, but underneath that suburban mask, there's a lot to take in.
Rent a bike: The electric bikes from Pedego can be used fully as scooters, fully man-powered, or anything in-between (what I did). They're expensive, but a lot of fun.
Have a beer: Biking and microbrews are a match made in heaven, and there are lots of local breweries to check out. My recommendation is the Brexit Brown Ale at Five Threads Brewing.
Fuel up: Breakfast is the most important meal of the day, and like all of Southern California, you'll find fresh and creative meals at Jinky's. Get the chili omelet; if sounds weird, but they're to die for.
Sleep well: We stayed at the Hyatt Regency Westlake, a gorgeous property at half the cost of comparable properties in nearby cities. Use it as a base for daytrips to Point Mugu State Park and surfing in Malibu, the Channel Islands National Park, and Topanga Hills — a surprisingly delightful hiking spot in the Santa Monica Mountains.