This post may contain affiliate links. As an Amazon Associate I earn from qualifying purchases.
* * *
As much as I love travel, sometimes it can get in the way of normal life. I fall behind on work, don't get a good night's rest, and drink far too many empty calories in the form of airport lattes and wine pairings with dinner.
So when fellow Richmond blogger Liz of I Heart Vegetables invited me to a 7 Day "Tone it Up" challenge while I'd be on vacation, I was a little hesitant. Traveling is hard on your body and I didn't want to set myself up for failure. Luckily, southern California has a lot of healthy (and delicious) food and plenty of fitness options that are still fun enough to make you feel like you're on vacation.
A Week of Fitness in Southern California
Getting High at Cirque School LA (Hollywood)
Walking into Cirque School LA, the first thing I'm struck by is that several different classes are going on concurrently, just like a three-ring circus. Acrobats and aerial artists are training with intense dedication. Like dancing, their gracefulness comes from hard work and repeated efforts.
Even though I'm intimidated by the other students' prowess, I'm put at ease as soon as class starts. My teachers — aerial superstars Rick and Rachel — win me over through promises not to turn me into a quadriplegic along with patience and cheesy humor. For those of us in Aerial 101, it's okay that we're here to have a good time and get a workout in at the same time rather than train for a Cirque du Soleil audition.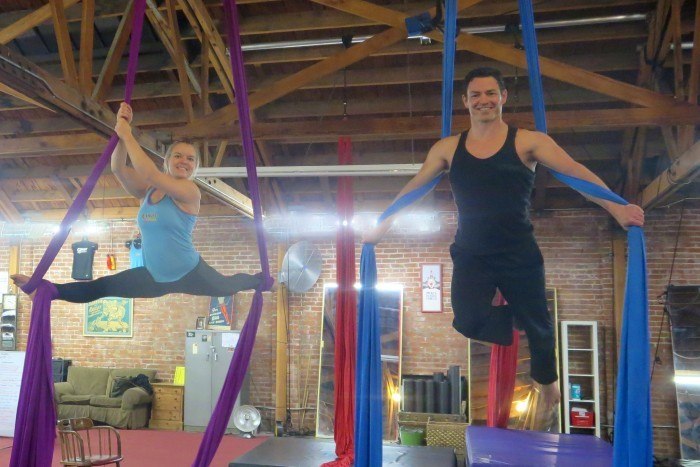 Class begins with warm-ups and floor conditioning, but the heart of the class is learning beginning tricks on the silks and trapeze. Before long, it's apparent that a trapeze is more than a swing to sit on and look pretty (though that takes an incredible amount of balance and core control!). Rick has me doing inverted pull-ups and trying spinning dismounts until I'm sweating bullets. I'm sure I looked like a goon, but I'm inspired by what my body can accomplish.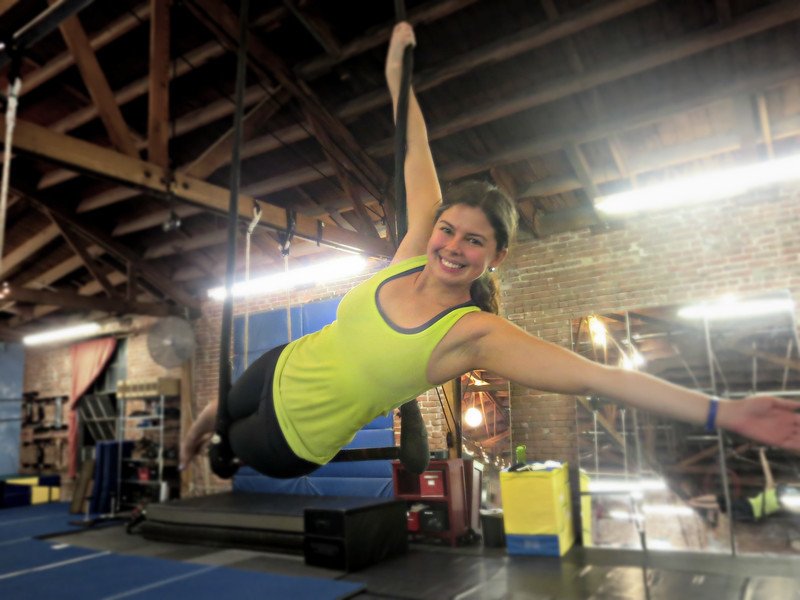 Moving to the fabrics, we start by simply climbing. Here, proper form and technique will help you, but can feel my upper body strength growing with each upward pull. Rachel helps me trust in myself to hang upside down in silk hammocks and to use my abs while twisting and turning in free-form fabric. Each tiny accomplishment is applauded by the teachers and fellow students.
I consider myself relatively fit, but circus school tests your body in new ways. You'll discover muscles you didn't know existed and you'll probably end up dreaming of running away with the circus. Or, you know, dreaming of moving to Los Angeles so you can go to Cirque School LA every night.
Classes are held evenings and weekends at their awesome Hollywood studio. Amazingly, I truly believe that their 101-level courses are designed for "anybody with any body": teachers do a great job of catering to students with any body type or prior physical ability.
Downward Dog or Prairie Dog? (Hollywood Hills West, Los Angeles)
On Day 2 of my California adventure, I was craving some sunshine time — after all, it was still winter back at home. I laced up my sneakers to walk over to Hollywood Hills and into Runyon Canyon Park.
Completely sore from the night before, I wanted something I knew would make me feel good by the end of the workout. Ready to stretch out, I joined a donation-based yoga class led outdoors at Runyon Canyon.
There's something really special about doing yoga outdoors. Maybe it's the smell of fresh grass that relaxes me or warm sunshine helping to loosen up my muscles. Or maybe it's the prairie dog who poked his head up out of the ground while I was doing downward facing dog. This might be an urban park, but there's still a touch of nature!
Classes are held daily and schedules are posted online. From the Fuller Avenue entrance to the park, there's a small fenced area almost immediately to the left after entering. Bring your own mat or just plan on getting dirty feet, like I did.
A Swell Time with Zuma Surf (Venice Beach)
My first time surfing, I had both beginner's luck (riding the waves on the third try!) and quite a mishap (being knocked in the nose by a fiberglass board). I figured it was only fair to give it a second try and that a professional lesson might come in handy to prevent injuries this time around.
I met Kai of Zuma Surf and Swim Training at Rose Beach in Venice to suit up and get ready for a little wave action. Kai specializes in teaching you about ocean and wave conditions, putting safety first (something I learned the hard way). He strongly believes that the more you understand the ocean, the better you can judge which waves to ride and how fast to paddle so that you ultimately progress faster.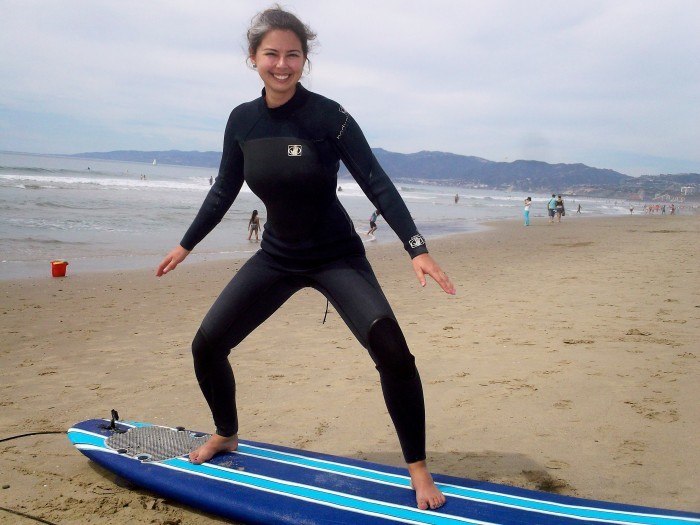 Starting on the sand, we talked about reading (and feeling) rip currents, the types of waves and when to stand up vs. where they break, and of course how to master surfing's famous "pop up". There's a really fine balance between standing up quickly in order to surf successfully and not standing up so fast that you topple over. I'd come to prove that time and time again.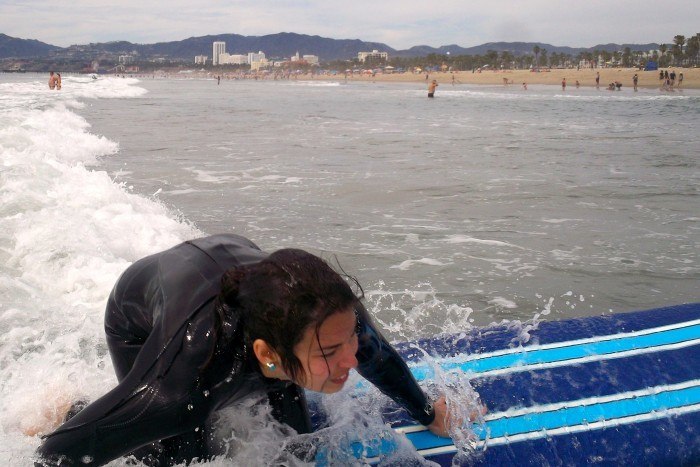 If you're not used to surfing, it can be a definite workout. When you're lucky enough to stand up, you need core strength to stay balanced. After you ride a wave into shore, you then have to turn around and swim back out to catch the next one. It's an absolute blast, but a tiring one. Don't worry: you can save face by "waiting for the right wave" when you need a quick rest.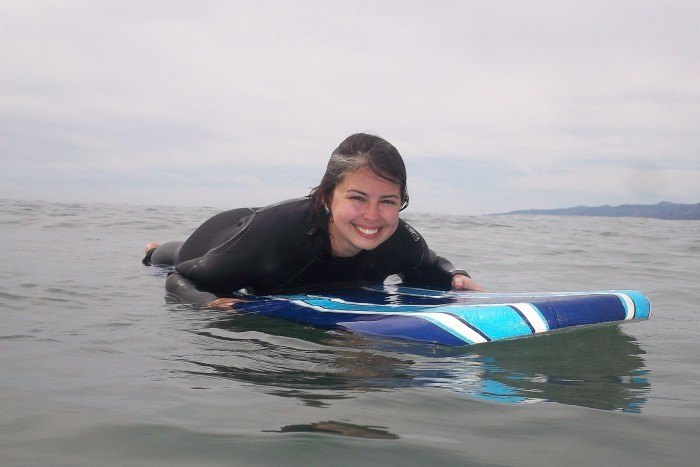 Quickly, I realize that spotting an object back on shore will be the hardest part for me. Keeping your head up and focused on something straight ahead will help you stay up and surf forward, simple as that. In the end, I'm beat up by the waves because I'm too distracted by other swimmers. Thank goodness there are a million ways to surf and as long as you're smiling, you're doing it right.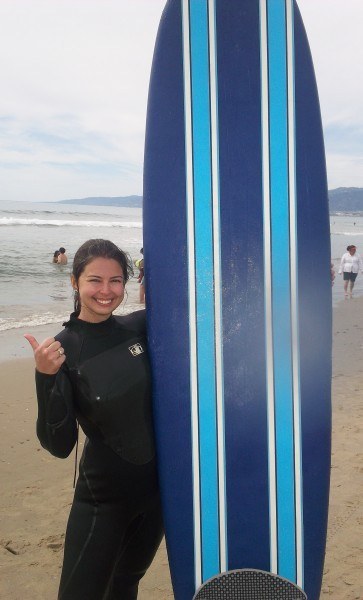 Zuma Surf & Swim Training offers private surf lessons for you or your small group of family and friends. I'm happy to report I rode a few waves, learned a ton about the proper way to surf, and had a great time!
Running into the Sun (Santa Barbara)
One of the reasons I don't like to run is because it's impossible to get into a routine here in Richmond. There are weeks you lose all motivation to run in fear of slipping on icy sidewalks and other weeks when you want to die because it's 110 degrees outside. And frankly, I really hate having to watch traffic as I run through neighborhoods and attempt to cross the street in front of clueless drivers.
But in paradise, running is actually a lot of fun. Santa Barbara — and many other Californian cities — have waterfront paths where you can blissfully jog without worry of oncoming traffic. Temperatures remain moderate year-round so you can head outside and enjoy the fresh air. If you overheat, just jump right into the ocean for a quick cool off.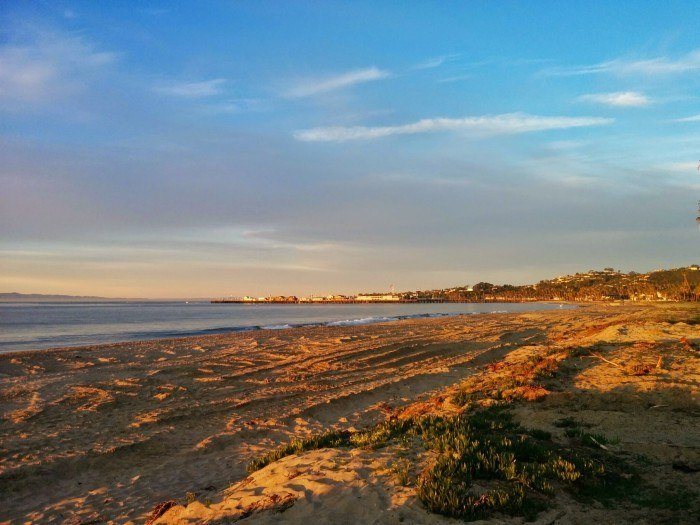 Best of all, there are epic views along the path. White sand is lined by palm trees, making the whole area look like it's right off of a postcard. I assure you: this is real.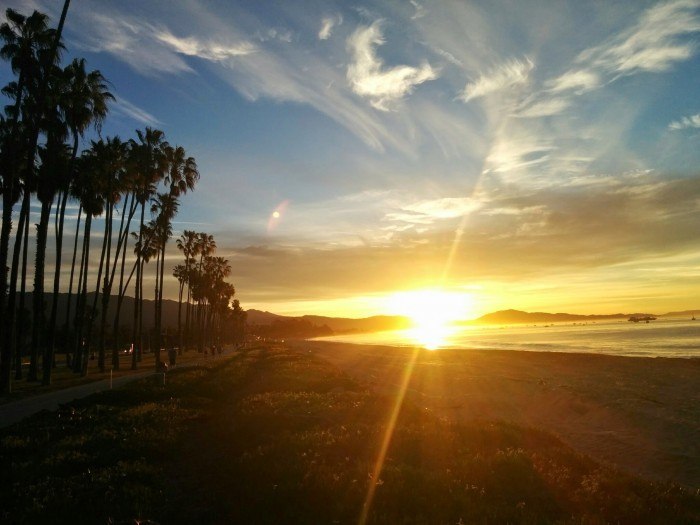 Rock out to some music and you might not even notice you're exercising!
Earning Your Reward in Wine Country (Santa Ynez)
In the stretch of land between Santa Barbara and Santa Ynez, you forget all about the congestion that other parts of California faces. Miles stretch out with nothing but natural beauty in sight.
We were determined to see this for ourselves, so my husband and I added in the 8.4-mile hike on Tequepis Trail.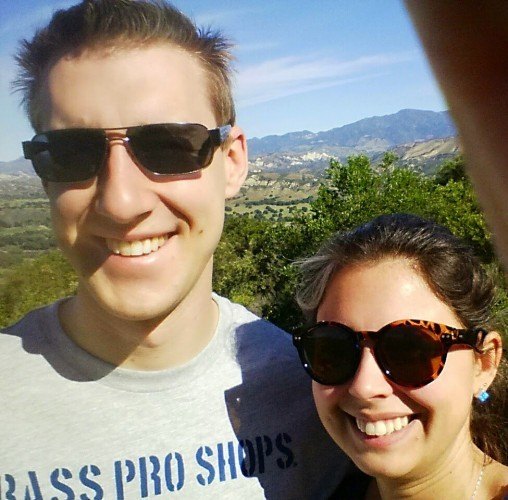 Maybe it's all the fitness challenges I had already incorporated, but I thought this hike was very manageable. A lot of it is shaded, the uphills are on steady switchbacks and not crazy climbs, and you're distracted by Lake Cachuma along the way.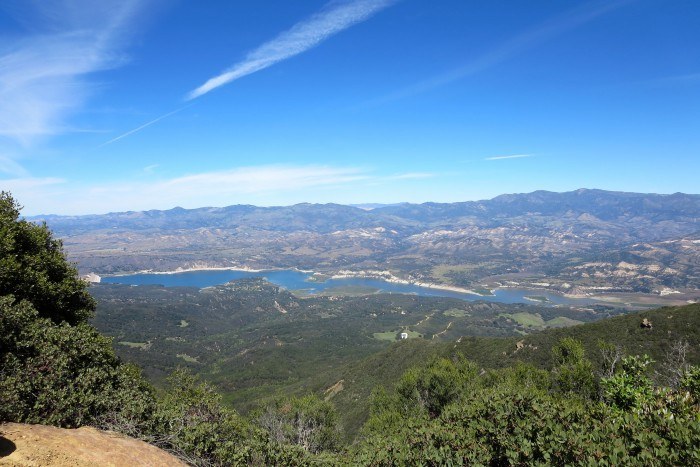 Plus, when you get to the top, you also have the Pacific Ocean beckoning to you.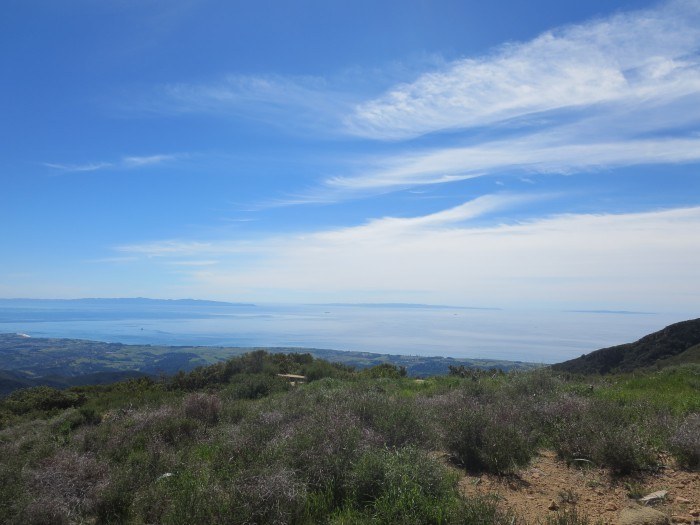 You might think I'm crazy for incorporating all this exercise into my vacation, but I assure you: it's only so I felt less guilty when I indulged. This hike puts you within spitting distance of great wineries for a relaxing way to end your day. We instead chose for Santa Barbara's best kept secret: a four-course dinner with wine tastings for only $40 at the John Dunn Gourmet Dining Room.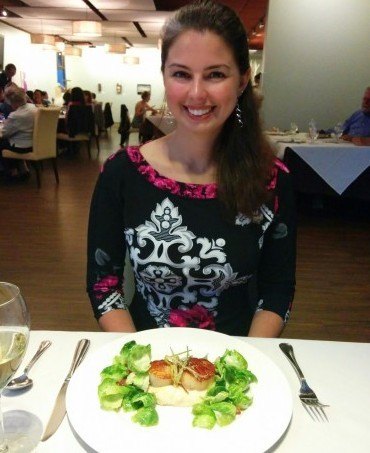 Umm, plan ahead unlike us and fill up your water bottles and pack snacks before you leave Santa Barbara. Once you're outside of town, there's nowhere to stop along the way unless you overshoot the trail. Other great trail information can be found on Hikes Peak.
Toning While Wildlife Spotting (Channel Islands)
I am a huge lover of marine wildlife, so heading to the Channel Islands was a no brainer for me. These islands off the coast of Ventura are home to harbor seals, California sea lions, common dolphins, and whales (in season). While you can try to spot them all simply by cruising through the area, the best way to burn calories and strengthen your muscles is to head on the water by kayak.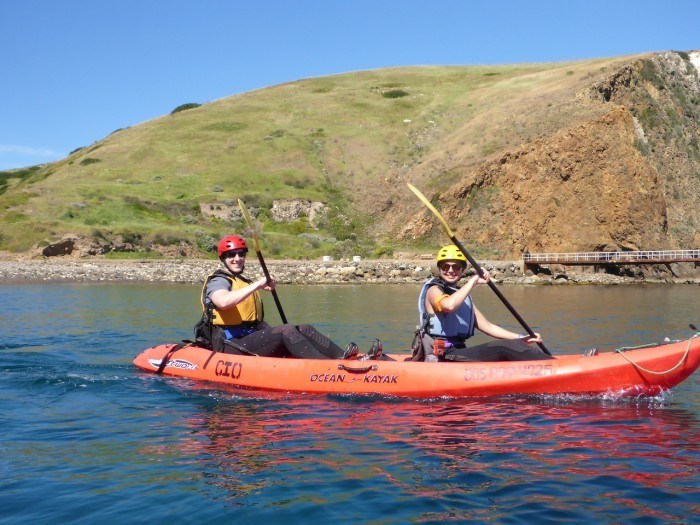 Joining our kayak group for the day, we were ready to work up a little sweat by paddling around Santa Cruz Island. We glided over kelp forests, got splashed by natural blowholes, and entered sea caves for about three hours.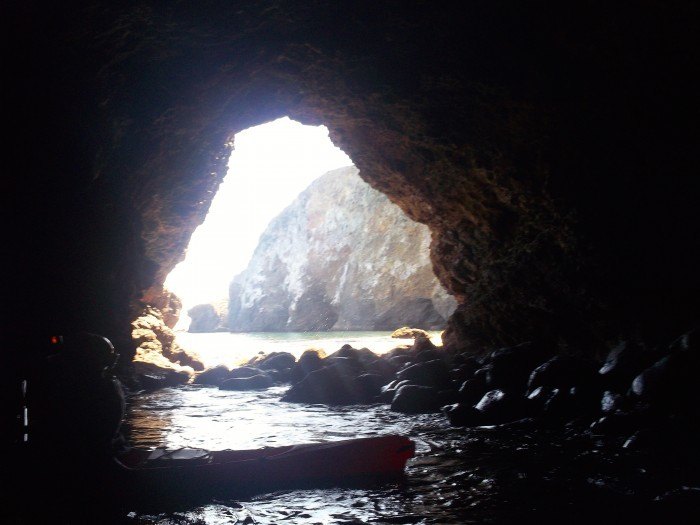 Along the way, we kept our eyes out for sea birds, starfish, and harbor seals. Every wildlife spotting took our mind off the workout part of our tour and kept things fresh and interesting. And once we were done with our guided tour, I decided to take a swim for a full body workout. Even though the water was cold, there was still plenty to see underwater. Check out what I discovered while snorkeling!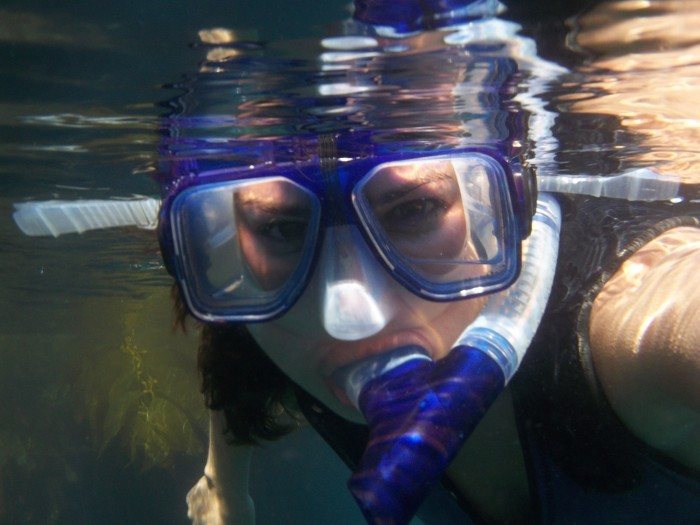 What's the Verdict?
Did I succeed at the 7-day Tone it Up challenge? Probably not: I definitely incorporated fitness into every day of my southern California vacation, but I undid a lot of it with gourmet brownies and juicy burgers. However, I had a lot of fun along the way — these active things to do in Los Angeles and Santa Barbara were more of an adventure than a grueling workout!
* * *
The Girl and Globe partnered with some of the companies listed in this post to facilitate an experience based on my own personal interests. All pictures and opinions expressed are my own.