This post may contain affiliate links. As an Amazon Associate I earn from qualifying purchases.
* * *
If it was possible to rate entire cities on Yelp, Oaxaca Mexico would always receive two stars or five. You either love it or hate it, depending on how you approach the trip and what you want from your travels. It's not for everyone, but it's the perfect destination for someone.
So is traveling to Oaxaca right for you? Let me see if I can help.
Oaxaca City Mexico: A Quick Overview
Oaxaca is both a city and a state in Mexico. The state is home to the Sierra Norte mountains, gorgeous Pacific beaches (like Huatulco and Puerto Escondido), and Zapotec and Mixtec ruins.
The primary reasons to go to Oaxaca include the history, art, and gastronomy.
Where is Oaxaca City?
Oaxaca City is in the mountains, with a beautiful downtown center. Since it's at 5,000 feet elevation, the weather is warm rather than tropical and nights can be cool.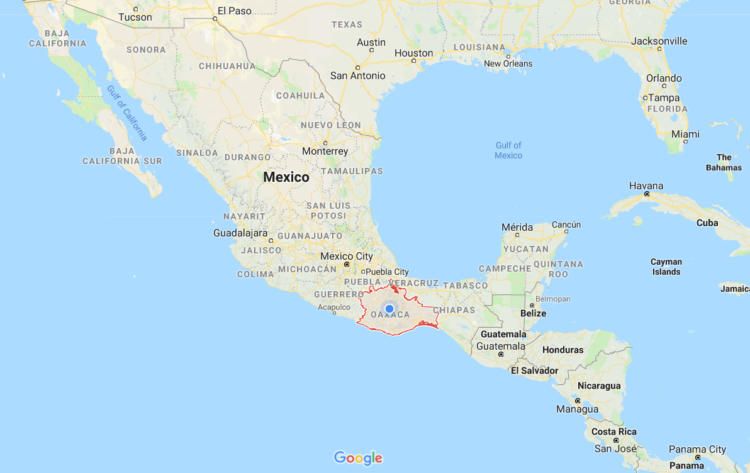 As of February 2020, Oaxaca state is not one of the five with travel warnings from the U.S. State Department. As a solo female traveler, I felt very safe during my visit. Read more in my Oaxaca travel safety guide.
Oaxaca Pronunciation
It stumped my husband, so don't feel bad if it stumped you too! Here's how to pronounce Oaxaca: wuh – HAH – kuh.
Clear as mud? Maybe this will help:
So…Is Oaxaca a Good Fit for you?
Oaxaca Requires a Few Days
Oaxaca isn't close to anywhere. It's 4 hours to Puebla, 6 hours to Mexico City, or about ten hours by bus from San Cristobal de las Casas. Even the beaches in Oaxaca state are six hours away since the roads wind up and down mountains in-between.
If you don't have at least three full days to spare, don't waste your time going there.
You Should Be Prepared to Walk in Oaxaca Mexico
There are plenty of taxis in Oaxaca, but traffic is heavy and there are tons of one-way streets so walking is often faster. Most trips in El Centro are no more than 20 minutes by foot. As a bonus, walking lets you peek into open doorways, which often lead to lovely surprises.
If You're Scared to Eat the Street Food, You're Missing the Best of Oaxaca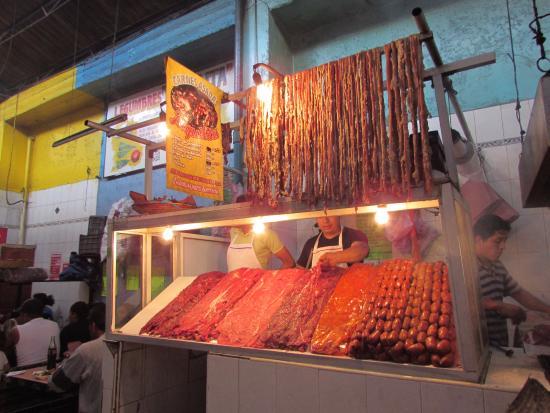 Oaxacan cuisine is world-famous for bold, fresh flavors like moles. You'll also find adventurous dishes like grasshoppers and fermented cacao drinks.
Although the city has high-end restaurants, some of the best meals are from local markets and street carts. Choose a busy one and lick your lips from grilled meats, tlayudas, and fresh juices.
Where to Eat in Oaxaca City

Los Danzantes: This five-star restaurant is a "splurge" (you'll probably pay less than $20 for two courses) but worth every penny. Best meal — and best service — of my trip. Hint: if you want to try chapulines, this is a not-scary place to do it because they use ground grasshoppers so you're not staring at the whole insect. On Wednesdays 1-4pm, they have major lunch specials if you have a reservation.

PAN:AM: With a lovely courtyard and life-changing hot horchata, this is a great place for a light breakfast. Their baked goods are homemade and as always, my favorite was the concha.

Caldo de Piedra: This restaurant is closer to Tule than Oaxaca, but is worth the trip out of town to the Oaxaca Valley. Their seafood soup is made the way it has been for hundreds of years: by putting a fire-blazed stone right in your bowl to cook raw river fish to perfection.

Los Pacos: As far as I know, the only spot in Oaxaca with a sampler entree of six different moles. My favorite was the mole verde, but you can try them all for yourself.

Itanoni: In the Reforma neighborhood and only open for breakfast and lunch. All their tortillas are freshly made with a strong corn flavor.. Be prepared for a long meal and slow service, but it's really good. Order a tascalate to drink.
Oaxaca Isn't Built for Checklists
There are a lot of places that lend themselves well to rapid travel. Oaxaca is not one of them. Much of this city is built on ambiance, which means you need to spend time doing nothing.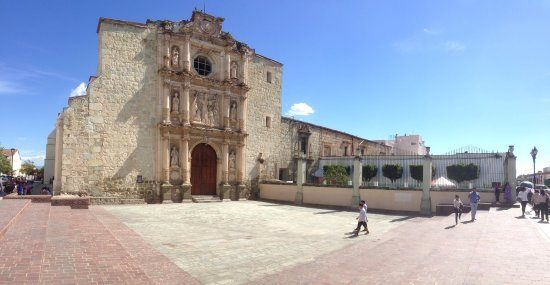 Order a glass of wine on a rooftop bar, grab a coffee in a courtyard, or people-watch in the Zocalo. Besides, if you're impatient, you'll hate every s-l-o-w restaurant experience.
Let Out Your Inner Extrovert
You might have to stumble over broken Spanish or you might need to enter an art gallery even if you hate art. But guaranteed, if you make an effort, there are passionate people all over Oaxaca who would love to chat with you. Mexicans love to share their culture, so strike up a conversation and see where it leads.
Oaxaca is Perfect for Night Owls
There's not much going on in Oaxaca before 10am, so there's no reason to get up early. Instead, do what the locals do: eat a late dinner and then go out afterward. Bars are dead for the first half of the evening, but there's plenty of live music and fun scenes as the night goes on.
Give in to Your Curiosity to Explore Some Cool Things to Do in Oaxaca City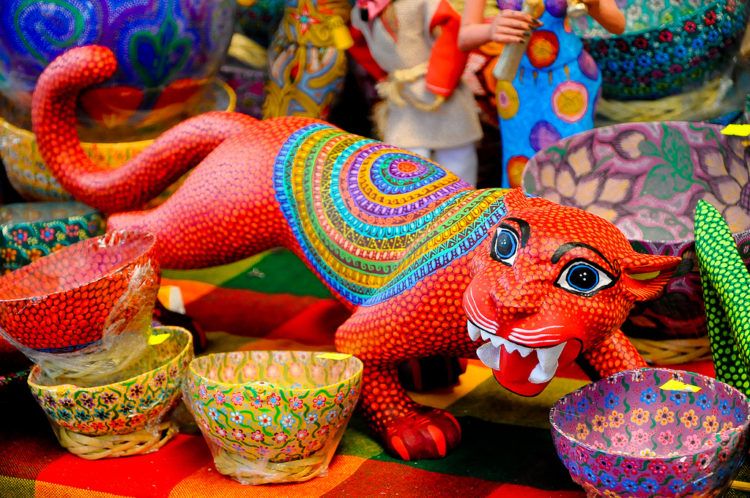 Just a handful of things to do in Oaxaca:
Explore Beyond El Centro
The city center is beautiful, with churches, pedestrian streets, and the zocalo. But walk fifteen minutes away to the Reforma neighborhood and you'll find trendy restaurants, cute boutiques, and fun-loving bars where you'll make friends in no time. You don't have to spend forever there: just go in the evening for a few hours to explore.
Oaxaca Travel Isn't For Everyone But It's Magic for Many!
If you made it this far, traveling to Oaxaca is probably a great fit for you! Oaxaca has so much to offer for intrepid travelers.
So go: drink mezcal, walk up and down Calle Alcala, and give in to the little voice telling you stay awhile. This is a city that I gave five stars.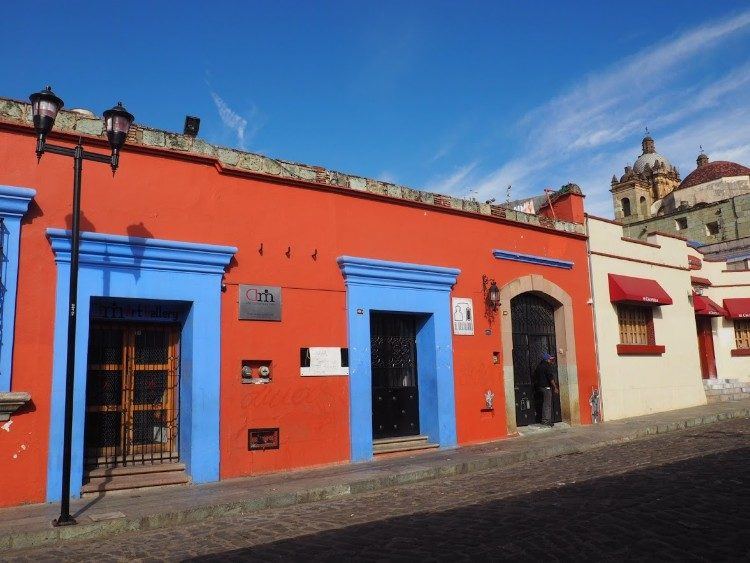 MORE INFO FOR VISITING OAXACA MEXICO
The best time to visit Oaxaca is the dry season, November through April. Throughout winter, days are pleasant but you might need a sweater at night. For fewer crowds, avoid Dia de los Muertos (October 31 – November 2) and Christmas/New Year's. For the lowest prices without downpours, the best time to go to Oaxaca is the shoulder seasons of May and October.

Staying overnight in Oaxaca? Book early at Hotel Parado de Alcala before the cheap rooms get snapped up.

Don't have a travel insurance policy yet? My pick is always RoamRight.

Going anywhere else in Mexico? Check out another guide like what to do in San Cristobal or why I love Cancun.