This post may contain affiliate links. As an Amazon Associate I earn from qualifying purchases.
* * *
While Santa Fe itself is a popular travel destination, it's not one that fits well into my personal interests. I've been a few times, but the primary draws are museums and private galleries — neither one my cup of tea. As such, I find myself leaving city limits more often that not.
However, this idyllic region of the Southwest has an abundance of day trip opportunities. You'll truly find it all — history and the outdoors being principal players. What makes day tripping so great is the ability to not have to pack and unpack all the time (and to return for Santa Fe's excellent restaurants for dinner!).
Whether you only need one Santa Fe day trip suggestion or several, I've got plenty of recommendations for you. Here are eight of the best day trips from Santa Fe to consider on your next New Mexico adventure.
HEADS UP FOR 2020: Unfortunately, New Mexico is essentially off-limits to travelers right now. Residents of "high-risk" states are required to quarantine for 14 days upon arrival and many state attractions are closed due to strict state restrictions. Consider this article as inspiration for the future.
Abiquiu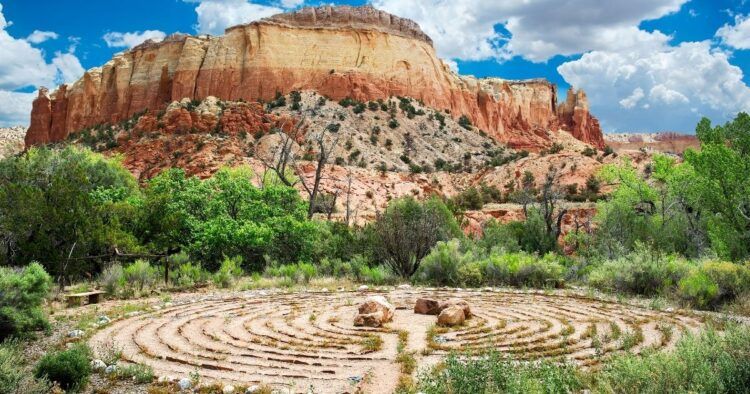 Abiqiui is my favorite place in all of New Mexico. This small town has some of the state's most dramatic scenery. Red rocks seemingly appear out of nowhere, leading to views of the forest, lake, and something I often overlook — the sky. The changing light makes every landscape feel fresh and new.
There aren't a lot of attractions here, although Ghost Ranch is an absolute do-not-miss. Hike to see the mountains that inspired Georgia O'Keefe (or take a guided walking tour to learn more about time in the area). Or ignore her work and let creativity wash over you instead. I guarantee you'll leave feeling inspired.
Kasha-Katuwe Tent Rocks
For an outdoor adventure, Tent Rocks is by far the best option in the entire state of New Mexico. Yes, that's a bold claim but the main hike here takes you past hoodoos, slot canyons, and other incredible rock formations. You'll feel like you're in an entirely different world despite only being about 45 minutes from Santa Fe.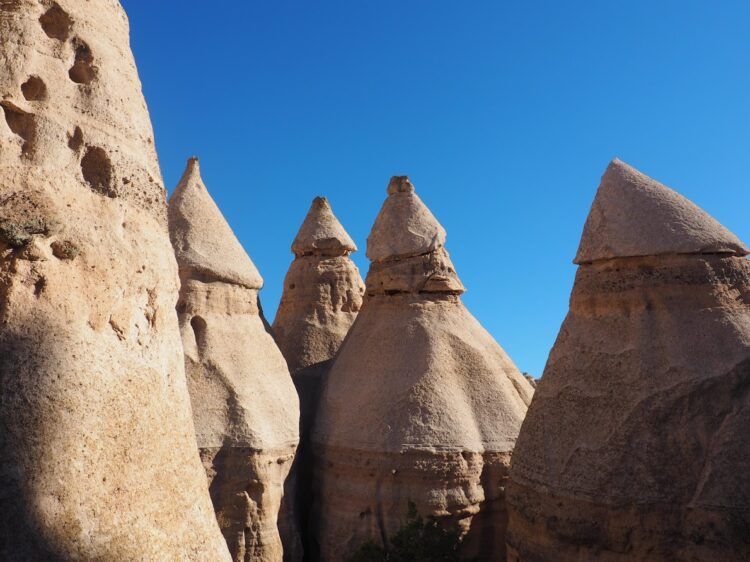 The trail to the top is tight, steep, and challenging but it's relatively short. If you're determined, you'll make it. Since the hike is short, this makes a fabulous half-day option: most people can squeeze the round-trip drive, hike, and plenty of photo stops into four or five hours total.
Bandelier National Monument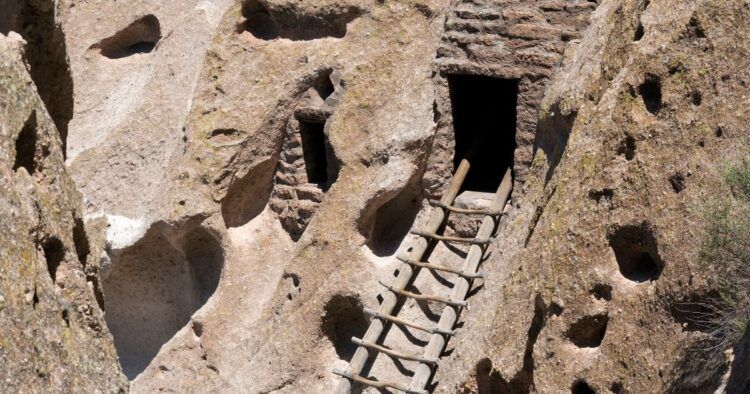 You'll find Bandalier National Monument less than an hour from Santa Fe. It's far less visited than a national park, but still offers a great intersection of local history and nature. Here, you can explore the former dwellings of the ancestral Puebloans who used to live in the region. Some of the cliff dwellings are accessible by ladder, while others can easily be viewed from ground level. Red sandstone cliffs dot the landscape, providing the perfect backdrop to hike and enjoy the national beauty of New Mexico.
Sandia Peak Tramway
For an exhilarating experience, be sure to take the short jaunt to the Sandia Peak Tramway. Believe it or not, it's the highest aerial tramway in the country. You'll soar over the Sandia Mountain peaks until you reach the top at 10,378 feet where you overlook Albuquerque (and beyond) down below. Alternatively, you can drive to the top — a good option if you intend to stop at one of the many trailheads along the way.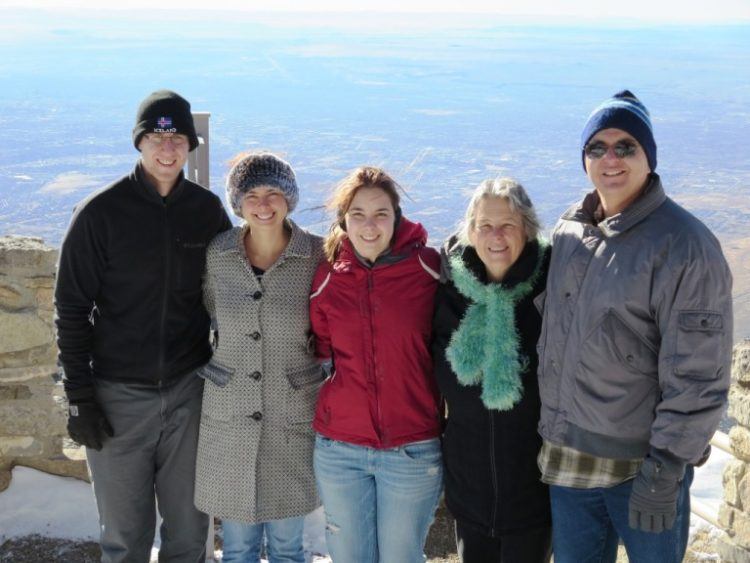 If you've got time left in your day, you can swing through Albuquerque or return via the Turquoise Trail scenic byway. Both are easy to combine for a full day away from Santa Fe.
Taos
The town of Taos can actually be broken into a few sections, but there are two main areas that are great for a day trip. First, there's Taos Pueblo, a UNESCO World Heritage Site where you can tour two huge adobe structures about a thousand years old. Farther north, you can also visit Taos Ski Valley. Obviously magical in the winter, it's also a great place for hiking and mountain biking in the summer as you enjoy views of mountain peaks rising over 12,000 feet in the air.
Taos has enough to offer that you might want more time than you can fit in a Santa Fe day trip. If you spend the night, you'll also have time to explore downtown Taos (for museums, breweries, and more), detour to the stunning Rio Grande Gorge Bridge, and add in scenic drive along the Enchanted Circle.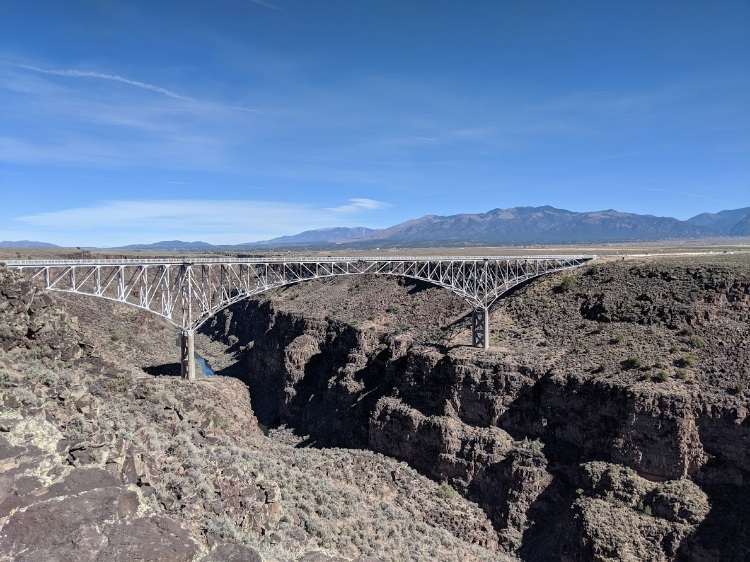 High Road to Taos
If you think the journey is just as interesting as the destination itself, you won't want to miss the High Road from Santa Fe to Taos. This scenic byway offers a few great stops along the way, turning a simple drive into a fun day trip. The best stops along the way (in my opinion), are Nambe Falls and the Santuario de Chimayo.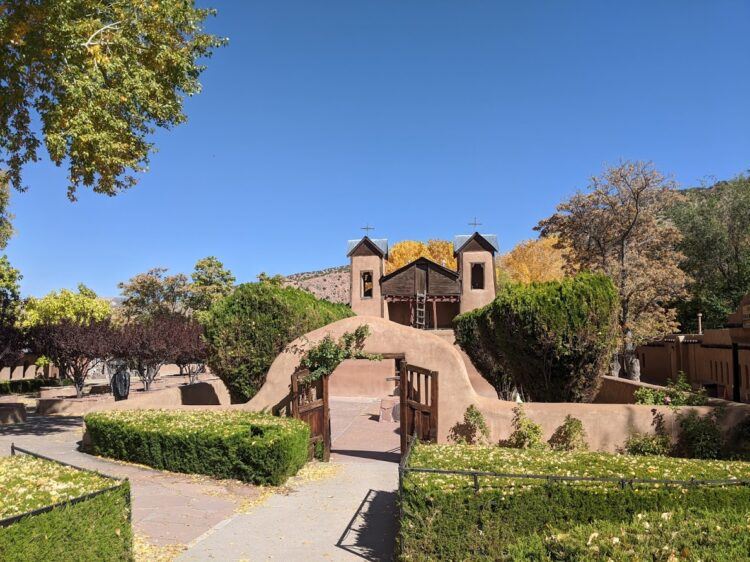 Nambe is a Native American pueblo with gorgeous scenery and the Chimayo sanctuary is a popular pilgrimage site due to its supposed healing powers. You'll have time for both in a single day, maybe even with a stop to hike in Carson National Forest along the way.
Jemez Springs
The main draw here is stopping in at the relaxing hot mineral springs that are abundant in the area. All of your troubles will melt away as you dip into the healing springs. There are several options to choose from, including developed and landscaped pools — gorgeous retreats where mineral water is piped in — as well as primitive spots you hike to for a natural (and more private) experience.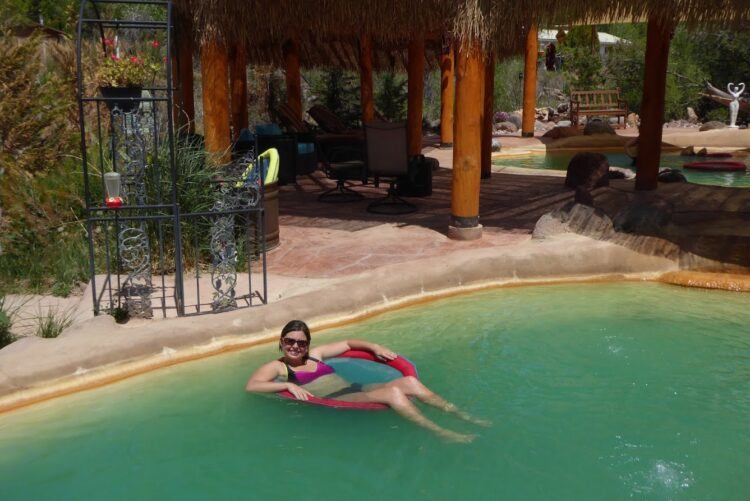 You'll pass through Los Alamos to get to Jemez Springs. The atomic history — and current research — is a defining part of northern New Mexico, so if that's of interest to you, be sure to stop in town to visit the Bradbury Science Museum. If that's not of interest, Jemez Springs combines nicely with Bandelier National Monument (described above) or Valles Caldera National Preserve (below).
If you've seen Ojo Caliente Mineral Springs come up as a suggestion for New Mexico hot springs, be aware that the facility suffered a tragic fire in 2020 and is not expected to reopen until summer 2021. For the time being, Jemez Springs is your best bet for a hot springs day trip near Santa Fe.
Valles Caldera National Preserve
Offering nearly one million acres of pristine outdoor space created from a volcanic eruption, this preserve is an oasis of green in a state that's mostly known for desert. There are panoramic views of towering Jemez Mountains, crystal lakes, and sweeping grassland.
This isn't a great place to just take a few photos (although you can, especially if you're already in nearby Bandalier National Monument or Jemez Springs). Instead, look for opportunities to hike, bike, or even ski. I haven't been in winter yet, but the photos look more stunning than summertime.

There is no shortage of amazing experiences to be had just outside of Santa Fe's city limits. Any of these Santa Fe day trips are a great addition to your trip…or spend a week and do them all.
Read More About New Mexico