This post may contain affiliate links. As an Amazon Associate I earn from qualifying purchases.
* * *
Before my first trip, I thought I was well-prepared for travel to Egypt. I had read about what to expect, how things worked, and common scams. Turns out, that was just the start. There's a lot you can only learn by being there in person…or reading the random collection of advice by someone who's been there, done that. My second trip was a breeze compared to the first time — and with these Egypt travel tips, hopefully you can skip right to being a seasoned visitor!
These tips won't tell you where to go, what season to travel, or whether it's safe to drink the water. Any guidebook can tell you that. Instead, this is my collection of practical tips for traveling to Egypt, a stream of thoughts you won't find in other travel guides. It's the type of stuff your best friend would tell you while you're planning a trip: the recommendations that take your trip from basic to brilliant.
Practical Egypt Travel Tips From Someone Who Learned Firsthand
Hire a Guide, at least a few times
On my first trip to Egypt, we only hired a guide one time. We wanted some historical context when visiting the pyramids, but figured that for everything else, we could get around on our own.
Turns out guides do so much more than explain the history. They shoo away vendors, take your photo so that enterprising guards don't do it in expectation of a tip, and take care of negotiating prices (and navigation tips) for your driver along the way. Plus, they are usually thrilled to chat about normal, everyday life in Egypt, where to get the best meals, and help you with practicing the language.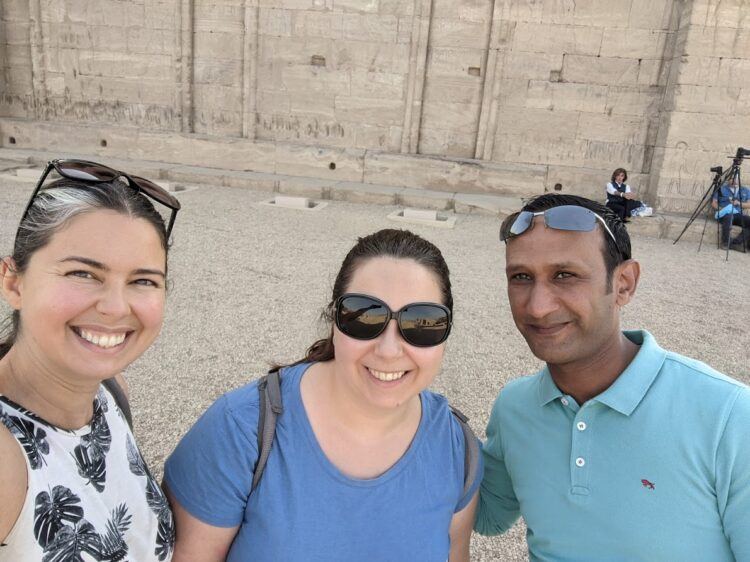 For any attraction where you 100% want to focus on what you're touring instead of being distracted by logistics, get a guide. And if you want someone to go in-depth about the history of what you're seeing, make sure you hire an Egyptologist specifically.
My friend Tim reminded me that half-day tours are the absolute best: you get all the benefits of a guide without committing to a long day in the heat and sun.
Pay For Your Internal Flights in Egyptian Pounds
Head to EgyptAir and the tickets that show for internal flights (like Cairo to Aswan) will be flexible, full-fare tickets. That's great if you expect to need to change your ticket later on, but expensive if your plans are locked in place.
On the top menu bar, change the country to "Egypt" and suddenly you'll also have the option of buying normal, inflexible tickets…which can save you $50 or more per person, per ticket.

The downside is you'll pay in Egyptian pounds rather than your home currency, but if you have a credit card that doesn't charge foreign transaction fees, that's no big deal.
Print or Screenshot Your Flight Confirmations
Speaking of flying, be aware that Egyptian airports have way more security than most other places. Typically, just to enter the building, you'll need to show your ID and proof of a ticket. Yes, this is BEFORE you even get to the service counters to check-in or drop off your checked bags. A print-out of your flight confirmation will suffice, as will a digital boarding pass if you've already checked in.
You can also expect to x-ray your bags as you enter the building (before you get to service counters). You and your carry-on bag will go through further, normal security to enter the secure area. For most international flights, you can expect yet another security check before you get to the gate.
Schedule Downtime Daily
I love Egypt, but it's mentally tiring for someone who's not used to constant activity on the streets. This is a country where it's best not to pack your days too fully — you'll end up exhausted instead of enjoying yourself.
We found that an afternoon siesta was the perfect way to give ourselves a break and to feel fresh for the next sightseeing adventure.
Most days, we'd go out for a big morning tour from approximately 8am-1pm, then take a break during the hottest part of the day for lunch and an hour at the pool. We'd head back out at 3:30 or 4pm for a shorter, afternoon experience or evening activities.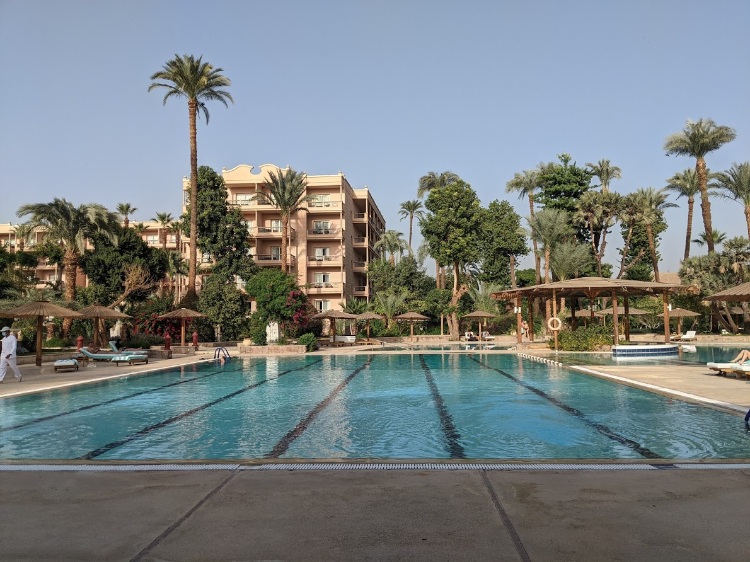 You can obviously choose whatever schedule works for you, but I don't recommend busy 12-hour days!
Buy a Sim Card
Sim cards are helpful in all countries, but particularly in Egypt. Many hotels only have WiFi in the lobby or other public spaces, so if you expect to communicate with guides or drivers, you'll want cell service to make calls, check WhatsApp messages, or send emails.
Thankfully sim cards are cheap and easy to acquire. There are service counters at Cairo International Airport so you can get one immediately. I paid US $10 for a 30-day plan with 16GB of data (way more than I needed, but it was the cheapest option). In theory, service with T-Mobile or Google Fi should also work abroad without issue, though I haven't personally tested either in Egypt.
Download Uber and Careem
Once you have cell service, it's easy to use rideshare services to get around. Uber and Careem work just like your apps do at home — you can hail (or schedule) rides and pay by credit card with the click of a button. You'll get cheaper rates than negotiating directly and won't have to worry about scams.
Careem is a great app to add in Egypt because it has service in a few places that Uber doesn't exist yet (like Aswan). It also has a nifty feature for city-to-city transport, like if you want to drive between Cairo and Alexandria instead of taking the Egyptian train.
Intersperse Non-Historical Activities
I thought I was brilliant by scheduling the Pyramids of Giza, Saqqara, and Dahshur all in one day. Turns out that's the quickest way to get "temple fatigue". Instead of being amazed by the final pyramids, I was exhausted and only semi-interested.
Even though the historical sites are the obvious draw to a trip to Egypt, I recommend adding in some totally different activities, too. Go ATV riding in the desert, scuba diving in the Red Sea, or hot air ballooning in Luxor. Take a food tour or try skiing in the Cairo mall. Unless you're a history buff, the variety will be welcomed.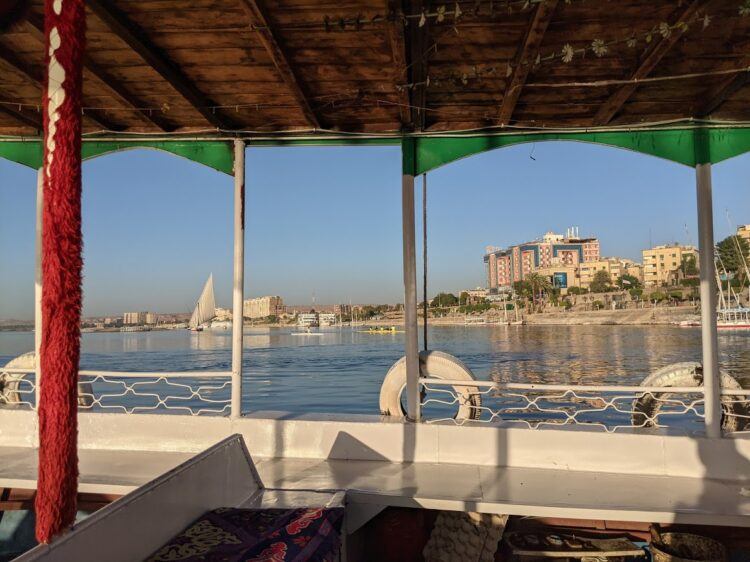 Bring $1 Bills
You should expect to tip for everything in Egypt. Bellmen, drivers, bathroom attendants, security guards taking photos of you — they all expect a tip.
I'm not opposed to tipping, but admittedly it is inconvenient in Egypt where small bills seem to disappear as soon as you get them. There were never enough 10 or 20 pound notes to go around, even when I purposely tried to make change, which meant I had to decide if someone either got stiffed or overtipped.
While local currency is obviously the best, the next best is US $1 bills. They'll work for a tip in a pinch (and according to locals, paper money is much easier for them to exchange than coins like one euro).
Consider Leaving Your Camera at Home
Most museums and archaeological sites have separate fees to bring in a camera or video camera. In fact, at sites like Abu Simbel a camera permit can be just as expensive as your personal entry.
Thankfully, cell phones aren't considered cameras and mobile photography is encouraged. If you've got a decent camera built into your phone, you may want to make do with that alone instead of lugging around a DSLR. Cell phones are also much easier to hand off to your guide if you want a photo with you in it, compared to showing them how to focus on a camera they've never used before.
Book Hotels One Star Nicer Than Normal
Egypt is one of a handful of countries where having a personal oasis makes a big difference between enjoying yourself or going into overload. A good night's sleep makes it feel like you can tackle anything the next day. And a good staff can make you laugh and smile (and solve a lot of problems) even after you've said "No thank you" to one too many vendors/taxi drivers/boat captains on the street.
I'm not implying you only have to stay at five-star hotels (or luxury Nile cruise boats), but I do recommend you treat yourself to a property one caliber nicer than you think you need. Egypt is cheap enough you can afford it and that jump up to extra comfort and/or better service will help you immerse yourself in the culture once you leave its doors.
Learn to Haggle
The first price offered in Egypt is rarely the price you should pay. Everything is a negotiating process, from camel rides to souvenir shopping to sunset cruises.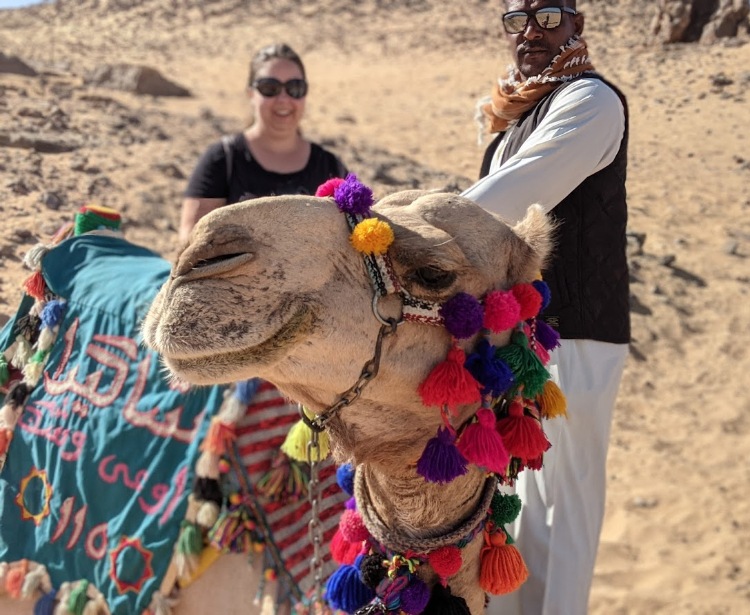 For Americans, this can be an uncomfortable process. On one hand, you don't want to be ripped off, but on the other hand, you don't want to go so low that you're not helping the people or economy while traveling in Egypt. The extra dollar won't make a difference to my bottom line but potentially could for the salesman.
What I've found to be an incredibly successful tactic: instead of haggling the price in half, increase the goods or services upward. Instead of one scarf, get two for the same price and have a souvenir for a friend. Instead of going on a one hour sunset cruise, go for two. They get more business and you get more value. Win-win.
Wear Real Shoes
Especially in Cairo and Luxor, the streets are really dirty. There's pollution that's settled on the ground, plenty of litter, and animal excrement from horses and donkeys and who knows what else.
I normally prefer walking around in sandals or other slip-on shoes, but in the big cities of Egypt you're better off with an enclosed shoe. Choose something lightweight and comfortable that you can pair with socks for days you are touring mosques (and need to take your shoes off inside).
Don't Rely on TripAdvisor
Lastly, as you're planning, don't weight TripAdvisor reviews or Google ratings too heavily while considering your choices. Fake reviews are rampant throughout Egypt and numerous companies hire people to submit positive, glowing reviews to increase their rankings (and then submit negative ones to their competitors).
Your best bet is to look for recommendations from people who have actually been there: first-hand reports about Egypt from friends or families, non-sponsored blog reviews, or suggestions from traveler forums and Facebook groups.
For destination-specific stories and tips for traveling to Egypt, check out my other posts