This post may contain affiliate links. As an Amazon Associate I earn from qualifying purchases.
* * *
It started at 9pm the night before our intended departure to Luxor. My phone buzzed with half a dozen text messages in quick succession. It was Mohamed, the driver we'd hired to take us on the 4-hour journey from Hurghada to Luxor stressing that the police denied our permission request to travel by road.
Half asleep (yes, at 9pm), I threw on pants and a sweater to head outside. Our hotel room had thick concrete walls that made it impossible to transmit a cell signal long enough to make a call.
"Now what?" I asked Mohamed. I trusted him implicitly: someone had recommended his services to me and I liked him instantly during the conversations we had while planning the trip. He seemed honest, never tried to rip us off, and was an incredible resource and ambassador for his country.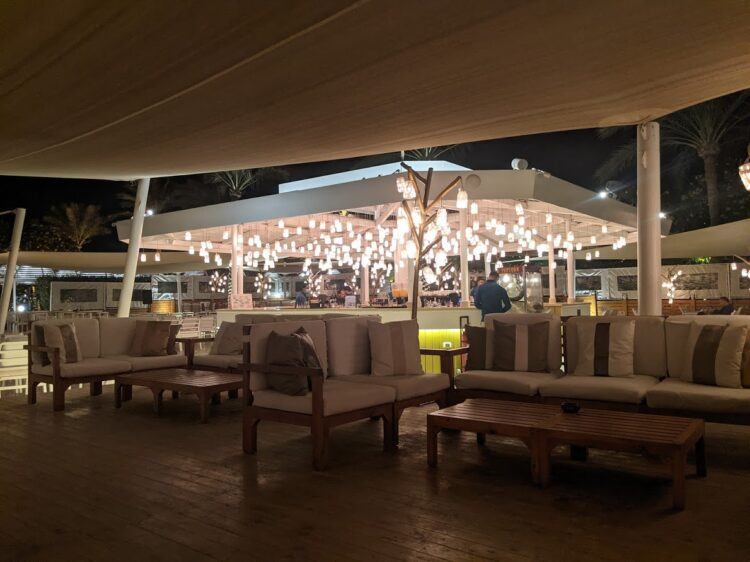 Mohamed walked me through the issues and presented a few solutions. Essentially, the local police thought our covid test certificates were fake since they didn't have a QR code. We weren't allowed to travel between cities. We could get a new test the next day — delaying our journey by 24 hours while we waited for results — or take the bus (since bus passengers don't need documentation).
The bus wasn't necessarily a bad option. It was certainly cheaper, but it meant we'd miss out on visiting Dendera Temple along the way, one of the three stops in Egypt I was looking forward to the most.
Our last and final option was sweet-talking the police the next day. "Please" with a smile and a generous tip. If that didn't work, angry shouting and a bigger bribe. Forgiveness instead of permission. Mohamed seemed to think it would work.

In all my travels, I've never faced extortion before. And I didn't have to this time either, if I chose one of the other solutions. I told Mohamed I'd get back to him in a few minutes.
Mentally weighing my options, I walked to the hotel service desk for a second opinion. The hotel staff there bent over backwards to ensure we (and every guest) had a good stay so I didn't feel bad explaining the predicament and asking what they would do.
"Ms. Pokora, I can't tell you what to do, but you are a tourist and tourists never have problems traveling in Egypt." When I point-blank asked if bribing was normal, the clerk's face said absolutely yes while his words carefully danced around the question.
Before I knew it, my fingers were furiously messaging Mohamed once again. Let's do it, I typed. We'd leave at 8:30 the next morning.
Years ago, this road (and many others) were considered dangerous. Police required proper documentation arranged in advance: your planned route and departure time and copies of your passport. Now, the highways are safe but the paperwork remains, quite likely as a continued source of revenue. The only change in 2020 is you also need proof of a negative covid test. We submitted ours with plenty of notice — the same tests that allowed us entry to the country — but we didn't have the correct, requisite stamp on the results. Travel isn't an adventure without at least a few hiccups along the way, and Egypt had been blissfully easy up until this point.
The first hour of our car ride was straightforward. A few basic checkpoints to make sure we were wearing seatbelts and face masks. There was a whole lot of nothing in the distance, just barren, rocky landscapes that seemed to never end. Mohamed explained our plan of attack and didn't seem worried.
A few kilometers before the main checkpoint, an opportunity presented itself. Mohamed sped up, flashed his lights several times, and a bus in front of us pulled over. Along the side of the highway, he ran up and shouted a few words in Arabic. The plan was obvious to me before Mohamed even waved to us.
My sister and I hurried onto the bus, phones, passports, and covid paperwork in hand. We'd meet Mohamed on the other side.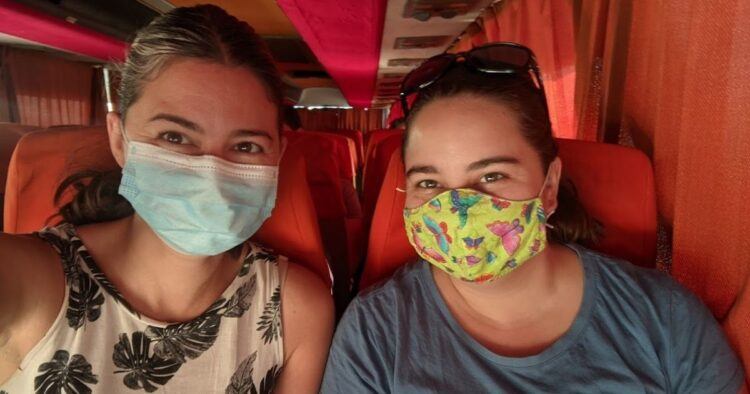 True to the plan, the bus was waved right through the checkpoint. No one looked at our papers or even made eye contact. Five minutes later, out of sight from the police and on the side of the highway once again, we scrambled back into Mohamed's comfortable car.
Quick thinking and the intersection of luck, some cash, and a willingness to try anything got us across the checkpoint without incident. It sure beats facing the police.
The rest of our trip was easy-going. One coffee stop later, we were all laughing together on our way to Dendera Temple. Which, by the way, was even more fabulous than I had hoped and worth the stress of wondering how we'd get there.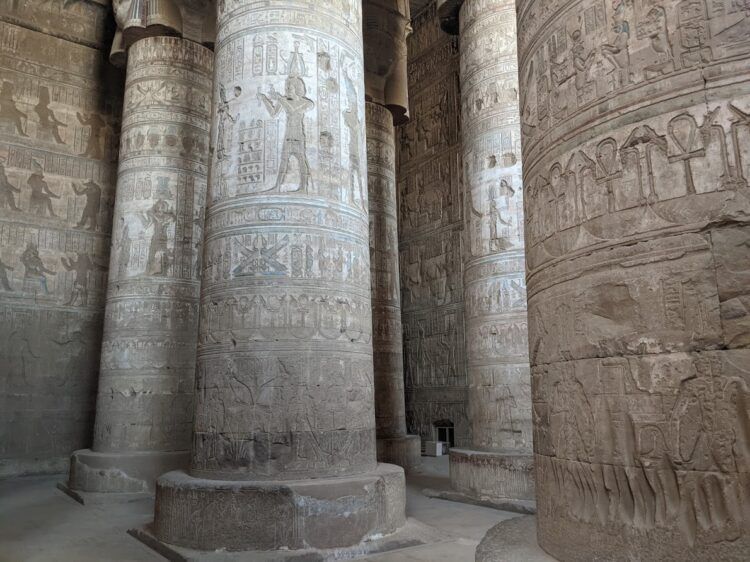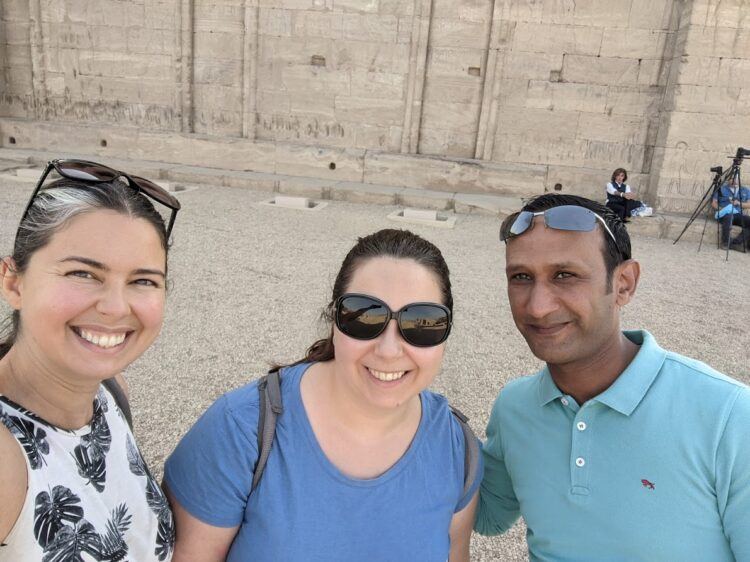 Read More About Egypt to Plan Your Trip