This post may contain affiliate links. As an Amazon Associate I earn from qualifying purchases.
* * *
Almost all Egypt itineraries include both cities of Luxor and Aswan. Luxor, the ancient capital, is home to numerous temples, museums, and archaeological sites. Aswan has a different flair, with Nubian hospitality, a picturesque setting, and access to the famous Abu Simbel temple in the south.
There are a few options to get between Aswan and Luxor, with a Nile river cruise being a popular choice and a private taxi with temple stops being another. There's a third option, too: taking the train from Luxor to Aswan (or vice versa). It's cheap, efficient, and relatively comfortable.
But there's a catch: you can't buy tickets for this route in the station. Smart planners — including you, by the end of this article — will know the workarounds though!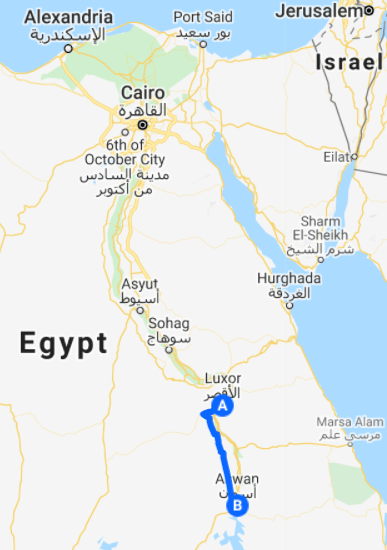 Is Egypt Railway the Right Solution for You?
Ultimately my sister and I decided that taking the train from Luxor to Aswan was the best fit for us, but it won't be for everybody.
If you want to take a Nile cruise between Luxor and Aswan, you won't need to arrange alternate transport between the two cities
If you want to travel slowly via felucca (sail boat), your schedule might be too unpredictable to rely on the train
If you want to tour the temples in Esna, Edfu, and/or Kom Ombo, you're better off with a private car and driver to stop along the way
If you want to travel midday, there are no trains running and you'll need to arrange a car
In short, the train is best for travelers who want to get from one place to another quickly and without stops. It's a great option for budget travelers as well, since you can make the trip for less than 5 USD.
Train Schedules for Luxor to Aswan and Vice Versa
As of December 2020, there are 11 daily trains that travel between Luxor and Aswan. Since the trains originate in Cairo (or sometimes, Alexandria) not all of them reach Luxor at a time that's convenient for tourists. About half of the trains depart Luxor and arrive in Aswan during normal waking hours — the same goes for trips heading in the opposite direction from Aswan to Luxor (and continuing to Cairo). You can check schedules on the Egyptian National Railways website.

Since Luxor is a mid-route station, the departure times are approximate. Delays between Cairo to Luxor are common so trains often leave Luxor late. This is less of an issue when traveling the opposite direction, from Aswan to Luxor (to Cairo), since Aswan would be the first station.
Train Cost from Luxor to Aswan
Tickets for the three hour trip between Luxor and Aswan start at 58 Egyptian pounds per person for a one-way ticket in second class. The most expensive tickets are for first class tickets on the "Special Service OD" trains, topping out at 120 Egyptian pounds per person. Even that's a steal — at the current exchange rate, that works out to less than 8 USD.
How to Buy Tickets on the Day Train in Egypt
Unfortunately, ticket offices have been instructed to only allow foreigners to buy tickets for the sleeper train in Egypt which makes no sense for the short journey between Luxor and Aswan. That's no problem though — you can still easily acquire tickets for the journey.
Option 1: Buy Train Tickets Online
Buying train tickets online is straightforward, though I recommend notifying your bank in advance of your travel plans so that the transaction isn't denied. You'll simply head to the Egyptian railways site, register for an account, and then login before searching (and buying) your preferred tickets. You can only purchase tickets up to two weeks in advance.
You'll need to bring a printout of your online tickets with you to give to the conductor. Other travelers have reported you may also need to show the credit card that was used to make the purchase, so have it with you just in case.
Option 2: Have An Agency or Your Hotel Buy Tickets For You
If you have trouble making the purchase online, numerous travel agencies and hotels will gladly buy tickets for you for a small surcharge. You'll need to write down your preferred train number and schedule plus class of service to ensure you get the right train.
If you didn't plan ahead, you might be able to find an enterprising English-speaking porter at the train station willing to do this for you as well.
Option 3: Buy Tickets Onboard
The last option is the simplest: board the train you want and pay the conductor directly. There's still a small surcharge — about 20 Egyptian pounds per ticket — but it allows ultimate flexibility and last-minute planning.
Consensus is that there's always first class seats open, although second class cabins may be full of passengers during high season. Budget accordingly.
This is the option we chose for one main reason: it allowed us to get on the next train departure rather than having tickets pre-assigned for a specific train. On the day of our travel, we arrived at the station at 8am hoping we'd get through security and to the the platform in time for the 8:15 train (with the 8:40 as backup in case of issues). As it happened, we were on the platform at 8:10 and hopped on the 7:30 train that was running late…the next one wasn't due for at least an hour!
Arriving at the Station and Boarding the Train
The outside of Luxor and Aswan stations look busy, but they're actually very easy to navigate.
Upon arrival, you'll go through a simple metal detector and x-ray your luggage. By this point in your trip, you've probably done this a dozen times to enter temples and museums, so it's no big deal. The line moves quickly, if there's even a line at all.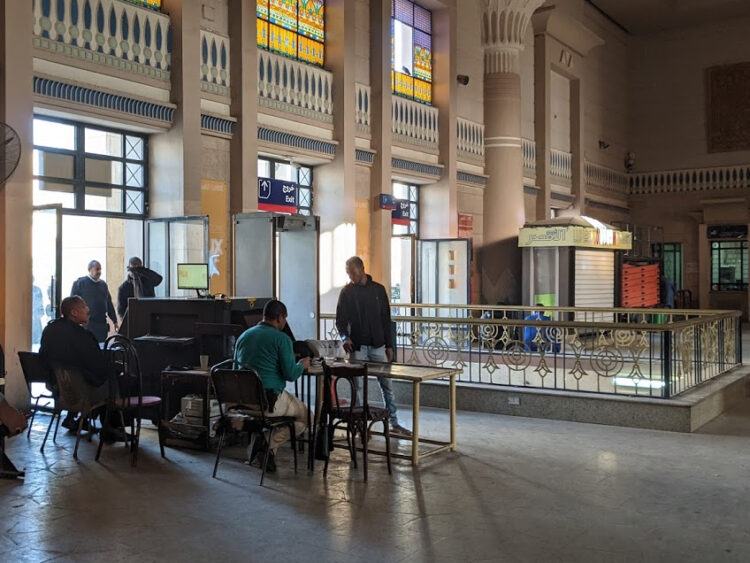 Once inside, there were no signs or departure boards showing train status or platform numbers. You'll need to ask around (just say the city name). Someone will either point you in the right direction, or more likely, walk you right to where you need to be in exchange for a tip.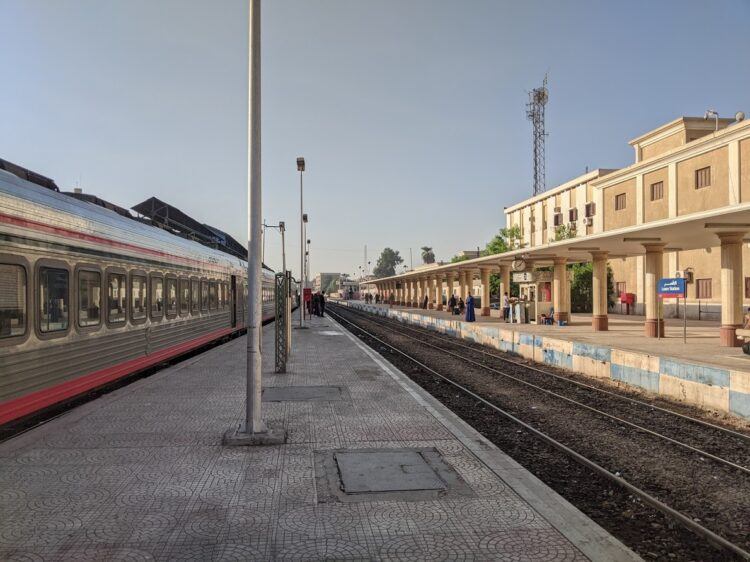 What is the Train Like?
Train carriages are labeled with a giant 1 or 2 on the outside, designating first or second class seats.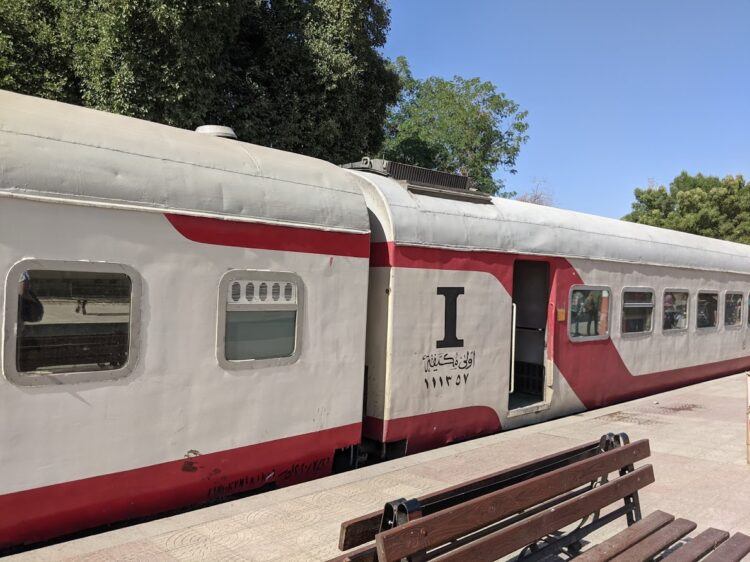 Our first class carriage was arranged with three seats per row (2 on the left side, for anyone with a companion, and a single seat on the right for solo travelers). We had more than enough legroom and it was nice to stretch out compared to traveling by car.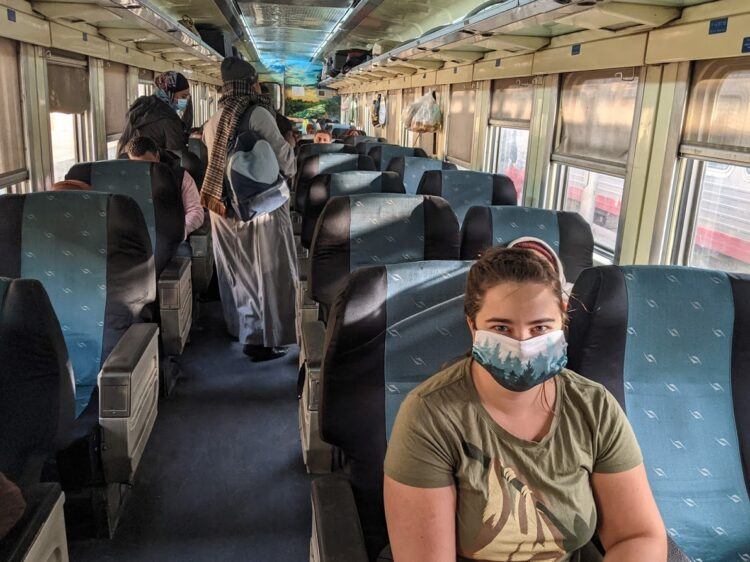 Our seats also had tray tables available and plenty of overhead space for bags. If you have large suitcases that don't fit overhead, there's a spot at the end of the cabin.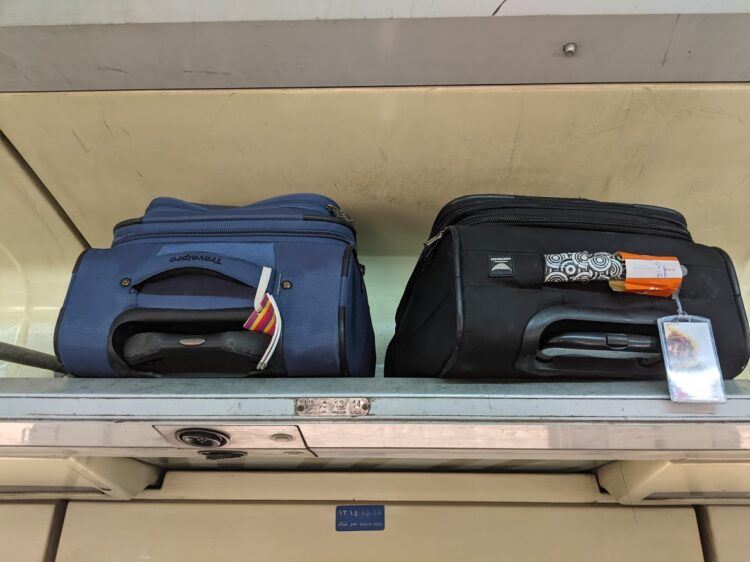 Second class carriages are similar, with the main difference between that seats are arranged with two on each side of the aisle (meaning the seat is less wide) and are closer together (less legroom). Still, second class looked comfortable for a short trip.
Trains have bathrooms (pack your own toilet paper and hand sanitizer) and air conditioning for your comfort.
Downsides of Egyptian National Railways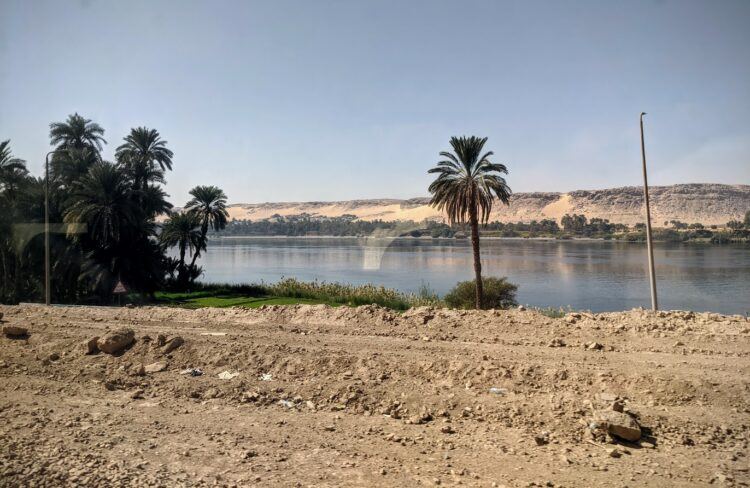 Assuming that you don't intend to make any stops along the way, the train is a great alternative to traveling by road. It's faster and you'll save a ton of money.
However, trains frequently run late (especially southbound from Luxor to Aswan) which is annoying and potentially detrimental if you have a tight schedule.
The train also wasn't super clean: there were travelers from earlier in the route who had left garbage in the seatback pockets when they disembarked and there was a lingering cigarette smell at times coming from the small outdoor space in-between carriages. I don't want to give the impression that the train was filthy, but it wasn't sparkling clean like many European trains are.
Regardless, I think the train is a great way to travel between these two cities and an option worth considering while making your Egypt travel plans.
Read More About Egypt