This post may contain affiliate links. As an Amazon Associate I earn from qualifying purchases.
* * *
Within striking distance of Mexico City lies the high mountain pass of Paso de Cortes, home to the country's famous twin volcanoes and setting of a tragic Aztec love story. At 17,802 feet, Popocatepetl volcano is off limits due to frequent activity, but climbing Iztaccihuatl leads you through pristine wilderness to clear views of the smoking Popo.
Named the "white woman" (from Nahuatl Iztac "white" and Cihuatl "woman"), Izta sits on the Mexico-Puebla border and can be seen from both states on a clear day. The four individual snow-capped peaks which depict the head, chest, knees and feet of a sleeping female make it incredibly recognizable, despite not having the conical appearance that most volcanoes are known for.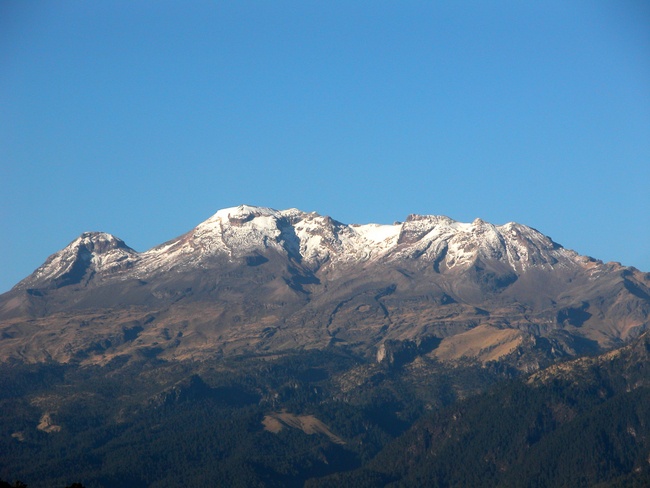 The Legend of Popocatepetl and Iztaccihuatl

During the reign of the Aztecs, the story says that there was a beautiful princess named Iztaccihuatl who fell in love with a brave warrior, Popocatepetl. They were engaged to be married upon Popo's return from a fierce battle and they both anxiously awaited the moment they would be reunited.

While Popo was away, one of his rivals came to Izta and falsely told her that Popo had died in the war in hopes that she would instead fall in love with him. Instead, Izta was devastated and remained loyal to her beloved Popo, dying of a broken heart.

When Popo returned home, victorious and very much alive, he was told of Izta's tragic death. He mourned for several days and nights before piling ten hills on top of each other to build a large tomb, laying her body on top of it to rest under the sun. Kneeling by her side, the gods covered them with snow and turned them into two mountains to be together forever.

Although Izta sleeps peacefully, every time the great warrior Popocatepetl remembers the woman he loved, his passion and rage cause the volcano to erupt.
Although trails criss-cross the area offering options for days on end, there was only one Iztaccihuatl hike I had in mind: departing from La Joya trailhead, one of Central America's best volcano treks, for unobscured views of Popo's eruptions.
Climbing Iztaccihuatl Volcano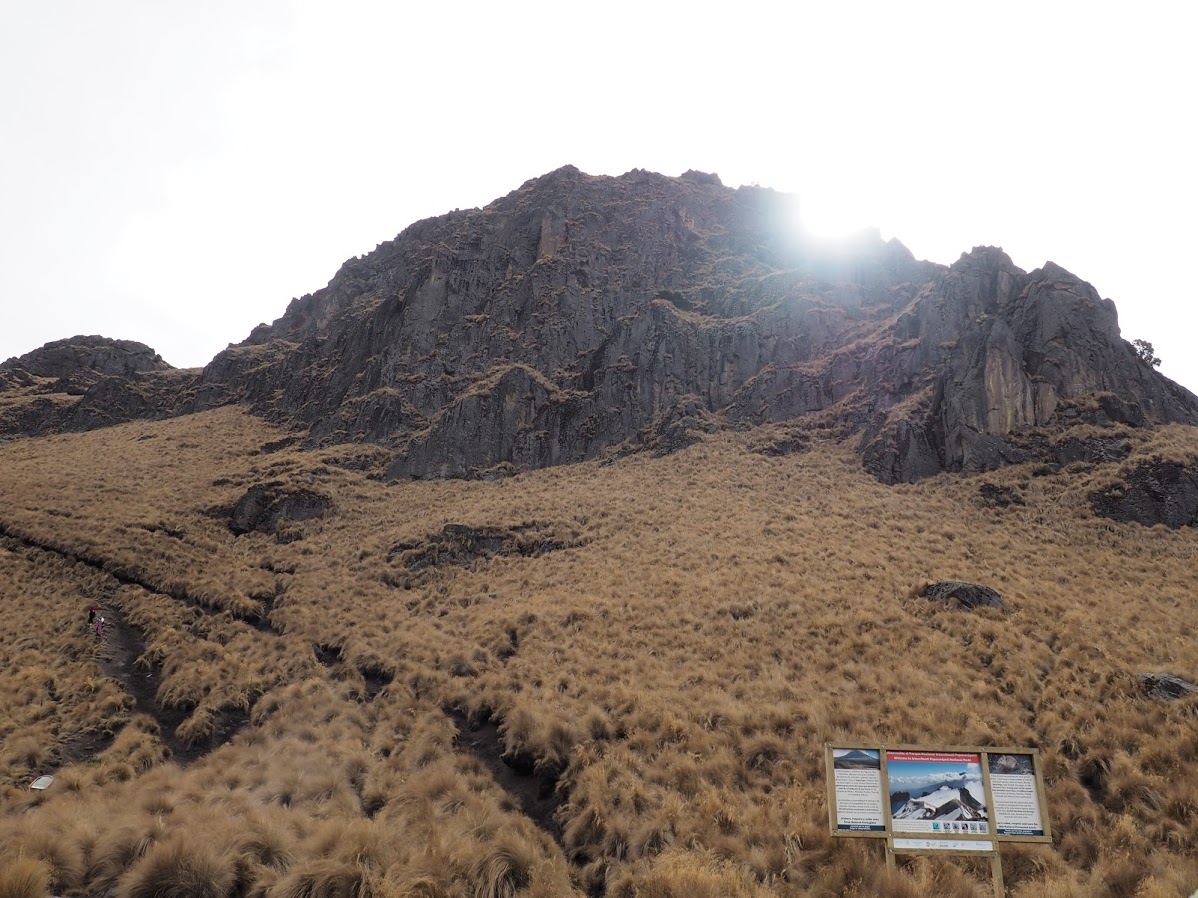 Coming from sea level, this adventure is no joke. The oxygen is thin even at the starting point and you can only guess how challenging it will be if you continue to the summit at 17,160 feet. On top of that, I have a track record of trouble when it comes to high altitude tours. I've made some mistakes over the years, but I was bound and determined to hike here.
>>>>> Related Post: I Acclimated to the Elevation the Wrong Way (But You Don't Have To)
This time, I traveled as smartly as I could. I waited until the last day of my trip to attempt the climb, giving my body a week in the mountains (although nowhere near 17,000 feet) to adjust. I arrived well-hydrated, not to mention carrying plenty of other water with me for the hike itself. And I hired a guide to make sure I had a partner to watch out for me — not just any guide, but an experienced mountaineer and fully trained paramedic from Nomada Mexico.
David explained our route to me at the visitor center of Izta-Popo Zoquiapan National Park. We'd drive down a dirt road to La Joya trailhead before heading up as far as time (and oxygen) allowed. For sure, we'd make it to a beautiful view of Popo, with the chance of seeing it smoking and spewing ash if our timing coincided with a healthy dose of luck. If my lungs allowed, we'd make it to the third pass or maybe even up to one of the huts that overnight climbers use, although with only a single day there was no chance of making it to the summit and back.
My welcome email mentioned temperatures of 28 degrees at the trailhead and the possibility of snow, but we lucked out with a warm sunny day. I was stripping layers off by the time we made it up the first uphill, simultaneously thankful for clear skies while wishing for a breeze.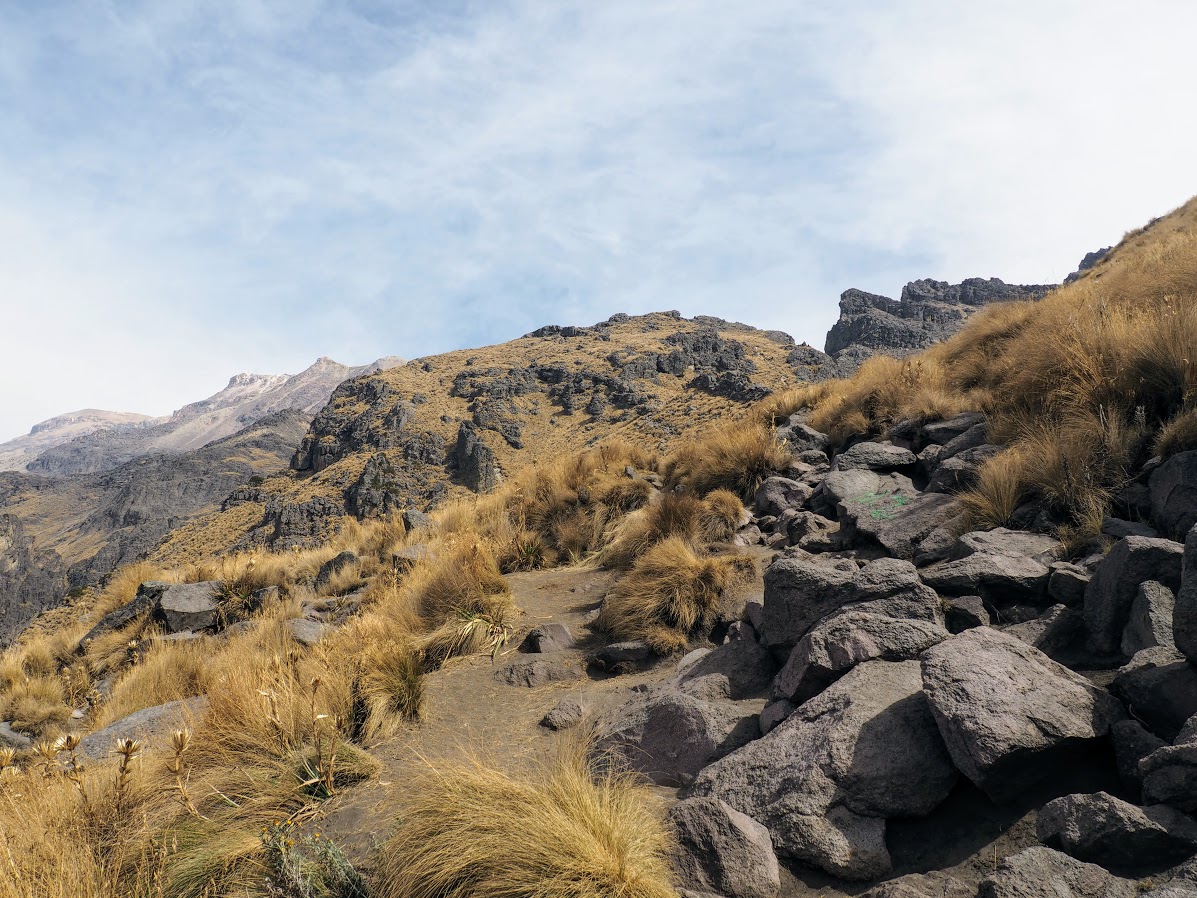 The beginning of the trail was pretty straightforward, with narrow but clear paths dotted by bits of vegetation and rock. It was hard to believe this rugged wilderness is so close to Mexico's major cities, but a welcome break from the traffic and mayhem that comes with them.
Stopping often to catch our breath, we finally made it to my own goal of seeing Popocatepetl from a distance.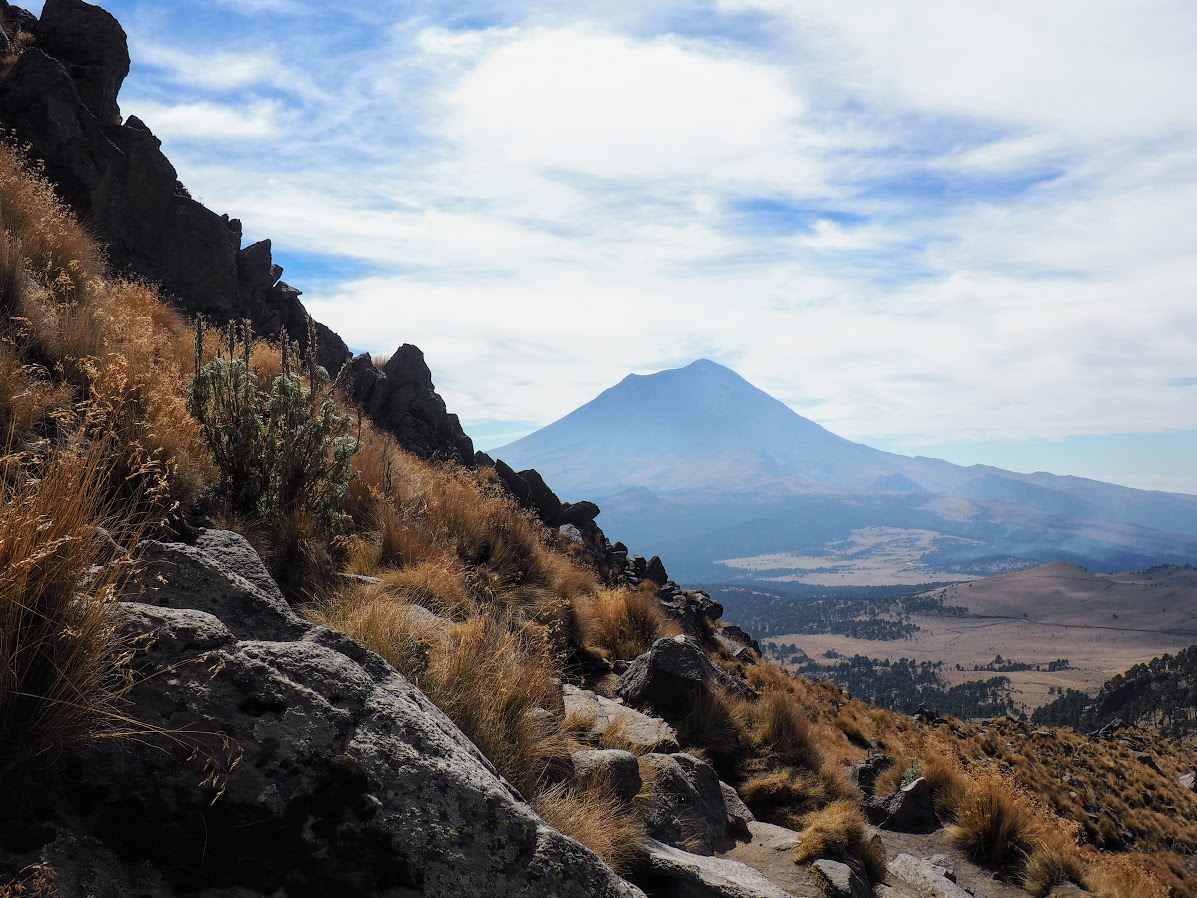 Popo was quiet, apparently feeling no wrath, so I concentrated on the rest of the landscape again. It was nothing like I expected — most of the photographs I'd seen in advance showed snow on the trails, all of which had melted over the last week. The volcanic rock was no surprise, but the brown grasses and sandy colors were surprising.
As so often happens, by the time we had rounded a corner to a higher viewpoint, Popo started to smoke.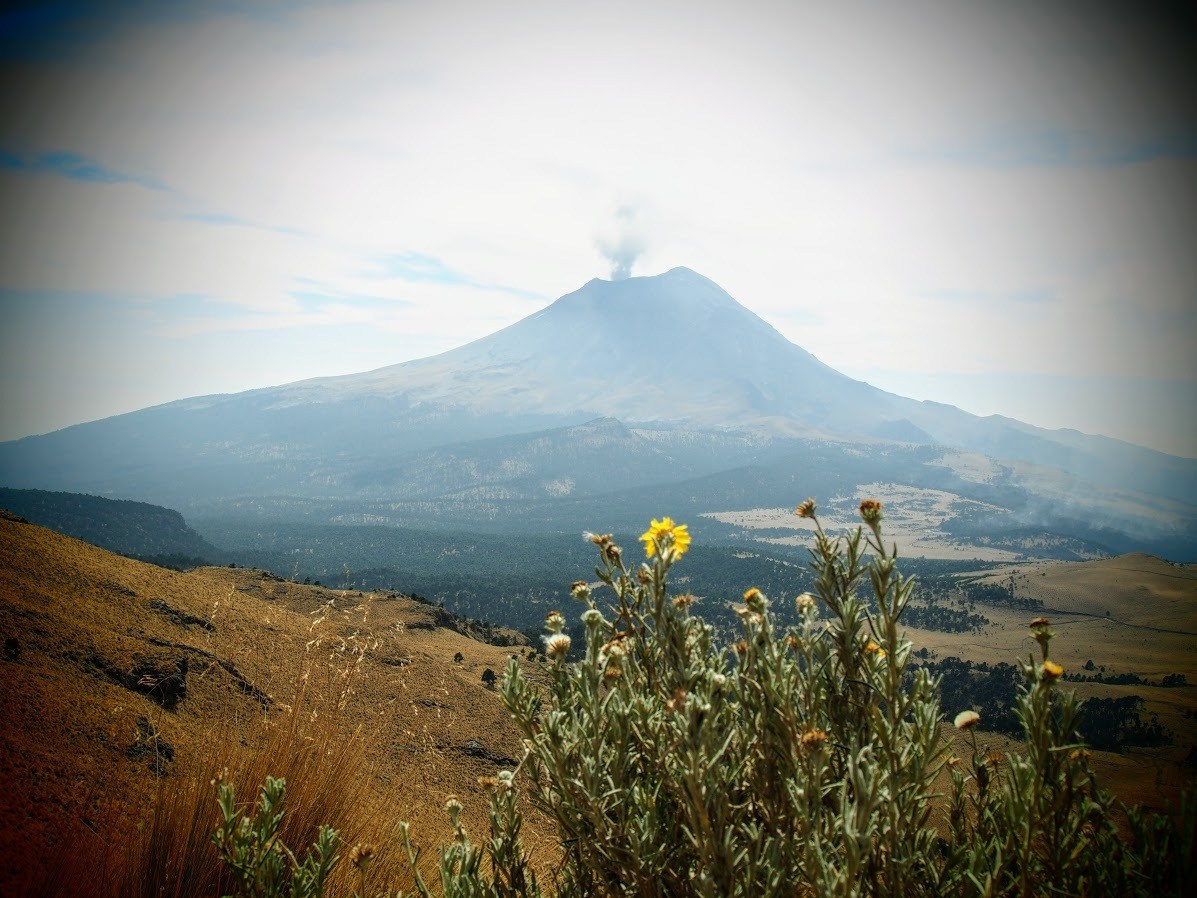 Unlike other volcanic activity I've witnessed, there was no drama here. Clouds of smoke billowed out, an almost peaceful display of the rumblings within.
To be honest, I was happy with making it this far. I felt like we stopped every hundred meters to catch my breath and I wasn't sure how much farther I'd make it. But like all good hikes, this trip is about the journey, not the destination. Popo was just one view along the way and we were only halfway to the third pass, David's favorite spot.
From here the trail got more technical. Ever upward, we passed rock spires until the surrounding landscape looked even more barren. Next thing I knew, the trail disappeared and we were climbing over a rocky field.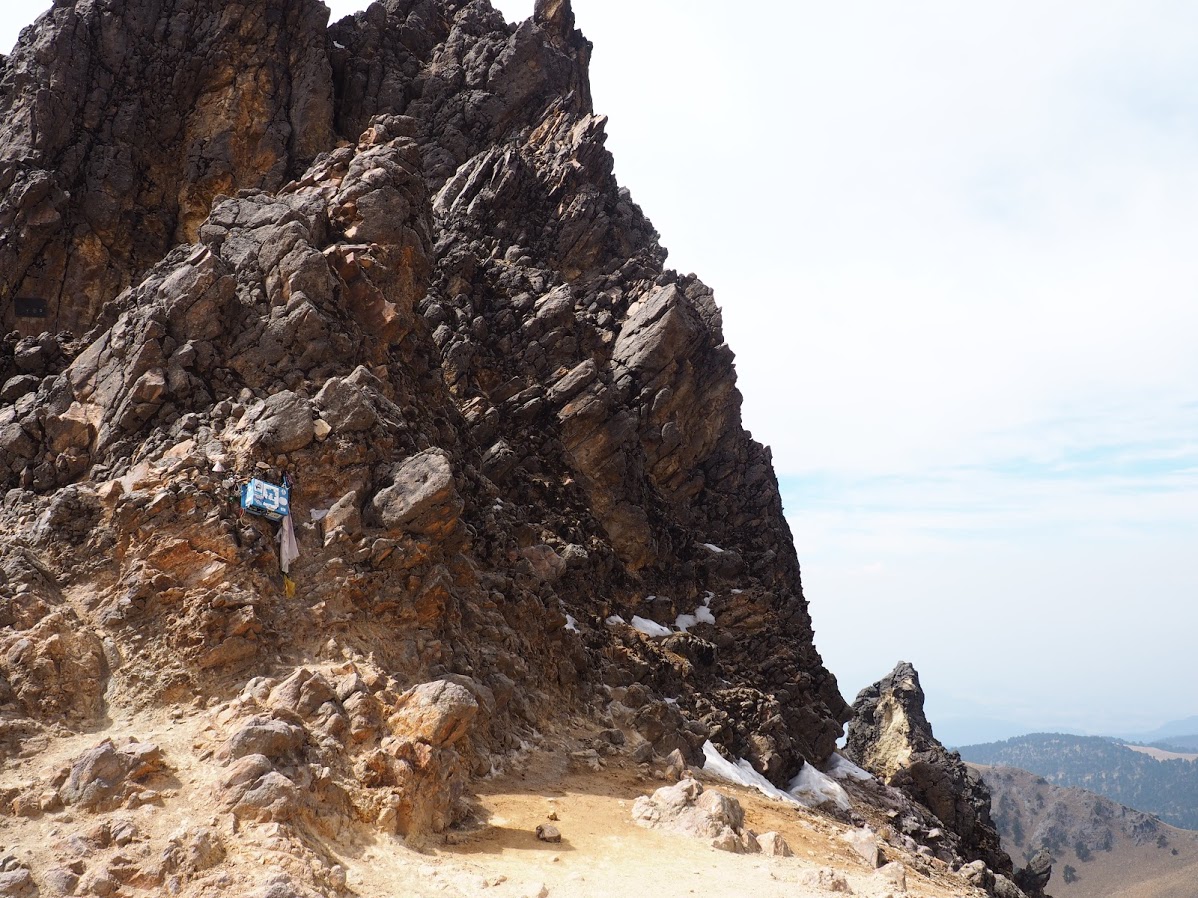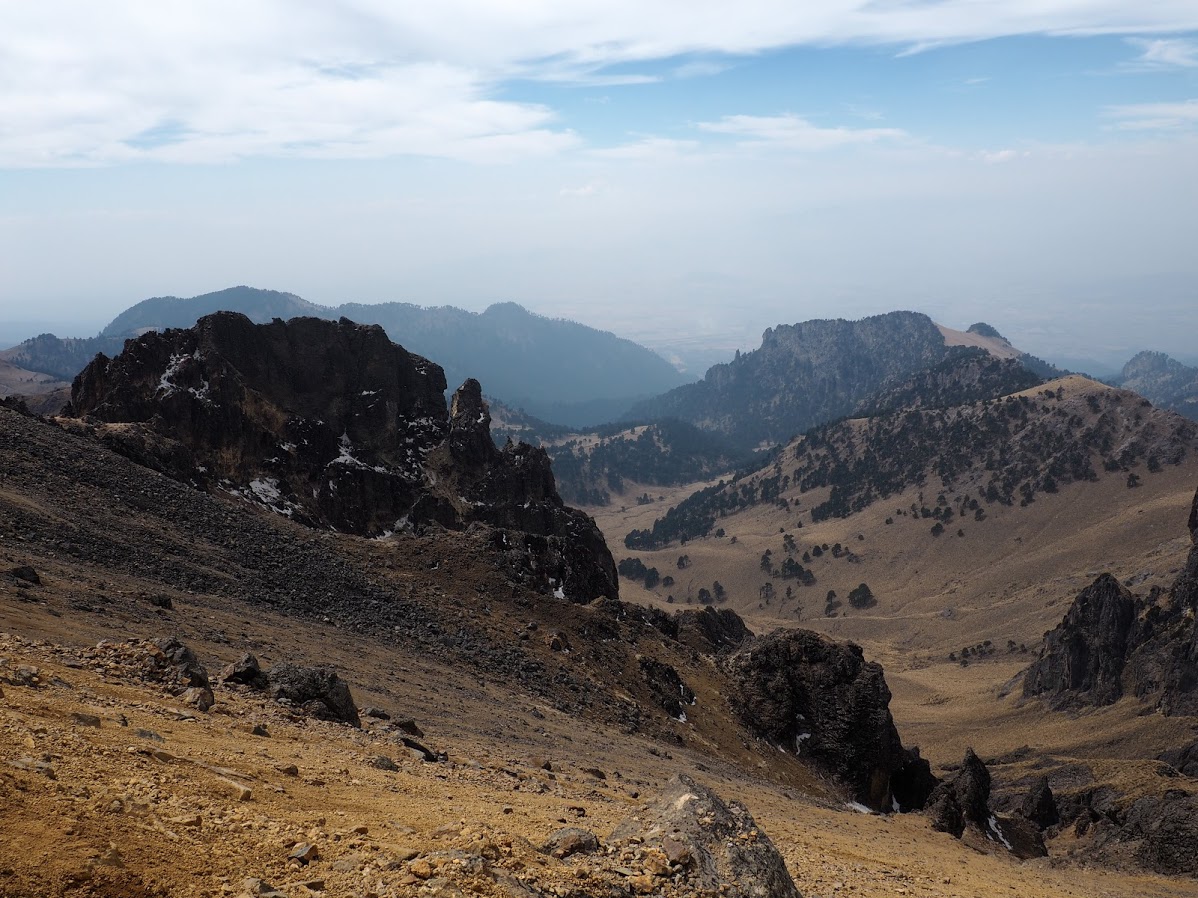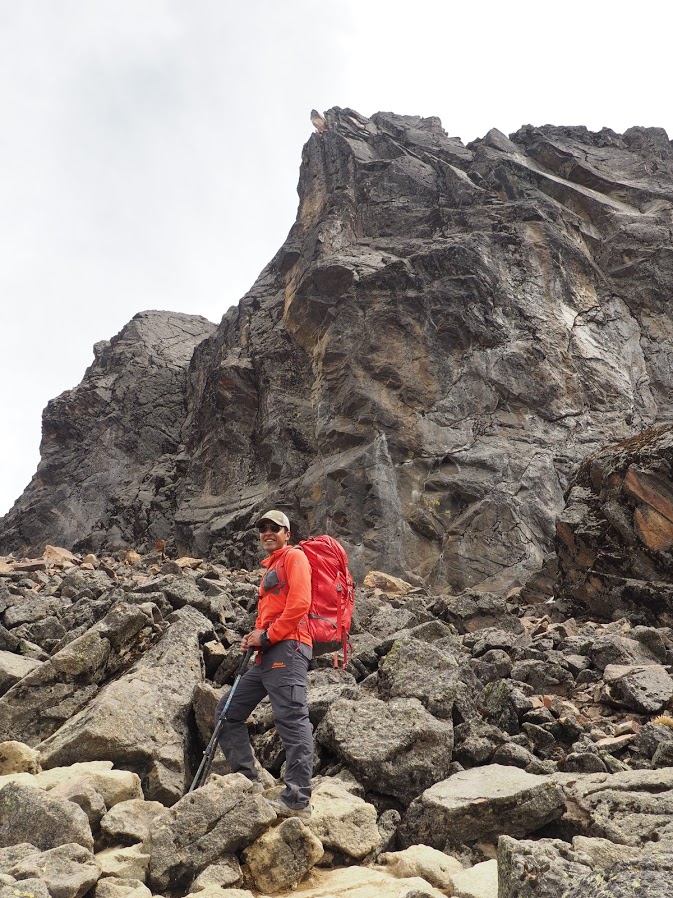 It is here, in the last forty-five minute push to the third pass, that I realize just how demanding this trail is. The elevation alone is killer, but combined with the steep scree slope, it is difficult to make uphill progress. There is no option other than slow and steady.
In my head, I imagine the people I love encouraging me:
– My sister shoving a water bottle in my hands every five minutes, reminding me to hydrate the way she did throughout our Wayna Picchu hike in Peru
– My husband telling me, "Just eat a Snickers bar already!", knowing that the burst of energy always pushes me onward
– A good friend from Richmond saying over and over again that all I need to do is re-train my brain what is possible and what is not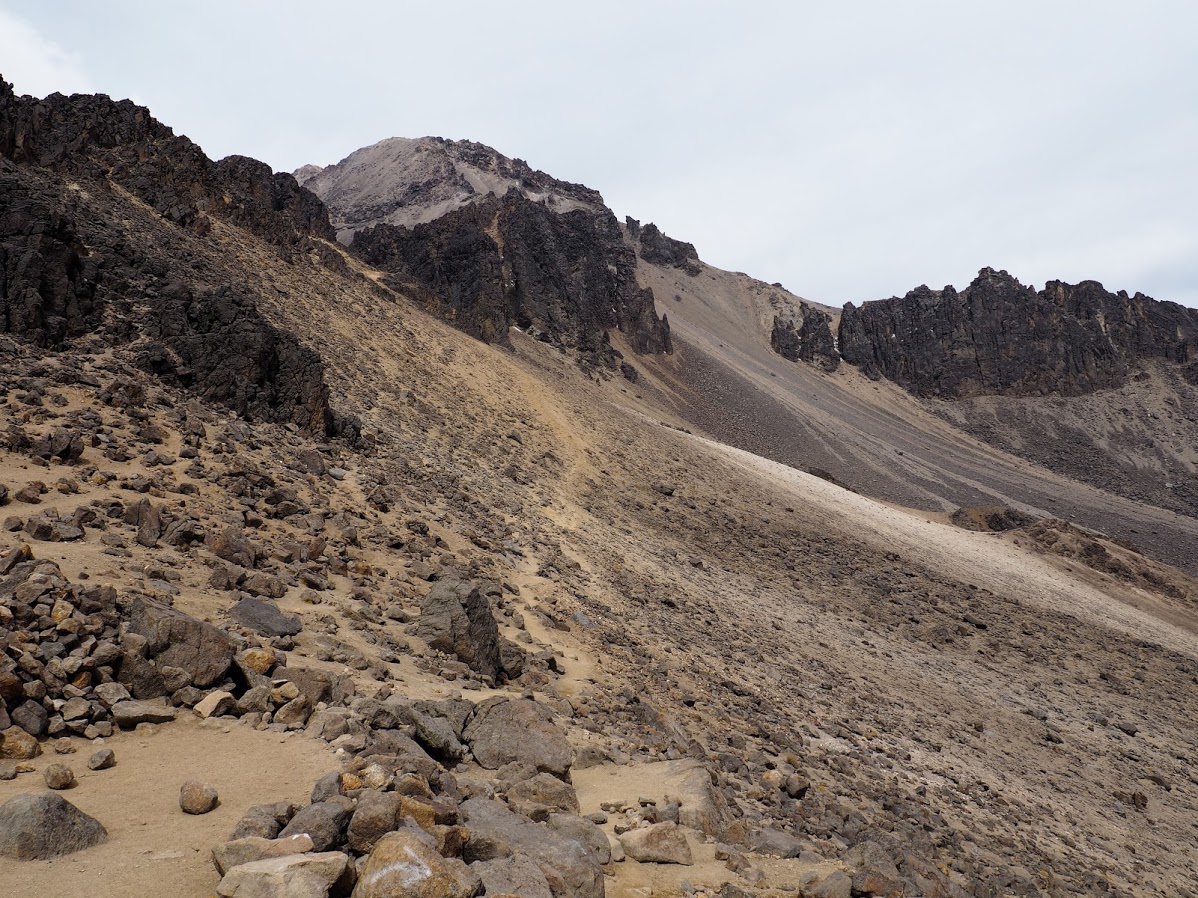 One foot in front of the other, chocolate bar in one hand and water bottle in the other, we inch our ways up over 15,000 feet, then higher and higher until we reached the third pass.
Sure enough, with enough determination, all things are possible.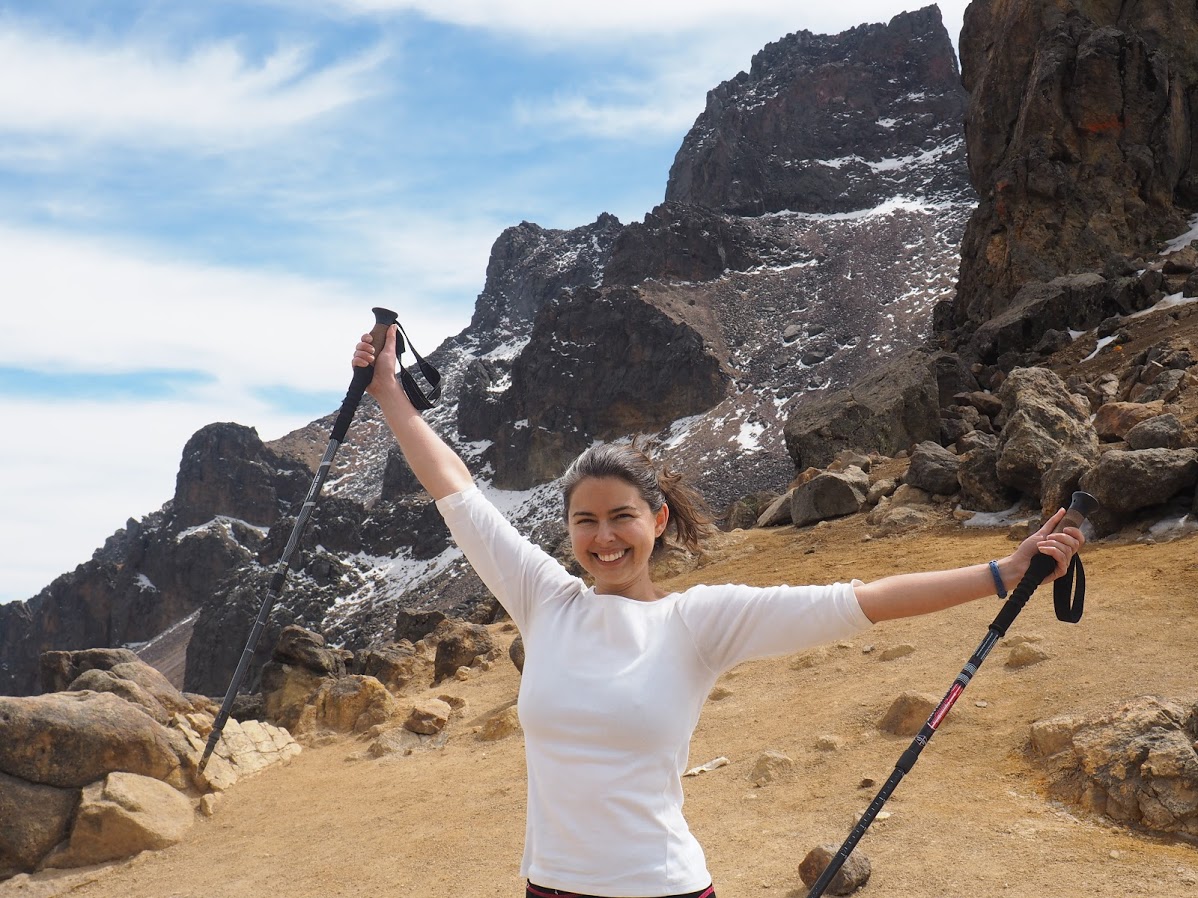 For the first five or ten minutes up there, I'm not sure I even looked around where I was. The high of making it this far, of pushing my personal record in elevation to higher than I've ever been before (this beats out even my four-day Himalayan trek in Nepal) was enough to put me on top of the world.
Once the excitement subsided, I realized just how lucky I was to be in such a magnificent part of Mexico.
If you got an early enough start, you can head up to the fourth pass and site of a refugio (shelter). We actually started back down, due to a delay earlier that morning and weather starting to roll in. If you want to head past the shelter, you'll need proper equipment — like helmets, crampons, ropes, and a knowledgeable guide.
Hiking Iztaccihuatl – The Logistics
Unless you have years of mountaineering experience, I wouldn't dare try this on your own. You'll probably be able to find the trail, but high altitude hiking is always smarter with a buddy, and preferably one who knows the signs of acute mountain sickness and the fastest way down (if needed).
There are Mexico hiking tours (advertising Izta and/or Popocatepetl tour) departing from Mexico City and Puebla but many of them are just short strolls by the visitor center. For a true Paso de Cortes hike, you need to hire an on outfitter willing to take you to La Joya for a full day.
I chose Nomada Mexico based on my research. Not only are they an amazing company to deal with, but David was probably the best hiking guide I've had anywhere in the world.
They lead day trips like mine as well as summit trips if you're feeling ambitious. For a summit, you'll need to spend a night either at the visitor center or camping along the trail so that you can be back down before afternoon storms roll in.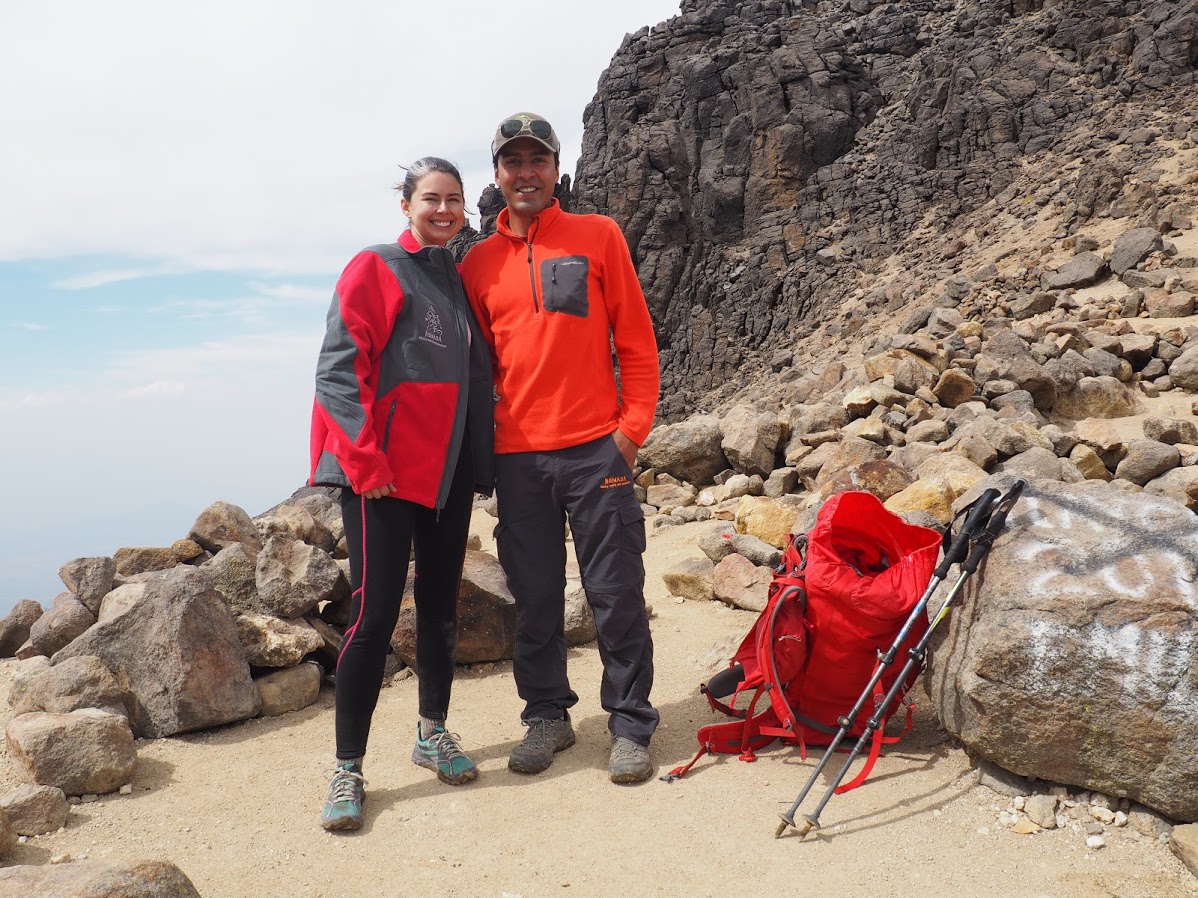 Nomada Mexico will include all your transportation to and from Mexico City (where they're headquartered), which makes this incredibly simple.
If you're going from Puebla to Iztaccihuatl
I actually did my day trip starting and ending in Puebla because it looks closer on a map. Don't be fooled — the shortcut road is a dirt road full of switchbacks and dozens of local warnings against it. The potholes are so notorious that you'll need to pack a spare tire and expect to use it and then pray you don't need another.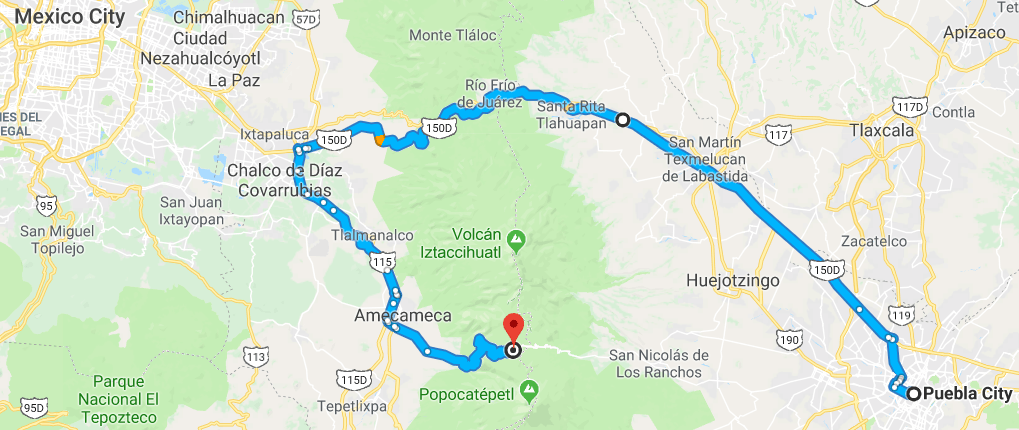 Instead, you'll take the toll road the long way to Amecameca and then twist and turn over a mountain road to Paso de Cortes and the visitor center. Because you have to go the long way, doing it in a single day on public transportation is basically impossible.
The drive itself was pretty typical of Mexico: mostly fine with a few hair-raising moments. Be careful in the stretch by the San Martín Texmelucan tollbooth — I've read three reports of armed robberies in that area in as many months (you'll be fine if you drive straight through, but don't pull over to check directions or send a text message).
This was a hike I'll never forget and one I whole-heartedly recommend next time you're in Mexico City.
MORE INFO TO PLAN YOUR TRIP
Not sure what else to do in Mexico City? Don't miss a day out to Teotihuacan and I wish I had joined a food tour because everything is delicious!

Need a hotel recommendation in Mexico City? Book a room at Chaya B&B or Casa Decu.

Going anywhere else in Mexico? Check out all my articles like three things I learned in Puebla the hard way.

Don't have a travel insurance policy yet? My pick is always RoamRight.