This post may contain affiliate links. As an Amazon Associate I earn from qualifying purchases.
* * *
Slovenia is a country that doesn't get a lot of coverage from US-based travelers, which is a shame. It's a beautiful, friendly country that's easy to get around. Since most Americans don't know much about it, the best places to visit in Slovenia can be difficult to figure out at first, but some basic research will clear it up quickly!
I fell in love with Slovenia instantly and can't wait to go back.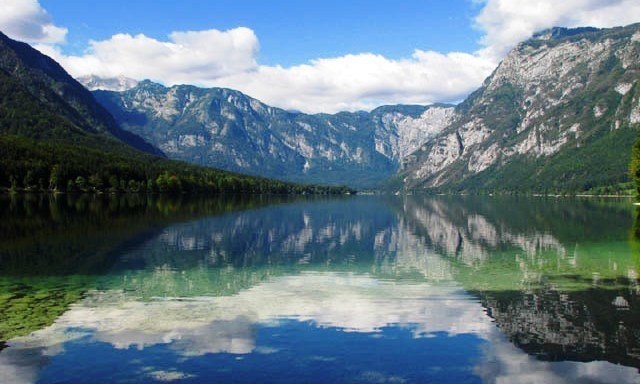 So why visit Slovenia?
In Slovenia, it's all about nature. It's one of the most water-rich countries in all of Europe, with abundant rivers and lakes plus some Mediterranean coastline. Add in an extremely mountainous terrain and you can just imagine the majestic scenery within Slovenia's border. The almost Venetian architecture with medieval castles and winding streets of its small towns caps it off.
It's so easy to add places to visit in Slovenia as part of a bigger European trip. It's bordered by Italy, Croatia, Hungary, and Austria — convenient for lots of other trips! I personally visited Slovenia, Croatia, and even Munich in one trip, but there are so many combinations to choose from.
The Slovenia Airport & Other Ways to Get There
Most visitors fly into Jože Pučnik Airport, which is located roughly halfway between the capital city of Ljubljana and the tourist resort town of Bled. This is a relatively small airport which is quick and easy to navigate. While you won't find any nonstop flights to the United States, you'll find service from most major European airports.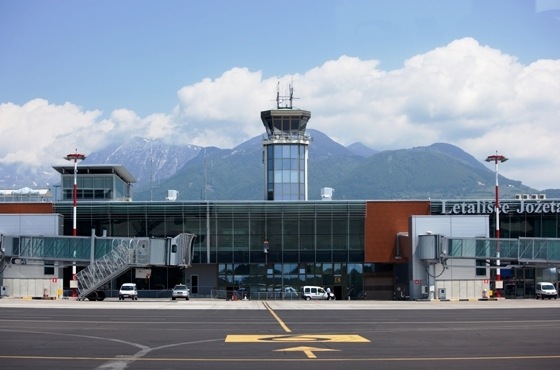 You may find it cheaper to fly into Klagenfurt (Austria), Trieste (Italy), or Pula (Croatia) and then transfer by land from there, depending on where in the country you're headed.
If you're already in Europe, you'll also find rail connections from neighboring countries Croatia, Hungary, and Austria and onward from there (in fact, I took an overnight train from Ljubljana to Munich at the end of my trip). While the trains themselves are comfortable, affordable, and punctual, I found the ticket-buying process cumbersome as many tickets cannot be purchased online. I was told that "trains never sold out" and sure enough, there was space available on our preferred departure when we purchased tickets in person.
To visit neighboring Italy, you can travel by ferry to Venice or bus to any number of cities.
Where to Go in Slovenia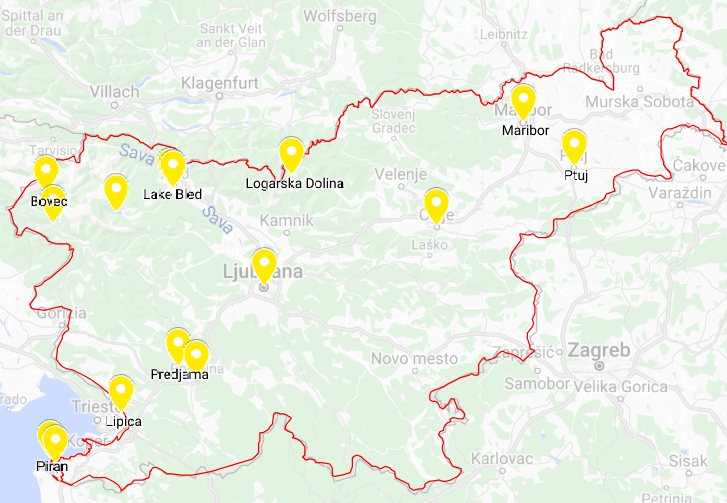 Best Places to Visit in Slovenia
I think the most interesting part of Slovenia is that despite being a small country, there are a wide variety of environments, ranging from city to mountains to valleys to coastline. Try to sample it all.
My Personal Favorites
I really loved the scenery in Bohinj and the adventure activities offered by dozens of agencies in Bovec and would highly recommend spending some time in those areas if you are at all enamored by the outdoors.
Anything Overrated?
I thought the pletna boat ride to Bled Island to view the church and ring the bell for good luck was a bit of a tourist crock and can't say that I'd do it again. However, thousands of tourists visit every year, so what do I know?
Wondering how many days in Slovenia is the right amount?

I think 10 days would be ideal, but you can see Ljubljana, Bled, and Bohinj in just three days and you can get a great taste of ALL these regions in a week. Stretch it two weeks for a relaxed, in-depth visit. Longer than that is overkill, at least for a first visit.

Get help piecing it all together with my one week Slovenia itinerary. It's got all the best places to visit in Slovenia in a logical order with enough flexibility that you can modify it to your own interests and travel style. Plus, activity and hotel recommendations along the way!
Slovenia Travel Guide
Now that you know the best places to visit in Slovenia, I'd love to share a few travel tips with you.
As an American citizen, do I need to apply for a visa ahead of time?
Nope, just show up. Slovenia is a member of the European Union and Schengen Agreement, and passport control is fast and simple.
Any safety concerns?
I've never felt safer than I did in Slovenia. Cities aren't large, locals are friendly, and crime appeared non-existent.
Any health concerns?
Not at all! Get comfortable and sample the local foods without worry.
How do you pay?
The euro is the official currency of Slovenia, so we were familiar with the coins and bills. Cash is definitely king, so you'll want to stop at an ATM to be prepared. About 50% of the restaurants and attractions we visited were cash only, as was our hotel in Bled, though we used credit card whenever possible.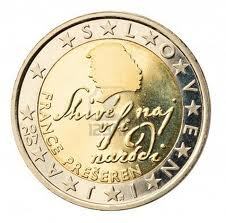 ATMs are widely available in Ljubljana and Bled and we had no issues using a Charles Schwab ATM card, which I love since it refunds all ATM fees as well as providing the bank exchange rate. I was worried since several ATMs spit out 50 euro bills, but we never even got a second look for breaking a big bill.
What does it cost?
Slovenia is cheaper than other European countries, and luckily the Euro was at a relatively acceptable exchange rate at the time of our visit. Even during high season, we found plentiful options for comfortable but basic rooms priced at €60 per night. Hotels in Ljubljana were 20+% more expensive (we didn't overnight there). Sobe, or rooms rented by private home owners, could be just €30-40 throughout the country.
Meals at moderate restaurants were typically €10-15 per entree with a glass of local wine often costing just €2-3. More casual meals like wood-fired pizzas priced at €6-8 and could be split to feed two for a light meal…especially if you were saving room for a €1,50 gelato. Our cheapest meal was a picnic-style lunch purchased in pieces from market vendors (it's hard to go wrong with fresh salami, bread, cheese, and fruit). Ljubljana offers plenty of upscale restaurants if you're looking for something special, with one steakhouse we stumbled upon offering prime cuts of meat for around €35.
Admissions to the attractions we visited were also reasonable, with €3 church entry donations, €6/hour rental rowboats, €8 walking tours, and €15 water parks. Since I rented a car for our visit, we didn't have a lot of firsthand experience with transportation costs, but our overnight train to Munich was €59pp and gas was roughly €1,45 per liter.
What's the weather like?
We lucked out with beautiful weather over the course of our trip, though I hear that Ljubljana typically receives a fair amount of rain. In July, temperatures were comfortably in the 70s, and cooler in the mountains, which was perfect for hiking. While temperatures will get into the 80s during the summer, things remain relatively mild from either the alpine elevations or the sea's regulatory influence. Watch out for a strong sun as it can make things feel warmer than your thermometer will have you believe.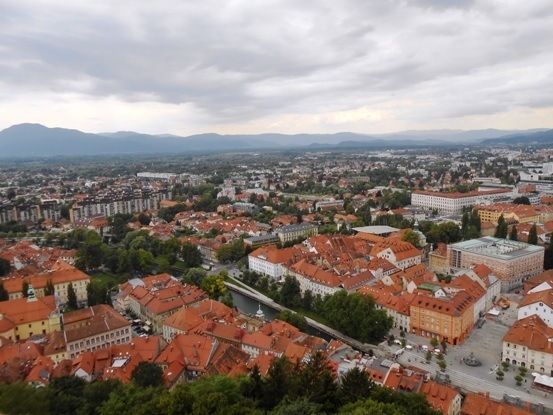 In the winter, you'll find temperatures hovering around that freezing mark and some great skiing in the Julian Alps.
Were the locals friendly? Any tips on making communication easier?
Slovenia may just win the award for most friendly locals I've ever encountered. I got lost driving on my first evening and while asking directions, was invited to stay for a beer. Others offered up tips on best attractions, restaurants, and navigation with a smile on their face every time and a complete answer rather than a hurried response.
Communication is as simple as it gets as everyone – truly, everyone we encountered – spoke at least some English (many of them perfectly fluent). I had a very hard time picking up Slovenian, which surprised me given how easily I pick up key phrases in other languages, but we always got a smile when we used the few words we knew.
How do you get around?
Although there are a few train lines in Slovenia, you'll be dependent on the road system more often. Buses will get you to just about any town in Slovenia, including some pretty small villages we passed through. I cannot personally vouch for how frequent services are.
I chose to rent a car as we wanted to ensure our ability to get to trailheads and other nature-oriented areas. A rental car is not a cheap way to travel in Slovenia, but it was convenient to be able to stop in towns along our drive without worrying about storing our luggage somewhere or when the next bus may come around. The flexibility was worth the cost to me. Rental cars are right at the airport terminal (no shuttle) and additionally in city centers throughout the country.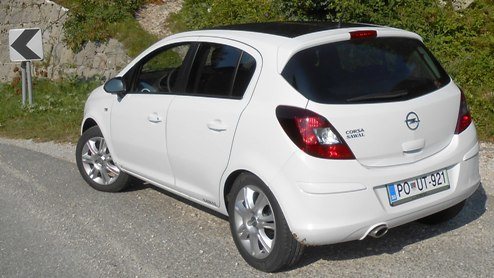 Driving was relatively easy since the drivers were sane and there wasn't a tremendous amount of traffic. Most road signs are symbolic rather than written in Slovenian, which is a plus for international visitors. Be aware that most navigational signs will state the name of the cities you'll pass through rather than a compass direction (i.e. look for Piran rather than west, which will assume some amount of geographical knowledge on your part). Street signs within towns (with the exception of Ljubljana) seemed basically nonexistent, so navigating via landmarks is a better idea.
Once you get into a town, we found it easiest to park and walk everywhere given the narrow roads, pedestrian zones, and a desire to save on parking costs.
Was the food good?
A few things Slovenia did consistently well: pizza, cheese, and salami. I particularly enjoyed the kranjska klobasa sausage; the proscuitto-style hams were also high quality, though not a preference of mine. I also loved the abundance of fresh vegetables offered as side dishes and even at breakfast!
However, most of our meals I'd describe as "good" rather than "excellent". Many of their traditional pork dishes were on the heavy side and others were just a touch bland. To be fair, I put zero research into recommended restaurants prior to our visit.
Any Last Thoughts?
First, I loved Slovenia. There is a certain charm to the country that I haven't felt anywhere else in Europe, perhaps because it hasn't yet suffered from an overload of tourists. Yes, Bled in particular felt a bit Disney-ish, but for the most part, the lack of fast food, chain stores, and rude tourists made it a place I can't wait to return to.
Second, there is, unfortunately, a lot of the country I missed since I made the assumption that a small country meant I needed less time. Now that you've seen all the best places to visit in Slovenia, hopefully you realize this country is worthy of a proper visit!
Lastly, go now — I watch travel trends quite closely and I bet it will get more popular in the next 2-3 years!